Adventure Gold price is up 29%, making it one of the top gainers on Crypto.com today. With a market cap of $214 million and a 24 hour trading volume of $161 million, the market is excited this weekend about the project. Let's take a closer look at Adventure Gold and its AGLD token, and see why the price is rising.
What Is Adventure Gold?
Adventure Gold or AGLD, is the ERC-20 token of the Loot project. The Loot project features a variety of collections of NFTs called Loot, which are randomized adventure gear that's generated and stored on-chain.
While the Adventure Gold game doesn't yet exist, investors have been snatching up AGLD in anticipation of the upcoming release.
At the time of writing, Loot's collection on Opensea has a floor price of 3 ETH, valued at over $13,000.
Why Is Adventure Gold Price Rising?
After Vitalik's tweet about Loot project back in September, AGLD saw a massive price hike, more than tripling in value in under 24 hours and setting a new all time high of $7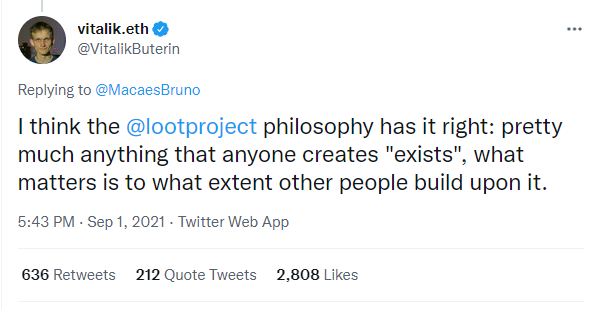 Since then, the hype died down quiet a bit and AGLD has been trading sideways between the $2-3 range for the past 3 months.
While there haven't been any major recent news regarding Loot, the team has been hard at work developing more games to add to their ecosystem. Some of the new titles include: The Realms Settling Game and Loot Town Square.

Moreover, looking at Loot's Opensea collection, we can see multiple NFT sales per day with a consistent volume. This means that the ecosystem for Loot is very much active, which is a big contributor to the strong support AGLD has at the $2-3 level.
AGLD Tokenomics
AGLD has a total supply of 70.1 million tokens, with all the available tokens being in circulation. At the time of writing, Adventure Gold's market cap is at $218 million, with a 24 hour trading volume of $167 million.
Currently, there are over 5000 addresses holding AGLD, signaling a relatively fair token distribution. With all the AGLD tokens in circulation, one of the best ways to improve Adventure Gold's price would be create an incentive for users to lock up their AGLD to decrease the circulating supply.
Overall AGLD is a great long-term pick. Most of the market action right now is due to hype and speculation, once the team releases a working product there's no doubt AGLD can easily set a new all time high and reach $10.
Disclosure: This is not trading or investment advice. Always do your own research before buying any cryptocurrency.
Also Read: