Ankr price is up over 11% today, making it one of the biggest gainers on Crypto.com. Currently trading at 63% of its all time high, is this the beginning of a major bull run? Let's take a closer look at Ankr and see what all the hype is about.
What Is Ankr?
Launched in November 2017, Ankr is a distributed network of nodes across 50+ proof-of-stake chains. Their mission is to make Web3 easily accessible to everyone.
The biggest selling point of Ankr is their Eth2 staking solution, which provides an attractive reward mechanism for users. Moreover, Ankr is able to provide instant liquidity through a synthetic token called aETHc.
Why Is Ankr Price Rising?
Six days ago, on November 8th, Ankr announced their integration with Polkadot Parachain, which enabled users to participate in the first batch of Polkadot Crowdloans and earn their share of ANKR.
In recent news, Binance announced their listing of Ankr on November 11th. While Ankr's price didn't respond immediately, today Ankr price jumped 22% almost setting a new all time high.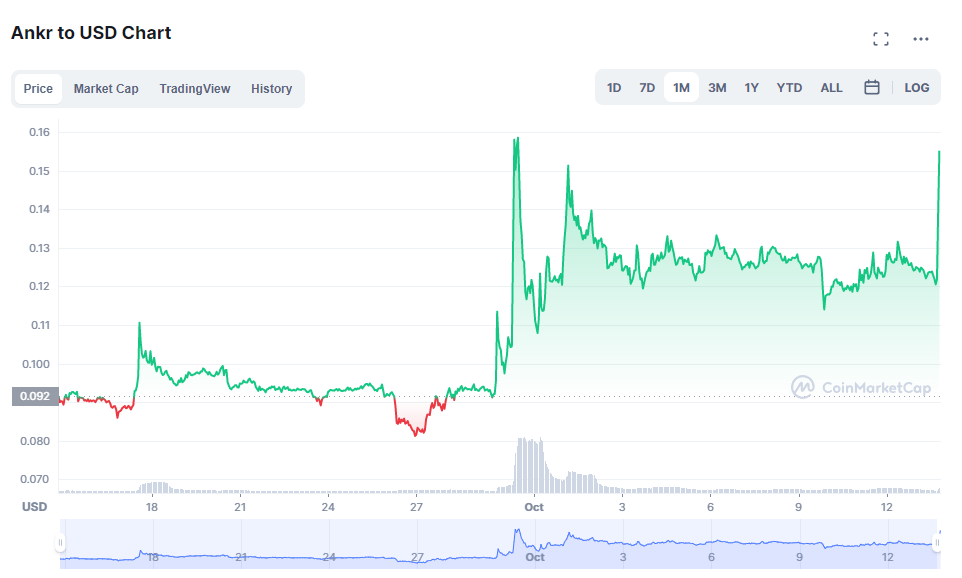 While there haven't been any news regarding Ankr today, it's clear that the Binance listing and the launch of their Polkadot campaign is a big contributor to today's bullish momentum.
Ankr Tokenomics
ANKR currently has a market cap of $1.1 billion with a 24 trading volume of $288 million. As we can see on the chart above, the trading volume today is relatively low, which is expected since its sunday.
Whether the bullish momentum will continue depends on the trading volume. If we can see an increase in trading volume then the market will have more strength to push further. Otherwise, most likely ANKR will find new support and continue holding its $1 billion market cap.
This is not trading or investment advice, always do your own research before buying any cryptocurrency.
Follow us on twitter @thevrsoldier to stay up to date with the latest cryptocurrency news!