Dogs of Elon price is up 26% today, hitting a peak of $0.20 after trading at the $0.13 level this week.  With a market cap of $37 million and a 24 hour trading volume of $8 million, the market is definitely showing excitement regarding DOE. Let's take a closer look at what's been going on with Dogs of Elon and why the price is rising today.
What Is Dogs of Elon?
Dogs of Elon is a cryptocurrency project featuring an Ethereum-based NFT collection, and an ERC-20 Proof-of-Stake token called DOE.
DOE's NFT collection is themed after everyone's favorite K-9 and Elon Musk. The collection is available to purchase on Opensea. At the time of writing the Dogs of Elon NFT collection includes 9.9k items, 2.6k owner, a floor price of 0.05 ETH, and over 220 ETH in volume traded.
The DOE token is currently available to purchase on Uniswap, Gate.io, Poloniex, and a few other exchanges. Since DOE is a proof-of-stake token, users can stake their DOE with no lockup period in order to earn rewards with their current tokens.
Dogs of Elon News
When it comes to recent Dogs of Elon news, the team has had quite a few announcements over the past couple days.
To start off, Dogs of Elon is doing a Tesla Model 3 / $50,000 in Ethereum giveaway on December 1st.
🚨GIVEAWAY 🚨

😱TESLA MODEL 3 OR $50,000 IN ETHEREUM ! 😱

1) RT & LIKE TWEET✅

2) MINIMUM 500 $DOE TO PARTICIPATE or 1 NFT✅

3) COMPLETE FORM: https://t.co/4YmoyC65Hd

Buy $DOE on UniSwap: https://t.co/JAgx5BzMpf

⏳DECEMBER 01⏳

NFA pic.twitter.com/h7pjsy8ykz

— Dogs Of Elon (@dogsofelon) November 21, 2021
In order to participate you must either hold a Dogs of Elon NFT, or a minimum of 500 DOE tokens (worth roughly $100 at the time of writing). The winners will be chosen at random and announced on December 1st.
In other news, Dogs of Elon recently made a buyback of 50 ETH (roughly $250,000) for 1.4 million DOE. The team provided a screenshot proof of the transaction on their official twitter. The DOE tokens purchased will be sent to the staking contract, which means DOE stakers will receive more rewards.
In addition, on November 16th, Dogs of Elon announced that NFT staking is now available on the platform. This means owners can stake their NFTs to earn rewards in addition to their DOE.
That's not all, we also have a screenshot preview for an upcoming Play-to-Earn DOE game that the team has been working on.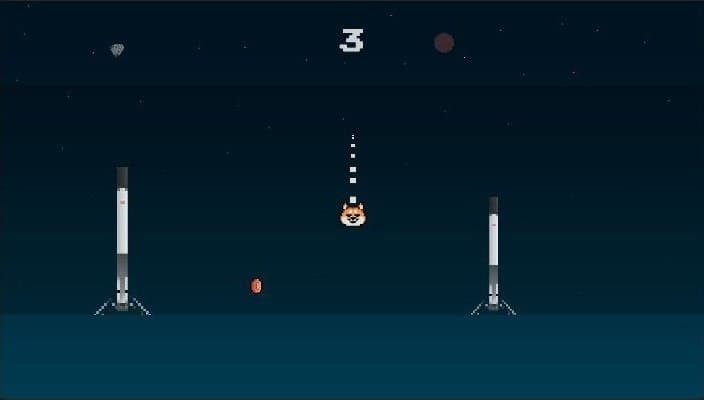 The upcoming game resembles Atari's classic Spaceship game, where players shoot enemy spaceships to progress through the levels. It's great to see DOE hop on the Metaverse hype, and start development of a blockchain-based Play-to-earn game. Pivoting in this direction could easily catapult Dogs of Elon's valuation to new all time highs.
There are also rumors of a DOE decentralized exchange coming soon. On November 13th, the team tweeted a blurred out image that looked like an exchange dashboard.
Overall, the Dogs of Elon team has been working on several projects and continues to build on top of the existing Dogs of Elon platform. While DOE's price has been struggling the past couple weeks, the token's current valuation of $38 million seems extremely undervalued for a project this size.
At the time of writing, DOE is trading at $0.19 with a 24 hour trading volume of $8 million. If you want to purchase DOE, the best exchange to use would be Uniswap. Dogs of Elon is also available to purchase on a number of exchanges, some of which include: Gate.io, Poloniex, MEXC, BKEX, and AOFEX.
Disclosure: This is not trading or investment advice. Always do your own research before buying any cryptocurrency.
Also Read:
https://thevrsoldier.com/metaverse-season-decentraland-sanbox-efinity-price-up/
Follow us on twitter @thevrsoldier to stay up to date with the latest cryptocurrency news, and subscribe to our daily newsletter to never miss another story!