With Bitcoin and Ethereum breaching their one-month highs trading at $22k and $1.4k, Solana is also performing quite well, briefly rising past the $42 level. While not showing as much upside as Ethereum, Solana's price action in the past seven days still outperformed Bitcoin, BNB, XRP, and Cardano. With a current market capitalization of $14.4 billion, if SOL continues its rally, it could surpass Cardano's $16.4 billion market capitalization and overtake it as the eighth-largest digital asset by market cap.
Solana News
Regarding relevant Solana news affecting the market, last week's announcement by STEPN, a top-rated Solana-based Move-to-Earn project, indicated that the company generated over $122.5 million in revenue in Q2 2022 through its platform fees.
In addition, STEPN announced that the company would leverage 5% of the profits generated and initiate a buyback and burn program for their native GMT token.
Burning tokens is a popular way for crypto projects to show their long-term dedication to their investors by sending a set amount of digital assets to a "burn" address and sharing the transaction ID. The burn address is a specific address inaccessible by any users, and the tokens end up in that wallet indefinitely. Buybacks remove tokens from circulation, thereby contributing to a deflating supply which pushes the price of each token higher.
STEPN ($GMT) price had seen a significant upside in the past 24 hours, rising by over 17% from a low of $0.89 to a high of $1.11.
In other news, Katana, the leading Yield Generation protocol for Solana, announced that the platform received over $600 million in options volume traded through the platform, signaling the tremendous demand for Yield Farming services on Solana.
💸 Excited to announce that we've had over $600 million in option volume traded through the Katana platform

Come check out what all the hype is about at https://t.co/sxp6q2O1Gn or ignore at your own peril 🥷 pic.twitter.com/0BTmCWsjIC

— Katana 🥷🏽 (@Katana_HQ) July 18, 2022
For those interested in capitalizing on their existing holdings, Katana offers lucrative APYs of up to 33.81% on SOL, 22% on ETH, and 24% on BTC.
Solana Price Prediction
With SOL trading at $41.86, the market is attempting to breach its previous one-month high of $42. With the current bullish momentum surrounding BTC and ETH prices, chances are that SOL will continue its rally past $42; the question is, where will it meet its significant resistance?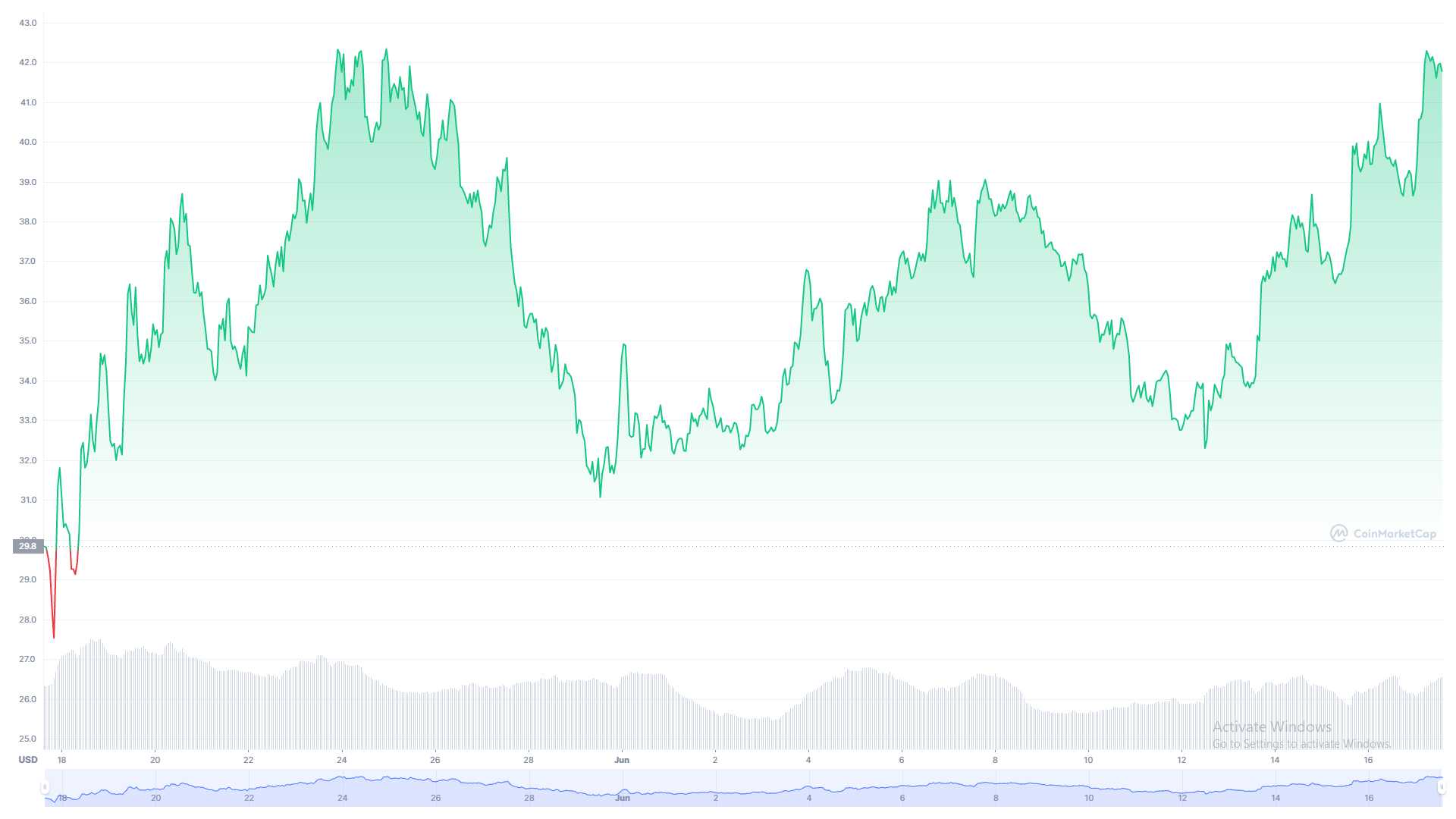 SOL will likely attempt to establish support at $45 during the next few days before trying to breach $50. That's assuming crypto markets continue their pump this week. Since most altcoins like Solana and Ethereum amplify Bitcoin's price movements, and BTC is following the global markets, as long as stocks continue their positive performance this week, we can expect a cascade effect for most digital assets to continue their bullish momentum.
Earnings season is here, and investors will receive their dividend payouts in the next couple of weeks, which should provide additional capital to infuse back into the stock market. However, there's plenty of uncertainty in the markets, with rumors of the Fed planning to increase interest rates by a whopping 100 basis points, which will undoubtedly cause a selloff in the market, causing a correction for Bitcoin and most other digital assets.
While it's refreshing to see bullish momentum several days in a row, this week will be vital to set the tone for this quarter regarding crypto and global markets.
Disclosure: This is not trading or investment advice. Always do your research before buying any cryptocurrency or investing in any projects.
Follow us on Twitter @thevrsoldier to stay updated with the latest Metaverse, NFT, A.I., Cybersecurity, Supercomputer, and Cryptocurrency news!
Image Source: ivanbabydov/123RF