The blockchain industry is far from where it kicked off over a decade ago. Notably, it has been key to several transformations in sectors globally, including but not limited to healthcare, transport, supply management, finance, entertainment, and the art industry. However, there is more that it has to offer, especially in reshaping the gadget industry and creating more secure devices for users.
That being said, the smartphone industry is not being left behind, with several companies working towards producing blockchain-based smartphones. Likewise, they are utilizing the promise that Web 3.0 offers the global community to transform the virtual world as we know it. In that case, you might be wondering whether blockchain smartphones are worth looking at or not. Here are three examples that will usher you into what they aim to offer.
This article looks at our pick of the top three blockchain/crypto phones to keep an eye on in 2022.
1. HTC Exodus
HTC might as well have been the first company to release a blockchain-based smartphone. The HTC Exodus 1 launched in 2018 as the first-ever crypto phone, utilizing its vault, the Zion Vault, as a hardware wallet. According to the company, the Zion Vault (Bank of Exodus) combines a user-friendly interface and military-grade security enhanced by TEE (Trusted Execution Environment).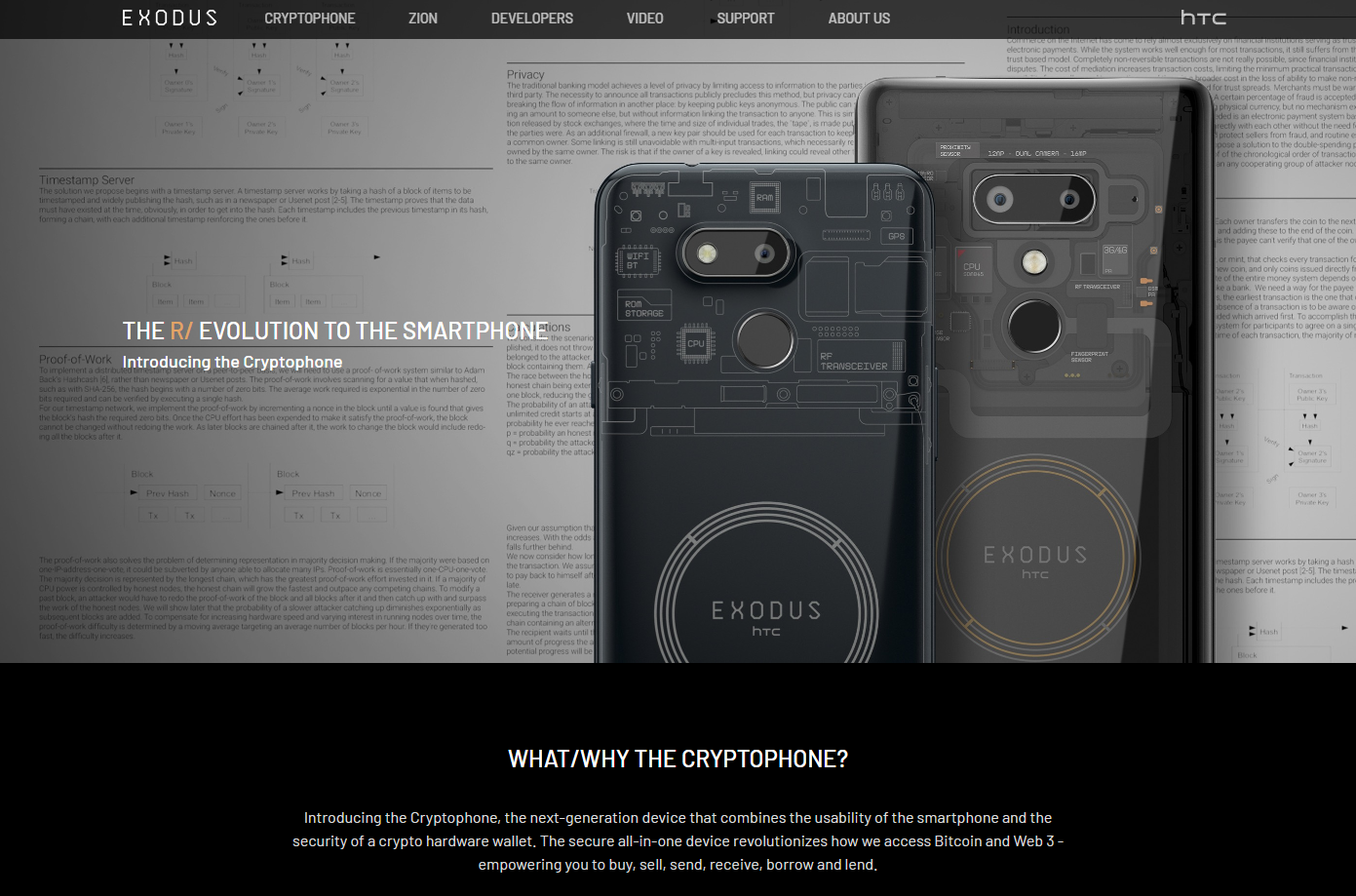 So far, the crypto phone has three versions: the Exodus 1, the Exodus 1-Binance Edition, and the Exodus 1s. All versions use the TEE to secure users' digital assets during transactions and storage. Furthermore, they all have the social key recovery feature to ensure you never lose your key. The Exodus 1s is a first of its kind as it comes with full Bitcoin node integration.
On the other hand, the Binance Edition is Binance Chain activated. Users can access the Binance DEX through the Zion Vault to manage their assets. Its hardware components protect user funds that could otherwise be susceptible online.
2. Solana Saga
Solana Saga is a recent entry into the smartphone market, with Solana Mobile introducing the phone in June this year. The company, which is part of Solana Labs, is planning to start shipping the smartphone in early 2023. Solana Mobile is in partnership with OSOM to manufacture the Android phone. The latter is known to have ventured into the blockchain smartphone field in 2021, delaying the release of its OSOM OV1.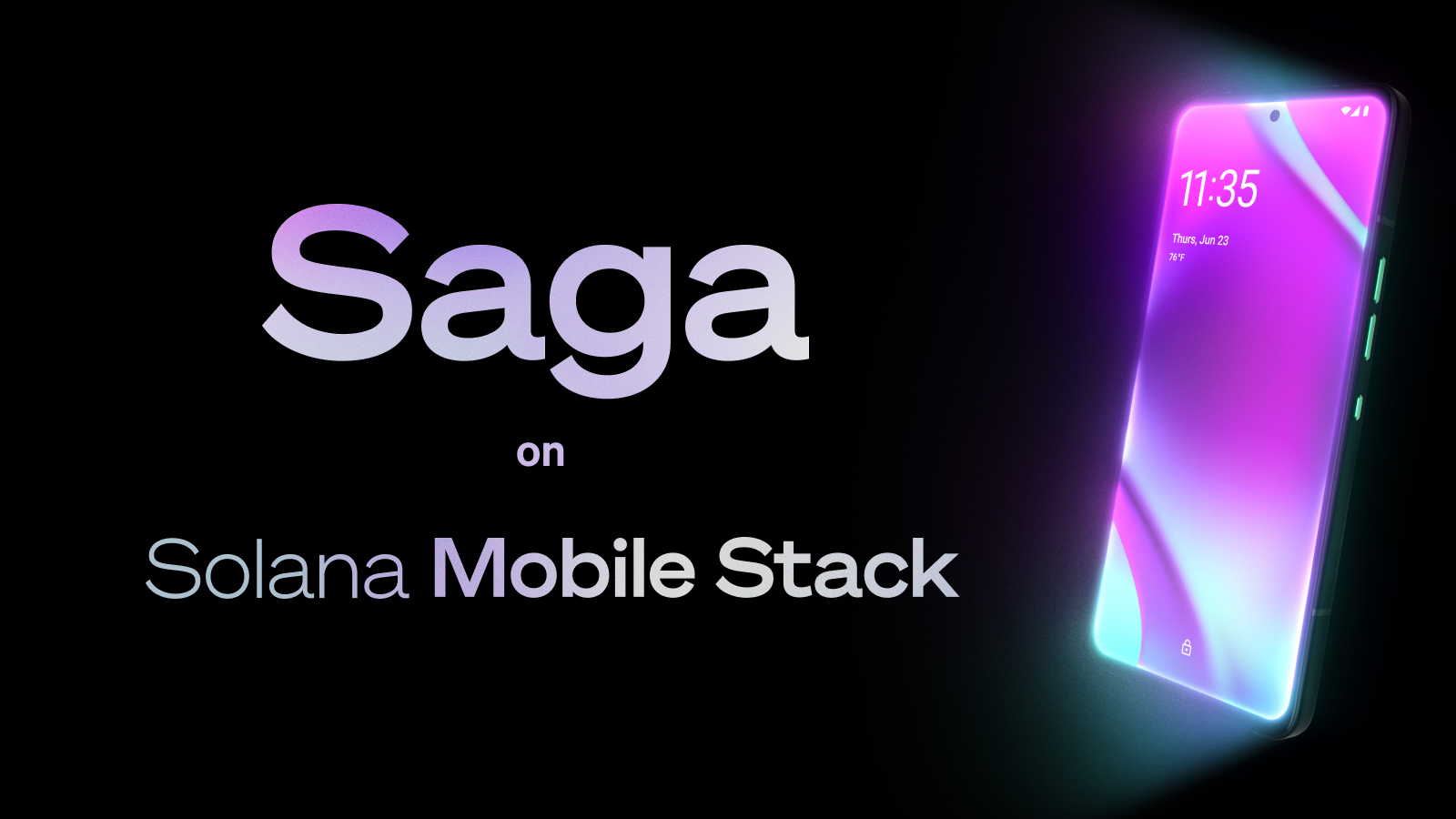 Solana Saga hopes to bring more ease to transactions and widespread blockchain and crypto adoption. Moreover, through the Solana Mobile Stack, developers can create more features and private key security for Saga users. The Solana blockchain will play a massive part in the smartphone's functionality. In that case, it hopes to fully utilize web 3.0 to bring a new era to crypto on mobile.
Those who decide to pre-order the smartphone now stand a chance to get a Saga NFT, the Saga Pass. To get a deeper look, visit the Solana Mobile website.
3. Samsung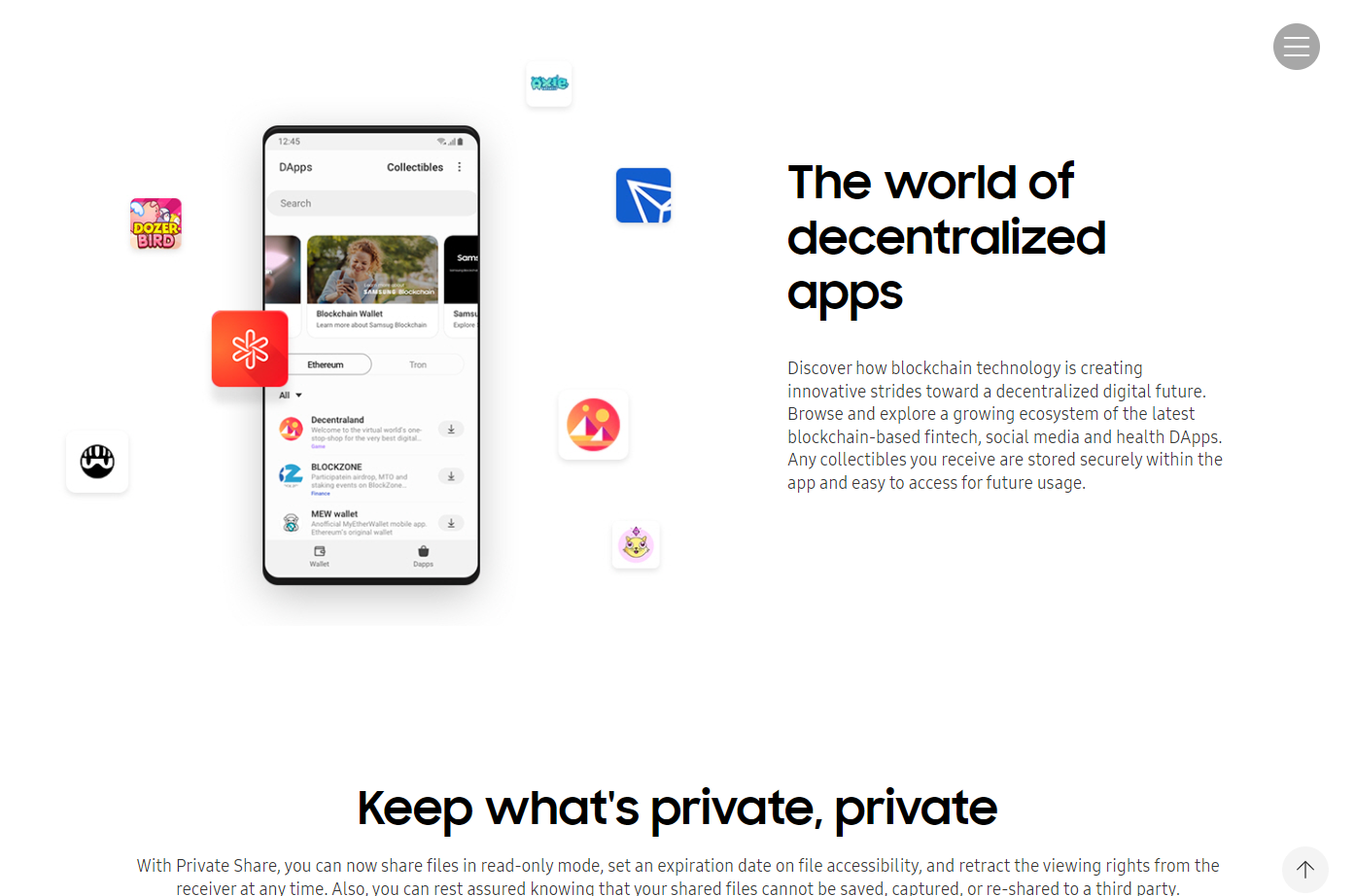 While Samsung does not necessarily have a blockchain smartphone, it has invested in creating blockchain-friendly features since the Samsung Galaxy S10 in 2019. The Korean electronics company is making it possible for Galaxy users to connect their hardware wallets with hardware wallets. Furthermore, through the Samsung blockchain wallet, users can manage their assets from their devices.
It keeps the assets, and private keys secure through the Samsung Knox, Private Share, and Samsung Blockchain Keystore. A trusted Execution Environment enhances the security to ensure the privacy of user information.
Lastly, it provides access to decentralized applications coming up globally, with the allowance of interactions within the feature. In itself, this is a learning experience for those who decide to involve themselves in the dApps.
Is There a Future for Blockchain Smartphones?
While developments in the gadget industry integrate blockchain features, some are still against the idea of blockchain smartphones. Already, blockchain companies are making it possible to access most of their features through mobile applications. So, are blockchain phones an unnecessary invention for the global community?
While blockchain-enabled phones can provide enhanced security and, in some cases, additional functionality, there's no inherent need for crypto phones. You could continue using a traditional Android or iPhone and not miss out on any of the latest crypto hype.
Disclosure: This is not trading or investment advice. Always do your research before buying any cryptocurrency or investing in any project.
Follow us on Twitter @thevrsoldier to stay updated with the latest Crypto, NFT, AI, Cybersecurity, and Metaverse news!
Image Source: sirinapa/123RF