Cryptocurrency markets have been full of volatility and uncertainty in recent weeks. With Bitcoin prices falling sharply last week, most other cryptocurrencies followed suit by showing double-digit percent price losses in a matter of days. Ethereum is down 10.48% in the past seven days, XRP is down 7%, and ApeCoin is down a massive 35%. Moreover, the current fear & greed index is in extreme fear at a low of 18!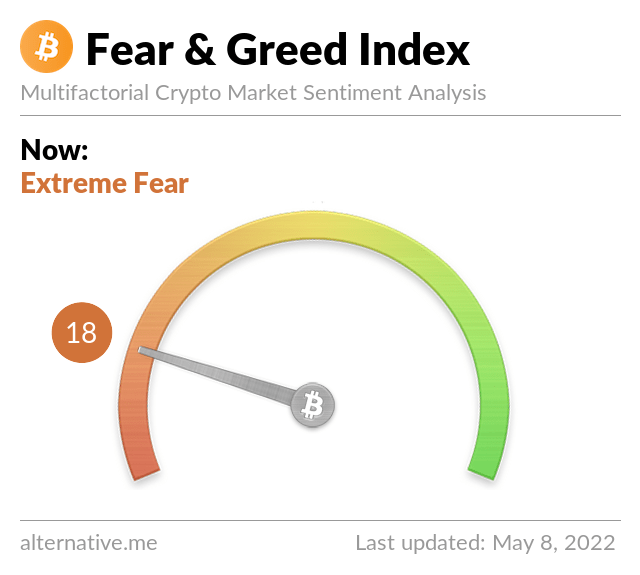 However, even with the grim market conditions, several analysts expect this year to close on a high note for most cryptocurrencies. Let's look at several price predictions from Finder for Bitcoin, Ethereum, XRP, and ApeCoin for 2022, 2025, and 2030.
Bitcoin Price Prediction for 2022, 2025, 2030
According to a report last month by Finder, which polled 35 fintech specialists, including Origin Protocol founder Josh Fraser, CoinJar CEO Asher Tan, and the University of Canberra senior lecturer John Hawkings, Bitcoin price is set to high a new all-time high of $81,680 by the end of 2022.
In addition, the bullish predictions estimated that BTC will be worth upwards of $179k by 2025 and around $420k by 2030. According to the above panel, you're gravely mistaken if you thought BTC would stop at $100k. Cryptocurrency is still in its infancy, and Bitcoin will surpass $100k as early as 2025.
According to 50% of the panel of fintech specialists, one exciting prediction is that another cryptocurrency will end up overthrowing BTC due to its lack of utility.
Not all panelists are as bullish on Bitcoin, with John Hawkings predicting a Bitcoin price of $5,000 by the end of 2025 and $100 by 2030, being overtaken by Ethereum at some point in the next 5-7 years.
Ethereum Price Prediction for 2022, 2025, 2030
According to a report released last week by Finder, this time polling 36 fintech specialists, Ethereum is set to hit a new all-time high of $6,872 this year, further predicting a price of $11k by 2025 and $23k by 2030. Quite bullish predictions, to say the least.
According to 35% of the panelists, the most bullish impact on Ethereum's price will be its deflationary tokenomics, with some like Joseph Raczynski of Thomson Reuters predicting ETH's end-of-year value to surpass $8k.
Raczynski said:
"The Merge, an upgrade to Ethereum, should happen this summer. This could have an explosive effect on the token. People have been waiting for this for years. It should be far more secure, 99% more energy-efficient, and deflationary. If that isn't the trifecta of potential, as a leading blockchain, I don't know what would be."
Another significant bullish driver for Ethereum's price, according to 29% of the panelists, is Ethereum's relatively-low energy consumption, which is the result of Ethereum's hybrid proof-of-work and proof-of-stake consensus mechanism, which runs in parallel.
Ethereum will switch to a fully proof-of-stake consensus mechanism with the upcoming merge, reducing its energy consumption by several orders of magnitude.
XRP Price Prediction for 2022, 2025, 2030
In another report released by Finder last week, after polling 36 fintech specialists, the prediction is that XRP could be worth $2.55 by December 2022, assuming Ripple settles or wins its lawsuit with the SEC. Further forecasts for 2025 put XRP price at $3.61 and $4.98 by 2030.
Regarding whether now is a good time to buy or sell XRP, the prediction was relatively balanced, with 23% claiming that it's a good idea to buy XRP, 45% saying to hold your current positions, and 32% saying to sell.
According to University of Sussex professor of finance Carol Alexander, if XRP wins its lawsuit with the SEC, the cryptocurrency's price could peak at $2.50. At the same time, if it loses, the price could go down to $0.50.
If XRP wins its lawsuit with the SEC, it will be the first significant step toward Ripple replacing the current SWIFT system, creating a significant bullish rally for the crypto asset.
Not everyone is as bullish on XRP, with Matthew Harry, head of funds at DigitalX Asset Management, claiming that XRP will eventually lose most of its value. According to Harry:
"The XRP token is worthless for anything other than speculation. The underlying technology is terrific but the token itself does not currently have a use."
ApeCoin Price Prediction for 2022, 2025, 2030
Last week, Finder also polled 36 fintech specialists for its ApeCoin price analysis report. According to Finder, APE is predicted to end the year at $27 and drop to $25 by 2025. Surprisingly, the price predictions for APE aren't as bullish as for Bitcoin, Ethereum, and XRP.
While some panelists like Dimitrios Salampasis, FinTech lecturer at Swinburne University of Technology, were more bullish on ApeCoin in the short-term, predicting a price of $45 by the end of 2022, the long-term outlook of APE wasn't as bullish with Salampasis predicting a price of $10 for 2030.
The panelists agreed that Yuga Labs, the founders of ApeCoin and the Bored Ape Yacht Club NFT collection, are the blue-chip of NFTs, especially since their purchase of CryptoPunks. The ApeCoin ecosystem has a high potential assuming the team can develop a playable Metaverse where thousands of users can interact with each other.
However, on the bearish side, according to the report, 75% of the panelists believe APE will become another meme coin, while only 20% think it will feature genuine utility. The rest, 5%, remained unsure about the long-term outcome of APE.
Final Thoughts
It's clear that most price predictions for long-term periods of 5-10 years are incredibly bullish. While the current market situation is grim and prices are highly volatile, the long-term sentiment remains bullish.
With the long-term trend for crypto remaining positive, the best trading strategy one can employ is Dollar-Cost Averaging.
Setting aside a certain amount every month to invest in Bitcoin, Ethereum, XRP, and any other cryptocurrencies in the top 100 is the easiest and least stressful way to take advantage of the volatility of the market while at the same time reducing the overall cost basis for your investment.
Disclosure: This is not trading or investment advice. Always do your research before buying any cryptocurrency.
---
Also Read:
Follow us on Twitter @thevrsoldier to stay updated with the latest Metaverse news!
Image Source: shevtsovy/123RF