Last week the cryptocurrency markets showed substantial price growth, with Bitcoin and Ethereum prices rising significantly. However, this week the bears have entered the playing field and have taken control of the market as Bitcoin prices began their decline on Monday. Today the cryptocurrency market broke down the $1 trillion support level, currently valued at $958 billion, causing additional strain on the markets. Moreover, Bitcoin struggles to hold support levels, currently trading at $20.8k. Let's look at any relevant Bitcoin and market news and issue a price prediction for BTCUSD for this week.
Key Points:
Tesla's Bitcoin selloff is still in the news as the company records a $175 million impairment charge on its crypto sales in Q2.
Elon Musk and Twitter drama continue to unfold, with Musk lawyers claiming Twitter isn't playing nice.
Before starting its sideways trading cycle, the bitcoin price will likely fall below $20k.
Major conferences like Miami Mining Disrupt and NFT Expoverse LA are likely to help create bullish momentum in crypto markets.
Bitcoin News
Tesla still manages to make headlines from its Q2 Earnings Report released last week. After revealing that the company sold off more than 75% of its cryptocurrency at a loss, financial analysts announced that Tesla registered a $175 million impairment charge on its book. The impairment charge means Tesla wrote off its Bitcoin holdings, not to get confused with a tax deduction.
While rumors circulated that Tesla's cryptocurrency selloff could've been an attempt by the company to "wash trade" to reduce its capital gains tax liability for 2022, an impairment charge is not a deductible expense to taxable income.
This further brings to question Tesla's long-term outlook on cryptocurrency and why it decided to sell off Bitcoin during what seems to be the peak of the bear market. Does the company expect BTCUSD to continue dropping in value?
The company still holds over $200 million in digital assets despite the substantial selloff, placing the company's position on cryptocurrency unclear.
Elon Musk continues to stay active on Twitter, specifically providing attention to a meme published by a crypto-themed account on the early morning of July 26th.
🤣

— Elon Musk (@elonmusk) July 26, 2022
Speaking of Elon Musk and Twitter, a recent article by The Verge reveals Elon Musk's lawyers' latest action, saying Twitter is making the pretrial process impossible.
According to the report:
"Elon Musk's lawyers have filed a letter to the Delaware Chancery Court saying, essentially, that Twitter isn't playing nice in the pretrial process and should be forced to do so."
While the Twitter and Elon Musk drama is unlikely to affect Bitcoin markets significantly, a falling Twitter stock could create additional uncertainty in tech stocks, leading to a cascade effect influencing Bitcoin's price since BTCUSD still closely follows stock markets price action.
Twitter (NYSE: TWTR) stock continues to trade in the $39 range, trading sideways for the past five days.
Bitcoin Price Prediction
The first bearish sign was the global cryptocurrency market valuation dropping below the $1 trillion mark, which occurred last night and intensified the current market correction. With the global cryptocurrency market cap at $956 billion, the next significant bearish sign would be Bitcoin's price dipping below the $20k support level.
Unfortunately, BTCUSD is dangerously close to breaking through its $20k support, currently trading at $20.9k. After another 5% drop, BTC will be trading below $20k, which could happen in the next several days. If Bitcoin drops below the $20k support line, it will mark the first drop in over two weeks, sending panic across the market.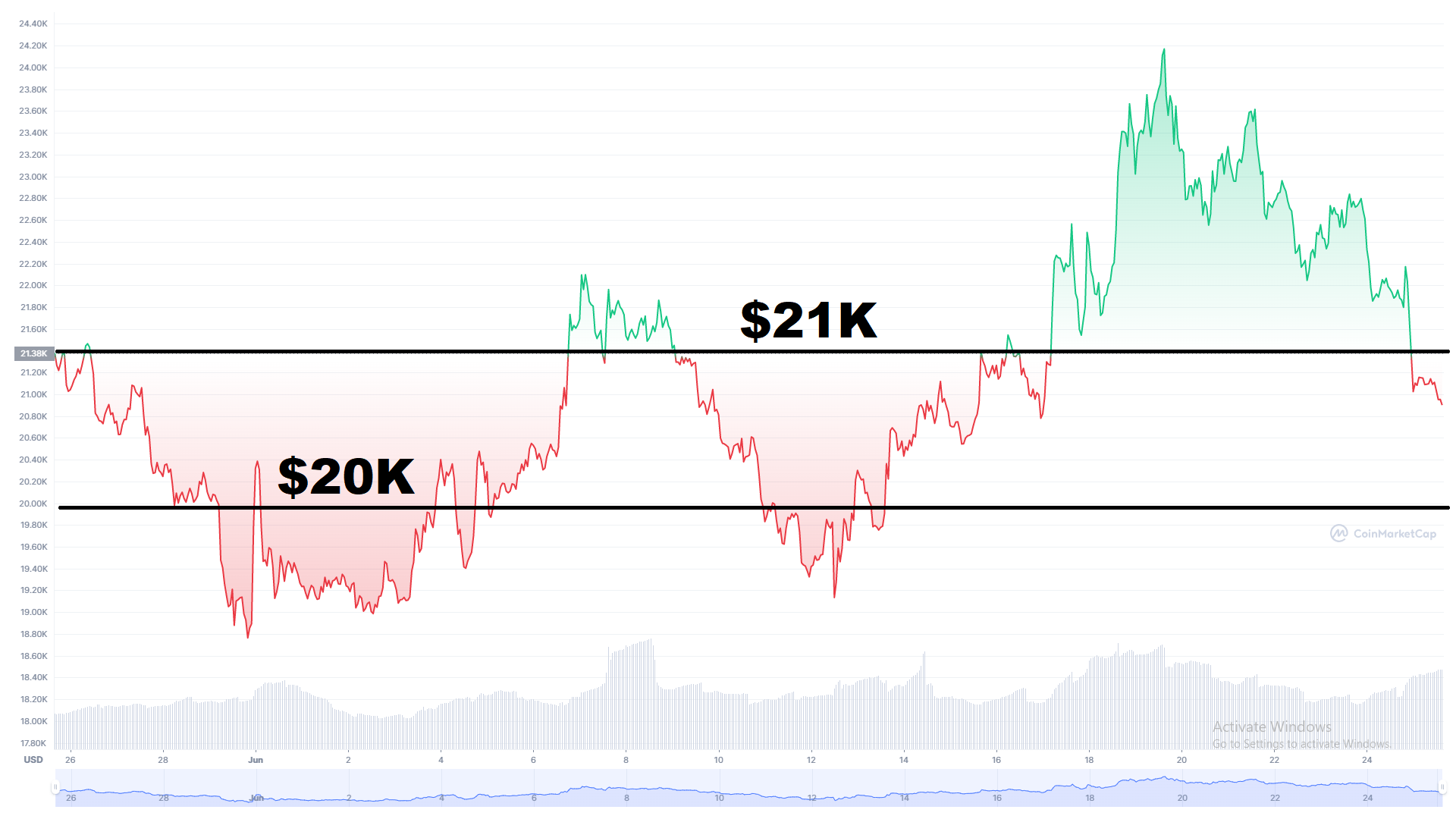 Bitcoin will likely test the $20k support line in the next 24-48 hours, followed by a brief trading period in the $19k range. Next, BTCUSD will likely continue to trade sideways at the $20k-$21k range until this weekend.
We could see increased bullish momentum this weekend due to NFT Expoverse, a major crypto conference taking place this weekend July 29th-31st in Los Angeles. Moreover, Mining Disrupt Conference in Miami is starting today, July 26th, and will run until July 28th, which could help Bitcoin's price during the next several days.
Note: If you plan to attend NFT Expoverse in LA this weekend, connect with The VR Soldier! We will be at NFT Expoverse looking to conduct interviews and would love to meet our readers!
As we've seen with Ethereum's price action last week and the EthCC conference, major crypto-themed events manage to provide substantial support to crypto markets, despite global economic uncertainty.
Disclosure: This is not trading or investment advice. Always do your research before buying any cryptocurrency or investing in any projects.
Follow us on Twitter @thevrsoldier to stay updated with the latest Metaverse, NFT, AI, Cybersecurity, Supercomputer, and Cryptocurrency news!
Image Source: panuwatsikham/123RF