Bitcoin (BTC) has once again made headlines in the world of cryptocurrency as its number of non-zero addresses reached an all-time high (ATH) of 49,238,188. This milestone was achieved just 24 hours after the previous ATH of 49,138,848, signifying a remarkable surge of approximately 100,000 new addresses. This surge comes at a pivotal moment as Bitcoin approaches its highly anticipated halving event, coinciding with the cryptocurrency's price surpassing the $27,000 mark today.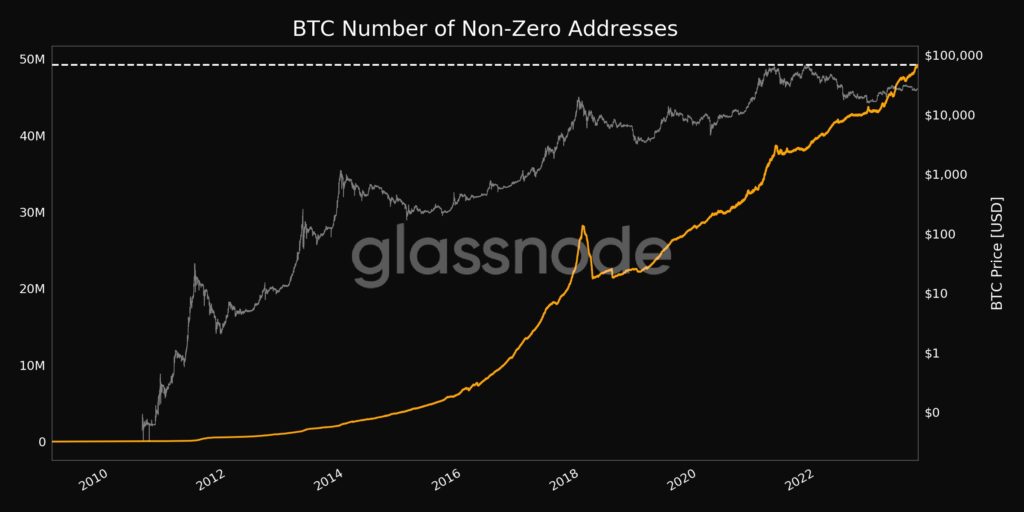 Broadening Interest In The Cryptocurrency Market
The increase in non-zero addresses is a significant indicator of Bitcoin's growing popularity and adoption. Each non-zero address represents a unique user or entity that holds Bitcoin, and this sudden influx suggests a broadening interest in the cryptocurrency. It's important to note that non-zero addresses encompass both individual users and institutional entities, underlining the diverse participation in the Bitcoin ecosystem.
Bitcoin Halving
The impending Bitcoin halving event has been a major topic of discussion among crypto enthusiasts and investors. The halving, which occurs approximately every four years, reduces the rate at which new Bitcoin is created, effectively halving the rewards for miners. Historically, halvings have led to increased scarcity and often driven up the price of Bitcoin. The recent price surge over $27,000 indicates that investors are anticipating similar price movements in the lead-up to the next halving.
Bitcoin's Influence Rages On
Bitcoin's resilience and continued growth in the face of regulatory challenges and market fluctuations highlight its status as a formidable digital asset. It has not only survived but thrived, attracting a diverse range of investors and institutional players. The surge in non-zero addresses showcases a robust and expanding user base, suggesting that Bitcoin's influence is far from waning.
Conclusion
Finally, Bitcoin's achievement of an all-time high in non-zero addresses is a testament to its enduring appeal and growing adoption. With the impending halving event and Bitcoin's price rally, the cryptocurrency continues to capture the imagination of both retail and institutional investors, solidifying its place as a pivotal player in the world of finance.
Disclosure: This is not trading or investment advice. Always do your research before buying any cryptocurrency or investing in any projects.
Follow us on Twitter @thevrsoldier to stay updated with the latest Crypto, NFT, and Metaverse news!
Image Source: imagineseven/123RF // Image Effects by Colorcinch