Even though Google's gaming-console division rarely gets mentioned these days, the company has made yet another blockbuster move and roped in leading VR player, Richard Marks, who was previously tasked with the creation of Sony's PlayStation VR hardware.
About Marks
As per his LinkedIn bio, Marks worked for Sony for 19 years at their Magic Lab department which is dedicated solely to exploring new, upcoming technologies. The division has overseen the development of many amazing innovations including PlayStation Move, EyeToy, and other experimental projects.
At this point, it is also worth mentioning that with this signing, Google will once again pair Marks with former Sony man Phil Harrison, who currently serves as the company's VP and GM. Harrison too announced earlier this year that he was joining Google's Advanced Technology and Projects and sent out a tweet yesterday stating "Delighted that Richard Marks is joining Google. Exciting addition to the ATAP team!"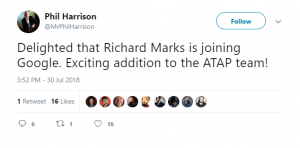 Lastly, in relation to their latest hiring, Google's executive brass released the following statement:
 "ATAP is at the intersection of science and application where our goal is to solve significant problems and close the gap between what if and what is. We're super excited about Richard joining the senior team and look forward to his contributions."
Final Take
Even though very little is known about Google's gaming console, many rumours are currently circulating through the internet which claim that this latest piece of hardware will focus primarily on streaming video-games in real time. Lastly, the project is reportedly called "Yeti", but this information cannot be confirmed with full certainity at this time.