In a recent announcement on twitter, the Dogs of Elon team burned $1m worth of tokens in their largest burn yet.
A few days ago, Dogs of Elon burned $500,000 worth of $DOE to reduce the supply of the token. Today they burned double the amount, reducing the total supply by 20,000,000M $DOE, worth $1M at the time of writing.
🔥 NEW BURN ! NEW BURN ! NEW BURN ! 🔥

BURN 20 million $DOE tokens, which is the current value of $1,000,000.$DOE TOTAL BURN:
30M $DOE – CURRENT VALUE $1,500,000#NFTs #dogsofelon
TX: 0xc9abb8acdd30f2431e4e19b051c4cbdc9c330f59617b0d270bba397a7be87c38 https://t.co/hZ5IBZo8vh

— Dogs Of Elon (@dogsofelon) November 4, 2021
In total, Dogs of Elon burned 30 million tokens whose current value is upwards of $1.5m.
What Makes Dogs of Elon Unique?
Dogs of Elon is special because the number of tokens is limited forever, it's never possible to produce more. The team said:
"We think this is currently the only meme token with such a feature. DOGE: Supply / Unlimited SHIB: Supply / Unlimited Did you know that $SHIB turns over a billion dollars a day with unlimited supply, and only burns $25,000? That's really funny!"

The max supply for Dogs of Elon is 1b tokens. The team's share is 25M tokens (2.5%) which are locked up for 5 years. There are 300M (30%) which are locked up as staking rewards, 150M (15%) for Liquidity and 300M (30%) reserved for the CEX.IO liquidity pool.
Last but not least 150M (15%) is allocated to the presale at a price of 0.0000012ETH per token. That leaves 75M $DOE tokens of which 30M have been burned.
Why Burn Tokens?
For those new to the cryptocurrency scene and are confused as to why the team is burning tokens. The act of burning valuable tokens is a sign of commitment to the project by the team. Reducing the supply of the token makes everybody a little bit richer, which always garners positive support.
How Did Dogs of Elon Burn Their Tokens?
The team provided a transaction hash of the burn, looking it up on Etherscan we can see that 20,000,000 $DOE were sent to a Black Hole address.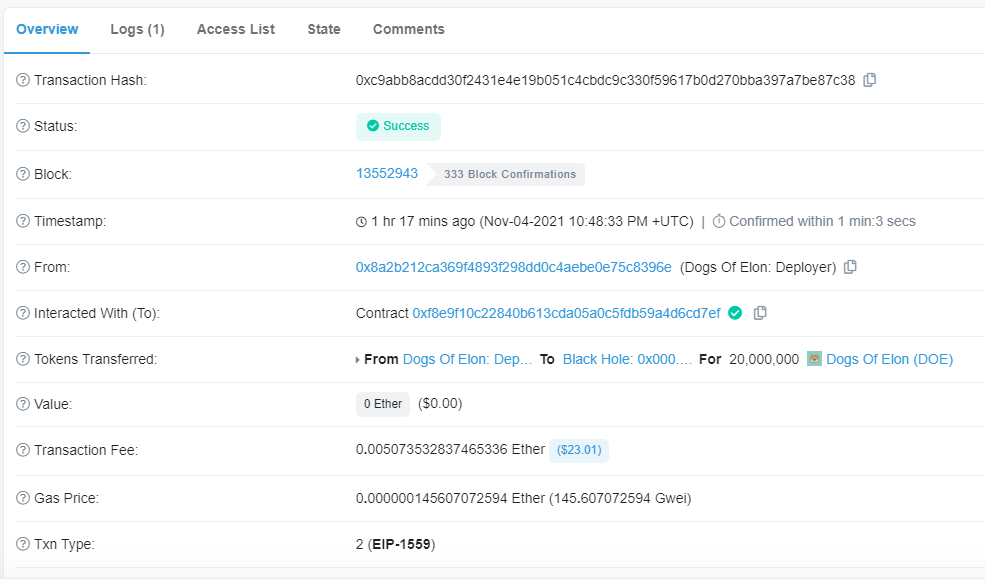 The Black Hole or "eater" address is a public wallet that anyone can access to see the burned tokens. In this case the address is: 0x000000000000000000000000000000000000dead.
Last Chance to Join the Dogs of Elon Presale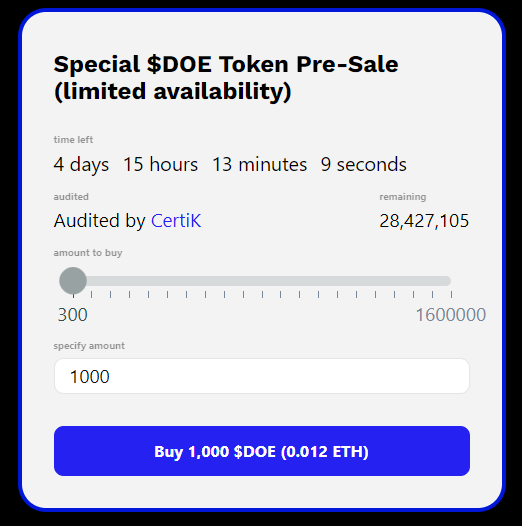 Dogs of Elon are currently hosting a presale for their $DOE token. The presale will last for only 4 more days and there are only 25 million tokens left.
The minimum amount one can purchase is 300 $DOE for the price of 0.004 ETH (roughly $17 at the time of writing)
Follow us on twitter @thevrsoldier to stay up to date with the latest cryptocurrency news!