KuCoin's first IGO Pikaster's round one presale for the Origin Eggs sells out in minutes. The 3000 Original Mystery Eggs sold out within minutes after going live earlier today, April 11th, at 12 PM UTC. The good news is, if you're looking to get in on the hype, you still have time to join the whitelist to obtain the Pikaster Round 2 Eggs for $60 each, going live on April 15th at 12 PM UTC. Let's look at Pikaster IGO, its NFT collection, and its play-to-earn game and see why the market is so excited about this project.
What Is Pikaster?

Pikaster is a Pokemon-inspired play-to-earn card-battle game featuring cute NFTs, each with unique designs and attributes. The Pikaster game features several game modes enabling users to earn rewards by participating in its ecosystem.
Players can choose from several game modes, including a PVP battle, PVE adventure, Guild Play, and Special-weather gameplay. Each game mode enables players to earn rewards in the form of tokens.
Pikaster features a triple-token economy consisting of MLS, SRBS, and RBS. MLS (Metaland Shards) is the governance token for the ecosystem. SRBS (Super Rare BallShared) is the rare game token in Pikaster. Last but not least, RBS (Rare BallShares) is the regular utility asset in Pikaster.
The game mechanics enable players to choose between three to five PIkasters and enter the battlefield. Three Pikasters will enter the battle first. When one is defeated, the remaining Pikaster will take over and continue the battle.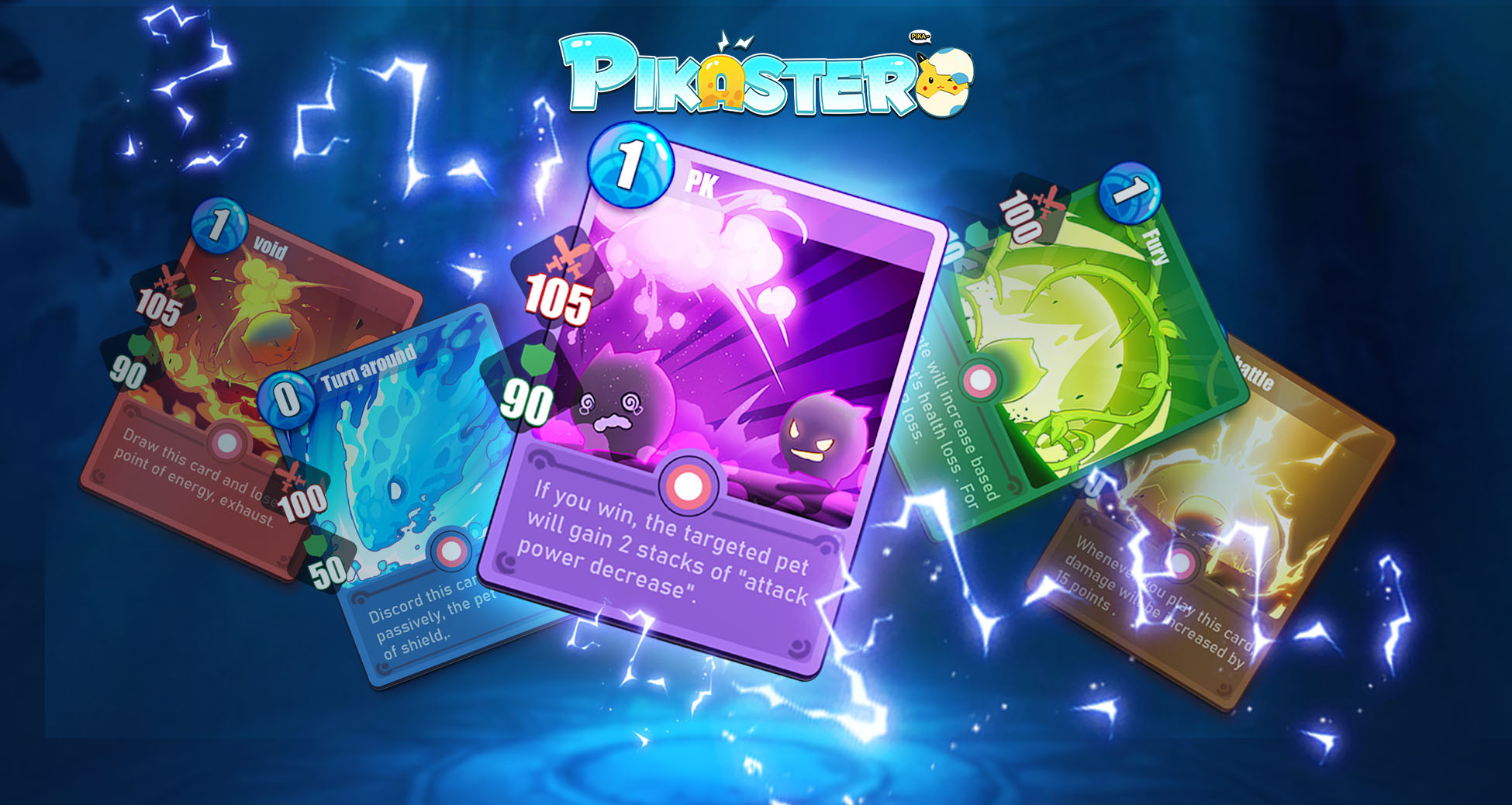 At the beginning of each turn, each player will initially get six random cards and three extra random cards at the beginning of each turn. Once both players start the battle, it will begin.
Each card will also feature unique skills, which will consume energy points. The energy will increase by 1-2 points every turn, providing an opportunity for each player to sway the battle with their cards' unique skills.
There are quite a few similarities between Pikaster and Axie Infinity, and by the looks of it, Pikaster is going after a similar market. The NFT monsters have a similar design to Axie Infinity, and it wouldn't be surprising for Pikaster to see significant success once the game is released and used can earn rewards.
Pikaster Is Kucoin's First IGO
The fact that KuCoin chose Pikaster as its first project for its IGO signals a tremendously bullish sign for the project. It comes as no surprise that the 3000 eggs for the first round of the presale sold out almost instantly and were all gone within an hour of the start of the presale.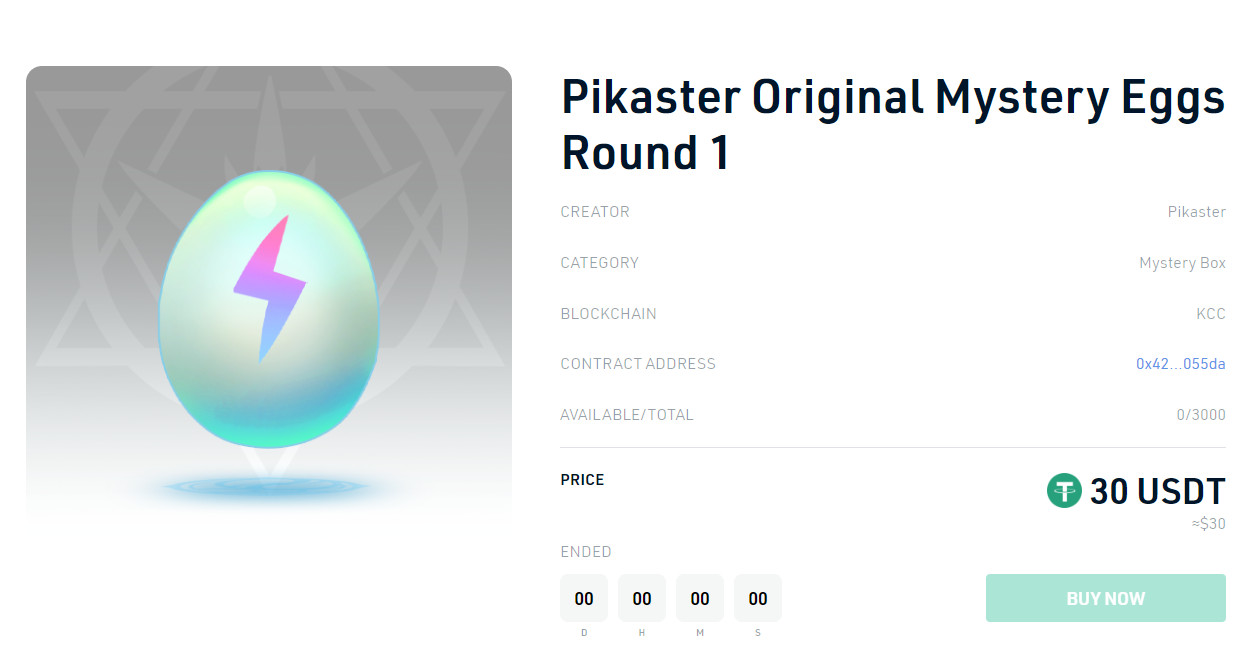 Users must be whitelisted to join the Pikaster IGO. However, entering the whitelist is extremely simple. Users have to complete specific social media tasks via the gleam.io Pikaster campaign, and once they complete the tasks enter their KuCoin UID to enter the whitelist.
If you're looking to participate in KuCoin's first IGO, while you might have missed the first round of the presale, you still have plenty of time to register on the whitelist and attempt to claim up to five Pikaster eggs during the second round of the presale, which will go live on April 15th, 12 PM UTC.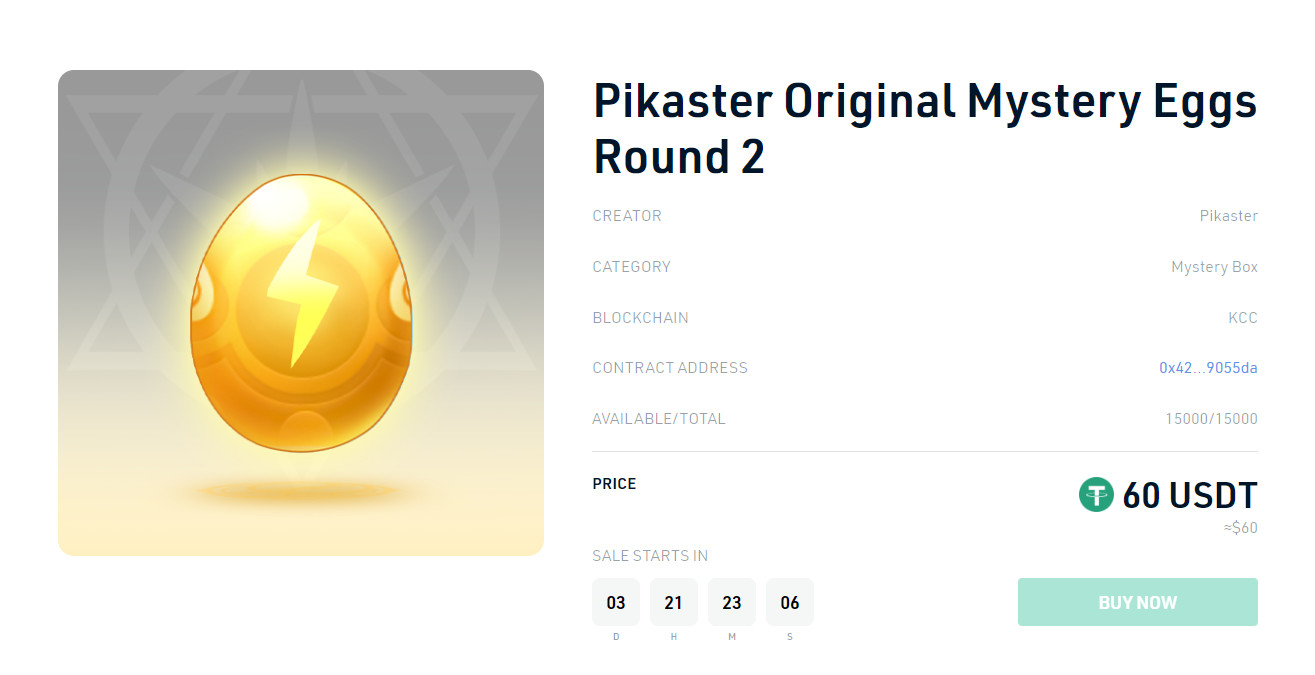 While the first presale round only featured 3000 total eggs priced at $30 each, the second round will feature 15,000 eggs priced at $60 each.
For those looking to go all-in on Pikaster, the third round also hosted on April 15th at 12 PM UTC will feature ten super rare evolved Pikaster eggs sold by auction.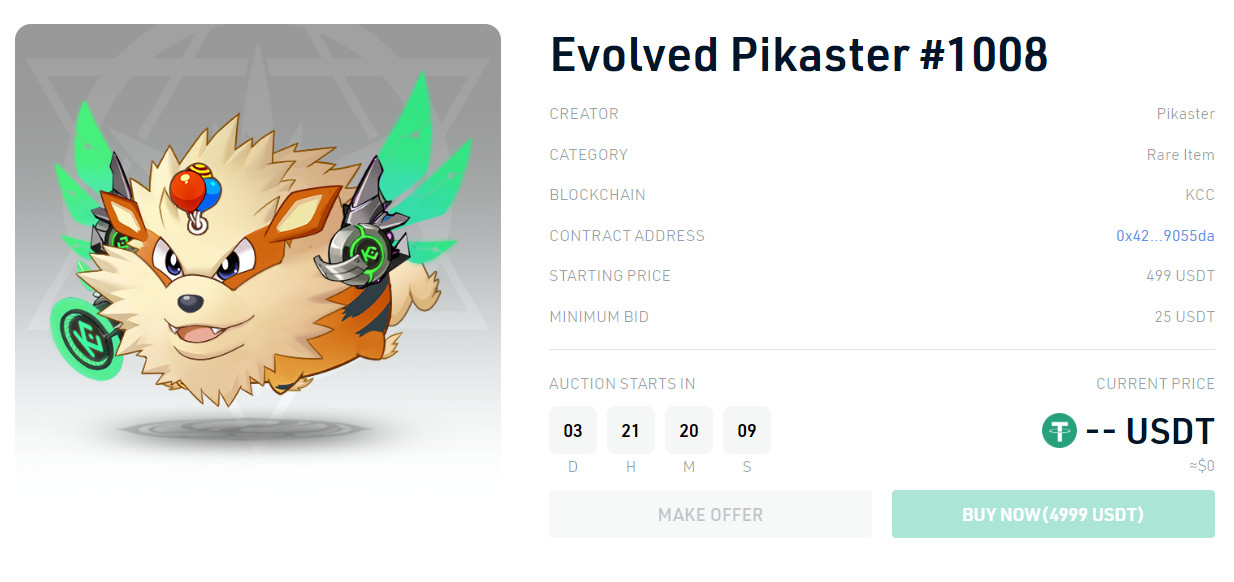 The highest bidder will claim the super rare Pikasters, or if you decide to buy out the Pikaster for an exorbitant amount, that's also an option.
Disclosure: This is not trading or investment advice. Before buying any Metaverse crypto coins or investing in any project, always do your research.
---
Also Read:
Knight Commander NFTs Sell Out in Minutes on Theta Marketplace, Now Selling for Double the Drop Price
Follow us on Twitter @thevrsoldier to stay updated with the latest Metaverse news!