In a surprising turn of events, FTX, the troubled cryptocurrency exchange, has received approval to liquidate a staggering $3.4 billion worth of crypto assets. This development has triggered a surge in conversations related to #FTX, reaching a 5-month high on social media and crypto forums. While the news itself is noteworthy, it's the ripple effect on the Ethereum blockchain that has left the crypto community buzzing.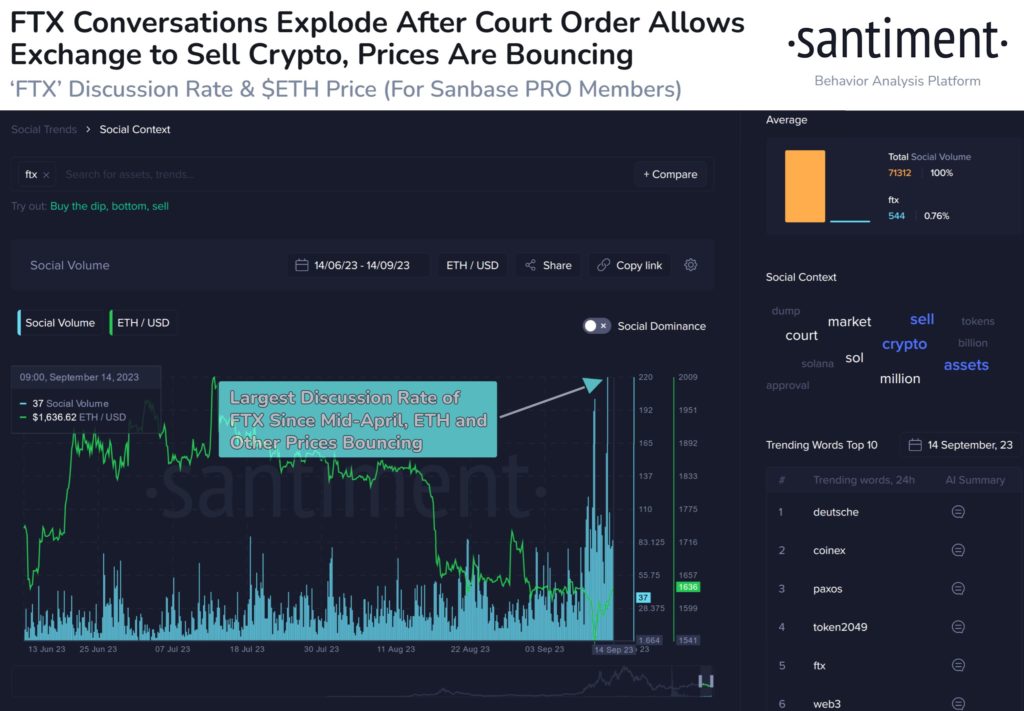 Ethereum, often considered the backbone of the decentralized finance (DeFi) ecosystem, has experienced an unusual spike in on-chain activity since FTX's approval. Notably, it recorded its second-largest activity day of all time recently. This sudden surge in Ethereum transactions and interactions has left many speculating about its implications.
One plausible explanation for this surge is that FTX's liquidation of $3.4 billion in crypto assets may have involved significant Ethereum holdings. Traders and investors could be moving their assets on the Ethereum blockchain in response to these developments, either to take advantage of potential arbitrage opportunities or to secure their holdings in a more decentralized manner.
Additionally, Ethereum's transition to Ethereum 2.0, with its promise of improved scalability and reduced gas fees, might be enticing more users to interact with the network. This, coupled with the DeFi boom and the growth of NFTs, has already been driving Ethereum's on-chain activity to new heights.
Conclusion
Finally, FTX's approval to liquidate billions in crypto assets has not only made headlines but has also set Ethereum's on-chain activity on fire. While the exact reasons behind this surge remain speculative, it underscores the ever-evolving and interconnected nature of crypto space. As the crypto world continues to expand, unexpected catalysts like this can trigger a cascade of effects across various blockchain networks, keeping the community on its toes.
Disclosure: This is not trading or investment advice. Always do your research before buying any cryptocurrency or investing in any projects.
Follow us on Twitter @thevrsoldier to stay updated with the latest Crypto, NFT, and Metaverse news!
Image Source: slavstan/123RF // Image Effects by Colorcinch