There is a significant market correction, and would you like to take advantage of the situation? Unfortunately, the funds sent via bank transfer may arrive too late when the market starts moving up again. Luckily there is a way out of this situation – the KuCoin exchange. It instantly lets you buy bitcoin and other cryptocurrencies using your bank card. In today's article, we will explain this process step by step. But first, let's introduce the exchange itself and discuss the advantages of buying cryptocurrencies with your bank card. So, here we go!
What is KuCoin?
KuCoin is one of the largest cryptocurrency exchanges in the world created for all kinds of investors, both beginners and more experienced ones. It's all thanks to an interface that is very intuitive and allows you to use advanced features. It is not without reason that the slogan of this platform is "People's Exchange."
So what makes KuCoin stand out from the competition? First, it's the massive number of available assets (especially the smaller ones) and trading pairs. Currently, the platform supports over 700 cryptocurrencies and allows you to trade them in over 1,200 pairs. These are numbers that any other exchange cannot match. It is also worth noting that KuCoin offers a variety of so-called "crypto gems" that are not available elsewhere. Recently, they added support for tokens such as BLOK, CHMB, VR, KMA, and DAO, among others.
However, KuCoin is not just a simple, straightforward exchange. It is a whole ecosystem of many products, loved by over 18 million users in 207 countries. In addition to the usual trading capabilities, the platform allows for using leverage, futures trading, staking, crypto lending, investing in launchpad projects, trading via a trading bot, P2P markets, and much more!
According to both CoinMarketCap and Coingecko, KuCoin is currently the fifth-largest cryptocurrency exchange in the world. Nonetheless, it already outperforms some of its rivals in volume and outclasses them regarding markets and available assets.
Why Is It Worth Buying BTC/Crypto on KuCoin With a Bank Card?
KuCoin supports many different payment methods. One of them is the bank card. But why should we use a card rather than a regular bank transfer? Well, let us explain:
Simplicity – Buying cryptocurrencies with a bank card is intuitively simple. It all comes down to following just a few simple steps (which we'll cover in the next section of this guide). The whole process looks just like making any other online purchase. This means anyone can buy their first cryptocurrency – even someone unfamiliar with the technology.
Speed of transactions – KuCoin supports quite a few payment methods. Nevertheless, most of them are pretty slow. In the case of card payments, transaction processing is instantaneous. This means you can have cryptocurrencies in your wallet in just a few seconds. With this fact comes another undoubted advantage. Using a bank card allows you to take advantage of every opportunity in the market!
How to Buy BTC/Crypto via Bank Card on KuCoin – Step-By-Step Guide
As we mentioned earlier, buying cryptocurrencies via bank card on KuCoin is very simple and comes down to just a few steps. Below you will find a detailed step-by-step guide with pictures.
Step 1: To buy cryptocurrencies on KuCoin with your bank card, you first need to have an account. If you don't have one yet, you can register by clicking on this link and following the instructions displayed. Remember that to top up your KuCoin account with fiat currencies, and you must also pass KYC verification.
Step 2: If you have successfully registered, go to KuCoin.com. Then hover your mouse over "Buy Crypto" and click "Fast Trade" (as in the image below). Alternatively, you can also go here. The link will take you straight to the right place.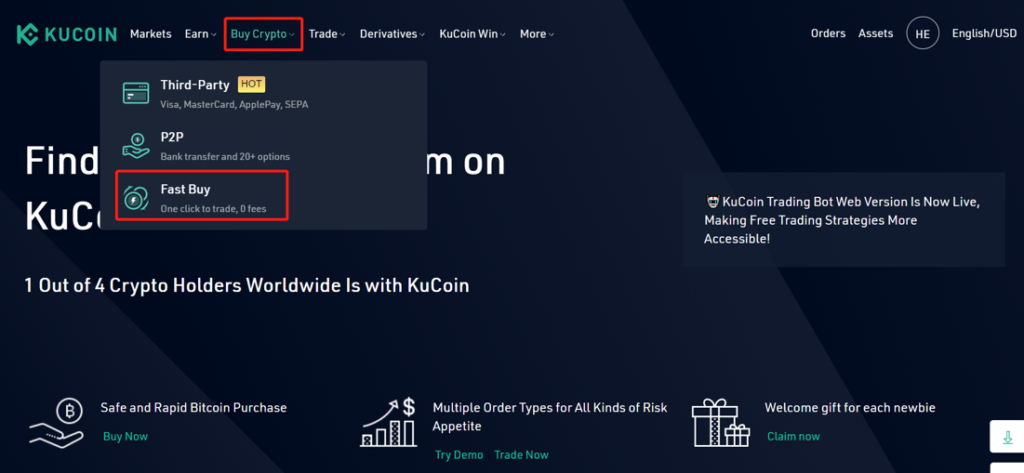 Step 3: You must choose the cryptocurrency you want to buy and the fiat currency you wish to pay with. Currently, KuCoin supports 48 different fiat currencies. Once you have entered the appropriate values, click "Buy XXX."
Step 4: At this point, you will have the option to choose your payment method. If you want to pay by card, you will naturally need to select the "BANK_CARD" option.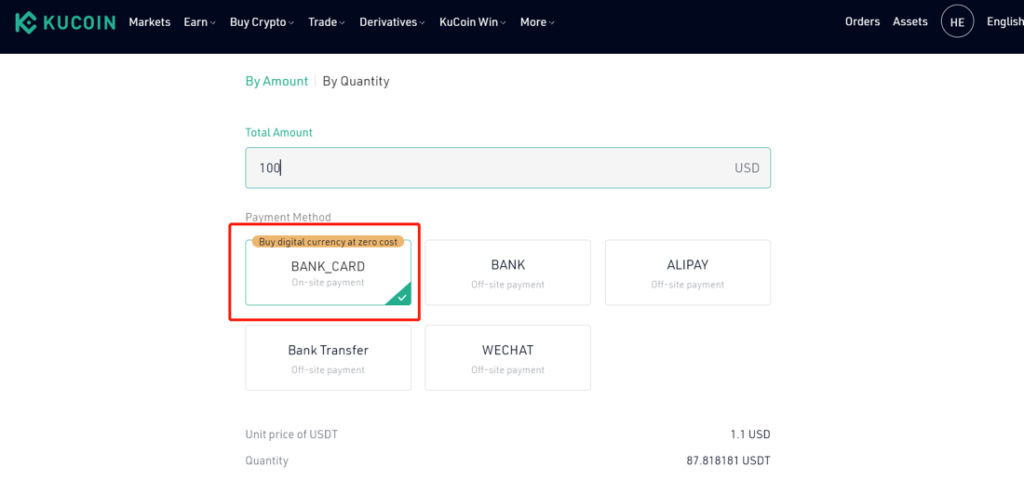 Step 5: If you have not yet completed KYC verification, you will have to do so. However, you can go straight to the next step if you already have a verified account.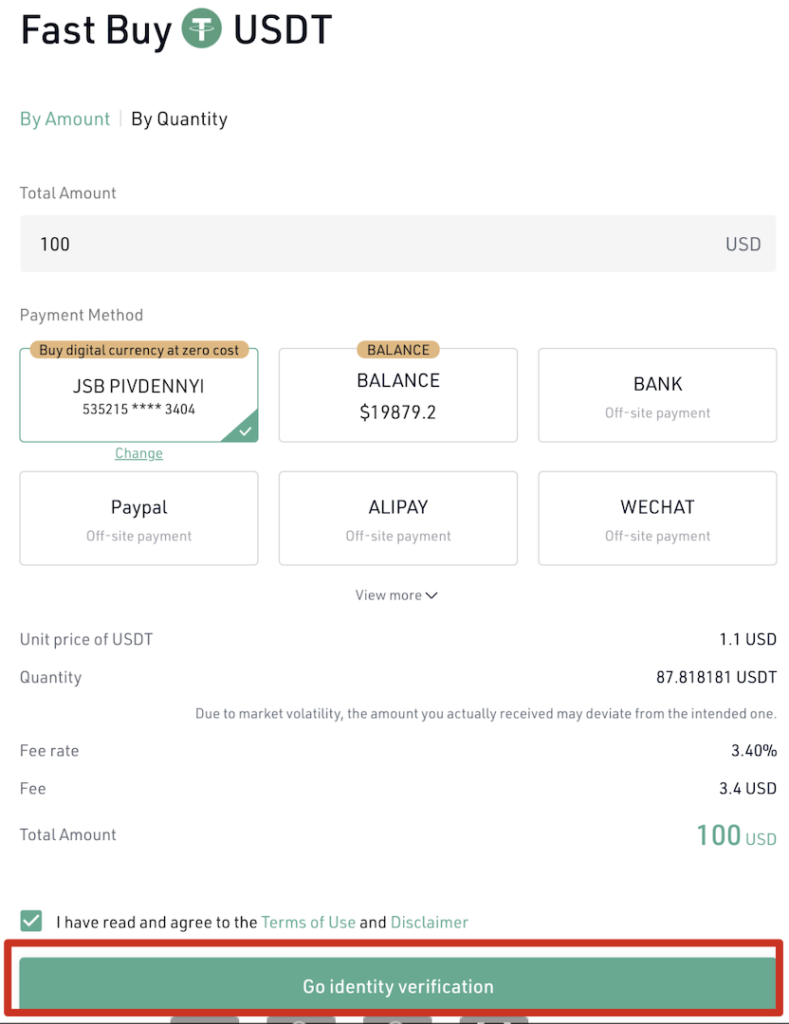 Step 6: You will now be presented with a window where you will have to enter your card details such as number, name, expiration date, CVV code, and billing address. Fill in the appropriate fields and click "Confirm."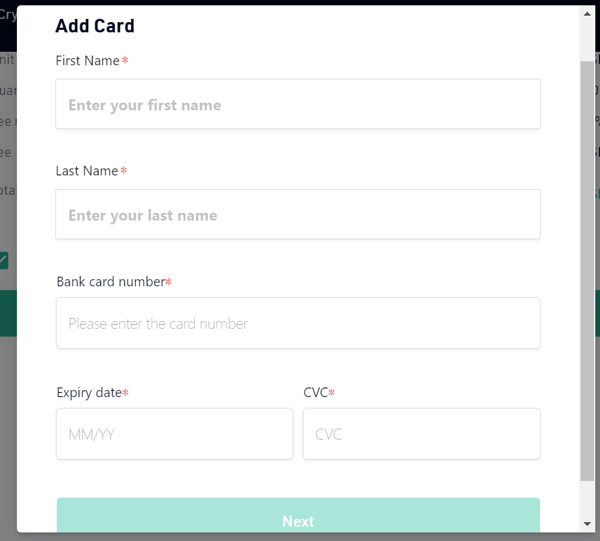 Step 7: Click "Buy Now" and "Buy USDT." That's it; you just bought cryptocurrencies with your bank card. Once you have made your purchase, you will still see a receipt with all the transaction details.

If you would like to export your transaction history, hover your mouse over "Orders" and then "Buy Crypto Orders" (as in the image below).

Summary
Buying cryptocurrencies with your bank card on KuCoin is a straightforward process that even a layperson should be able to handle. Moreover, it allows you to instantly process orders so you won't miss any more opportunities. On top of all this, KuCoin is one of the largest cryptocurrency exchanges in the world. Its reputation is impeccable, and the implemented security features mean you can rest easy without worrying about losing your funds.
So don't delay! Create your account on KuCoin today by clicking this link and enjoy the fantastic possibilities of this ecosystem!
Disclosure: This is not trading or investment advice. Always do your research before buying cryptocurrency, using any service, or investing in any project.
Follow us on Twitter @thevrsoldier to stay updated with the latest Crypto, NFT, AI, Cybersecurity, and Metaverse news!
Image Source: valedol/123RF