Shiba Inu price is up 5% today, peaking at $0.00005592 with a low of $0.00005235. SHIB has been trading sideways all of November, after hitting a new all time high of $0.000086 on October 28th. Let's go over any recent Shiba Inu news, and take a look at today's charts to see where SHIB will take us this week.
Shiba Inu News
The big news of today is Gemini's announcement that they have added Shiba Inu, in addition to new DeFi and Metaverse Tokens to their platform.
Users will not be able to purchase SHIB using USD, GBP, EUR, CAD, AUD, HKD, and SGD pairs. USD Coin (USDC) is also available for custody and trading for Shiba Inu.
It's great to see another major exchange hop on board and list Shiba Inu. Unfortunately, we still don't have any news regarding a potential Robinhood listing, but traders remain hopeful.
Since SHIB was added to Gemini a few hours ago, there has been over $4 million in volume generated on the platform. This makes Shiba Inu the 7th most traded coin on Gemini today. This speaks to the scale of the Shiba Inu community, and the fact that SHIB still has tons of support.
Shiba Inu Price Prediction
Shiba Inu has settled into a sideways trading pattern over the past two weeks. After hitting an all time high and rebounding, SHIB has seen strong support at the $0.00005 level.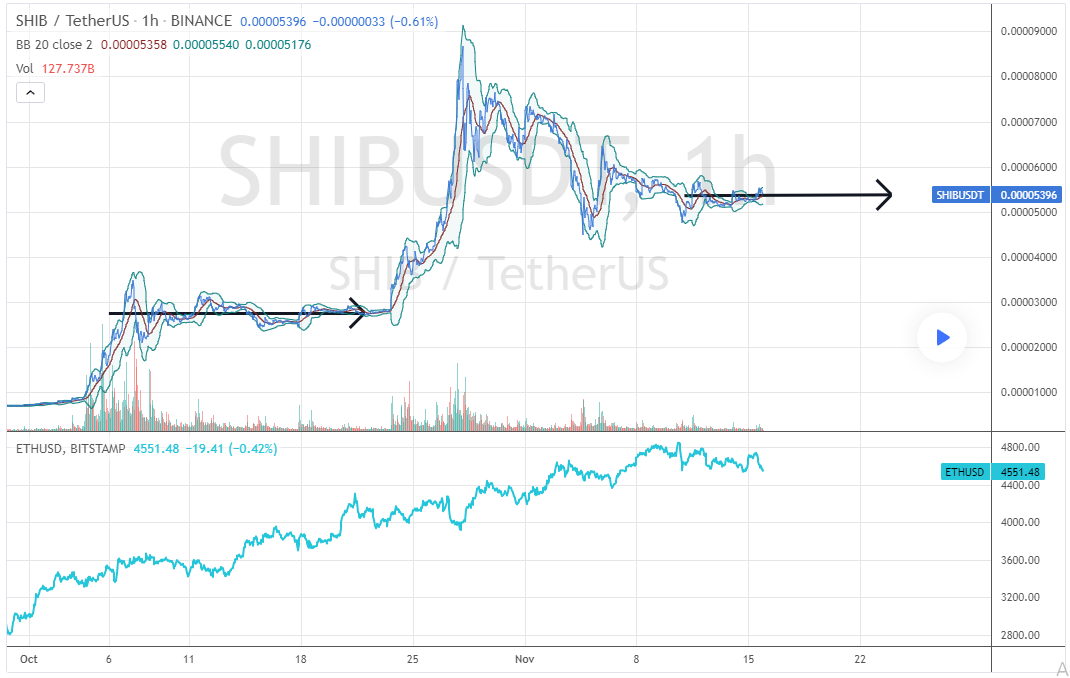 Since December is known to be crypto's hottest months, we should expect the markets to be relatively quiet until the end of November, when SHIB and other cryptocurrencies will see an increase in valuation.
Moreover, looking at previous trends for SHIB, we can see that it traded sideways for about 20 days before another bullish run. As long as ETH / BTC price remain on a positive trajectory, so will SHIB.
Absent any major price corrections, SHIB will continue trading between the $0.00005 and $0.00006 levels until the end of November.
Also Read:
Disclosure: This is not trading or investment advice. Always do your own research before buying any cryptocurrency.
Follow us on twitter @thevrsoldier to stay up to date with the latest cryptocurrency news!