In the realm of decentralized finance (DeFi), Synthetix has emerged as a standout performer in September, marking an impressive 21% gain for the month. This resurgence is not merely reflected in price, but also in the project's robust onchain and social activity.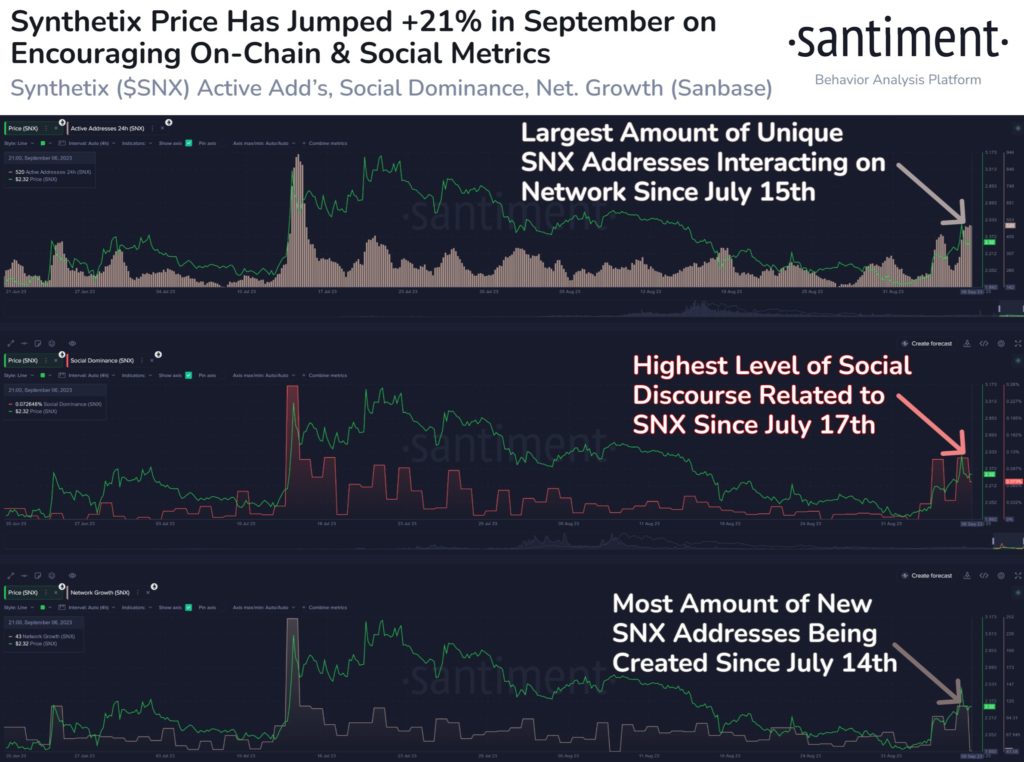 Heightened Level Of Onchain Activity
One striking aspect of Synthetix's recent success is the heightened level of onchain activity. More addresses are actively engaging with the platform, indicating increased user participation and interest. As more individuals interact with Synthetix's decentralized synthetic asset platform, it underscores the growing utility and appeal of the project.
Furthermore, Synthetix's network growth is on an upward trajectory. This uptick signifies that more users are joining the Synthetix ecosystem, seeking to leverage its unique features and offerings. The growth of the network is crucial for the long-term sustainability of any DeFi project, and Synthetix seems to be on a promising path in this regard.
$SNX Social Growth From Community
Socially, the cryptocurrency community is paying closer attention to $SNX. The project has garnered increased visibility and interest, with a growing crowd of enthusiasts and investors keeping a watchful eye on its developments. This surge in attention is often indicative of strong fundamentals and innovation within the project.
Synthetix's recent 21% gain is a testament to its resilience and ability to adapt to the ever-evolving DeFi landscape. As more users actively participate in the network and the community's enthusiasm continues to grow, the project appears well-positioned for further success.
Final Thoughts
In conclusion, Synthetix's remarkable rebound in September is not only reflected in its price performance but also in the vibrant onchain activity, expanding network, and heightened social presence. These factors combined demonstrate the project's strength and its ability to capture the imagination of the DeFi community. As Synthetix continues to innovate and expand its offerings, it remains a project to watch closely in the evolving DeFi space.
Disclosure: This is not trading or investment advice. Always do your research before buying any cryptocurrency or investing in any projects.
Follow us on Twitter @thevrsoldier to stay updated with the latest Crypto, NFT, and Metaverse news!
Image Source: aprillrain/123RF // Image Effects by Colorcinch