With Bitcoin struggling today, dropping over 5% in the past 24 hours, most crypto markets are seeing bearish momentum as the week is coming to an end. However, some coins have seen incredible price gains in the past 24 hours, more than tripling in price. Let's look at the top 3 gainers on CoinMarketCap today and see why the price is rising so much.
1. Prince Floki V2 (PrinceFloki)

+347.97%
We reported about Prince Floki in yesterday's article about the top 5 trending meme coins on CoinMarketCap. As the name suggests, Prince Floki V2 is the second iteration of Prince Floki – a deflationary meme token with a rebase AI algorithm.
The first version of PrinceFloki included an irreparable Rebase vulnerability that continuously added liquidity to PancakeSwap's address, Prince Floki V2 fixed the issue, and the market responded exceptionally well.
The unique feature about PrinceFloki is that it rewards holders with DOGE rewards, making it an excellent project for DOGE bulls looking to accumulate more coins.
PrinceFloki more than tripled in price today, rising by over 347%. At the time of writing, there's no market cap available for PrinceFloki because of the AI Rebase feature. Still, the 24-hour trading volume is at $2 million, signifying genuine interest in the market.
Whether PrinceFloki will continue its meteoric price hike is up for debate, but those buying in yesterday are happy with today's price action. Since it's a BEP-209 token, you can trade PrinceFloki on PancakeSwap.
2. LIFEBIRD (LIFEBIRD)

+377%
LIFEBIRD describes itself as a unique decentralized platform designed to provide immense benefits to the users in a modularized and sophisticated way. According to its official website:
"LIFEBIRD aims for a huge charity revolution through this ideal economic system. This goal is well accomplished by building an active reward system that benefits both the Token Holders and People in Need as well."
From what we gather, LIFEBIRD token is meant to help those in need and provides help similar to how a charity would provide support for various causes.
Overall, LIFEBIRD seems like a highly risky investment that doesn't provide real-world value. There are tons of charity projects already, and the LIFEBIRD token website doesn't offer much other than overuse in marketing words like community, investment, sustainability, etc.
With a 24-hour volume of $358k and a supposed market cap of $306 million, LIFEBIRD token is highly susceptible to price manipulation. A quick look at the chart shows the volatility on PancakeSwap is ridiculous, with price swings of 90% happening within hours.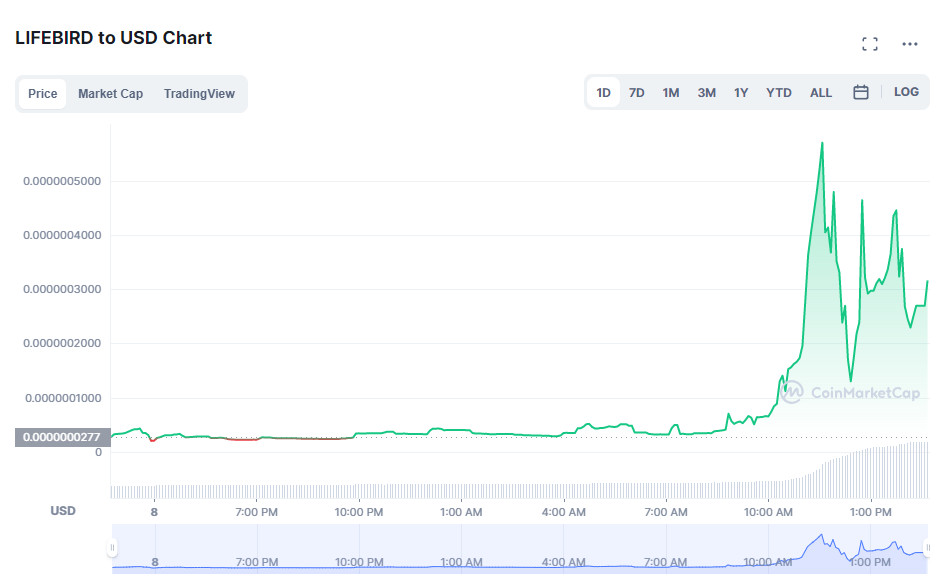 With such volatile charts and low trading volume, I would proceed with caution when it comes to LIFEBIRD.
3. Severe Rise Games Token (SRGT)

+507.09%
Severe Rise Games is a platform that will feature a variety of Play-to-Earn blockchain-based games. According to its official website:
"Severe Rise Games was organized by like-minded people with the same enthusiasm in Cryptoverse, Blockchain, NFT, and Play-to-Earn games in the hopes of empowering gamers, players, and investors while playing our games and incentivizing and rewarding them with our own native token. Prepare for a journey filled with endless possibilities as you face off against various opponents."
Severe Rise Games features a game called NFTale, which is a Massively Multiplayer Online Role-Playing Game (MMORPG). Users can check out the game by visiting SRGT's official website and connecting with MetaMask.
The Severe Rise Games Token is a BEP-20 token used as the main currency on the platform. You can purchase SRGT on PancakeSwap with the WBNB pair.
At the time of writing, the 24-hour volume for SRGT is $545k, which is quite respectable for a relatively new project that only launched recently.
The unverified market cap for SRGT is $5.9 million, which is quite a reasonable valuation for a project that's only been live for 24 hours.
If you're looking to invest in SRGT, I would highly recommend checking out their game first and deciding whether a $5.9 million valuation is appropriate for the product currently available on the market.
Disclosure: This is not trading or investment advice. Always do your research before buying any cryptocurrency.
---
Also Read:
Follow us on Twitter @thevrsoldier to stay up to date with the latest cryptocurrency news, and subscribe to our daily newsletter to never miss another story!