With cryptocurrency markets trading sideways today, several Metaverse crypto coins are showing significant price gains. Let's look at the top three Metaverse crypto coins gaining the most price today, ordered by 24-hour price growth, lowest to highest.
#3 Terra Virtual Kolect (TVK)

+9%
Launched in December 2020, Terra Virtua Kolect (TVK) is a Metaverse NFT collectibles platform available across mobile, AR, and VR environments. Terra Virtua Kolect includes a unique gaming and social experience with the goal of getting users into the Metaverse and NFTs.
Contrary to popular belief, Terra Virtua Kolect isn't part of the Terra Luna ecosystem. The project is built on Ethereum. It enables users to collect their favorite NFTs and potentially profit from trading them.
Moreover, Terra Virtua includes a social Metaverse experience enabling users to meet new friends and interact with each other.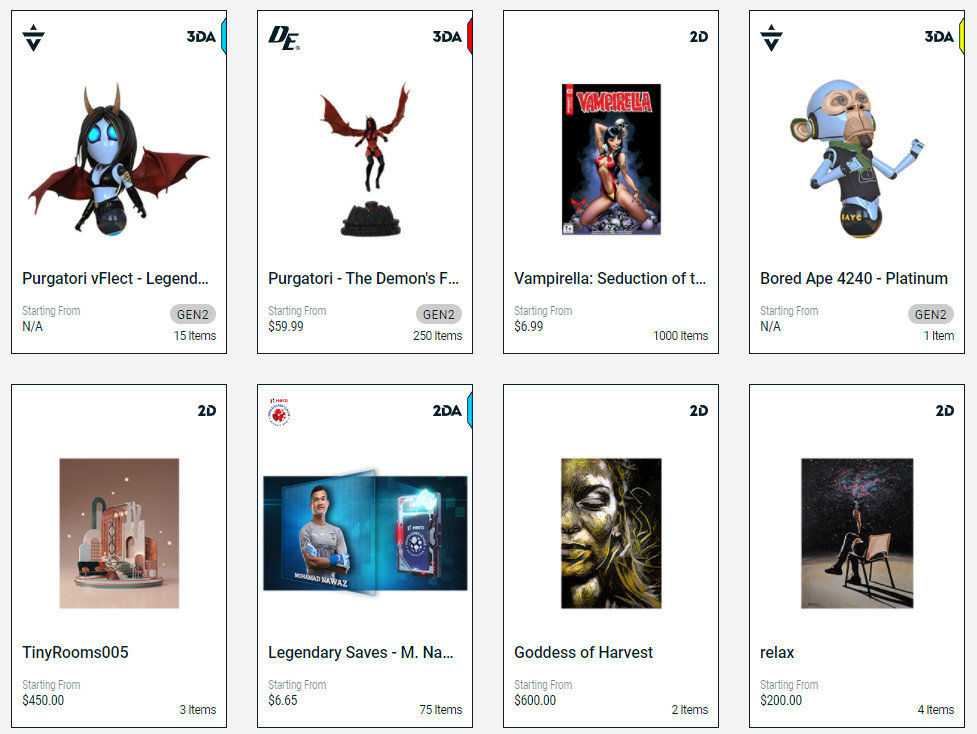 We recommend checking out Terra Virtua's official NFT marketplace, which contains hundreds of unique NFTs. Users can purchase NFTs via Ethereum, TVK, or Credit Card, making it easy for newcomers to join the crypto NFT revolution.
The primary utility asset for Terra Virtua Kolect is their ERC-20 TVK token, whose leading utility includes crafting NFTs, buying collectibles on the marketplace, and more.
The development team behind Terra Virtua Kolect continues to work hard on making new NFTs and adding features to the platform. Recently, they shared a 3D model that can be used in their Metaverse using the AR feature, which you can check out here:
Sneak peek of Tsuki 3D model!

The 3D model can be used in the #Metaverse and using AR feature!

3D model, posters as well as future roadmap successes will be available in the FanCave and the TerraDome!@TsukiNFT x @TerraVirtuaHQ

Tsuki Discord community:https://t.co/sjlRBFXXCl pic.twitter.com/b2UIQMcSsd

— Terra Virtua $TVK | Collecting. Reinvented. (@Terra_Virtua) March 17, 2022
The team's continual development and upgrade of the platform is a reason for TVK's recent bullish momentum, which should continue throughout this year.
With a current market cap of $86 million, TVK is highly undervalued and is a must-watch in March 2022. In addition, TVK has been performing exceptionally well this week, making it into the top three biggest gainers for Metaverse crypto coins.
You can buy TVK on Uniswap (V2), Gate.io, KuCoin, Binance, BKEX, Hotcoin Global, ZB.COM, Coinone, Bitrue, Paribu, and more.
#2 Ethernity Chain (ERN)

+15%
Launched in March 2021, Ethernity Chain is yet another highly underrated NFT marketplace, this time featuring fully authenticated and licensed NFTs from major brands and AAA gaming companies.
Ethernity Chain features some of the best-designed NFTs on the market within a wide range of categories, including art, cars, baseball, basketball, boxing, and any sports category you can imagine.
Ethernity Chain features thousands of various collections from dozens of unique categories, and we highly recommend checking out their marketplace.
The platform explicitly features several awesome soccer-theme NFTs from the world's most iconic teams. If you're a die-hard soccer fan, we highly recommend looking at Ethernity's soccer NFT collection.
In recent news, Ethernity shared their latest Vortex NFT collection featuring Bruce Lee in a water-themed artistic rendition, showcasing the high-quality designs for their NFTs.
"Vortex" is one of six in a collection of poetic imagery highlighting the stillness and motion of martial arts.

The @brucelee #NFT collection lives at https://t.co/ueKLYMDEcq ♾ pic.twitter.com/xKJWpPfr2T

— ETHERNITY (@EthernityChain) March 19, 2022
The team's continual release of world-class NFTs with great design is a sure reason for Ethernity's recent price gains this week.
The primary utility asset for Ethernity Chain is ERN, and its primary purpose is to purchase NFTs and provide access to exclusive drops. Users can also purchase NFTs on the platform via wETH available on the Ethereum and Polygon chains.
You can purchase ERN on Gate.io, KuCoin, Poloniex, OKX, Binance, and more.
#1 Juggernaut (JGN)

+33%
Launched in September 2020, Juggernaut (JGN) is the top gainer this week, rising by over 33% in the past seven days!
Juggernaut offers a robust ecosystem consisting of a staking platform, an NFT exchange, lucky NFT draw games, and a decentralized exchange called JuggerSWAP.
The project features a unique ecosystem whose vision is to help users get their foot in the door with DeFi, recently moving onto the Avalanche blockchain for its increased liquidity and lower fees.
In addition, recently, JuggerSWAP launched their third liquidity pool, voted into existence by the Juggernaut DAO. Initially, the JuggerSWAP platform was launched on Ethereum. Still, the team made the smart decision to transition to the Avalanche network and the BNB chain due to the various benefits they provide for its DeFi platform.
Juggernaut is still in its early stages, but the recent price hike suggests that their DeFi platform is growing and is a must-watch in March 2022 and beyond.
Check out the team's latest medium post about their plans for Juggernaut and what's to come for the platform:
Our Past, Present + Future. Despite difficult market conditions & global uncertainty, $JGN is not stopping, getting ready for our next phase! 🦁✊

We're focused on the essence of JGN: Unstoppable DeFi. 🚀

Let's take on all obstacles and thrive together: https://t.co/aXJiKzX9Lq

— Juggernaut DeFi (JGN) #BNB #AVAX (@JGNDeFi) March 17, 2022
You can purchase JGN on Uniswap, Gate.io, MEXC, PancakeSwap, and more.
Disclosure: This is not trading or investment advice. Always do your research before buying any Metaverse crypto coins.
---
Also Read:
Top 3 Metaverse Crypto Coins With a Circulating Supply Below 100 Million (March 2022)
Follow us on Twitter @thevrsoldier to stay updated with the latest Metaverse news!
Image Source: ImageFlow/Shutterstock.com