Low market cap Metaverse crypto coins remain some of the most popular options for traders and investors. Underrated low market cap coins may be hard to find because most undervalued projects don't have an actual product or long-term potential. We did the hard work for you and hand-picked the top three Metaverse crypto coins with a market cap below $12 million to watch in March 2022.
Note: The list below is ordered by market capitalization, lowest to highest.
#3 Torum (XTM) – $8.7 million
Launched in July 2020, Torum (XTM) describes itself as a revolutionary SocialFi Metaverse ecosystem built to connect cryptocurrency users worldwide. It features a social platform similar to Twitter, where users can make posts and interact with the ecosystem.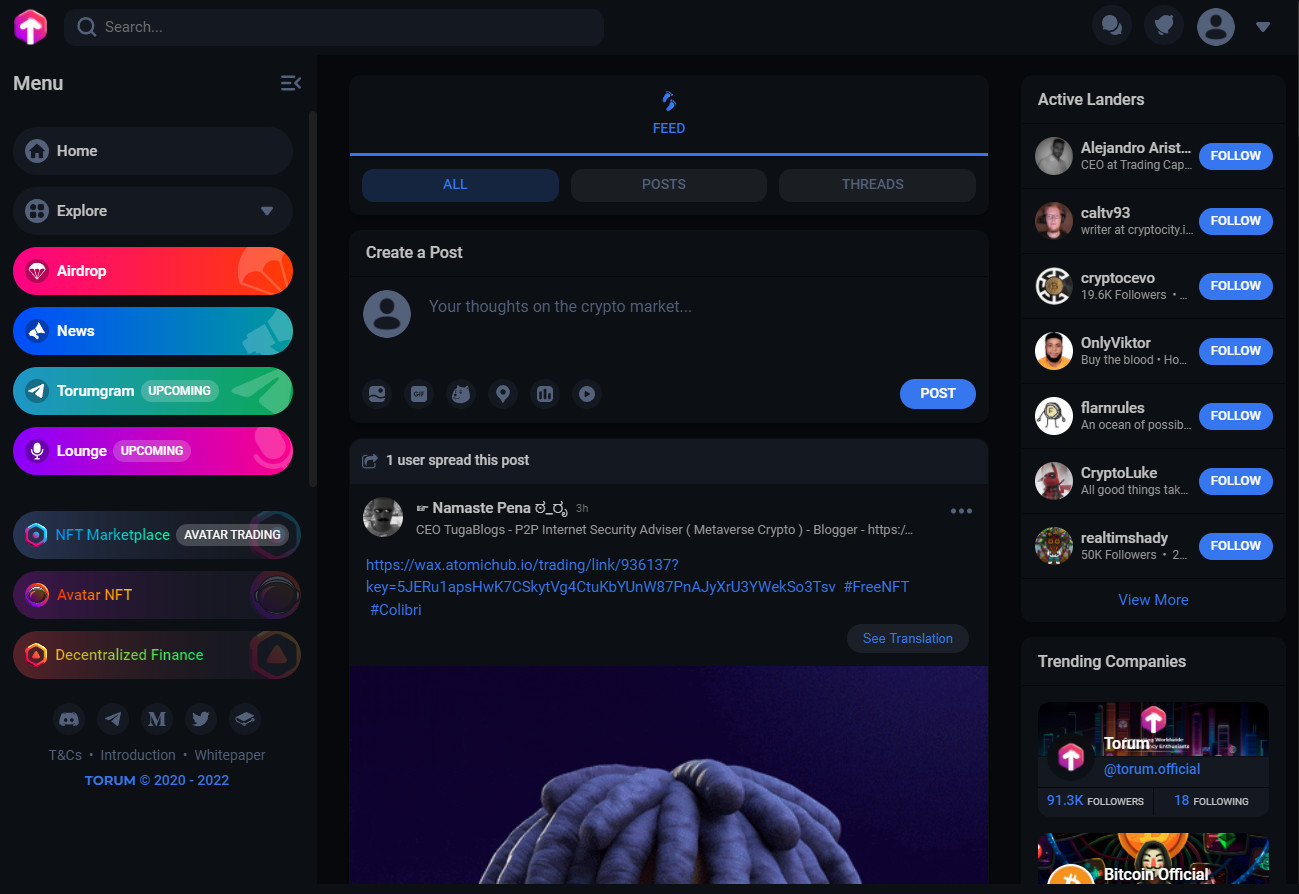 In addition, Torum features an NFT marketplace where users can browse through the dozens of collections, all prices in XTM. Users can purchase NFTs, set them as their avatars on Torum's social platform, and show them to other users.
Moreover, Torum features a finance dashboard where users can farm liquidity. Holders can earn XTM by providing liquidity to the XTM/BNB pair on PancakeSwap and stake their LP tokens on Torum Finance.
XTM is the native BEP-20 utility asset on the platform that enables users to interact with the platform, purchase NFTs, and more.
Torum features a full-fledged ecosystem and is one of the most underrated Metaverse crypto coins on the market. Their platform design is world-class, and their social platform features quite a number of users.
If you're looking for an undervalued and underrated Metaverse crypto coin to get in early on, we highly recommend you check out Torum. The current market cap of sub $10 million makes this a must-watch in March 2022.
You can purchase XTM on Hotbit, BKEX, Huobi Global, KuCoin, Uniswap, PancakeSwap, MEXC, XT.COM, MDEX, and more.
#2 vEmpire DDAO (VEMP) – $10.6 million
Launched in September 2021, vEmpire DDAO, as the name suggests, is a decentralized autonomous organization that allows holders of VEMP tokens to shape the platform's future.
vEmpire DDAO's primary mission is to invest in underrated Metaverse crypto coins and projects as a group, utilizing several strategies for incentivizing staking and battling against the centralization of the Metaverse.
vEmpire also features its NFT collection on OpenSea that users can currently check out.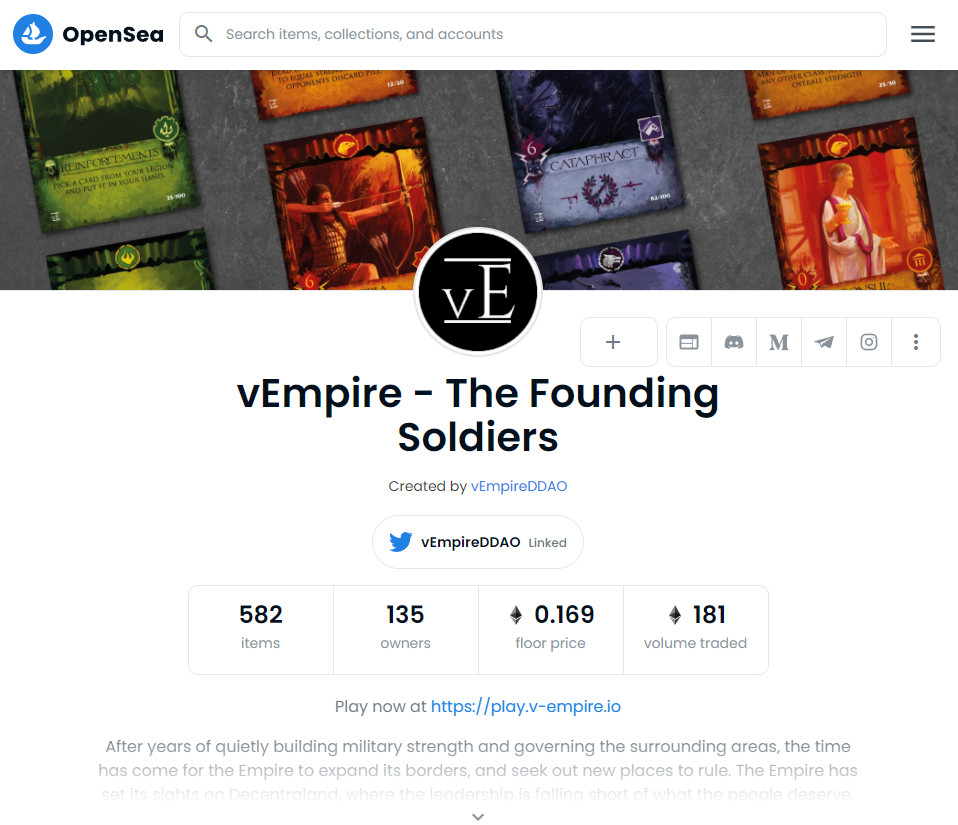 Their primary collection, The Founding Soldiers, includes over 100 owners with over 580 listed items. At the time of writing, the floor price for an NFT is 0.169 ETH, roughly $460 at writing.
VEMP is the native governance token. Holders of VEMP receive voting power to vote on various proposals by the DDAO.
You can buy VEMP on BingX, PancakeSwap, Bittrex, Gate.io, MEXC, BitMart, ShibaSwap, DigiFinex, CoinW, and more.
#1 Mogul Productions (STARS) – $11.5 million
Launched in April 2021, Mogul Productions is our top pick for the most underrated project with a market cap below $12 million. As the name suggests, Mogul Productions (STARS) is a launchpad for filmmakers and entertainment professionals, focusing on creating opportunities for filmmakers to get their projects funded and produced.
In addition, Mogul Productions is a DeFi platform and a global NFT marketplace with a robust ecosystem. Users can discover NFTs from Hollywood icons and purchase them on Mogul's official NFT marketplace.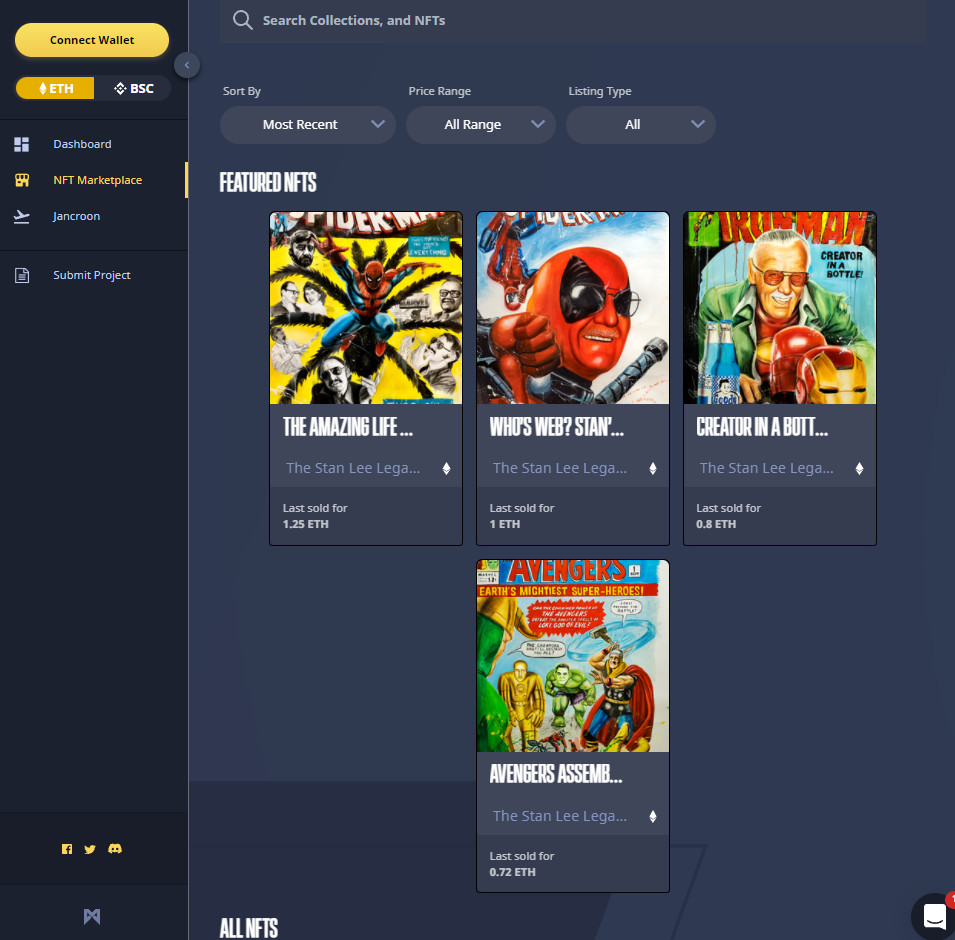 Users can become a Mogul themselves by joining the community and getting notified for upcoming NFT drops and much more. Moreover, Mogul Productions includes partners like CEEK VR, Polygon, Chainlink, ApeSwap, and more.
If you're a cinephile, we highly recommend checking out Mogul Productions and joining their community. Their NFT marketplace is superb and features a few unique collections you won't find elsewhere.
The native token on the platform is STARS. The leading utility for STARS includes purchasing limited-edition NFTs, various in-app purchases, submitting scripts to the platform, and buying stars.
You can buy STARS on LATOKEN, Uniswap (V2), MEXC, PancakeSwap, ProBit Global, Decoin, and more.
Disclosure: This is not trading or investment advice. Always do your research before buying any Metaverse crypto coins.
---
Also Read:
Follow us on Twitter @thevrsoldier to stay updated with the latest Metaverse news!