Some of the most popular Metaverse crypto coins are projects with relatively low unit prices under $1. Low-priced coins mean users can accumulate a more considerable amount of said cryptocurrency for cheaper. In addition, low unit priced coins usually also see significant price growth during bullish markets. Today we look at our pick of the top three Metaverse crypto coins with a unit price below $0.8 to watch in May 2022, ordered by the current price per coin, lowest to highest.
#3 Wilder World (WILD) – $0.7108
Launched in May 2021, Wilder World (WILD) is a top-rated Metaverse crypto coin building its Metaverse with Epic Games' latest Unreal Engine 5. It's looking to provide a one-stop ecosystem with a high-definition experience unmatched by anything currently on the market.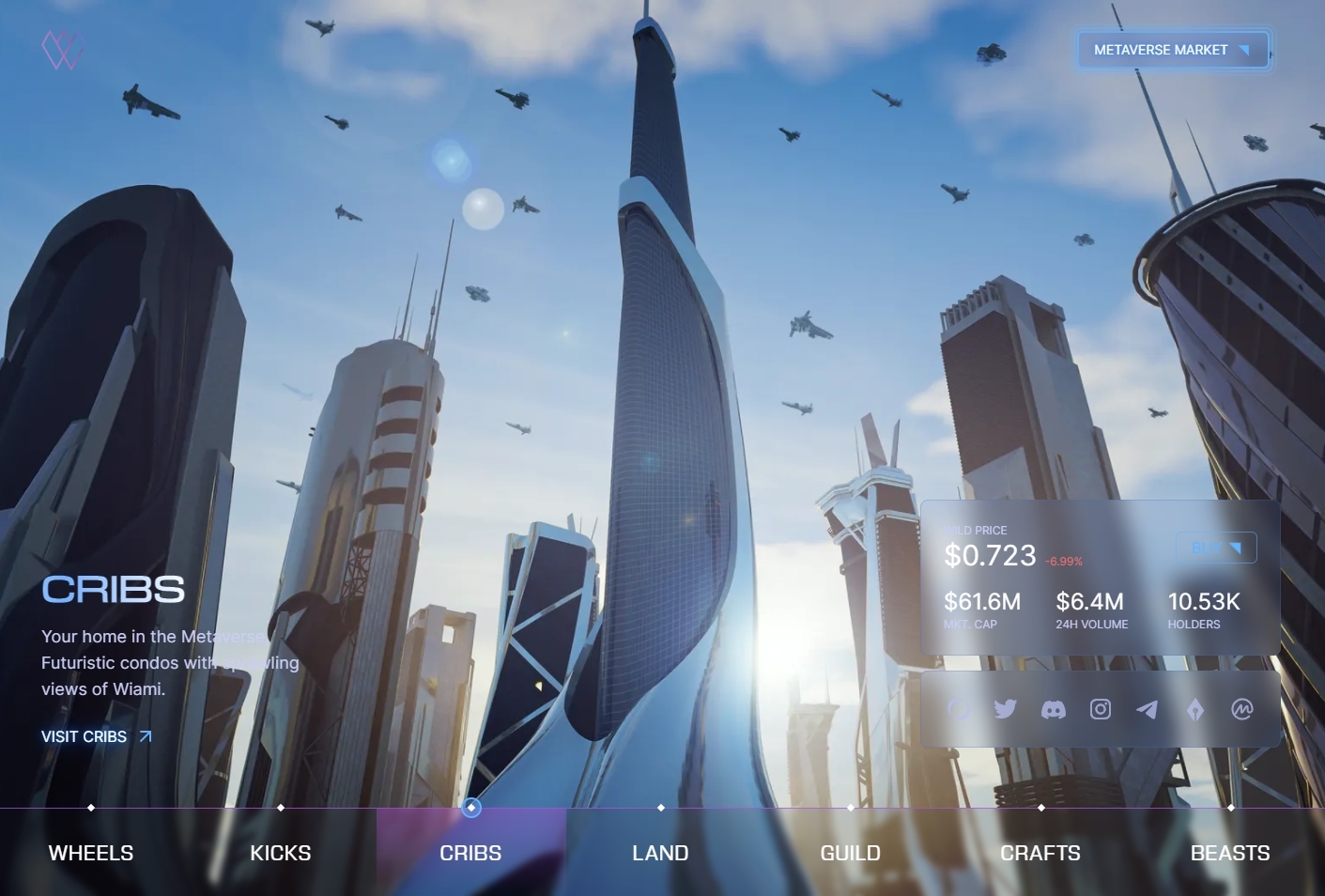 Wilder World can be compared to the cryptocurrency/blockchain version of Rockstar's GTA, as users can purchase cars, clothes, virtual real estate, and enjoy an RPG-style Metaverse.
The project is still in its early stages, and its Metaverse is still in development. However, users can already purchase and browse its NFT marketplace, which offers everything from virtual real estate, vehicles, clothes, and much more.
Wilder World's current NFT collection features over 6k items, and users can connect to the marketplace via a Web3 wallet like MetaMask. The NFTs are designed by top-rated artists and feature unique 3D renders of excellent in-game assets.
While some of the NFTs are pretty expensive, costing upwards of $1000, there are also plenty of cheaper NFTs for those on a budget.
With a current market capitalization of $60 million, Wilder World is on a fire sale, making it an excellent opportunity to start accumulating WILD tokens if you're brave enough to buy the dip. Wilder World is one of the few projects building its Metaverse with Epic Games' Unreal Engine 5, making it a must-watch in May 2022.
WILD is the primary ERC-20 asset on the platform, allowing users to purchase NFTs, interact with its Metaverse, etc.
You can buy WILD on LATOKEN, KuCoin, Gate.io, Huobi Global, Uniswap, BitMart, etc.
#2 Gods Unchained (GODS) – $0.7237
Launching in October 2021, Gods Unchained (GODS) is a blockchain-based NFT trading card game similar to Blizzard's Hearthstone. The game is built on the Ethereum blockchain and integrates the latest crypto trends like NFTs, DeFi, play-to-earn, etc.
The primary difference between Gods Unchained and Hearthstone is that the former provides full ownership of in-game assets to players. Because the game is built on the blockchain, users wholly own their in-game purchases and assets and can trade them on the market for a profit with no restrictions.
Moreover, Gods Unchained is currently on a fire sale as the crypto bear market pushed the GODS token relatively low. The current market cap of $17 million makes this a highly underrated project, a must-watch in May 2022 and beyond.
The primary utility asset for Gods Unchained is the ERC-20 GODS token living on the Ethereum blockchain. GODS enables players to buy in-game assets, interact with the ecosystem, etc.
You can purchase GODS on Huobi Global, Crypto.com, Poloniex, Uniswap, FTX, etc.
#1 Heroes Chained (HEC) – $0.7959
Launched in January 2022, Heroes Chained (HEC) is our top pick for the most underrated Metaverse crypto coin with a price below 8 cents. It's best compared to the crypto/blockchain version of Blizzard's Diablo series since it features similar mechanics and gameplay.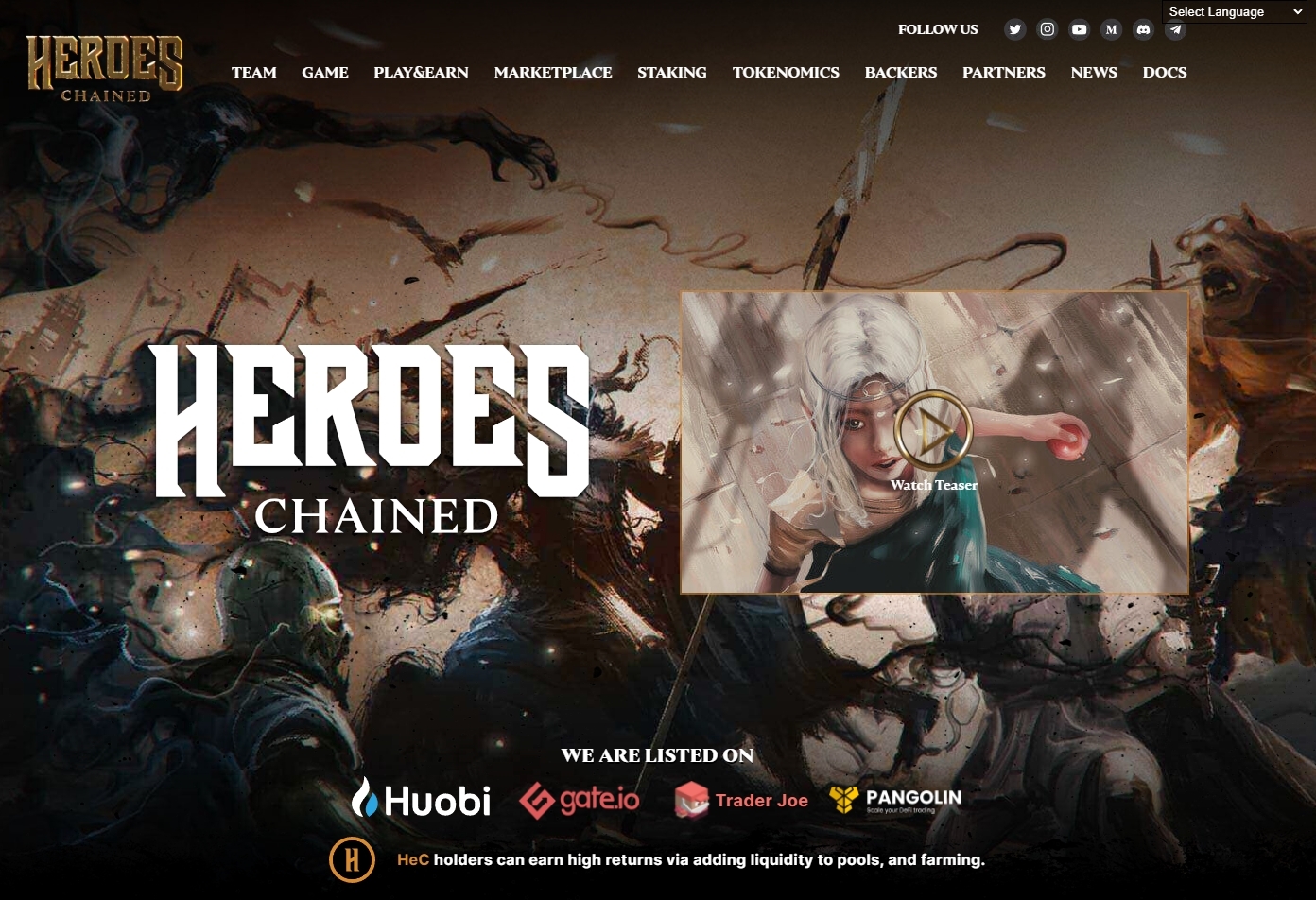 Heroes Chained incorporates the play-to-earn model, and the game revolves around users upgrading their heroes, building their guild, and crafting unique gear to take on monsters and complete dungeons. Once players develop their guild, they can collect resources to expand their empires and level up their characters.
Heroes Chained will also feature a PVP mode where players can test their skills against others and earn significant rewards.
Heroes Chained is highly undervalued, with a current market cap of $2.63 million. If you're looking for a low-priced and undervalued project to open a position on, we recommend keeping an eye on Heroes Chained (HEC).
The game is currently in development, but its beta version is set to release this quarter. This means HEC could see significant price growth in May 2022 once the beta is released, making it a must-watch this month.
The primary utility asset on the platform is HEC, an Avalanche-based crypto coin serving as the utility asset for the Heroes Chained ecosystem. Some of HEC's utilities include interacting with the Metaverse, buying in-game assets, joining guilds, etc.
You can buy HEC on TraderJoe, CoinEx, Huobi global, Pangolin, etc.
Disclosure: This is not trading or investment advice. Always do your research before buying any Metaverse crypto coins.
---
Also Read:
Top 3 Metaverse Crypto Coins With a Market Cap Below $100 Million to Watch in May 2022
Follow us on Twitter @thevrsoldier to stay updated with the latest Metaverse news!
Image Source: sdecoret/123RF