The crypto market continues to crash as inflation fears send global markets into bear territory. The good news is that current prices allow traders and investors alike to purchase their favorite NFTs and virtual real estate for affordable prices. Today we look at our pick of the top three Metaverse crypto projects to buy virtual real estate during this bear market.

Note: The list below is ordered by the current market capitalization of each project, lowest to highest.
#3 ApeCoin (APE)
Market Capitalization: $1.005 billion
Coin Price: $3.45
Virtual Real Estate Price: 1.78 ETH ($2,153)
Launching on March 17th, 2022, ApeCoin is the utility token of the Bored Ape Yach Club (BAYC) NFT collection. It also serves as the governance asset of the APE Foundation, enabling holders to vote on proposals that shape the project's future.
The ApeCoin cryptocurrency was launched for the Web3 economy and provided BAYC NFT holders with incentives in the form of staking rewards. The token itself is an ERC-20 digital asset built on the Ethereum blockchain. It features a max supply of 1 billion with healthy tokenomics that will never let it surpass its max supply.
Last month, ApeCoin announced its Metaverse called Otherside and held one of the most iconic land sales in the cryptocurrency. The demand for virtual plots of land in Otherside was so high that the mint crashed the Ethereum blockchain for several hours.
ApeCoin's Otherside Metaverse will feature unique features that will enable over 10,000 players to interact on the same map, with natural voice chat providing an engaging and immersive experience for players. It will also include AI-based NPCs supporting complex storylines and interactions.
Moreover, Otherside will provide an SDK that will enable creators and developers to build unique in-game assets like tools, outfits, structures, and more, creating a player-built and owned ecosystem.
Those that missed the mint users can purchase the NFT lands from the Otherdeed for Otherside NFT collection on OpenSea. The current floor price is 1.78 ETH, approximately $2.1k at writing.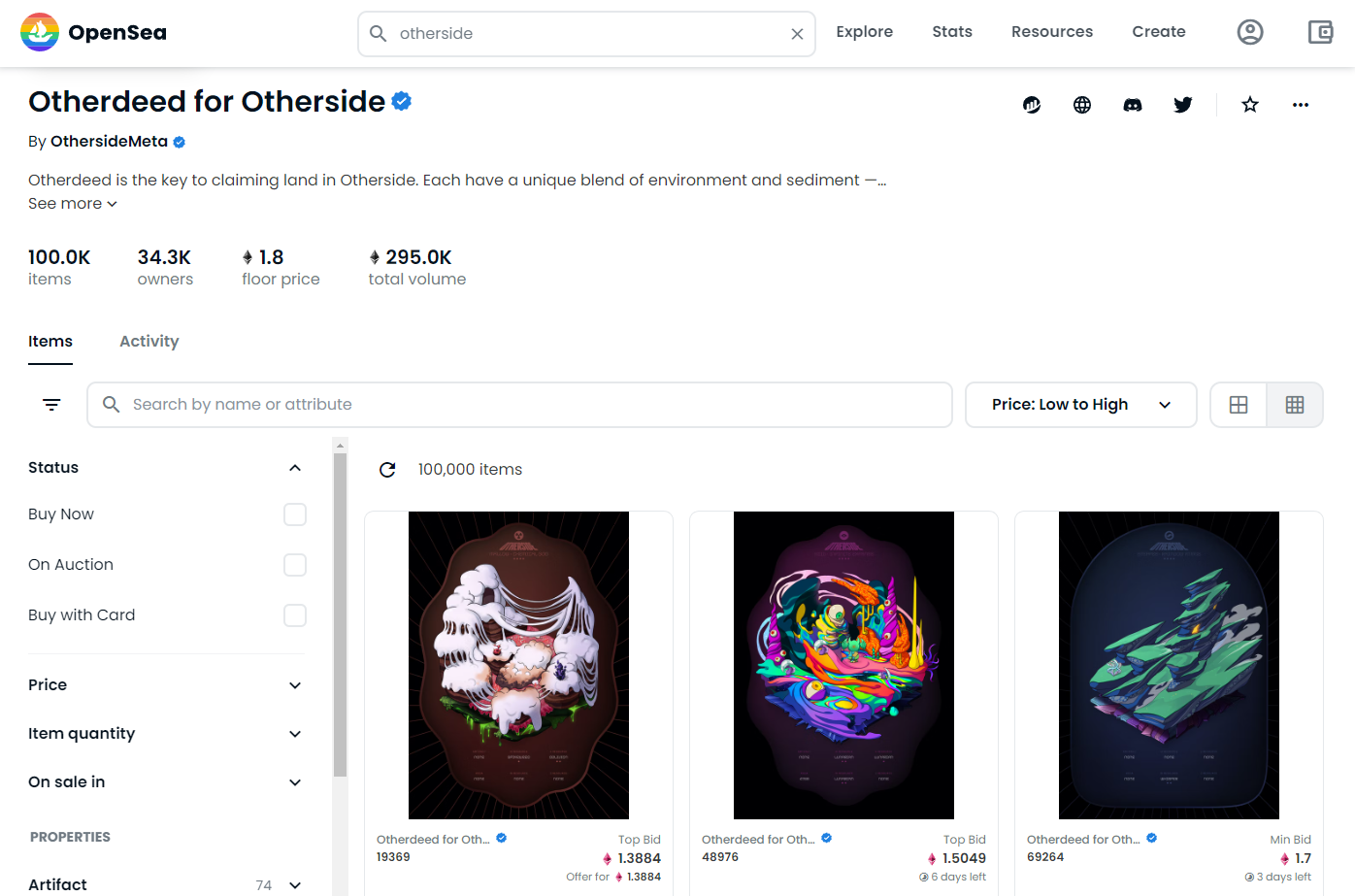 During their launch, Otherside plots of land cost over 5 ETH, roughly $15k! This means that the current price of $2.1k is a steal, and those that wanted a piece of ApeCoin's legendary Metaverse can now purchase it at a heavily discounted price.
While ApeCoin's price has suffered substantially during this bear market, the long-term potential for the cryptocurrency and its Metaverse is tremendous. Otherside features some of the best designs, and ApeCoin's community is one of the most supportive groups of individuals and investors.
For those looking to bet long on ApeCoin, you can purchase APE on Binance, Coinbase, KuCoin, FTX, Kraken, Uniswap, etc.
#2 The Sandbox (SAND)
Market Capitalization: $1.010 billion
Coin Price: $0.8214
Virtual Real Estate Price: 1.52 ETH ($1,838)
Launching the Alpha in December 2021, The Sandbox (SAND) is currently the second-most valued Metaverse crypto project on the market, following Decentraland (MANA).
The Sandbox provides a similar value proposition to Decentraland but focuses more on gamifying the Metaverse through bright colors and RPG-style aspects. Many describe The Sandbox as a hybrid between the colorful Fortnite and blocky Minecraft.
The Sandbox incorporates the popular play-to-earn model into its Metaverse, allowing players to earn substantial rewards from various activities in the game. Its Metaverse is still in Alpha and is not open to the public. However, the open Beta version for The Sandbox is coming soon.
While its Metaverse is still developing, users can explore The Sandbox's OpenSea collection, purchase land plots, and start building them.
Like ApeCoin's Otherside, The Sandbox virtual real estate market is in the form of NFTs, with a current floor price of 1.52 ETH, roughly $1.8k at the time of writing. This makes it the cheapest virtual real estate property on this list.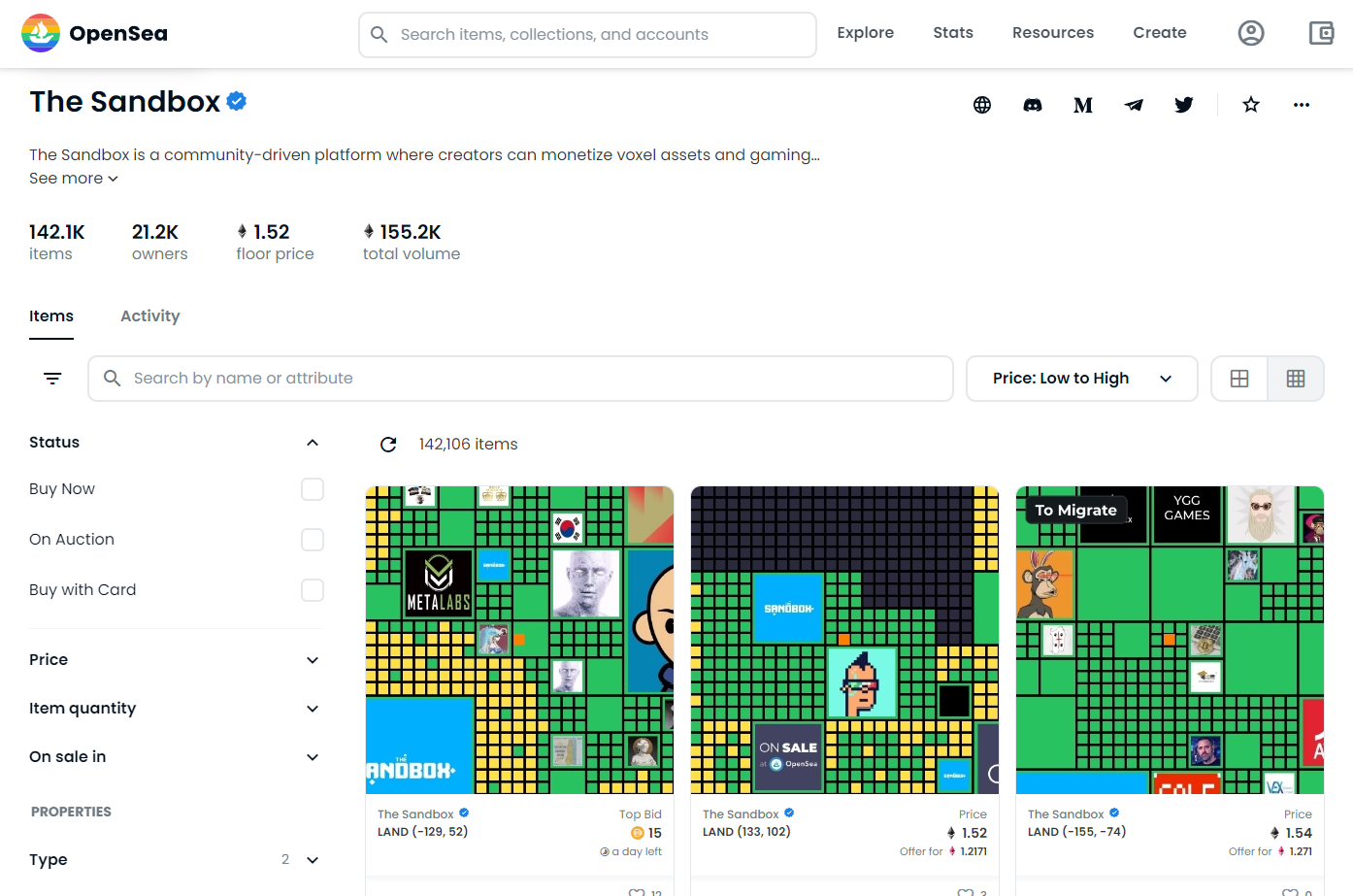 Compared to The Sandbox plots of land that were selling in November 2021 for over $15k, current prices are on a 90% discount, and if you've been meaning to make your first virtual real estate purchase, we recommend keeping a close eye on The Sandbox.
SAND is the primary utility asset for The Sandbox. It's an ERC-20 token like APE, which can be used to purchase in-game assets, be staked for rewards, and provide access to exclusive places and activities within The Sandbox Metaverse.
You can purchase SAND on Kraken, FTX, Gemini, KuCoin, MEXC, Uniswap, etc.
#1 Decentraland (MANA)
Market Capitalization: $1.436 billion
Coin Price: $0.7745
Virtual Real Estate Price: 2.25 ETH ($2,722)
Launched in February 2020, Decentraland (MANA) is currently the highest-valued Metaverse crypto project on the market, with a current valuation of over $1.4 billion. It's the pioneer in Metaverse crypto projects and features a fully open 3D digital realm users can explore.
There are hundreds of users in Decentraland at any time and dozens of places users can explore within its Metaverse. There are several places one can visit to start earning NFTs and cryptocurrency utterly free of charge.
For example, one can visit the WonderMine Mining Game and mine meteors for NFTs and tokens, practice MiniGolf and win wearable NFTs, and even play free-to-play Poker in Decentral Games' casinos.
Decentraland is built with the Unity game engine and features both an in-browser client and a Desktop client for those looking for a high-quality experience. Decentraland's Metaverse is easy to run on any system, and we recommend checking it out. Just connect with a Web3 wallet like MetaMask and have fun exploring!
For those looking to purchase a plot of land in crypto's top-rated Metaverse, the official Decentraland NFT collection currently has a floor price of 2.25 ETH, approximately $2.7k at writing.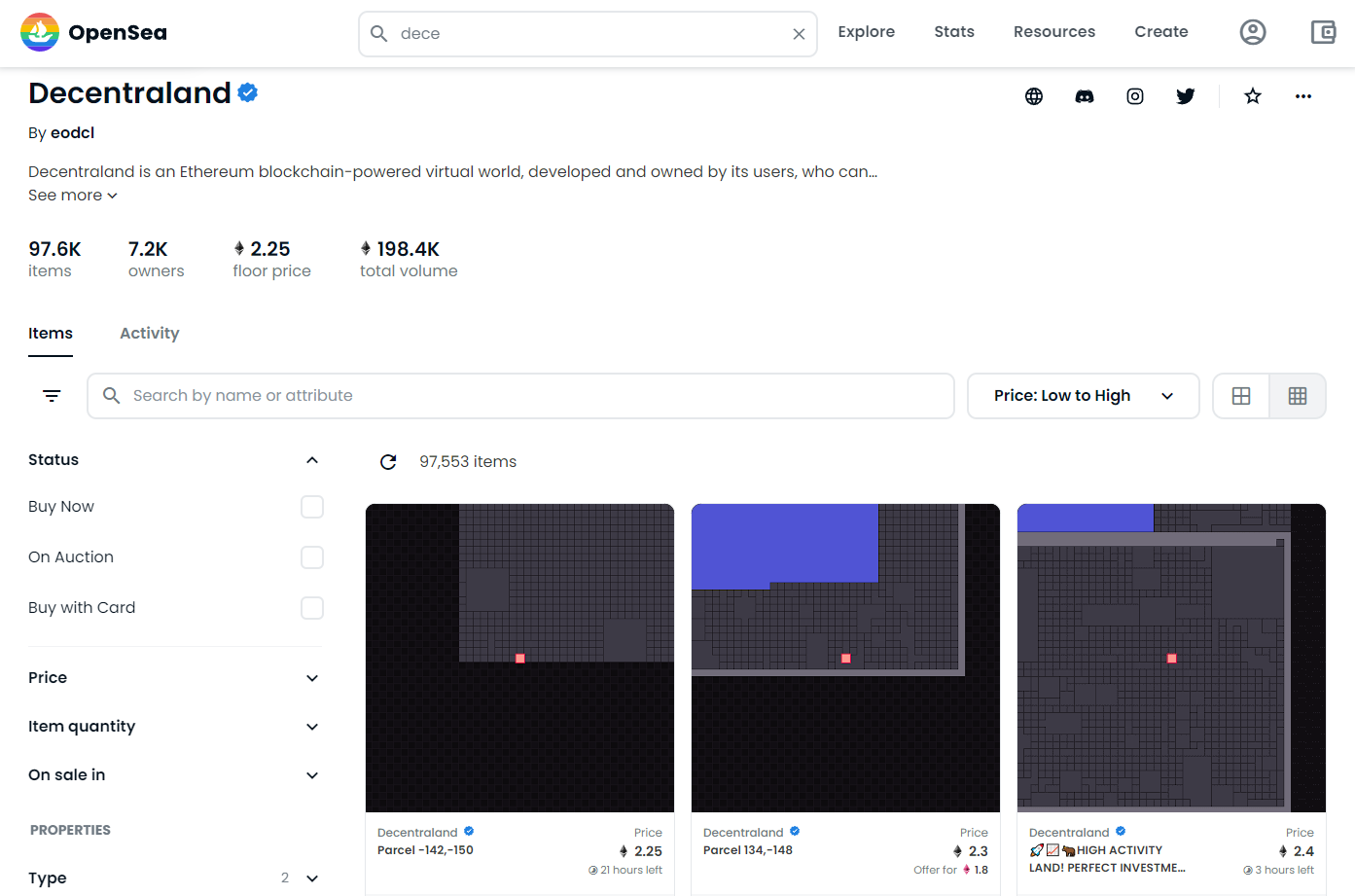 While Decentraland virtual real estate is on the higher-end, it's still nothing compared to the $15k+ price ranges that were plaguing the markets during its peak in November.
MANA is the primary utility asset for Decentraland, an ERC-20 token built on the Ethereum blockchain and compatible with Polygon. MANA can be utilized to purchase wearable NFTs, access exclusive activities, claim rewards, etc.
You can buy MANA on Gemini, Coinbase, LBank, Gate.io, Binance, etc.
Disclosure: This is not trading or investment advice. Always do your research before buying any Metaverse crypto coins.
Follow us on Twitter @thevrsoldier to stay updated with the latest Metaverse news!
Image Source: kate3155/123RF