Now is a great time to purchase undervalued NFTs and Metaverse crypto coins with the recent cryptocurrency bear market, assuming you're brave enough. There are dozens of NFT marketplaces on the market, and it may be hard for those new to cryptocurrency to figure out which ones are the real deal and which ones are just a cash grab for a project that will most likely die in the next few months. This article looks at our pick of the top three NFT Marketplaces in crypto for new users.
#3 OpenSea (Ethereum)
Launched in December 2017, OpenSea is the first and currently the most-popular NFT Marketplace built on the Ethereum blockchain. It's the pioneer of NFT Marketplaces, setting the stage for subsequent marketplaces that followed its footsteps.
OpenSea features some of the most popular collections on the market, including the Bored Ape Yacht Club, CryptoPunks, Decentraland's and The Sandbox's LANDs, and much more.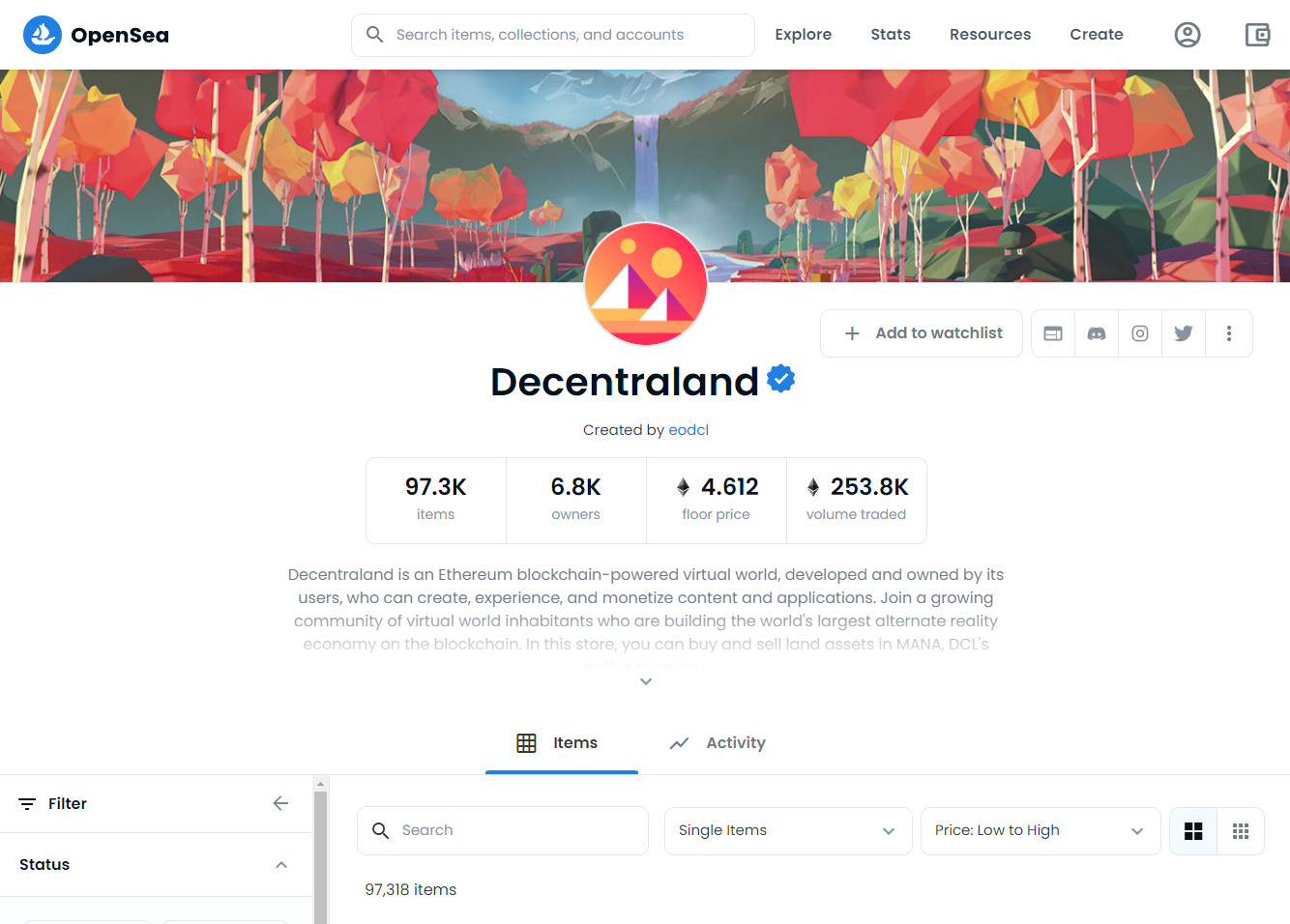 At the time of writing, OpenSea is proud to remain the largest general marketplace for user-owned nonfungible items, earning it a third place on this list.
While OpenSea boasts the highest trading volume out of all the NFT Marketplaces, one problem with the platform is its high trading fees since OpenSea is built on the Ethereum blockchain. This means if you're looking to sell or place bids on NFTs, you must pay ridiculous gas fees for each interaction.
For new users, this is a deal-breaker as many don't want to spend $20-$30 just for placing a bid on an NFT they most likely won't get. This brings us to our second-best NFT Marketplace.
#2 Solsea (Solana)
Launched in August 2021, Solsea is the first open NFT Marketplace built on the Solana blockchain. As the name suggests, it's similar to OpenSea but features one colossal advantage; users can buy/sell NFTs without having to pay exorbitant gas fees.
Some features of Solsea include:
Creators can embed licenses directly in NFTs
Sales of Solana NFTs are compatible with the SPL token standard
Calendar for the future profile picture and major NFT drops on Solana
Minting of NFTs on the marketplace with attributes/traits
Creation of collections on-chain
Public and Private listings
FTX-Pay Integration
Rarity index and traits rankings
3D viewers of NFTs
Ultra-fast and cheap minting process
Low-transaction cost
Fast UI and UX with caching of NFTs
and much more…
Some of the most-popular NFT collections on Solsea include: I'm AIKO, Fuji Lions, Dapper Apes, OG Astro Babies, and much more.
Solsea is perfect for those looking for well-designed NFTs for a relatively low price. In addition, if you're looking for a unique profile picture for your Twitter profile or other social media, Solsea has some of the best selections with the most creative artists.
One of my personal favorites is the HARRY DANOFF NFT from the DUMP IT collection, priced at 0.23 SOL (approximately $23 at writing).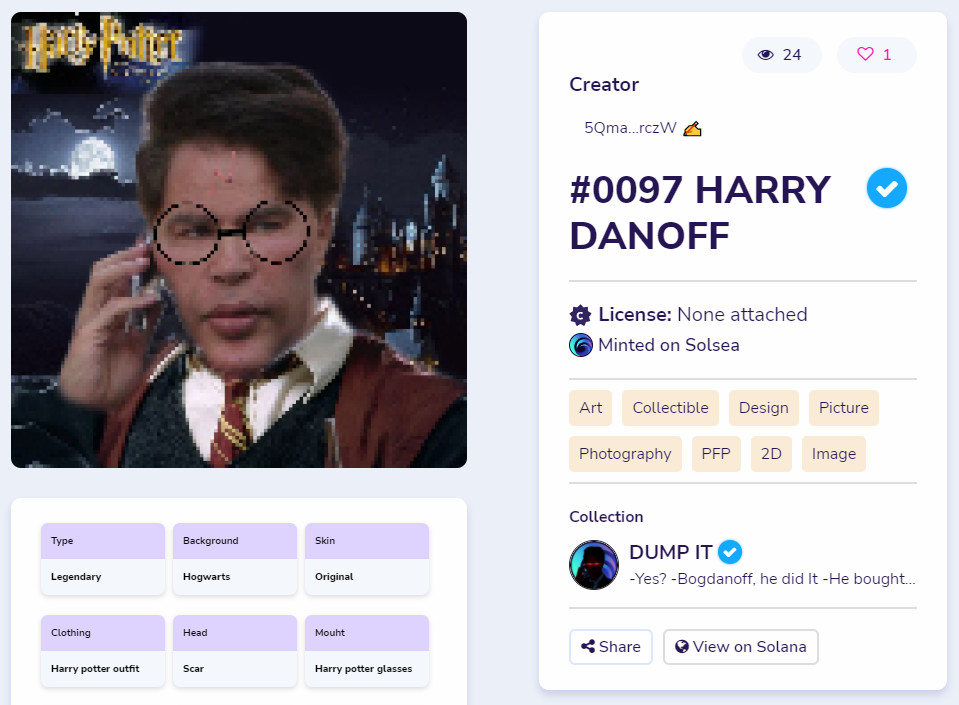 If you'd like to explore the Solsea marketplace, I recommend using a Chrome browser and installing the Phantom wallet extension, which is the Solana version of the popular MetaMask wallet. You're bound to find an NFT you like for a price you can afford.
One cool feature about Solsea is its utility token called AART. When purchasing an NFT from the marketplace, a certain amount of AART tokens will be staked. You get a discount on the marketplace fee (3%) for sale transactions by staking AART tokens.
Solana is one of the most-underrated ecosystems on the market that every new cryptocurrency enthusiast should explore. You won't be disappointed with the design and user experience of Solsea, and the prices of its NFTs are more in line with what the average person can afford, placing it as the second-best NFT Marketplace for new cryptocurrency enthusiasts.
#1 AtomicHub (WAX)
Initially launched in July 2020, AtomicHub is the leading NFT Marketplace on the WAX blockchain. It features over 145 million NFTs with thousands of collections. AtomicHub is listed as the number one NFT marketplace on our list due to the high utility of collectibles listed on its platform.
AtomicHub features NFT collections from some of the most-popular Metaverse and NFT-based games on the market, including Alien Worlds, Farmers World, Blockchain Brawlers, and much more.
The best part about the marketplace is its low prices. Users can find hundreds of NFTs for under $1. Since the market is integrated with the WAX Cloud Wallet, new users don't need to download any extensions or third-party applications to explore the platform.
My personal-favorite collection is Alien Worlds. Users can purchase NFT tools to start mining Trilium in the game for as low as $0.94!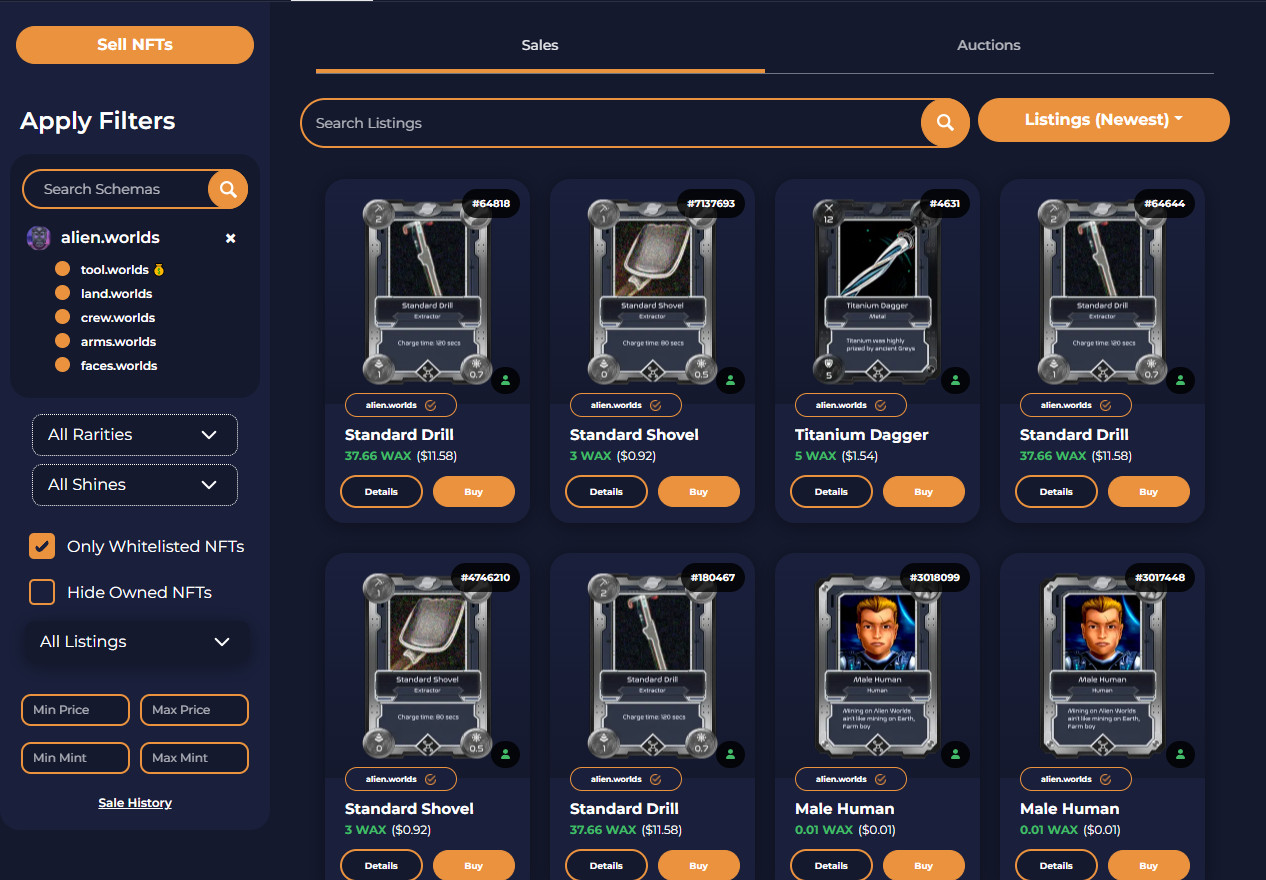 Moreover, it's straightforward to buy/sell NFTs on the marketplace, and the robust economy enables users to complete sales extremely fast.
If you're looking to get your foot in the door with Metaverse and NFT gaming, I highly recommend signing up to the Wax Cloud Wallet and checking out the AtomicHub marketplace. You are bound to find a collection you like and experience NFT-based utility first-hand without having to pay outrageous prices.
Disclosure: This is not trading or investment advice. Always do your research before buying any NFTs or cryptocurrency.
---
Also Read:
Follow us on Twitter @thevrsoldier to stay updated with the latest Metaverse news!
Image Source: Visual Generation/Shutterstock.com