Metaverse crypto coins are some of the most popular niches for cryptocurrencies on the market. There are hundreds of projects, each bringing a unique vision to the table. Today we look at the top four Metaverse crypto NFT-based trading card games to watch in March 2022, ordered by current market capitalization, lowest to highest.
#4 LOCGame (LOCG) – $3.7 million
Launched in May 2021, LOCGame, aka Legends of Crypto Game, is one of the most underrated and undervalued Metaverse crypto projects. It's a unique trading card game that features icons from the crypto world, tokenized as playable NFT trading cards.
To start playing, users must purchase 15 unique trading cards available on the official OpenSea collection. LOCGame's collection includes over 11.2k items with over 440 owners at writing. The floor price of each card is 0.004ETH, costing roughly $12.
This means that to start playing, users must invest a minimum of $180, a relatively low investment for 15 NFTs.
When it comes to the game, it features both a campaign and PVP modes. Players can fight epic crypto legends and celebrities in the campaign mode, test their skills, and familiarize themselves with the game mechanics. In PVP mode, users can perfect their mechanics and strategies and earn rewards for beating opponents.
LOCGame is easy to learn but hard to master, and the team has been hard at work developing the game. The project is currently in its Alpha 2.0 release, open for anyone to check out.
LOCG is the primary utility asset for the game, a governance-enabled token that allows for various interactions with the game. LOCG also provides several incentives for users to participate in the ecosystem.
You can buy LOCG on KuCoin, Gate.io, Hotbit, Uniswap, and more.
#3 vEmpire DDAO (VEMP) – $18.4 million
Launched in September 2021, vEmpire DDAO, as the name suggests, is a decentralized autonomous organization whose primary focus is to invest in underrated Metaverse crypto coins as a group. In addition, vEmpire DDAO features a unique NFT-based trading card game called vEmpire: The Beginning.
vEmpire's DAO is a gaming guild similar to Yield Guild Games or GameFi, which looks to tackle various Metaverse projects as a group, providing members with the latest information regarding undervalued projects, including bullish calls, staking incentives, and much more.
vEmpire's mission is to fight centralization in the Metaverse and provide a level playing field for all traders/investors. vEmpire describes itself as the world's largest decentralized Metaverse investment organization and is the gateway to the Metaverse. Some notable investments for vEmpire include Decentraland, Starlink, The Sandbox, Axie Infinity, and much more.
vEmpire's trading card game is an NFT-based Metaverse game that users can start playing by purchasing NFTs from vEmpire's official collection on OpenSea.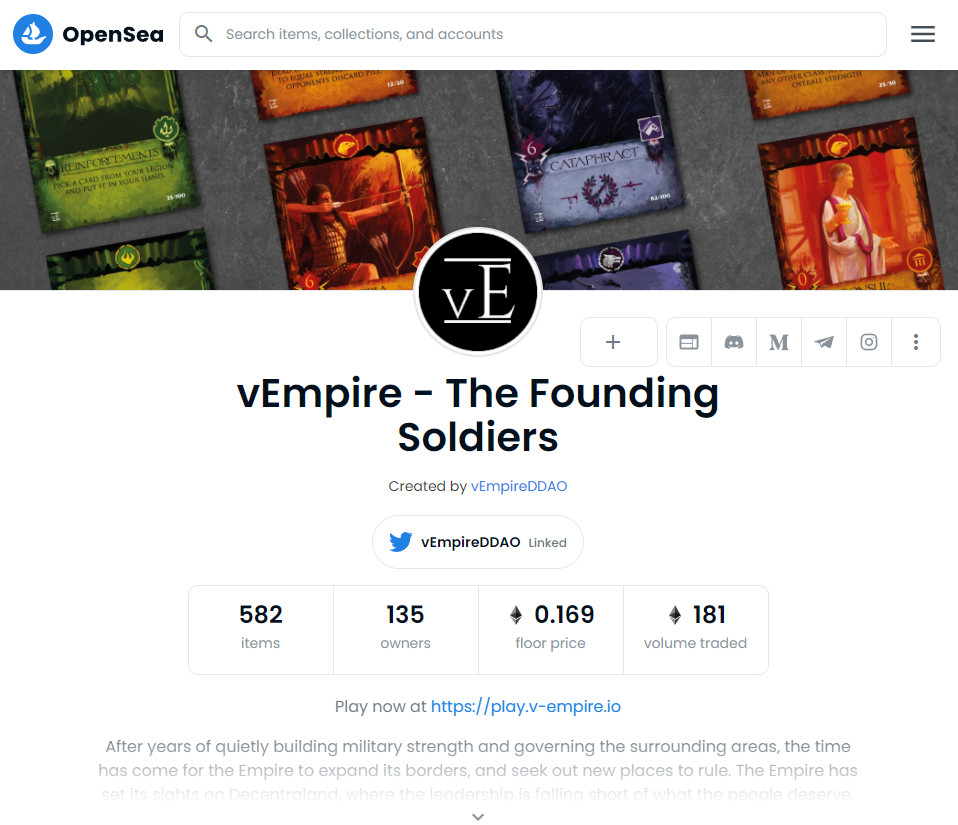 There are over 500 items with over 130 owners, and the floor price is 0.14ETH, roughly $440 at writing.
The primary utility asset for vEmpire DDAO is VEMP, featuring both BEP-20 and ERC-20 versions. VEMP is a utility and governance token, allowing hodlers to vote on proposals that shape the project's future.
You can buy VEMP on CoinW, PancakeSwap, Bittrex, BitMart, MEXC, DigiFinex, Gate.io, and more.
#2 Gods Unchained (GODS) – $37.8 million
Launching in October 2021, Gods Unchained is one of the most anticipated and underrated Metaverse trading card games on this list. Many describe Gods Unchained as a blockchain-based clone of Blizzard's popular Hearthstone game. It's one of the most popular Metaverse crypto games with a robust community supporting it.
GODS is the main utility token on the platform, enabling users to interact with the Gods Unchained Metaverse, upgrade in-game assets, buy and rent cards, and much more.
Check out this YouTube trailer for a brief overview of Gods Unchained and its design:
Gods Unchained is one of the most underrated projects on the market, with a current market cap of $37.8 million. We highly recommend keeping an eye on this project in March 2022 and beyond as the team continues to expand its ecosystem.
Gods Unchained features a full-fledged product, and its team proved that it could create a robust game, signaling tremendous long-term potential.
You can buy GODS on FTX, Poloniex, Coinbase, Crypto.com, Huobi Global, Uniswap, and more.
#1 Splinterlands (SPS) – $73 million
Launched in March 2021, Splinterlands is the highest-valued Metaverse trading card game on this list and is currently the most popular NFT-based game built on the WAX blockchain.
Splinterlands (SPS) integrates with the Hive blockchain, a next-generation scalable and fast chain for Metaverse and Web3 projects.
The gameplay for Splinterlands is similar to traditional trading card games like Hearthstone. The primary difference is that Splinterlands is built on the blockchain, meaning all in-game assets are tokenized, providing full ownership to its players.
As one of the most popular Metaverse-based games on the market, Splinterlands is a must-watch in March 2022 and beyond, and if you're looking to test out a Metaverse NFT-based game, you must check out this project.
The primary utility token for Splinterlands is SPS, used for various interactions with the game.
You can purchase SPS on PancakeSwap, LBank, MEXC, Gate.io, and more.
Disclosure: This is not trading or investment advice. Always do your research before buying any Metaverse crypto coins.
---
Also Read:
Top 3 Metaverse Crypto Coins With a Circulating Supply Below 100 Million (March 2022)
Follow us on Twitter @thevrsoldier to stay updated with the latest Metaverse news!