With the recent cryptocurrency market correction sending Bitcoin, Ethereum, XRP, Solana, Avalanche, and most major crypto assets into free fall, many traders wonder when the cryptocurrency price will recover? While it's still too early to tell, let's take a closer look at the current market situation and potential outcomes for the short term.
What's Causing This Week's Market Correction?
As mentioned in our cryptocurrency market analysis article yesterday, the primary reason for the markets' recent crash is due to the Fed's increase in interest rates.
An increase in interest rates means it's more worthwhile to save money, causing a bearish correction in the stock market. Yesterday was the worst day for the stock market this year, as investors cashed out their shares in response to the interest rate hike.
While usually cryptocurrency markets exhibit an inverse relationship with the stock markets, recently, Bitcoin has been following the stock trends, rising and falling with the stock market.
Since most other cryptocurrencies like Ethereum, XRP, Avalanche, and Solana follow Bitcoin's price movements, it caused a chain reaction that ended up crashing the global cryptocurrency market by over $100 billion, with the global cryptocurrency market capitalization dropping from $1.7 trillion to $1.6 trillion in 24 hours.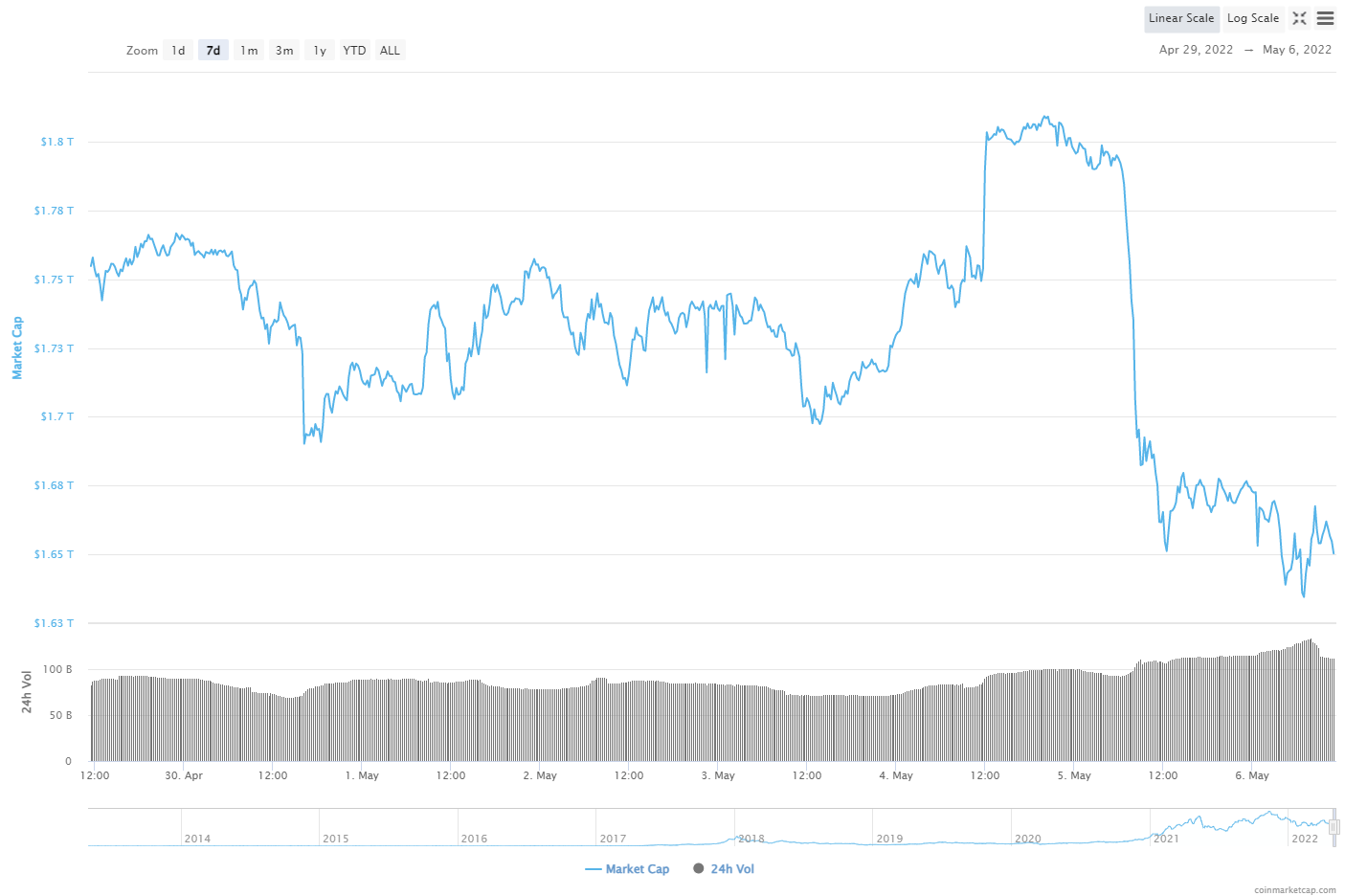 Since the panic sell yesterday, things are still looking bearish, but the significant sell-offs have stopped, giving a chance to the market to find new support.
Will We See a Rebound Soon?
May is usually a great month for Bitcoin and cryptocurrencies overall, where the markets show bullish momentum most years. However, analysts are claiming that this year will be different due to rising inflation and the state of current affairs in the world.
Many fear an upcoming recession which could spell even more bearish momentum for the stock market and cryptocurrencies. However, we do have some good news regarding the job market in America.
According to the Bureau of Labor Statistics, employers added over 428,000 jobs in April, with the unemployment rate remaining relatively unchanged at 3.6%. This means that an upcoming recession could be slowed or not even happen at all.
The best thing that could happen to Bitcoin and other cryptocurrencies is to decouple from the stock market and return to its inverse relationship with the traditional markets. After all, if traders fear inflation, Bitcoin is inherently immune to it due to the fixed supply of 21 million tokens. Once Bitcoin's price starts recovering, most other major altcoins like Ethereum, XRP, Avalanche, and Solana will follow, often seeing even more substantial price growth.
However, what's holding many users back is the volatility in Bitcoin and the overall uncertainty when it comes to crypto markets. The good news is that Bitcoin continues to attract mainstream attention, with Fidelity attempting to integrate Bitcoin into its 401k.
Whether a rebound is on the horizon is still too early to tell. However, one thing is clear, this weekend will be critical for Bitcoin and other cryptocurrencies. If Bitcoin's price can hold above the $30,000 level, the chances are that crypto markets will see a rebound in the next few weeks. However, if Bitcoin's price falls below the $30,000 support level, the short-term outlook could be grim.
For the long-term investors, right now is an excellent opportunity to pick up underrated and undervalued cryptocurrencies if you're brave enough to buy the dip. The long-term outlook on Bitcoin and cryptocurrencies remains bullish regardless of the short-term market conditions.
Disclosure: This is not trading or investment advice. Always do your research before buying any cryptocurrencies.
---
Also Read:
Follow us on Twitter @thevrsoldier to stay updated with the latest Metaverse news!
Image Source: trismegist8/123RF