With the recent crypto bloodbath, most cryptocurrencies are down roughly 20% this week. However, Terra Luna has been down over 78% in the past seven days, and its stablecoin TerraUSD (UST) is down over 19%, currently trading at $0.80. This article looks at what's going on with Terra Luna and why UST cannot maintain its price of $1.
Why Is LUNA and UST Price Dropping?
It's clear that there's enormous selling pressure for Luna and its stablecoin. It seems there's a coordinated attack on the cryptocurrency to destabilize its stablecoin and market.
For those unfamiliar with Luna's stablecoin system, each UST can be easily converted to 1 dollar worth of LUNA. What traders and whales are doing is using this opportunity to arbitrage the depegged price of UST with LUNA—effectively purchasing UST at a discount, converting it to LUNA, then dumping the LUNA on an exchange and repeating the process.
Several exchanges implemented measures to support the market to curb the arbitrage opportunities and slow down the selloff for LUNA and UST.
For example, Binance temporarily suspended withdrawals on Terra Network.
Withdrawals on Terra Network $LUNA temporarily suspended.https://t.co/hIGrAEzOwD

— Binance (@binance) May 10, 2022
In addition, according to many traders, KuCoin's LUNA deposits and withdrawals were extremely overloaded and are causing funds to be stuck in limbo.
At writing, KuCoin hasn't released an official announcement regarding pausing withdrawals or deposits either for UST or LUNA.
What's the Next Move for LUNA and UST?
In response to the massive selloff, Do Kwon, the founder of the LUNA token and TerraUSD (UST) stablecoins, has been active on Twitter today, hinting at an announcement of a recovery plan for UST.
Close to announcing a recovery plan for $UST. Hang tight.

— Do Kwon 🌕 (@stablekwon) May 10, 2022
According to crypto YouTuber George from CryptosRUs:
"The rumor is that Do Kwon reached out to several companies, trying to raise another $1-$1.5 billion to use that to stabilize UST. The promise is that these companies get to buy LUNA half off and they're going to be locked in for two years."
George clarified that due to the way LUNA is behaving right now and the immense selling pressure, the money raised might not be enough to stabilize UST and bring it back in line with USD.
Terra LUNA Price Prediction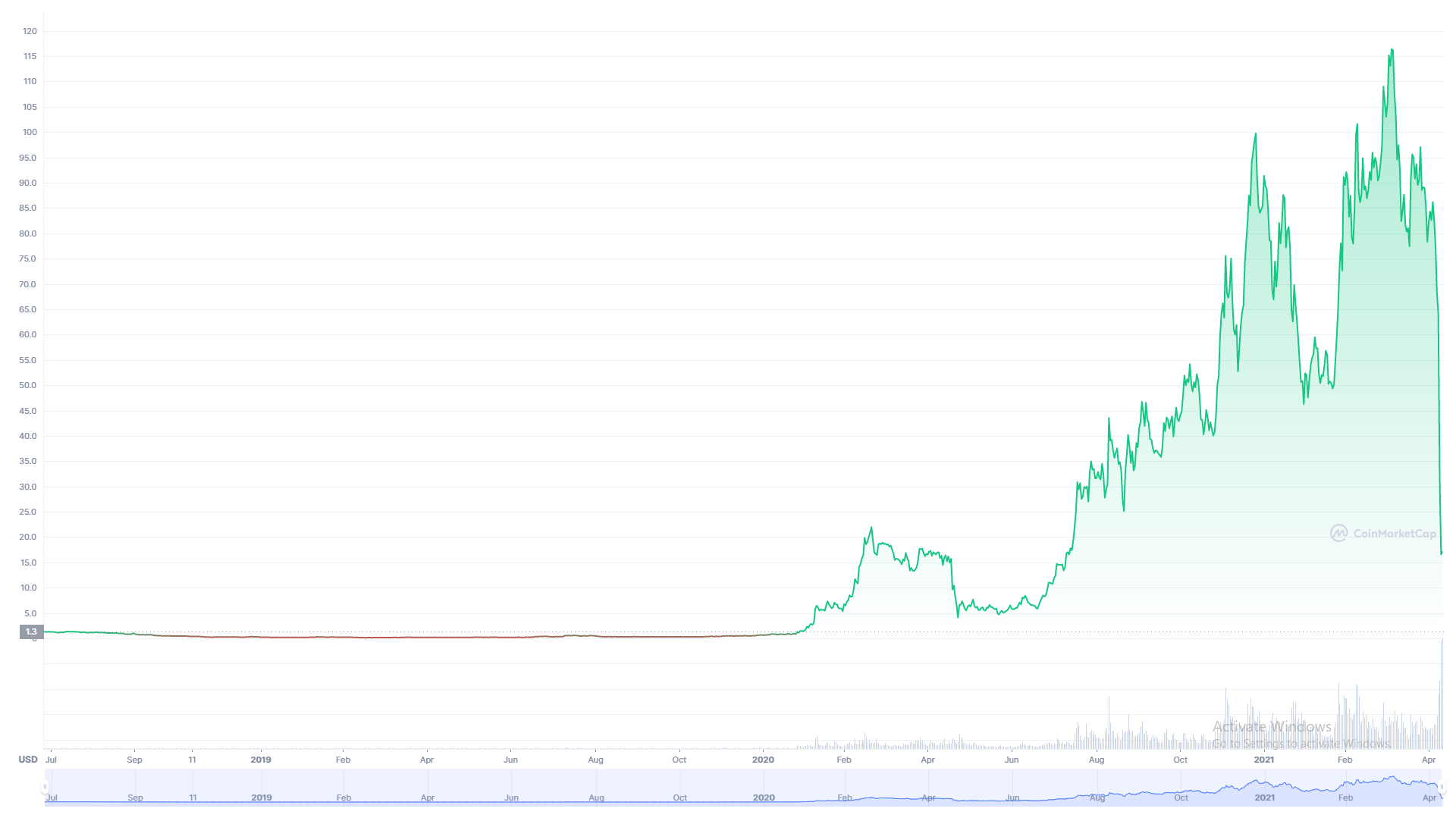 LUNA is currently trading at $18.89, down 84% since its all-time high of $116 on April 3rd, 2022. The recent price drop is one of the most significant drops we've seen for any crypto asset this year, and we can only hope that LUNA bottomed out today.
For those brave enough to buy the dip, now could be a great opportunity to Dollar-Cost Average (DCA) if you haven't yet opened a position in LUNA.
With Do Kwon's upcoming plan to restabilize UST and bring buy support for LUNA, the market could bounce off and find new support at the $30-40 level.
Disclosure: This is not trading or investment advice. Always do your research before buying any cryptocurrency.
---
Also Read:
Follow us on Twitter @thevrsoldier to stay updated with the latest Metaverse news!
Image Source: ivanbabydov/123RF