XYO price is up over 40% today rising from 0.0045 and peaking at 0.0078 at the time of writing. The recent price hike comes amid the recent listing on the Crypto.com exchange.
Along with XYO, Crypto.com's token CRO is the second biggest gainer today rising 24% in the past 24 hours. Let's see what all the hype is about and why today's top gainer is XYO.
What Is XYO?
The XYO Network, also called "XY Oracle Network" makes it possible for smart contracts to access the real world. According to the official website, it's dubbed as:
"The Geospatial Oracle Network"
In other words, the XYO Network is able to determine if an object is at a specific XY coordinate, hence the name.
This type of technology is perfect for the ecommerce industry that allows retailers to track and verify that their packages left the warehouse, got delivered to their customer's doorstep and made it safely inside their home.
Why Is The XYO Price Rising?
XYO has been recently listed on Crypto.com – one of the most popular mobile apps to trade cryptocurrency. According to their recent blog post:
"Crypto.com App users can now purchase XYO at true cost with USD, EUR, GBP, and 20+ fiat currencies, and spend it at nearly 70 million merchants globally using the Crypto.com Visa Card."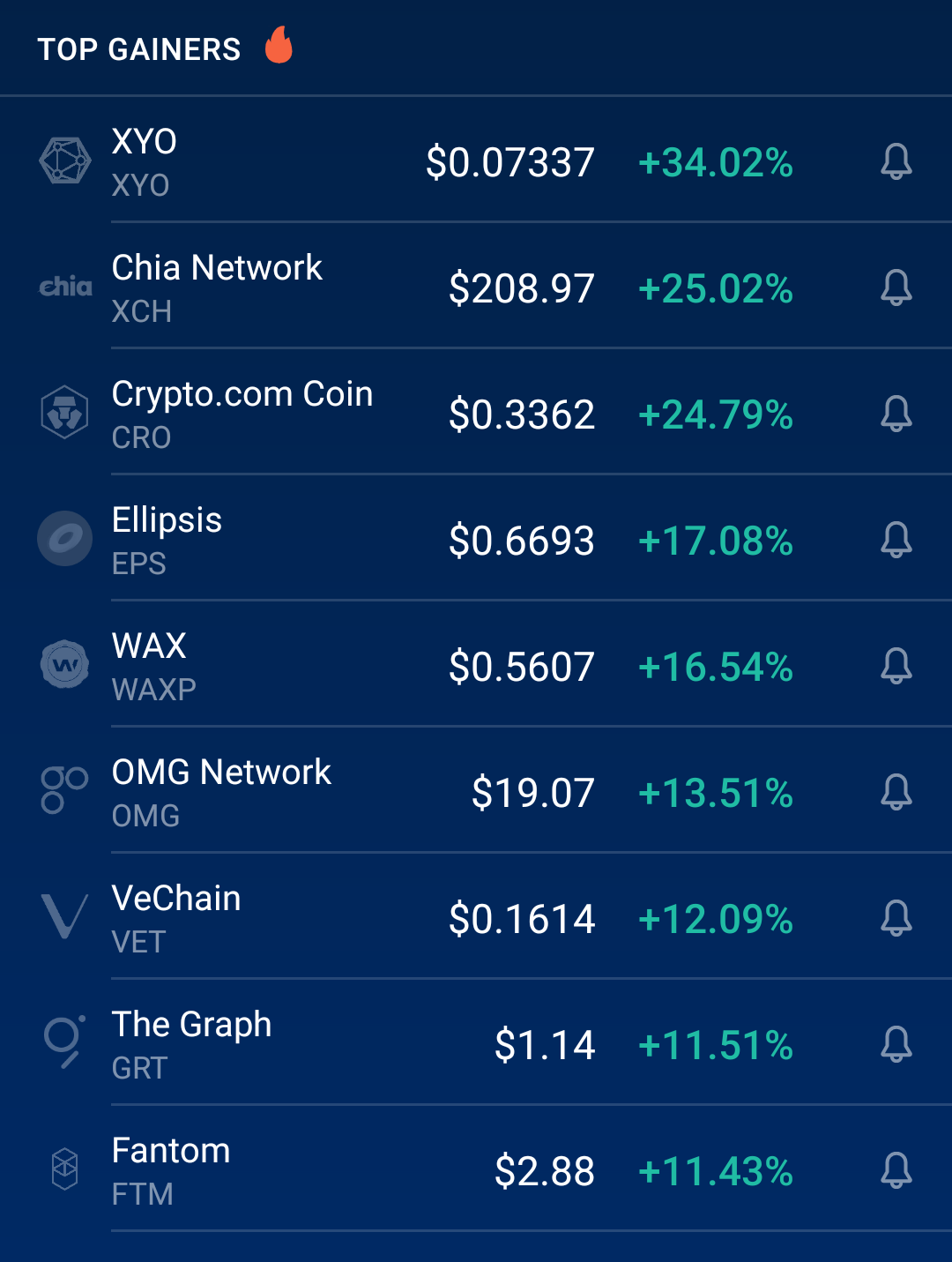 XYO is also listed as the biggest gainer on the app, which is bound to bring more attention and hype to the project.
Another announcement worth mentioning is Gate.io's XYO liquidity mining pool which comes in at a whopping 543.22%.
Are you looking for the best rewards?https://t.co/8kWqgEeplL offers the best APR out of any platform@OfficialXYO Liquidity Mining Pool APR is 543.22%

Add Liquidity Now: https://t.co/TBXhRtVsPD#Cryptocurency #LiquidityMining #gains pic.twitter.com/zxY7Ml7fOL

— Gate.io (@gate_io) November 4, 2021
This is the best APR rate available right now, so if you're looking to become a liquidity provider Gate.io is the place to go.
Most of the trade volume for XYO is currently coming from the Coinbase Exchange and KuCoin – both extremely reputable exchanges.

It's always much better to have most of a cryptocurrency's trading volume come from reputable exchanges, rather than from DEX's like PancakeSwap or Uniswap.
It has nothing to do with the decentralized exchanges and everything to do with the fact that getting listed on a major exchange requires thorough vetting of a project and its team.
In recent news, we've seen Robinhood and Kraken struggle with listing Shiba Inu – even though it's one of the most popular cryptos right now.
Overall the XYO Network seems like a unique project with a solid foundation. At the time of writing XYO is trading at $0.07 and is holding support well. Everyone is most likely anticipating $0.01 before a potential selloff. I would tread with caution as crypto markets can be extremely volatile.
Follow us on twitter @thevrsoldier to stay up to date with the latest cryptocurrency news!