Fans of legendary artist David Bowie are rejoicing all over the world ever since Sony announced a partnership with the David Bowie Archive, Planta, and London's Victoria & Albert Museum to conjure a VR/AR retrospective of the musicians' hallowed career.
Titled, David Bowie Is, the VR version of the project will most likely be released sometime later this year. Till date, the exhibition has traversed 12 cities and has sold a total of 2 million tickets.
The career retrospective allows fans to learn about Bowie's creative process and how he used his music and art to create different unique personas that challenged societal norms–  effectively turning him into a global icon.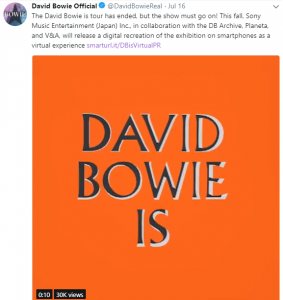 What will the crowd be able to experience?
In addition to witnessing a wide selection of clothing from Bowie's personal wardrobe, attendees can also check out other novelties like
Ziggy's private oil paintings

Handwritten lyric sheets

Videos from the singer's various film and television roles.
Not only that, as per the envisioned plan, the creators of this digital extravaganza want to transport fans into different audio-visual spaces where they can try on one of Bowie's many fantastical outfits from all eras of his career.
Lastly, proceeds from the spectacle will be donated to the Brooklyn Museum.
The project will be available in a total of 9 different languages.
Final Take
Bowie's eclectic career saw him change his on-stage persona many times over the years. This ability to reinvent himself through the decades allowed him to stay so popular even after his untimely death a couple of years back.
If whats being promised on paper can be delivered, there is no doubt that this project is bound to be successful.
Image courtesy of Shutterstock.com