After IoTeX exploded in price rising over 74% in a single day, many investors might be wondering what all the hype is about. Let's go over some of the most common questions people have about IoTeX.
1. What is IoTeX token?
IOTX Is not an ERC-20 Ethereum token. It is a native token that also compatible EVM compatible and ERC20.
IoTeX is the auto-scalable and privacy-centric blockchain infrastructure for IoT. The project claims to be the fastest, most secure, and most scalable blockchain platform on the market.
"IoTex is on a mission to build a connected world where people will own their own data, devices and Identity"
To find out more about the platform, check out their youtube video:
2. What is IoTeX used for?
IoTeX can be used for a variety of reasons, including but no limited to: paying for transactions, staking, adding new IoT devices to the network, and governance.
3. Is IoTeX built on Ethereum?
No, It is a native token that also compatible EVM compatible and ERC20. You can find its address and track it on Etherscan: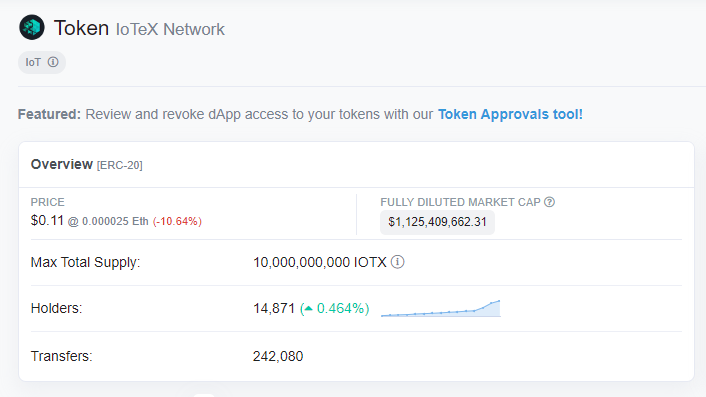 4. Is IoTeX proof of stake?
Yes, IoTeX is a "Proof-of-Stake" token meaning you can stake it to earn rewards. For more info about staking and how to stake IoTeX check out their official staking page.
5. How many IoTeX coins are there?
There is a max supply of 10,000,000,000 IOTX coins and a circulating supply of 9,549,779,324 IOTX.
6. How do I get IOTX coins?
1. Open an account on an exchange that has listed IOTX
2. Deposit funds into your account
3. Buy IOTX
7. Can I buy IOTX on Coinbase pro?
Yes, you can purchase IOTX on Coinbase Pro using USD, USDT, EUR or BTC.
8. When was IoTeX added to Coinbase?
IoTeX was added to the Coinbase Exchange on Tuesday, August 10th 2021. The following trading pairs were added for $IOTX:
IOTX- USD
IOTX-USDT
IOTX-EUR
IOTX-BTC
9. Is IoTeX on Binance?
Yes, IoTeX is currently listed on Binance and you can purchase it via:
Follow us on twitter @thevrsoldier to stay up to date with the latest cryptocurrency news!