In the fast-paced world of cryptocurrency trading, whales – individuals or entities holding significant amounts of a particular token – can sway markets with their actions. In a recent episode, a whale who was long on $ARB took center stage in a series of transactions that has left the crypto community buzzing.
Over the course of the last 5 hours, this whale executed a series of moves that caught the attention of many traders. Initially, they withdrew a substantial 5 million $ARB, equivalent to approximately $3.85 million, from the Aave platform. Subsequently, they deposited 3.8 million $ARB, valued at around $2.93 million, into Binance. Currently, this whale holds 8 million $ARB, totaling approximately $6.16 million.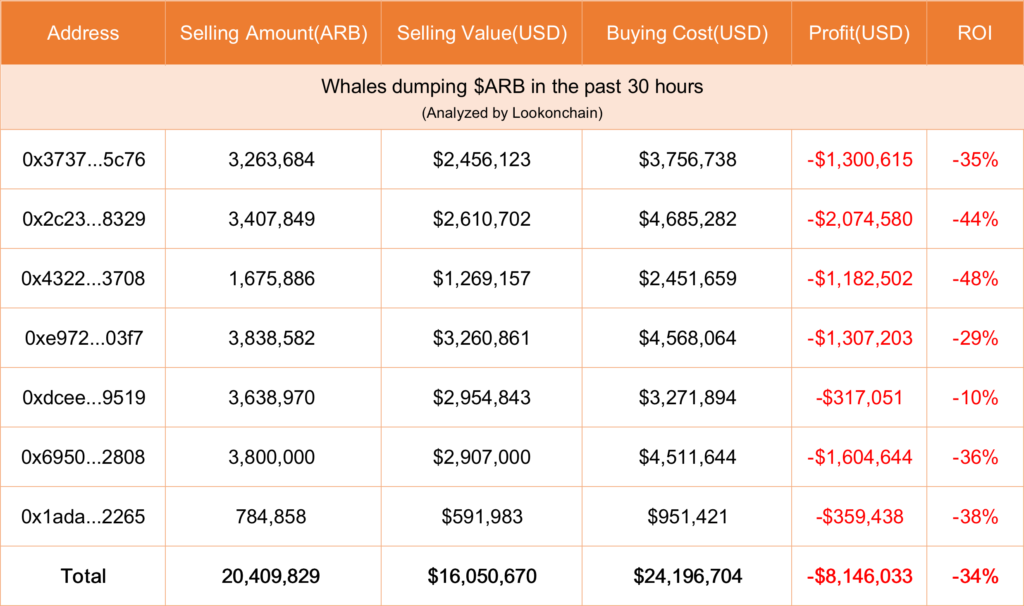 However, what's most intriguing about this situation is the broader context of the $ARB market. In the past 30 hours, seven other whales made substantial sell-offs, collectively dumping 20.41 million $ARB, worth an astounding $16.05 million. What's even more noteworthy is that these whales collectively incurred a staggering loss of $8.15 million, translating to a significant 33.67% decrease in the value of their assets.
This series of events serves as a reminder of the volatility and unpredictability of the cryptocurrency market. The actions of whales can have a profound impact on token prices, leading to rapid price fluctuations and significant losses for some investors.
For traders and investors alike, it underscores the importance of staying informed, conducting thorough research, and having a clear risk management strategy in place when participating in the ever-evolving world of cryptocurrency. The $ARB saga serves as a stark reminder that while the potential for gains can be substantial, so too are the risks.
Disclosure: This is not trading or investment advice. Always do your research before buying any cryptocurrency or investing in any service.
Image Source: angrysun//23RF// Image Effects by Colorcinch