Bitcoin, the pioneer of cryptocurrencies, has once again taken center stage in the financial world. In a remarkable turn of events, the digital currency surged to as high as $26.5K, showcasing its enduring resilience and dominance in the market. This resurgence comes after a period of relative stability, enticing both seasoned investors and newcomers to take notice.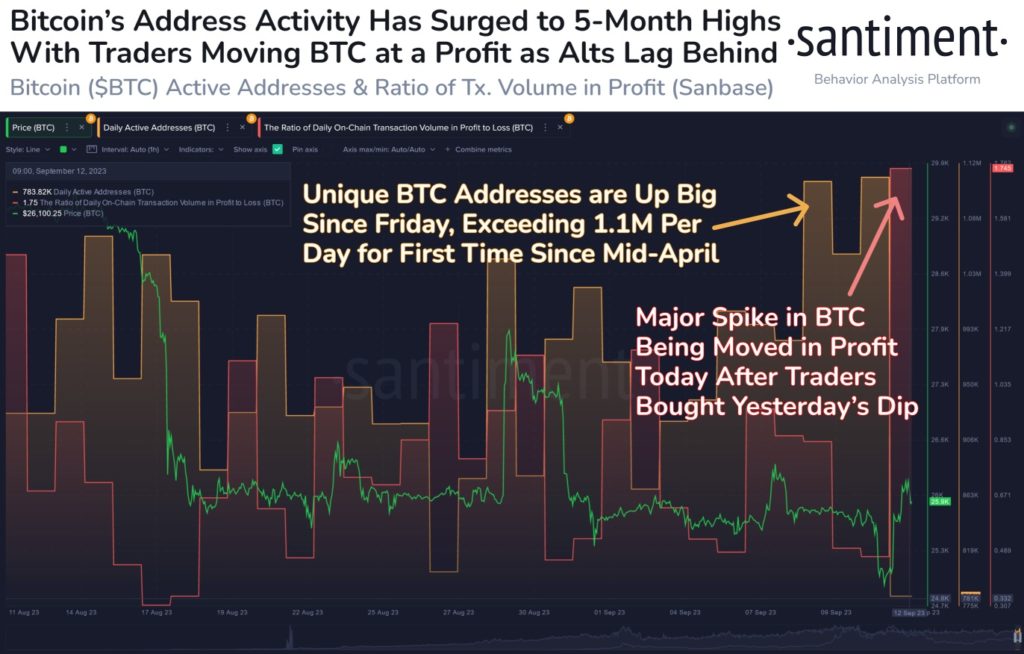 1.1M Daily Addresses
One noteworthy indicator of Bitcoin's current vitality is the surge in daily addresses interacting on the BTC network. Over the past few days, the network has witnessed a surge to 1.1 million daily addresses, a level not seen in the past five months. This uptick reflects growing interest and activity within the Bitcoin ecosystem, hinting at a potential resurgence in adoption and usage.
Traders Takes Profits
However, despite the impressive price rally and increased network activity, today's market sentiment is characterized by traders taking profits. This isn't unusual, as price volatility in the cryptocurrency space often leads to traders capitalizing on short-term gains. After the recent mild rise, some investors have opted to lock in profits, resulting in a temporary dip in Bitcoin's price.
Market Volatility
This scenario underscores the inherent volatility of cryptocurrencies, a double-edged sword that both excites and concerns market participants. While Bitcoin's resurgence and growing network activity are promising signs for the future, the crypto market remains highly speculative and unpredictable.
Final Thoughts
Lastly, Bitcoin's recent price rally to $26.5K, coupled with the surge in daily network addresses, highlights its ongoing significance in the financial landscape. However, the crypto market's propensity for volatility serves as a reminder that caution is warranted. As Bitcoin continues to capture the world's attention, it remains to be seen whether this surge is a prelude to sustained growth or a temporary blip in the ever-evolving crypto narrative.
Disclosure: This is not trading or investment advice. Always do your research before buying any cryptocurrency or investing in any service.
Image Source: nexusplexus//23RF// Image Effects by Colorcinch