The Otherside Metaverse land sale happened earlier today and sold out within minutes, selling over $200 million in virtual real estate in ApeCoin's upcoming Metaverse. Each plot of land cost 305 APE, roughly $5k at writing. Unfortunately, due to the high user on-chain activity during the land sale, users experienced unexpected gas fees upwards of $5k in some situations!
Those lucky enough to mint an Otherside NFT can now sell it on OpenSea for over $15k, making an easy $10k in profit.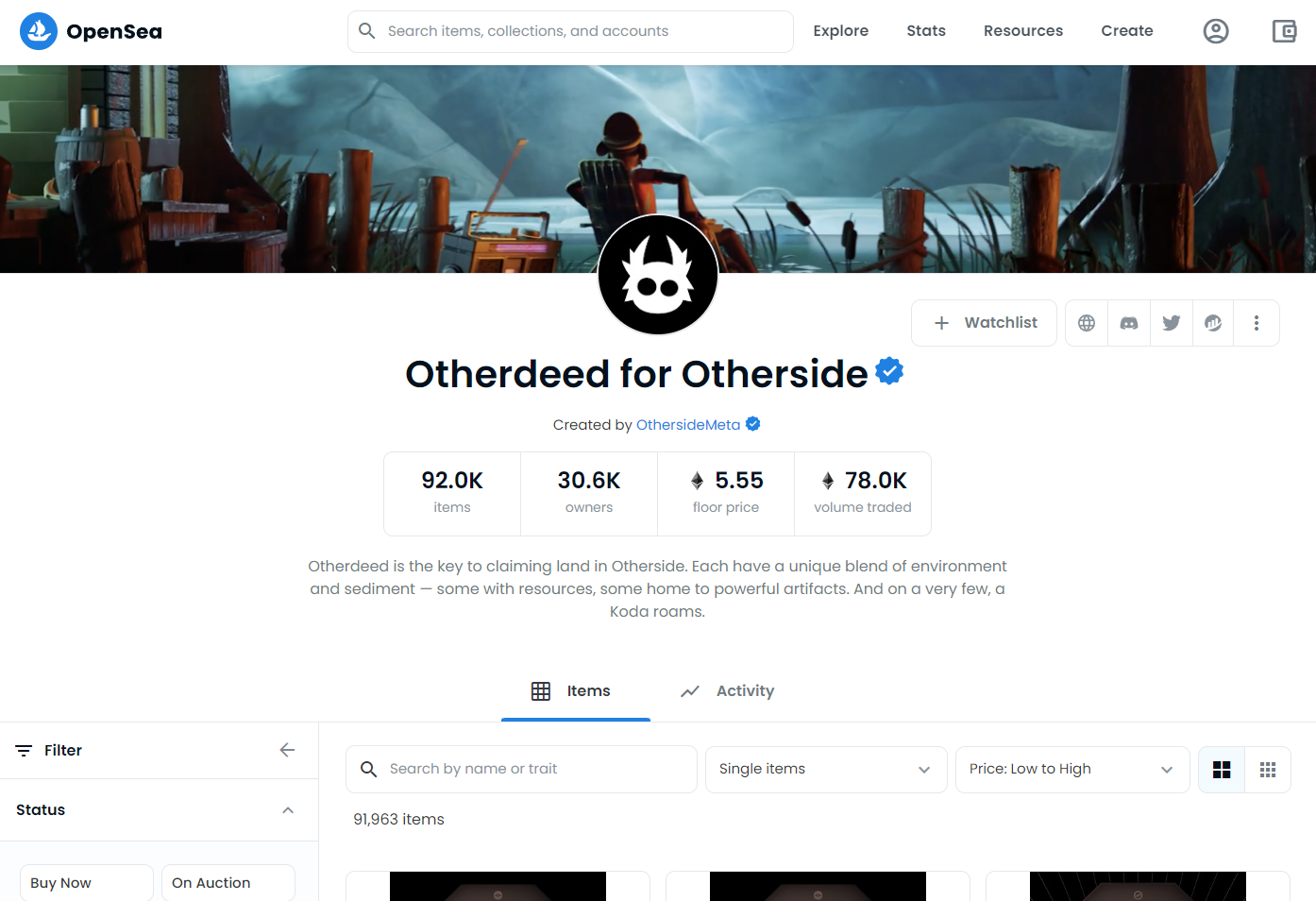 If you're still adamant about purchasing land in ApeCoin's upcoming Metaverse, you can visit the official OpenSea collection Otherdeed for Otherside, featuring 92k items with over 30k owners and a floor price of 5.55 ETH at writing.
What Happened During the Mint?
The Bored Ape Yacht Club Otherside mint essentially broke the Ethereum blockchain since Gas fees hit a new all-time high of upwards of $5k per transaction.
Some users on Reddit claimed that Ethereum's chain wasn't the culprit and the problem was with Otherside's contract, which caused failed transactions:
"No Txs failed it was their bad contract plus seems like just an excuse to start their own chain" -mucker113
In addition, others suggested that Yuga Labs could've saved users up to $80 million in transaction fees if they utilized basic gas optimizations in their NFT contract, outlined in this Reddit thread.
In response to the extreme demand and the throttling of Ethereum's blockchain, Yuga Labs announced on Twitter that ApeCoin needs to migrate to its chain to support the infrastructure.
We're sorry for turning off the lights on Ethereum for a while. It seems abundantly clear that ApeCoin will need to migrate to its own chain in order to properly scale. We'd like to encourage the DAO to start thinking in this direction.

— Yuga Labs (@yugalabs) May 1, 2022
The move is similar to Axie Infinity, which built its chain Ronin to satisfy user and transaction demand without putting too much pressure on other layer-1 blockchains, which aren't built to handle high-transaction and high-throughput activities like NFT mints, Metaverse crypto games, etc.
The Otherside NFT mint is one of the largest in history, and the 78k ETH ($218 million) trading volume not even 24 hours after the mint speaks for itself.
What Is Otherside?
Otherside describes itself as a gamified, interoperable Metaverse currently under development. Its game will feature an MMORPG Web3-style experience powered by users. The BAYC and MAYC NFTs will feature playable characters enabling thousands of players to play simultaneously.
Otherside's unique features include up to 10,000 players interacting on the same map, in-world natural voice chat making it easier to hear those you're facing, advanced physics and AI supporting complex and interactive entities, and an overall next-level social experience for players.
In addition, utilizing Otherside's SDK, developers and creators will be able to build unique outfits, tools, structures, and even games that users can purchase and use in the Metaverse.
What Is Otherdeed?
Otherdeed is the key to claiming land in Otherside. Each has a unique blend of environment and sediment – some have resources, others feature powerful artifacts. In some rare lands, a creature called Koda exists.
See an example below of several properties and stats for an Otherside NFT: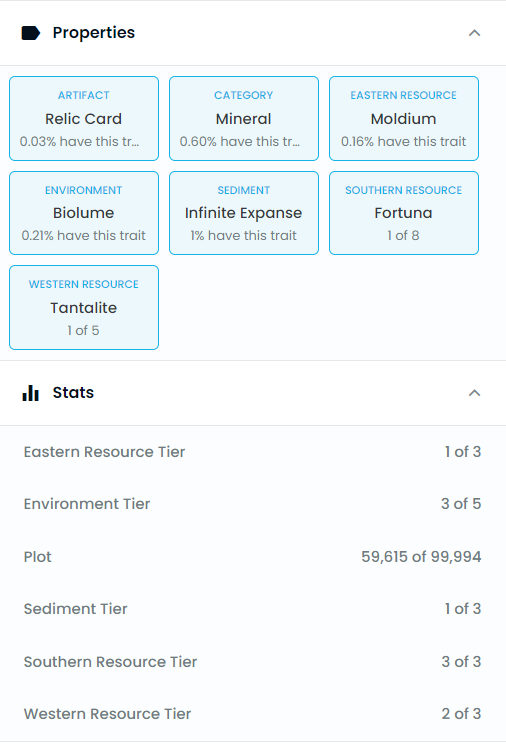 Otherdeeds are currently only available for purchase on OpenSea from the official OthersideMeta collection.
If you haven't yet, we recommend checking out Otherside's official website, which includes an awesome trailer for its upcoming Metaverse, showcasing the fantastic design behind the project.
ApeCoin Price
Unfortunately, while many expected ApeCoin's price to turn bullish after the sale, APE dropped by over 18%, currently trading at $16.43.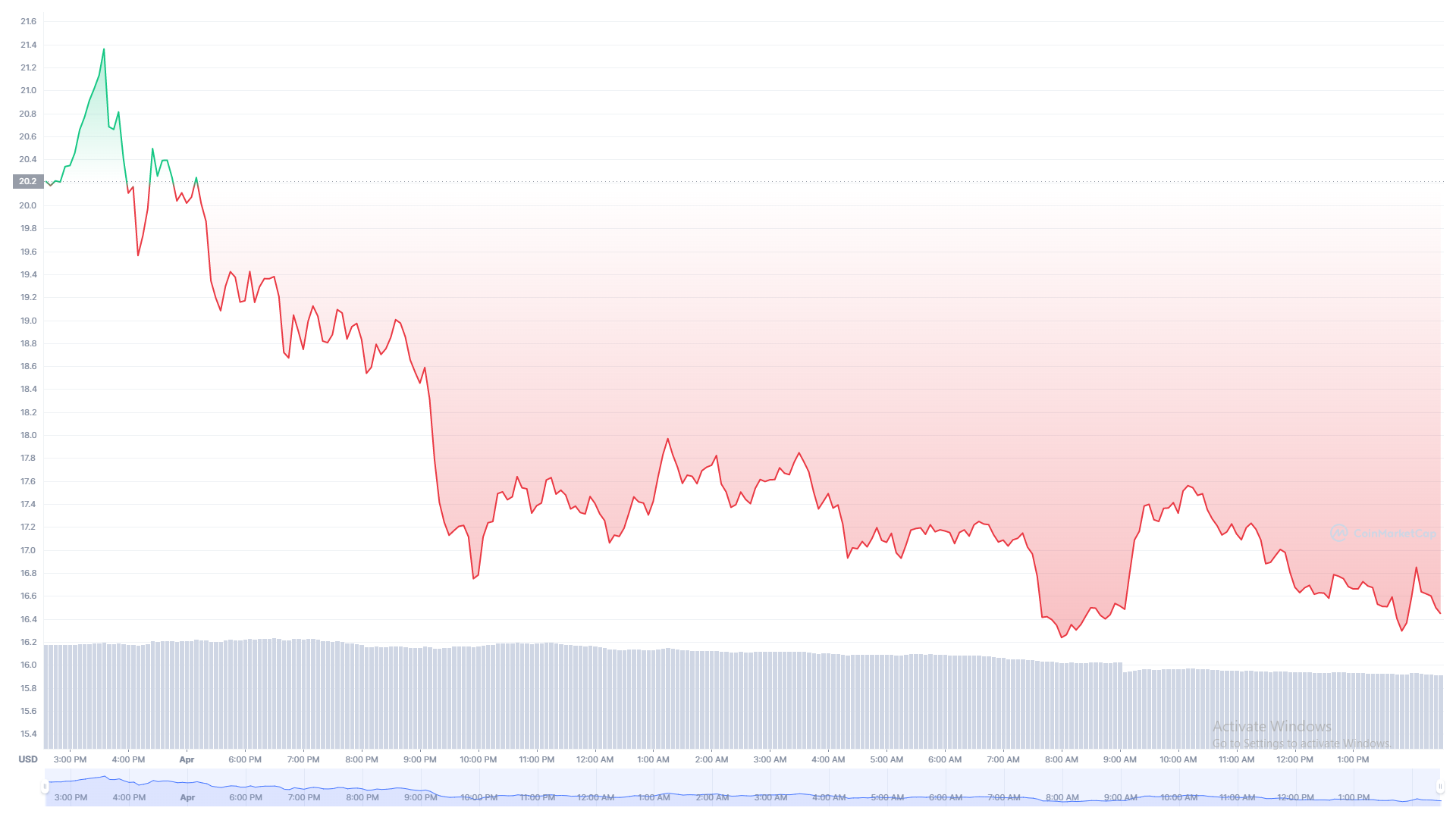 The price drop is most likely due to users' numerous issues during the sale, such as high gas fees and failing transactions. After all, if you spend hundreds if not thousands on gas fees only for your transaction to fail, you will be pretty upset at Yuga Labs and end up dumping your APE bag.
The good news is that ApeCoin's price will most likely recover next week since there's an apparent demand for the cryptocurrency and it's expanding its utility.
Moreover, the sheer demand for the Otherside land sale shows the community support behind the project, outpacing every other Metaverse crypto coin on the market.
Disclosure: This is not trading or investment advice. Always do your research before buying any Metaverse crypto coins.
---
Also Read:
Follow us on Twitter @thevrsoldier to stay updated with the latest Metaverse news!