Hashrate, in the context of cryptocurrency mining, is a crucial metric that represents the computational power or processing capacity of a blockchain network. It measures the speed at which miners, who validate transactions and secure the network, can solve complex mathematical problems to add new blocks to the blockchain. The higher the hashrate, the more secure and efficient the network becomes.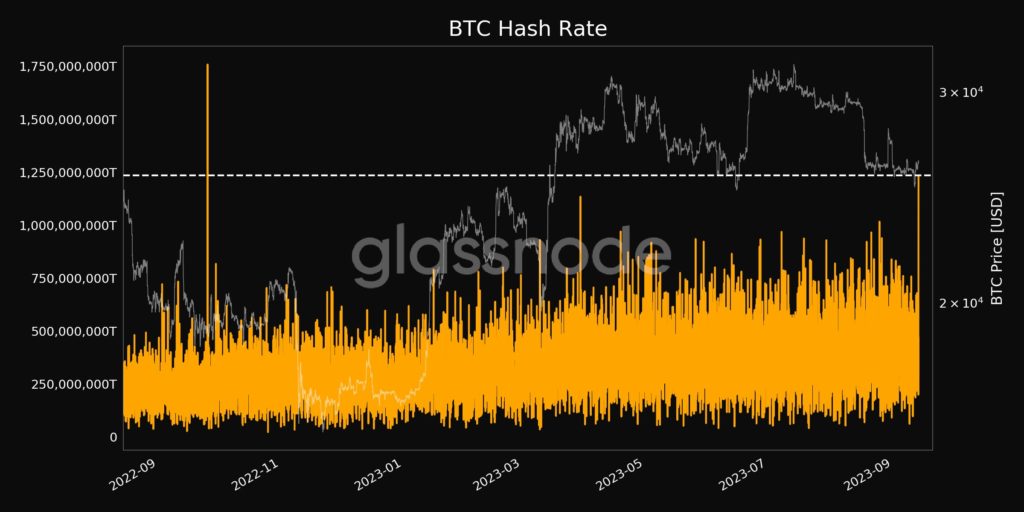 Recently, Bitcoin's hashrate reached an 11-month high, surpassing 1,234 exahashes per second (EH/s). This significant increase from the previous 11-month high of 1,134 EH/s, observed on March 29, 2023, is a noteworthy development for several reasons.
Firstly, a rising hashrate indicates increased miner participation and competition. Miners invest in sophisticated hardware, such as Application-Specific Integrated Circuits (ASICs), to increase their mining power. The surge in hashrate suggests that miners are confident in the profitability of Bitcoin mining, likely due to the rising price of Bitcoin and the potential rewards.
Secondly, a higher hashrate enhances network security. With more computational power, it becomes exponentially more difficult for malicious actors to manipulate the blockchain. This increased security is beneficial for users and investors, as it reinforces trust in the network.
Thirdly, a rising hashrate demonstrates the network's resilience. Despite fluctuations in the cryptocurrency market and regulatory challenges, Bitcoin's hashrate continues to grow, highlighting its long-term viability and strength.
Finally, Bitcoin's hashrate reaching an 11-month high is a positive sign for the cryptocurrency ecosystem. It signifies growing interest, network security, and overall robustness. As Bitcoin continues to evolve, monitoring its hashrate remains crucial for assessing its health and potential for future growth.
Disclosure: This is not trading or investment advice. Always do your research before buying any cryptocurrency or investing in any service.
Follow us on Twitter @thevrsoldier to stay updated with the latest Metaverse, NFT, A.I., Cybersecurity, Supercomputer, and Cryptocurrency news!
Image Source: altitudevisual//123RF // Image Effects by Colorcinch