In a recent cryptocurrency market development, a significant player, often referred to as a "whale," made waves by investing $1.82 million in $ARB tokens at an average price of $0.79 per token. This substantial purchase of 2.3 million $ARB tokens occurred just three hours ago, igniting speculation about a potential price reversal in the $ARB market after massive selloffs.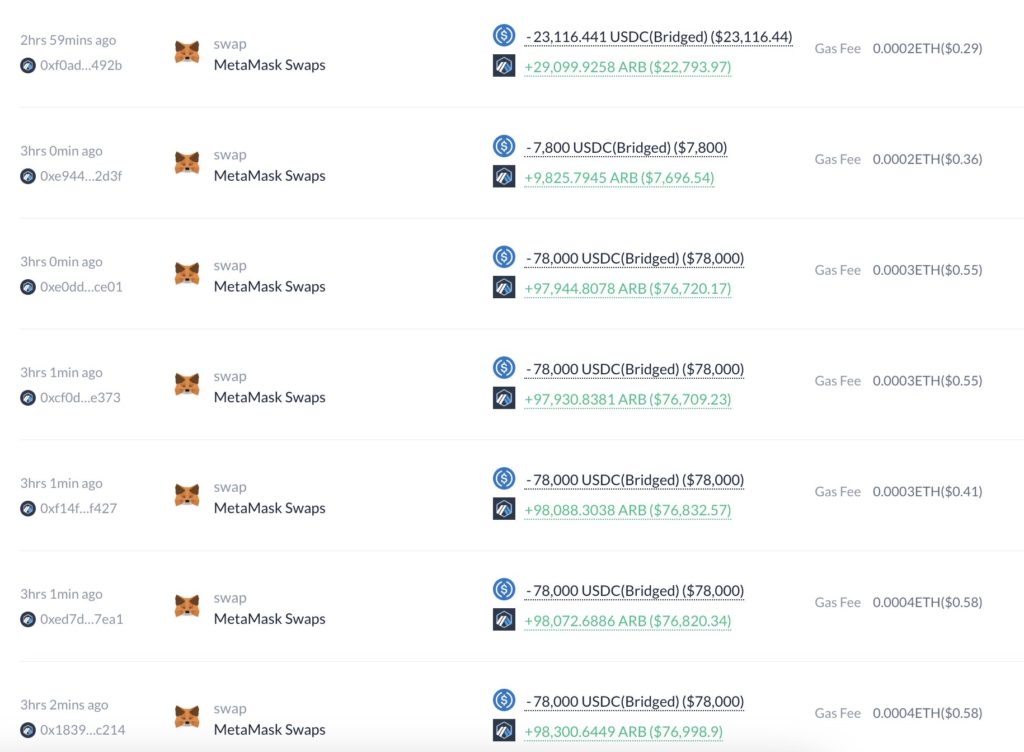 Investors Are Monitoring $ARB
Cryptocurrency enthusiasts and investors are keeping a keen eye on this situation, as whales often possess the power to influence market dynamics due to their significant holdings. The implications of such a sizeable investment in $ARB are multifaceted and worth examining.
$ARB Bullish Sentiment
Firstly, the purchase price of $0.79 per $ARB token suggests that the whale may have perceived this as an attractive entry point, indicating their bullish sentiment. This move could be interpreted as a vote of confidence in the project or a strategic investment aimed at capitalizing on potential future gains.
Massive Whale Investment
Secondly, the sheer magnitude of the investment, at $1.82 million, can significantly impact the market sentiment and liquidity for $ARB. Such large transactions can trigger a ripple effect, attracting more investors and potentially leading to a surge in trading volume.
However, the key question on everyone's mind is whether this whale's entry will indeed catalyze a price reversal. While whales have the capacity to sway markets, they do not guarantee market direction. Price movements in the cryptocurrency world are influenced by a multitude of factors, including market sentiment, news events, and the overall state of the crypto ecosystem.
Final Thoughts
In conclusion, the $1.82 million investment in $ARB by a whale has brought excitement and anticipation to the cryptocurrency community. The potential for a price reversal is a topic of interest, but it is essential to remember that the crypto market is inherently volatile and influenced by numerous factors. Investors should exercise caution, conduct thorough research, and stay informed about market developments to make well-informed decisions in this dynamic landscape.
Disclosure: This is not trading or investment advice. Always do your research before buying any cryptocurrency or investing in any service.
Image Source: angrysun//23RF// Image Effects by Colorcinch