Today, the Dogs of Elon team announced on their telegram that they have burned 10 million $DOE tokens, worth $500,000. The team has provided an Ethereum transaction as proof of the BURN.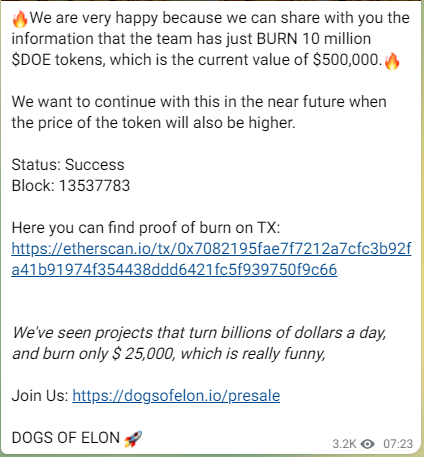 What Is Dogs of Elon?
Dogs of Elon ($DOE) is an emerging NFT and crypto project that is aimed at the meme coin hodlers. The project features an NFT collection featuring everyone's favorite canine along with a $DOE token that can be traded on exchanges.
Why Burn Tokens?
The first question that might come to your mind is why burn $500,000 worth of $DOE tokens? For those aren't familiar, burning tokens is a great way for projects to increase the scarcity of their tokens which in turn projects a value increase on each individual token.
Burning tokens is a great way for teams to show their dedication to the project and reassure investors that they will be able to recoup their initial investment.
Join the $DOE presale
Dogs of Elon are currently hosting a presale for their $DOE token. The presale will last for only 6 more days and there are only 82 million tokens left.
The minimum amount one can purchase is 300 $DOE for the price of 0.004 ETH (roughly $17 at the time of writing)
To find out more about Dogs of Elon visit their website: https://dogsofelon.io/
For the latest news about $DOE make sure to follow their official twitter: https://twitter.com/dogsofelon
To stay involved with the $DOE community, make sure to join their telegram group: https://t.me/dogsofelon