The Internet of Things (IoT), like AI (Artificial Intelligence), is taking our world by storm as it's entering every sector, from finance, education, medicine, and the military to transportation.
Internet of Things (IoT) crypto coins has a growing total market capitalization of $4,626,113,394 and a trading volume of $175,053,326, according to data from CoinMarketCap. Today, we will be exploring some of the tokens in this category.
Note: This List is sorted by market capitalization from lowest to highest.
NKN (NKN)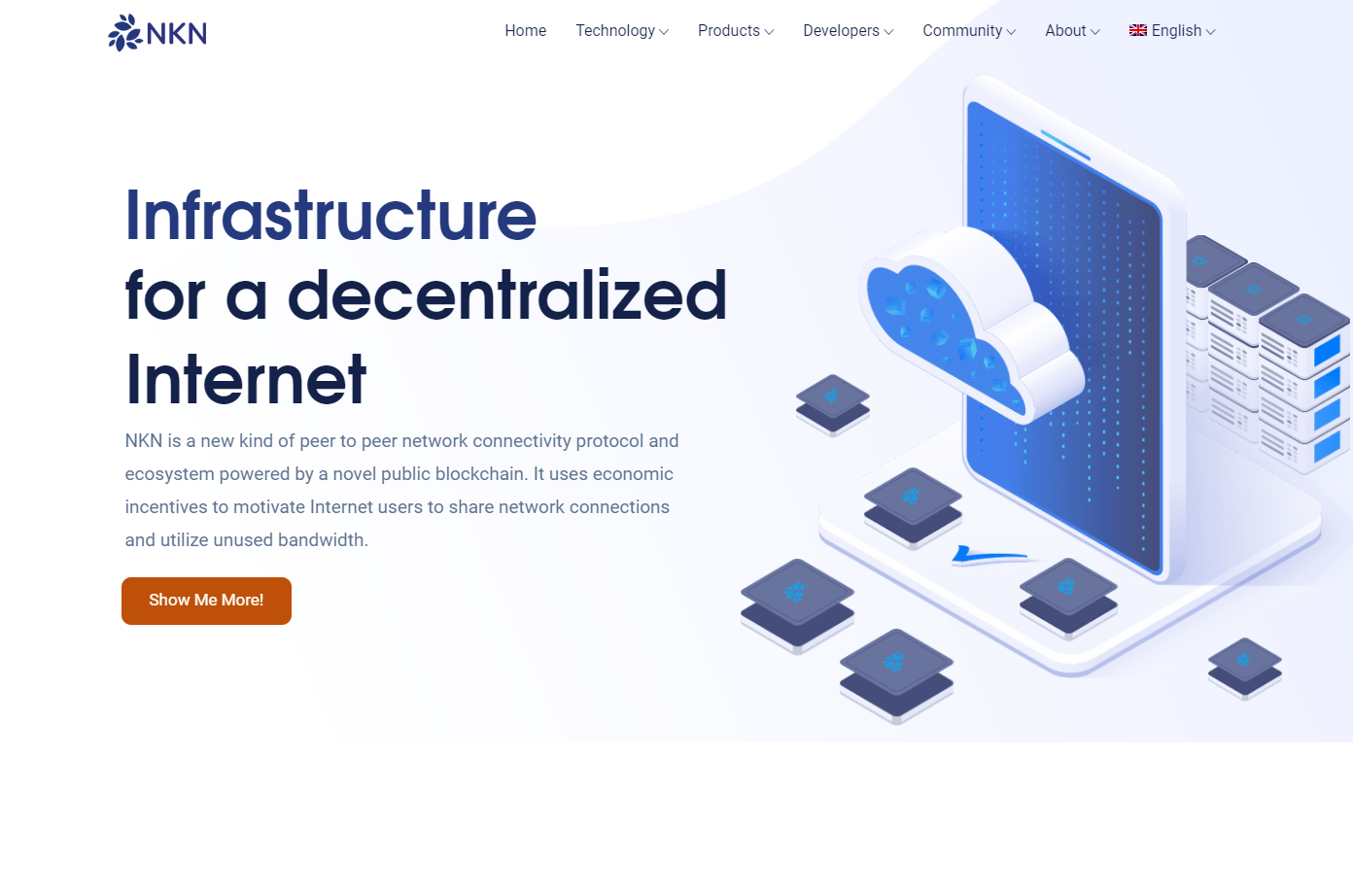 Market Cap :  $79,198,561
Unit Price: $0.1124
Distinct Features: NKN uses a global addressing method based on public keys to enable direct peer-to-peer communication without centralized servers.
Launched in 2018, An open-source system called NKN, or New Kind of Network, enables peer-to-peer networks powered by public blockchains to share network resources and Internet connectivity.
Launched in July 2019, the NKN Mainnet currently has up to 25,000 complete consensus nodes (more than Bitcoin or Ethereum).
According to the website, NKN is built to function without directly utilizing an IP address. Data is only ever stored locally, providing the highest possible privacy and security protection.
NKN Ecosystem is robust, bringing solutions as seen below:
nMobile:

With nMobile, there's an all-in-one solution for decentralized chat, wallet integration, and solution utilization. Deleting all centralized servers removes the risk of security and privacy violations.

nConnect:

Users can access all of their personal information and files with just one click, whenever and wherever they desire, with ultimate privacy.

DataRide:

Users can access custom-built solutions (like nConnect) and detailed resources for developers who want to create their apps.
Exchange: You can buy $NKN at the current rate on top cryptocurrency exchanges like Binance, MEXC, Bitget, Phemex, and KuCoin.
DigiByte (DGB)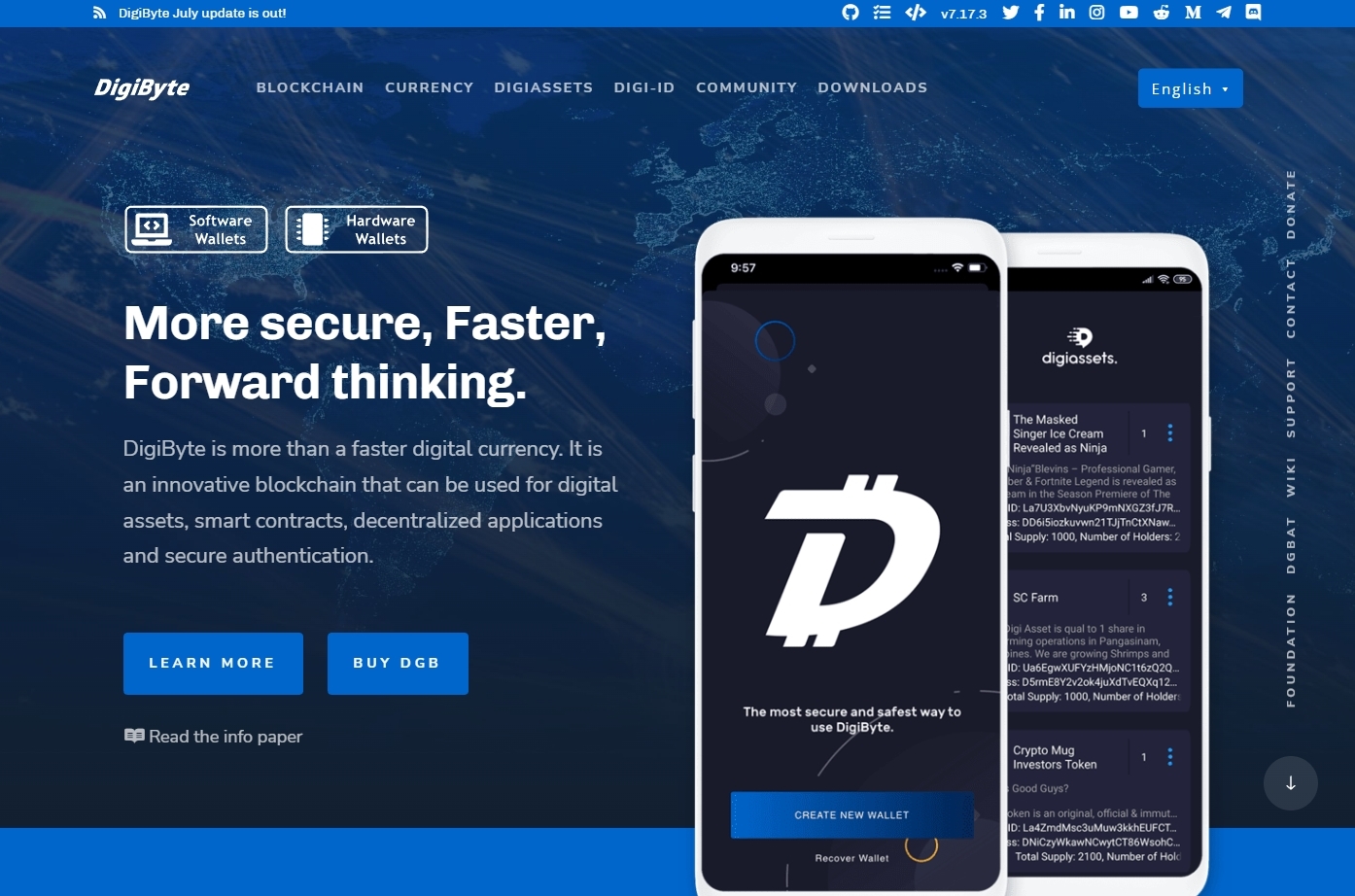 Market Cap : $161,501,209
Unit Price: $0.01031
Distinct Features: A Bitcoin tweak called DigiByte seeks to provide security, speed, and capacity options.
The DGB token's genesis block was mined in January 2014 as a fork of Bitcoin after development kicked off in October 2013.
DigiByte is a well-established public blockchain and cryptocurrency. It was designed to enhance the security, capacity, and transaction speed of the Bitcoin blockchain.
As per the website, DigiByte sees itself as more than a faster digital currency but an innovative blockchain that can be used for digital assets, smart contracts, decentralized applications, and secure authentication.
Three layers make up DigiByte: the core protocol, which uses nodes to communicate to relay transactions, a public ledger; and a "Smart Contract App Store" for smart contracts.
Exchange: DigiByte can be bought at the current rate on top cryptocurrency exchanges such as Binance, OKX, Bybit, KuCoin, and Bitrue.
MXC (MXC)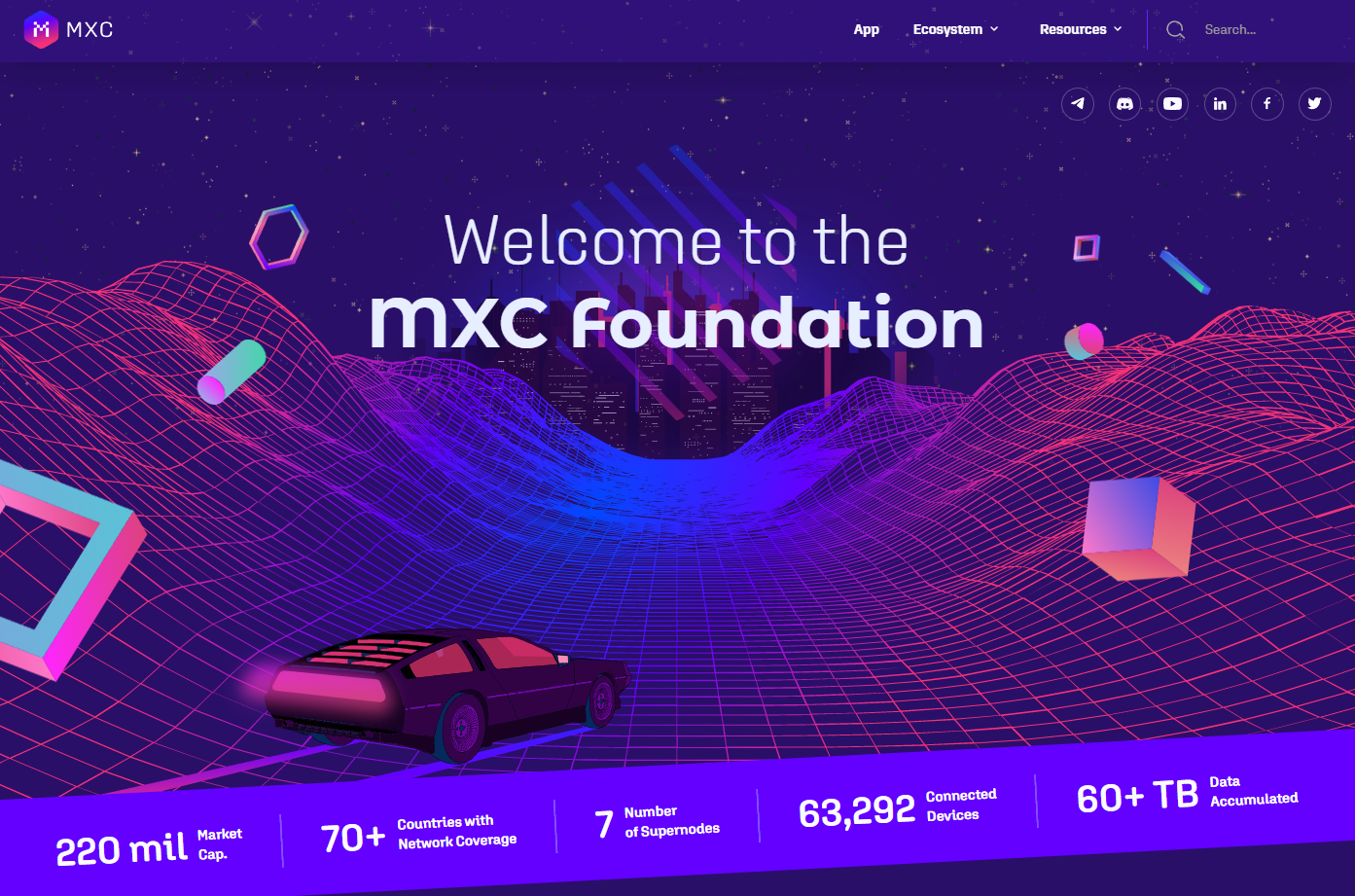 Market Cap:  $180,410,938
Unit Price: $0.06821
Distinct Features: The MXC protocol is made to support Web 3.0 and a variety of blended reality metaverse infrastructures, making data flows and participation more accessible and more widespread.
Launched in 2028, Meta X Connect is transforming the AI and Blockchain sectors by collaborating to create a free and decentralized global data network.
Their thriving mining community and the combined strength of the broad MXC support base are the foundation of the MXC Data Network. According to the website, they are building a global data network, permitting the devices of tomorrow to connect, commit and communicate more efficiently than usual.
The utility token ($MXC) Meta X Connect enables more frequent data transfers, and irregular data flows in the AI and blockchain sectors.
The method also enables the provisioning of any tangible smart Internet of Things (IoT) devices at a reasonable cost, providing a foundation for data suppliers and receivers to develop their own blockchain NFTs and AI that complies with GDPR.
Exchange: $MXC at the current rate is trading on top cryptocurrency exchanges like OKX, CoinW, KuCoin, DigiFinex, and Crypto.com Exchange.
IOST (IOST)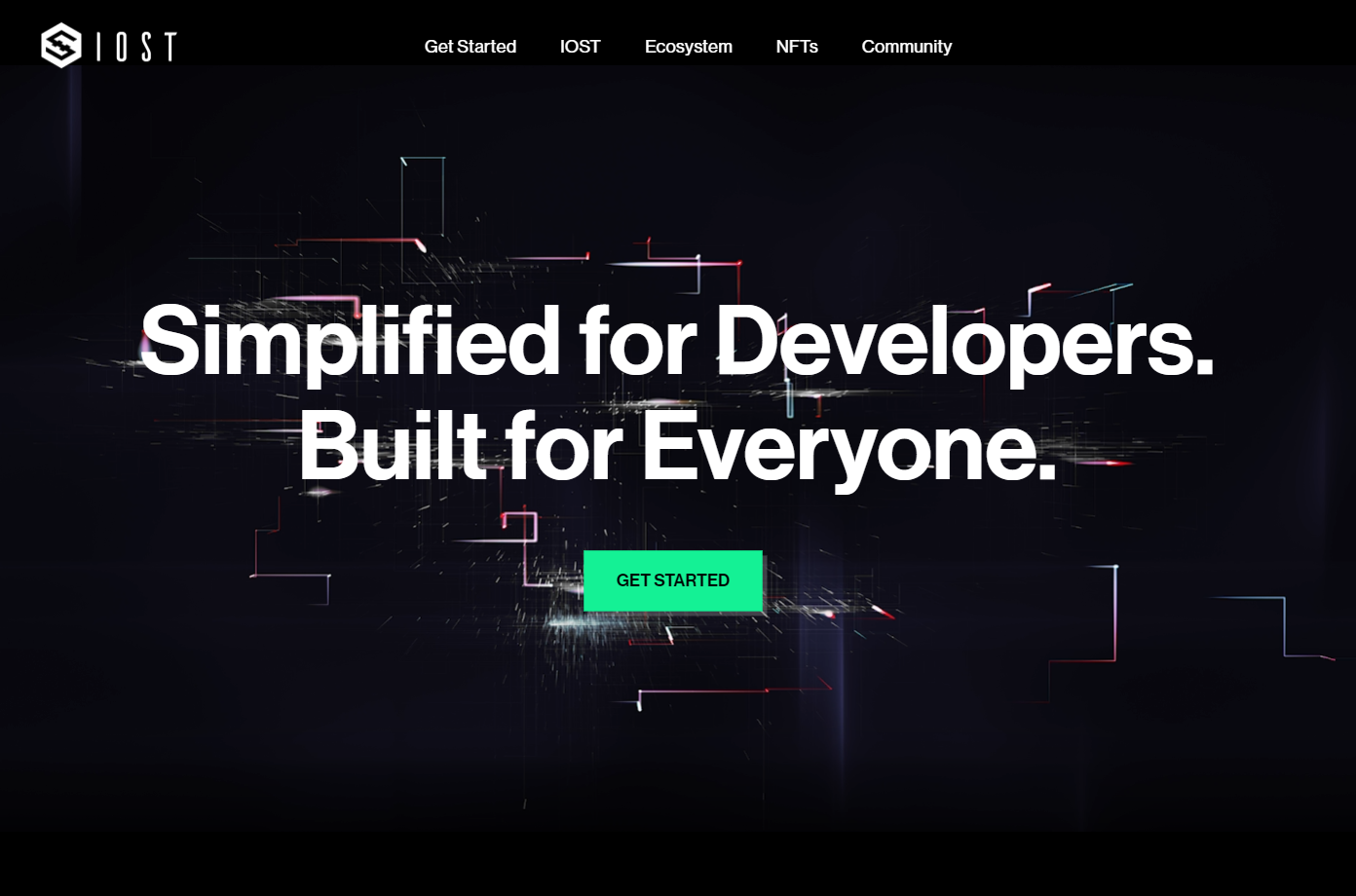 Market Cap: $243,376,332
Unit Price: $0.013093
Distinct Features: In the hopes that it would one day act as the foundation for online services, IOST's blockchain technology is open-source, secure, and scalable.
Launched in 2018, IOST claims to be a rapid, fully functional, decentralized blockchain ecosystem with nodes and wallets based on the next-generation proof-of-believability consensus algorithm.
IOST claims it can process up to 100,000 transactions per second, compared to Ethereum's 20, Tron's 2,000, and EOS's 4,000. This is the most significant distinction between IOST and its rivals.
The IOST team has developed a novel blockchain architecture that introduces and combines several innovations, including a Distributed Randomness Protocol, Efficient Distributed Sharding, TransEpoch, Atomix, Proof-of-Believability, and Micro State Blocks, to achieve these transaction speeds.
Exchange: $IOST, at the current rate, is trading on some top cryptocurrency exchanges such as Binance, OKX, Bybit, CoinW, and MEXC.
IoTeX (IOTX)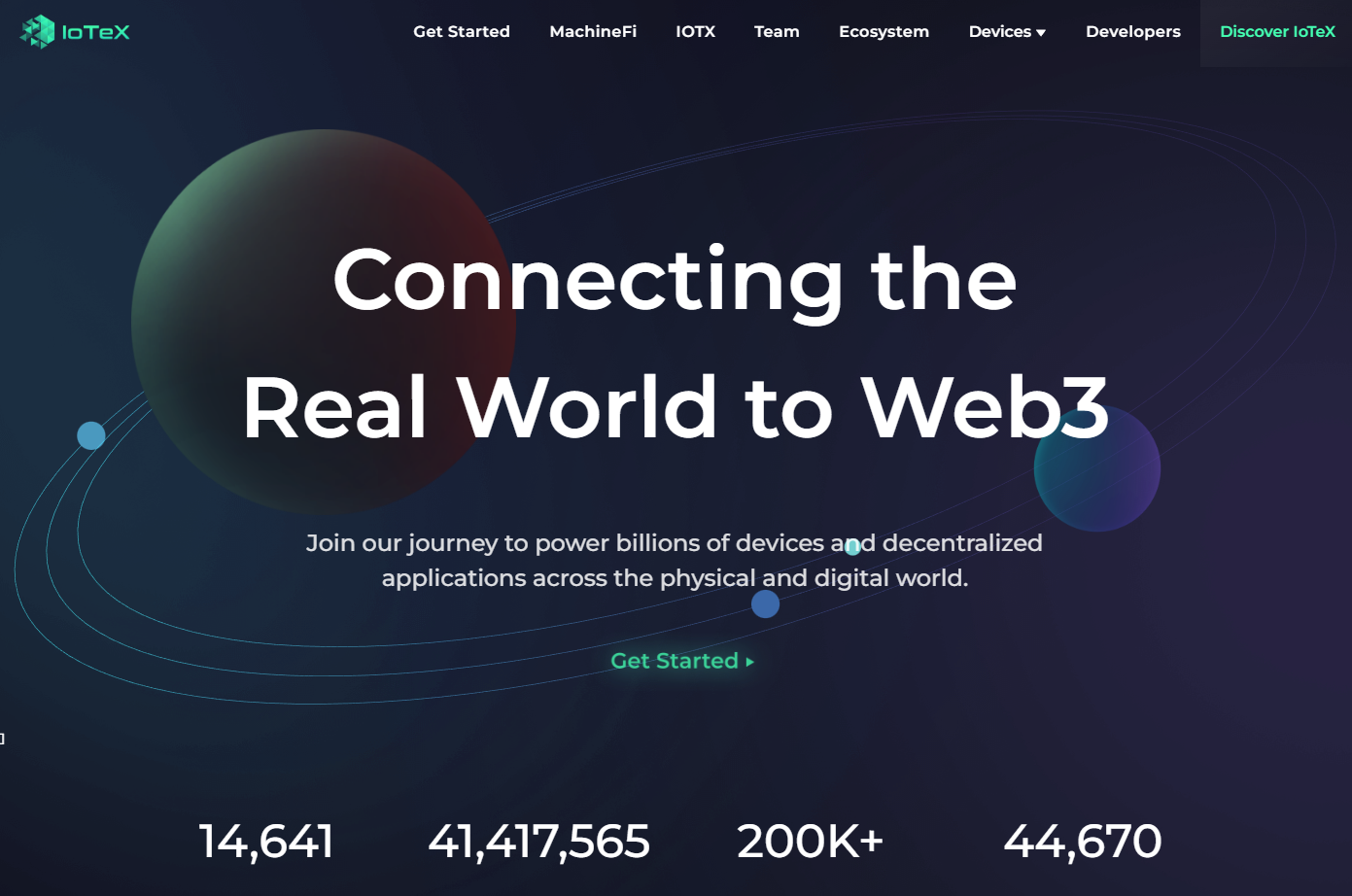 Market Cap : $286,412,432
Unit Price: $0.030020
Distinct Features: A quick, high-performance, EVM-compatible blockchain that offers adaptability and scalability for many applications has been launched by IoTeX.
IoTeX began as an open-source project in 2017 and has created a decentralized platform intending to empower the open economics for machines.
One of its unique features includes activating communication between people and machines, as the website expresses. Of course, a reasonable amount of trust assurance is promised with freedom of choice. It also enables properly constructed economic incentives for users.
IoTeX built its EVM-compatible blockchain from the ground up using the ground-breaking Roll-DPoS consensus and launched in April 2019.
The team has created the fundamental building blocks of infrastructures to connect with the IoTeX, BSC, and Heco blockchains. These infrastructures include the ioPay wallet and ioTube bridge, which tens of thousands of users use.
Exchange: $IoTeX can be bought at the current rate on top cryptocurrency exchanges like Binance, Bybit, BingX, MEXC, and XT.COM.
Disclosure: This is not trading or investment advice. Always do your research before buying any cryptocurrency or investing in any service.
Follow us on Twitter @thevrsoldier to stay updated with the latest Metaverse, NFT, AI, Cybersecurity, Supercomputer, and Cryptocurrency news!
Image Source: jamesteohart/123RF // Image Effects by Colorcinch