Gitcoin's price is up over 149% today, making it the biggest gainer on Crypto.com. More than doubling in price in the past 24 hours, Gitcoin has got the market's attention. What is Gitcoin, and why is the price rising? Let's find out.
What Is Gitcoin?
Gitcoin is a community of builders, creators, and protocols at the center of the future of the open internet. Gitcoin is on a mission to build a next-generation Web 3.0 open-source, economically empowering internet.
There are a variety of services offered by Gitcoin. Developers can earn crypto for working on open-source projects and learn blockchain development with the help of helpful documentation along the way.
In addition, connect with other developers and work on a variety of projects. Last but not least, get funding for your app and bring it to market faster than ever with Gitcoin's funding and DAO.
Launched in May 2021, GTC is Gitcoin's governance token. Use GTC to vote on proposals and upcoming projects; the more coins you have, the higher your voting power is.
As of November 26th, Gitcoin funded over $40.3 million for projects on their platform and boasted an impressive 311,668 developers.
Why Is GTC Price Rising?
The most recent news when it comes to Gitcoin is their latest announcement on Grants Round 12. In this round, Gitcoin features $1.5 million in matching funds for projects, introducing Thematic & Ecosystem Rounds.
The Ecosystem Round is a new type of matching pool where a specific project in the space determines eligibility, but investments continue through Quadratic Funding.
Quadratic Funding is a more democratic and scalable form of matching funding for public goods that optimizes investments based on the number of people who contributed.
In addition, the most significant event this quarter starts on December 1st. Gitcoin is hosting the GR12 Hackathon along with their grants round.
The GR12 Kick-Off event features high-profile sponsors like Binance Smart Chain, AWS Samples, Ledger, and more. The Hackathon will last for two weeks, from December 1st to December 16th. The best part about it, you don't have to be a developer to join. According to the official Hackathon announcement:
"We welcome anyone who brings dedication and experience to the hackathon. Whether you want to help as a designer, project manager, give product experience advice, write documentation, or do something else. Often the projects that do well at hackathons are the ones that focus on more than just code."
As one of the most community-focused projects on the market, it comes as no surprise that we're seeing Gitcoin's price see such a dramatic increase.
Gitcoin is on the fast track to growing its ecosystem. With an overall valuation of only $342 million and a trading volume of $930 million, GTC is highly undervalued right now.
There are cryptocurrency projects with no actual product or community boasting over $500 million market caps. Gitcoin has dozens of projects with thousands of developers, meaning GTC still has the potential to continue its growth.
GTC Price & Tokenomics
At the time of writing, Gitcoin is trading at $23.77, up 149% in the past 24 hours.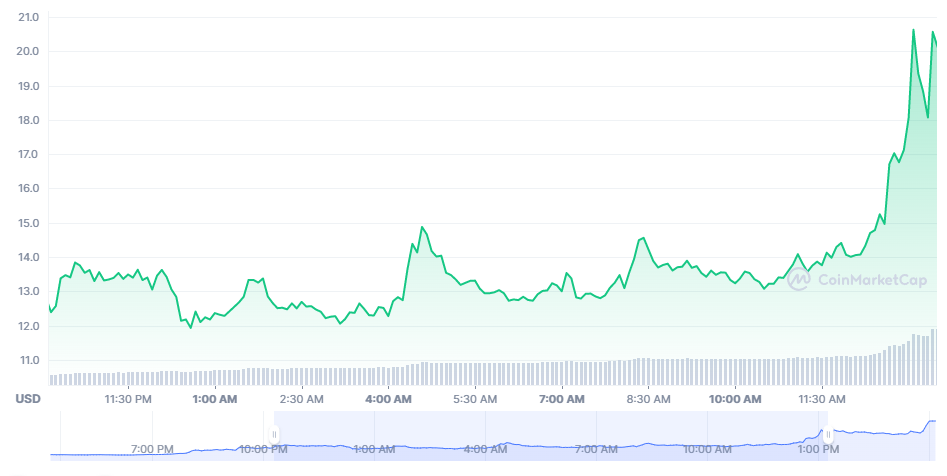 Looking at the CMC chart above, this morning, GTC was trading at $12; by the afternoon, it hit $19.
Most of Gitcoin's trading volume comes from Binance ($597 million), followed by Coinbase Exchange ($126 million).
If you're looking to purchase GTC, the best places would be Coinbase Exchange, Uniswap, KuCoin if you're in the US, or Binance if you're not in the US.
Even with the recent price hike, Gitcoin is highly undervalued. If GTC continued to grow its ecosystem, we could easily see Gitcoin hit $500 million or even a $1 billion valuation by the end of the year.
Disclosure: This is not trading or investment advice. Always do your research before buying any cryptocurrency.
---
Also Read:
Follow us on Twitter @thevrsoldier to stay up to date with the latest cryptocurrency news, and subscribe to our daily newsletter to never miss another story!