Metaverse coins continue to see bullish momentum as cryptocurrency markets begin to recover. Today, some of the top gainers are Vulcan Forged PYR, CEEK VR, LUKSO, Decentral Games, and GameCredits.
#5 GameCredits (GAME) – $0.25 (

+11.60%

)
Launched in 2014, GAME Credits is developing a decentralized Metaverse game with the help of its community of creators. It features a fully decentralized autonomous governance system secured by the Ethereum blockchain and powered by Polygon.
As one of the pioneers in the cryptocurrency gaming sector, Game Credits has stood the test of time and continued to innovate.
GAME Credits features two separate tokens, GAME, and GENESIS. GAME is the native cryptocurrency for the ecosystem, and GENESIS powers the Play-to-Earn economy.
In recent news, the official GAME Credits Twitter account announced a Demo Day for their collection of crypto games. Viewers will be able to watch the demo live on Youtube.
Join us for @BGameAlliance Demo Day 🕹️🎉 Friday, November 26th @ 4PM CET and hear from #GAMECredits CIO @MattQuirk30. Watch live at the link below 👇https://t.co/lAoGDh0TKn#GenesisWorlds #Metaverse #GAME on 🎮 pic.twitter.com/cx1rlEUgQO

— Genesis Worlds | Playing the Long $GAME (@gamecredits) November 25, 2021
In anticipation of the demo, GAME price went up over 11% in the past 24 hours, rising from $0.23 and peaking at $0.26.
GAME Credits has been on a bullish run all of November, peaking at $0.26 at the beginning of the month.
The $0.25 price level is a significant resistance point for GAME. If Game Credits can break through the $0.26 resistance, we could see a substantial run to $0.30 as the market will attempt to find new support.
GAME Credits has a total supply of 200 million, with a circulating supply of 180 million. You can purchase GAME credits on several cryptocurrency exchanges, including Bittrex, Uniswap, QuickSwap, and more.
#4 Decentral Games (DG) – $544.08 (

+16.40%

)
Decentral Games is a virtual Play-to-Earn casino running on Decentraland. It features a variety of popular casino games like Poker, Blackjack, Roulette, and more.
The game is fully hosted on the blockchain, meaning there's no need to give up control of your funds. Moreover, Decentral Games features an awesome NFT collection, allowing users to customize their characters.
The Beta is now live, and users can start playing right now. To play, visit the official Decentral Games hub in Decentraland.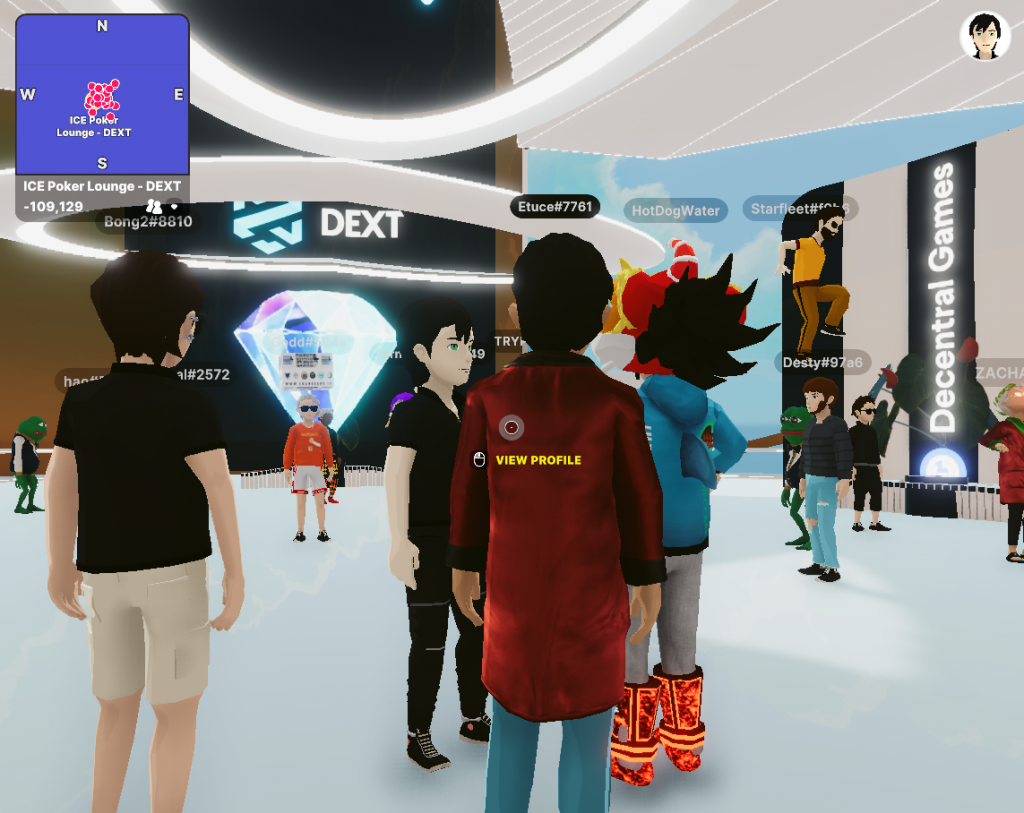 Keep in mind that to play, you must have at least one ICE Wearable, which is Decentral Games' NFT collection.
Looking at recent ICE Wearable sales on OpenSea, the average NFT sold for around $3,800. Quite an investment, showing just how much excitement surrounds Decentraland and Decentral Games.
At the time of writing, DG is trading at $544, up 16% in the past 24 hours. Decentraland's price has also been doing quite well today, which significantly magnifies DG's price hike.
Decentral Games has a total supply of 1 million, with a circulating collection of 346 thousand tokens. You can purchase DG on Uniswap, Gate.io, Sushiswap, PancakeSwap, and more.
#3 LUKSO (LYXe) – $21.69 (

+18.54%

)
LUKSO is a blockchain platform providing physical and digital consumer goods solutions.
The team behind LUKSO is developing a Multiverse that defines a new digital ecosystem merging fashion, gaming, design, and social media into a next-generation virtual experience.
LYX is the native token to the LUKSO blockchain, used for paying transaction fees and securing the network. LYXe is the Ethereum version of the LYX token. Both tokens represent the same asset, just on different chains.
The recent news with LUKSO is their recent AMA on November 23rd, with Gate.io – a major cryptocurrency exchange. In an interview with Marjorie Hernandez, Co-Founder and Managing Director at LUKSO, when asked about what kind of partnerships the team is preparing for, she said:
"For us what is important is to have a right mixture between legacy, innovation, and disruption. If we talk legacy, it will be brands and creators that have existed for a long time. . .then some of the current disruptors and creators that are emerging who are creating a culture and some of the discourse within the culture that sometimes gets appropriated by some big fans. . .What makes me really really excited, is the people who we don't know about yet, those amazing creators of the future."
While it's too early to tell what kind of partnerships might be brewing for LUKSO, the recent AMA got investors' attention.
At the time of writing, LUKSO is trading at $21.69, up 18% in the past 24 hours.
LYXe has a total supply of 100 million, with a circulating supply of 15 million. You can purchase LYXe on KuCoin, Gate.io, Uniswap, and more.
#2 CEEK VR (CEEK) – $0.919 (

+20.73%

)
CEEK VR is looking to become the future of music streaming and publishing. It features a patented VR headset that's currently available at major retailers like Best Buy and Target. CEEK VR features artists like Lady Gaga, Demi Lovato, Ziggy Marley, and much more.
CEEK is the native ERC-20 token to the CEEK VR platform. CEEK provides many ways to earn tokens, including creating custom coins for artists and labels, creating various digital merchandise, sharing links on social media, and curating content for approval. In addition, CEEK VR features CEEK CITY, a VR stage for live performances.
On November 23rd, CEEK VR made it to The Ellen Show, showcasing the brand new VR headset and 4D headphones. In addition, as part of the promotion, every audience member received their own VR headset and CEEK headphones.
Guess who's on @TheEllenShow show 🤯 #Ceekers we made it to the biggest show of the season 🚀🚀🚀 Check out Ellen showcasing CEEK #4DHeadphones #CEEKVR #Metaverse and #CEEKVRHeadset#CEEK #4dHeadphones #12DaysOfGiveaways #VRHeadset pic.twitter.com/cVQcUnJ2M1

— Ceek (@CEEK) November 23, 2021
As one of the most mainstream promotions in crypto history, it comes as no surprise that the CEEK price increased over 20% today. With a fully functioning product and a growing ecosystem, CEEK is looking like a good long-term hold for 2022.
At the time of writing, CEEK is trading at $0.919, up 18% in the past 24 hours.
CEEK has a total supply of 1 billion, with a circulating supply of 739 million. You can purchase CEEK on MEXC, PancakeSwap, Bancor Network, ProBitGlobal, and more.
#1 Vulcan Forged (PYR) – $37.87 (

+33.27%

)
The top Metaverse coin for today is Vulcan Forged PYR, a blockchain game studio and NFT marketplace. Vulcan Forged allows users to play, build, collaborate, earn, and bring their ideas to life. PYR is the fastest-growing blockchain game and dApp platform.
On their platform, Vulcan Forged features several in-browser games that are currently available to play. Users must create a Vulcan Forged account to access the games, but they are open to the public.
In addition, Vulcan Forged has an NFT marketplace featuring plots of land in their Metaverse, along with a wide variety of collectibles and items.
The recent news regarding Vulcan Forged is the Binance listing announced on Twitter today.
#Binance will list @VulcanForged $PYRhttps://t.co/iWoomhkOFE

— Binance (@binance) November 26, 2021
Binance will list PYR with the BTC, BUSD, and USDT trading pairs on 2021-11-26 at 08:00 (UTC). Users can now deposit PYR in preparation for the listing.
Seeing a cryptocurrency's price rise after a Binance listing announcement is a widespread trend in the markets. Binance is a significant signal for many investors, and combined with a solid project and impressive userbase, PYR makes for a great pick.
At the time of writing, PYR is trading at $37.87, up over 33% in the past 24 hours.
PYR has a total supply of 50 million, with a circulating supply of 18.9 million. You can purchase PYR on KuCoin, Gate.io, Uniswap, Bittrex, and more.
Disclosure: This is not trading or investment advice. Always do your research before buying any cryptocurrency.
---
Also Read:
Follow us on Twitter @thevrsoldier to stay up to date with the latest cryptocurrency news, and subscribe to our daily newsletter to never miss another story!