After dropping nearly 99% in the past week from a high of $85 to a low of $1 yesterday, LUNA is the gift that keeps on giving, dropping well below 10 cents today, currently trading at $0.035. Those traders that attempted to buy the dip when LUNA dipped below $1 if they haven't sold off during the rebound to $4 are now down another 99%. Let's look at any relevant news regarding LUNA and its now de-pegged stablecoin UST and see why the price continues to drop?
What Happened With LUNA and UST?
As we reported on May 10th, LUNA's price started the freefall when its stablecoin UST de-pegged by over 70% when massive sell pressure hit the market due to what seemed to be a coordinated attack against the cryptocurrency.
Due to LUNA's tokenomics, the stablecoin de-peg opened up a massive arbitrage opportunity for traders. Since you can automatically convert 1 UST to roughly $1 worth of LUNA, users can purchase UST at a discount, convert it to LUNA, dump the LUNA on an exchange, rinse, and repeat the process.
Unfortunately, there seems to be no end in sight to the selling pressure for LUNA as traders continue to arbitrage the cryptocurrency for easy profit.
While UST attempted to recover and peaked at $81 last night, this morning, UST bottomed out at $0.47, currently trading at $0.62 after a rebound.
Do Kwon Receiving Heat on Twitter
According to Do Kwon's statements yesterday, the goal is to stabilize UST. In addition, Do Kwon remained positive for LUNA's long-term outlook as long as teams continued building on its platform. Luna's founder also mentioned several technical adjustments to the protocol, which could help Luna absorb UST more quickly.
However, since his Twitter statement yesterday, Luna's founder, Do Kwon, has received quite a bit of heat on Twitter from Luna investors who lost over 99% of their holdings.
I lost everything on Luna. All 800k of my life-savings. Still wishing you the best in the end. Goodluck Do.

— Thomas Alexa (@ThomasAlexa13) May 11, 2022
Several users claimed to have lost their life savings, while others share an interview Do Kwon conducted with Alex Botez at the beginning of May.
Ms. Botez asked Do Kwon:
"I wonder how many companies are entering this space just because it's hot and there's a lot of funding versus the ones that will still be here 2-5 years later?"
Do Kwon responded:
"95% are going to die. There's also entertainment in watching companies that do."
In an interview 9 days ago, $UST & $LUNA Founder Do Kwon said "95% [of coins] are going to die, but there's also entertainment in watching [them] die too."

Today, his coin is down 99%. pic.twitter.com/UXoHCr2L1G

— Watcher.Guru (@WatcherGuru) May 12, 2022
It's only entertaining for those onlookers that hold significant positions in those companies. Losing 99% of their portfolio can be some of the worst periods in their lives for any investors. The ripple effect of disgruntled traders/investors causes a significant setback to the cryptocurrency industry.
Another Tweet going around is Do Kwon's response to FreddieRaynolds who six months ago outlined how an attacker could de-peg UST and not only break the cryptocurrency but see significant profit by doing so.
The attack outlined how roughly $1 billion capital would be required to destabilize the stablecoin and open up the market for a massive arbitrage opportunity, essentially foreshadowing the current events last year.
It's clear that all eyes are on Do Kwon, and he's currently facing immense pressure from all sides. It is no surprise that the founder is remaining quiet today as the cryptocurrency continues its downwards spiral.
The Good & Bad News
The good news is that TerraUST (UST) is maintaining its peg relatively well, peaking at $0.82 yesterday night and bottoming out at $0.45. That's still much better than the bottoms UST saw on the morning of May 11th, where it dropped to a low of $0.29.
If UST can continue to maintain its current support of $0.64 and slowly start its recovery, only then should traders consider buying the dip for LUNA.
The bad news is that until UST is fully re-pegged at $1, traders will have a massive arbitrage opportunity, and LUNA will continue to deal with unprecedented sell pressure pushing the cryptocurrency to lower lows.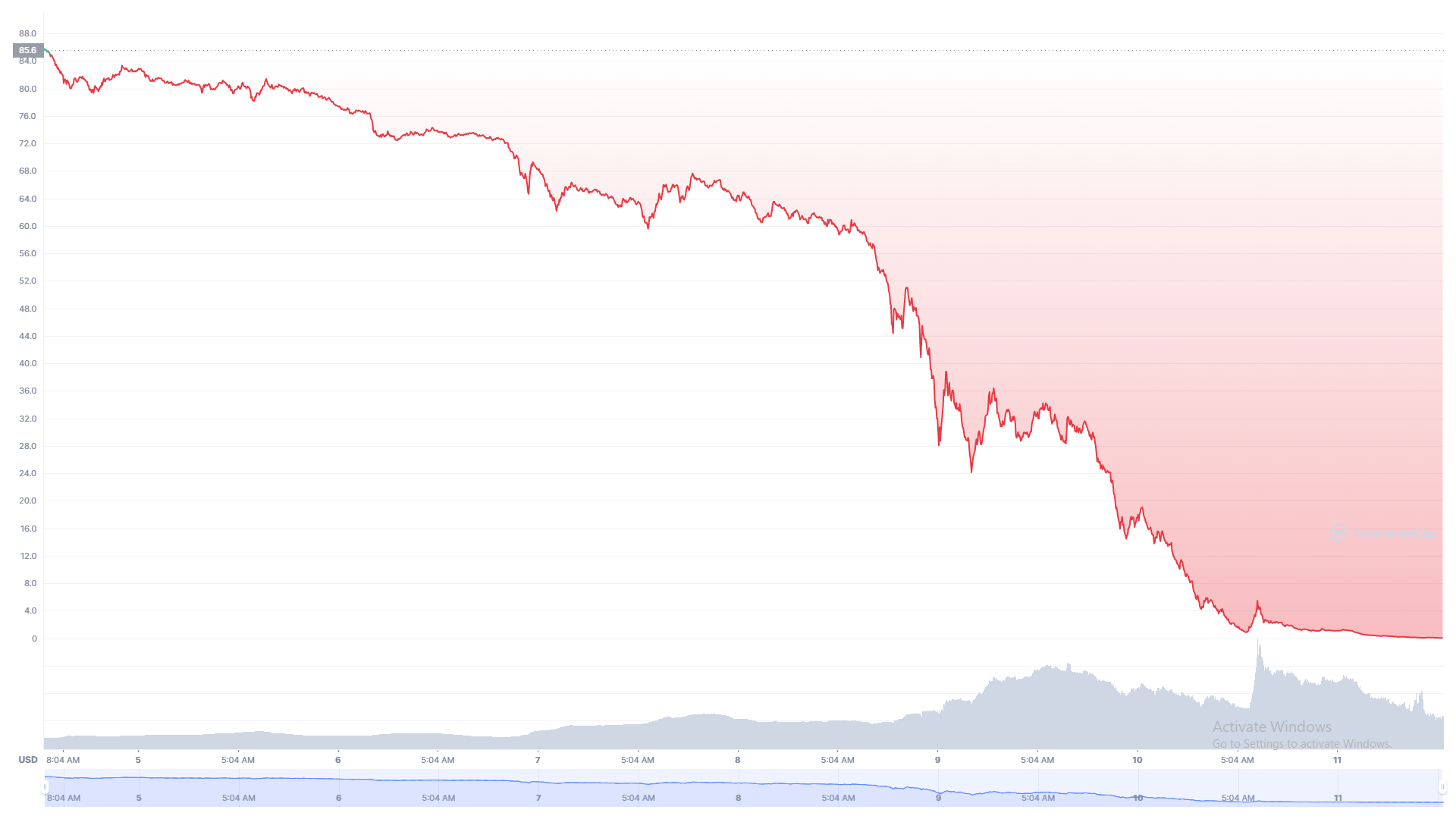 While some traders may suggest to Dollar-Cost Average (DCA) LUNA because of the current low prices, it would be wiser to wait until UST is closer to $1 before attempting to buy in right now.
LUNA's current market cap is $120 million, and another 90% drop to a market cap of $12 million wouldn't be surprising with the open arbitrage opportunity continuing the selling pressure for LUNA.
Disclosure: This is not trading or investment advice. Always do your research before buying any cryptocurrency.
---
Also Read:
Why Is Terra Luna and UST Price Dropping? What's Really Going On?
Follow us on Twitter @thevrsoldier to stay updated with the latest Metaverse news!
Image Source: kviztln/123RF