After exposing Huh token for being a scam, it was recently brought to my attention that the team behind the token launched a series of false accusations against me. This article will serve as not only my response to the allegations, but also as firm proof that Huh token is a complete scam.
According to an article published by Cryptonews, the allegations state that I extorted Huh token. They provided the following fake screenshot as proof: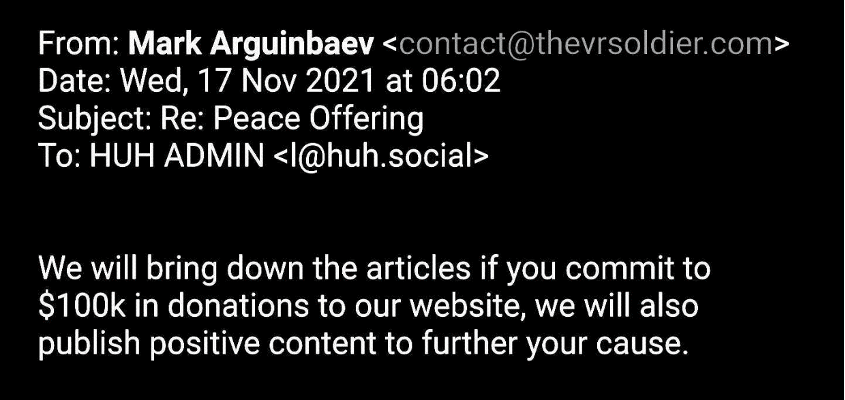 It goes without saying that I've never asked Huh token for money, in fact the only thing I asked is for them to stop DDOSing our website.
You can find the full email thread attached in the PDF file below:
https://thevrsoldier.com/wp-content/uploads/2021/11/The-VR-Soldier-Mail-Defamation-Article.pdf
In fact, the first email we received was from a random gmail account offering us $40 to remove the article.
My last communication with Huh token was on Tue, Nov 16, 2021 at 11:56 PM. The screenshot shows a date of 06:02.
Most likely, because I never responded to their last email, they got frustrated after waiting 2-3 hours and decided to fake the screenshot.
We are in the process of working with several individuals to identify the owners or Huh token and have reasons to believe the scammers stole over $500,000.
It's unfortunate that trying to do the right thing and expose the bad players in crypto comes at such a cost. Unfortunately, there aren't much resources available to people who are the targets of such attacks.
Regardless, I will continue to provide the crypto community with authentic content. Stay HODLING!