Meme coins continue to dominate crypto markets, as many are seeing incredible price gains even when Bitcoin and Ethereum are struggling. In this article, we present two meme coins that increased by over 300,000% in the past week. Let's take a closer look at GenshinShibInu and Angry Squid and see what all the hype is about.
GenshinShibInu (GSHIB) $0.000004

+392,742%
As the name suggests, GenshinShibInu is a play on the popular Shiba Inu token. It has seen massive price gains over the past week, while at the same time inviting a lot of FUD.
According to their website:
"Genshin Shiba Inu will be your guardian and tour guide throughout this journey, protect and grow your investment with our advanced AI rebase protocol while earning passive income in $SHIB."
The AI rebase protocol calculates the most reasonable supply for GSHIB based on current market conditions. When it comes to staking your tokens and receiving rewards in $SHIB, the longer your hold GSHIB the more rewards you get.
Looking on twitter, there have been reports of users complaining that their tokens disappeared from their wallets. Moreover, some report that the number of tokens in their wallets keeps fluctuating.
Unfortunately, I couldn't find an audit of the GSHIB smart contract, so I would urge investors to do their own research before attempting to purchase GSHIB.
Without a third party audit of the smart contract, the developers can potentially move everyone's coins in and out of their wallets. Overall, while the price increase is incredible, personally I wouldn't buy this coin.
Angry Squid (AngrySquid) $0.008
+937,726%
As the name suggests, Angry Squid is inspired by the popular Netflix show Squid Game. According to their official website:
"Its characteristics is to allow you to get enough income outside of life, which is loved by everyone. Angry SQUID has high bonuses and is ready to succeed. Join Angry Squid and get high bonuses!"
Angry Squid doesn't call itself a meme token, instead the team announced yesterday that they are preparing to develop an NFT collection, followed by a game.
One of the main reasons for Angry Squid's price hike, is the fact that its bullish momentum got it listed on Coinmarketcap's top 10 gainers every day this week.
Another reason is traders buying Angry Squid in response to the Squid Game token saga, that ended up scamming traders via a rug pull, leaving Squid holders angry.
At the time of writing AngrySquid's market cap is at $800,000 with a 24 hour trading volume of $78,000. This suggests that the market is not very active for AngrySquid, which could go both ways.
If the trade volume picks up, AngrySquid can easily 10X in price once again, like it did last week. However, AngrySquid can crash just as easily with such a low amount of liquidity.
What's more, is going to the twitter profile for Angry Squid that's linked on Coinmarketcap, we see the official account of Angry Squid has been banned.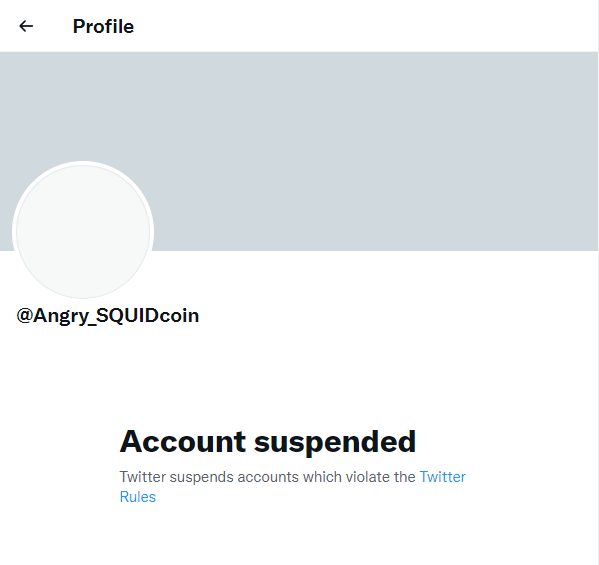 There's another account that's been promoting Angry Squid on twitter, but overall this looks extremely dodgy. Personally, I wouldn't buy any AngrySquid, it seems like too much of a risk, especially right now.
There have also been reports on twitter claiming that their Angry Squid tokens have disappeared from their wallets. While we couldn't verify the claims, it's worth keeping that in mind.
Disclosure: This is not trading or investment advice. Always do your own research before buying any cryptocurrency.
Also Read:
Follow us on twitter @thevrsoldier to stay up to date with the latest cryptocurrency news!