As the weekend is upon us, FUD combined with an uptick in short term traders looking to take profit caused Shiba Inu's price to drop over 10% today.
Shiba Inu Fear, Uncertainty and Doubt
All the talk is still about the Shiba whale who moved some of his coins a few days ago. Taking another look at the whale's addresses, and there has been absolutely no relevant activity since then.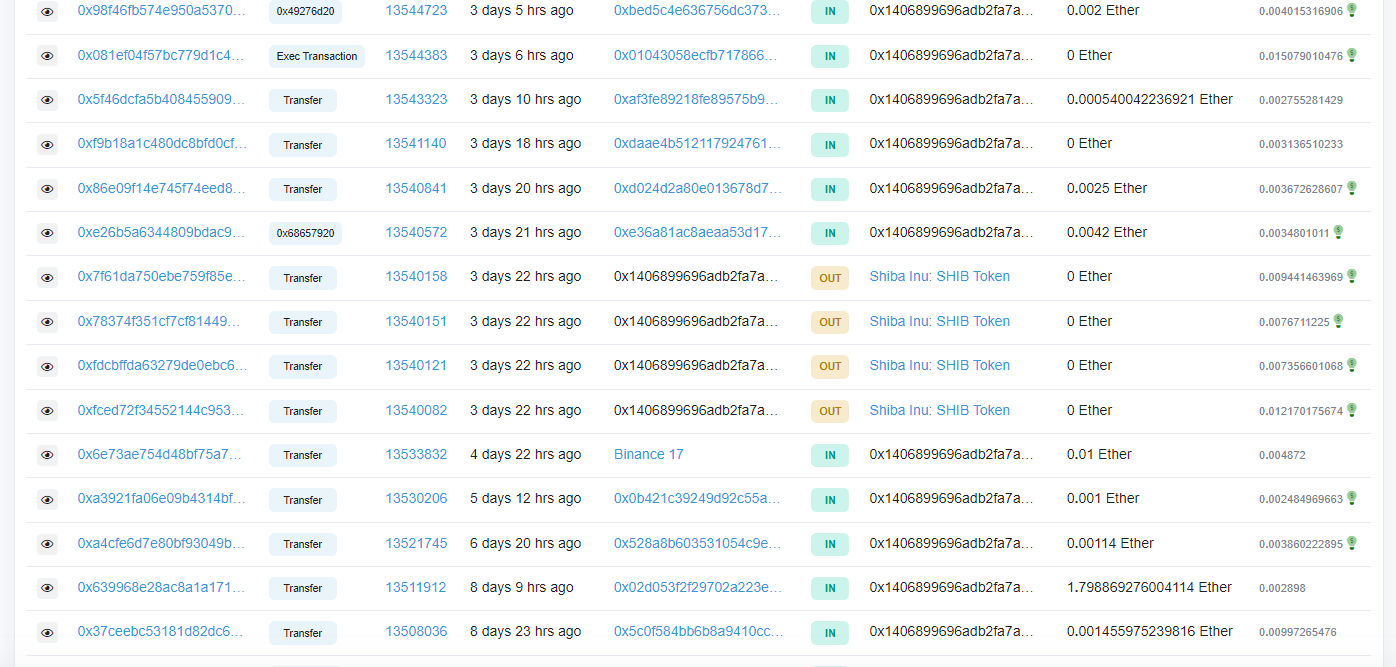 However, the fact that billions of dollars worth of Shiba Inu were moved in the first place is what the media and traders are going to focus on.
As a result, any new trader looking to go long in Shiba is going to have a hard time dealing with the uncertainty of possibly eating a huge loss in the short term.
The good news is Shiba Inu isn't XRP, where members of the team have been selling millions of their shares for years. Not only that, but last year the Co-Founder of XRP Jed McCaleb sold off over $28M in XRP despite pending SEC charges against Ripple Labs.
My point is, even if the whale decided to start offloading his bag, it would simply be another opportunity for new investors to buy $SHIB.
More Shiba Inu FUD
There's no better way than starting off your Saturday morning writing an article titled: "Shiba Inu's 2 Biggest Catalysts Won't Save It From Tumbling."
Written by Sean Williams, the article outlines why it's so ridiculous that Shiba Inu gained "17,000,000% in roughly 15 months." Rather than focusing on the fact that Shiba Inu changed the lives of millions of people for the better, the focus is on why the Robinhoos listing and Elon Musk's tweets won't save Shiba.
In my opinion, Shiba Inu's greatest catalyst is its community. #ShibaArmy is one of the strongest communities I've ever seen in crypto and their influence is astounding.
Moreover, the aggressive marketing campaigns by Coinbase, WeBull, Crypto.com, and other major exchanges is a huge reason for $SHIB's success.
Yes, Elon Musk and certain exchange listing can help boost Shiba Inu's price, but that's only going to help in the short term.
He is Dr. Shiba, the doctor of world economics
Yes, this is Shiba power, Shiba is like a powerful lion, Shiba is coming soon 0.001 @shiba @shibaarmy @shibainu @shibatoken @shibswap @shib @elonmusk @amazon @alibabagroup @tesla @RobinhoodApp @panthira2021 pic.twitter.com/57zi87cC8K

— Shib (@reza23215868) November 3, 2021
If you haven't yet, check out some of Shiba Inu's memes, they're hilarious!
Follow us on twitter @thevrsoldier to stay up to date with the latest cryptocurrency news!