After dipping to a low of $0.00004 on Thursday, Shiba Inu has been trading sideways at the $0.00005 level. Moreover, we saw the trade volume decline this weekend which is a normal occurrence for crypto markets.
Let's take a closer look at Shiba Inu and see what next week has in store for us.
Shiba Inu Robinhood News
The most talked about news when it comes to Shiba Inu is a potential Robinhood listing. Looking on twitter, it seems that Robinhood is willingly ignoring the #ShibaArmy that is blowing up their tweets' comment sections.
Ohh no you guys are losing money on $doge!! There's only one solution! $SHIB happens!

— 🏦🐕 ᖇᗴTᖇ🅞🅖ℛ𝐚𝐝𝐞 𝕐𝔼𝕆 🐕🏰 (@CryptoYeo) November 6, 2021
Robinhood needs to either approve or deny the Shiba Inu listing. In my opinion, leaving a whole community in the dark while they "investigate" is a way to spread and perpetuate FUD.
Robinhood already doesn't have the greatest reputation, back in July CNBC recently reported that "Feds seized Robinhood CEO's phone as part of GameStop trading probe".
The article stated:
"Robinhood faces dozens of putative class-action lawsuits and is under investigation by regulators, state attorneys general, the SEC, FINRA, and the U.S. Department of Justice following the Game Stop trading frenzy in January that resulted in multiple trading restrictions for users."
Shiba Inu Kraken News
Another big detractor from Shiba Inu's price is the news regarding the Kraken listing.
It seems that Kraken is following in Robinhood's footsteps on keeping #ShibaArmy in the dark regarding the approval or denial of a listing, meanwhile posting tweets about other cryptocurrencies and enjoying the influx of traffic they are getting because of Shiba Inu supporters.
Dont Kraken hide this! Or we will post million times! 😂👊🏻 Im your reminder 😉🤝 pic.twitter.com/bXYeP4nPDX

— ♕𝐆𝐨𝐬𝐬𝐢𝐩 𝐒𝐇𝐈𝐁♕ (@GossipShib) November 7, 2021
It's clear that the Shiba Inu community is extremely dissatisfied with the two exchanges, so much so that they tanked their app ratings on the Google Play store.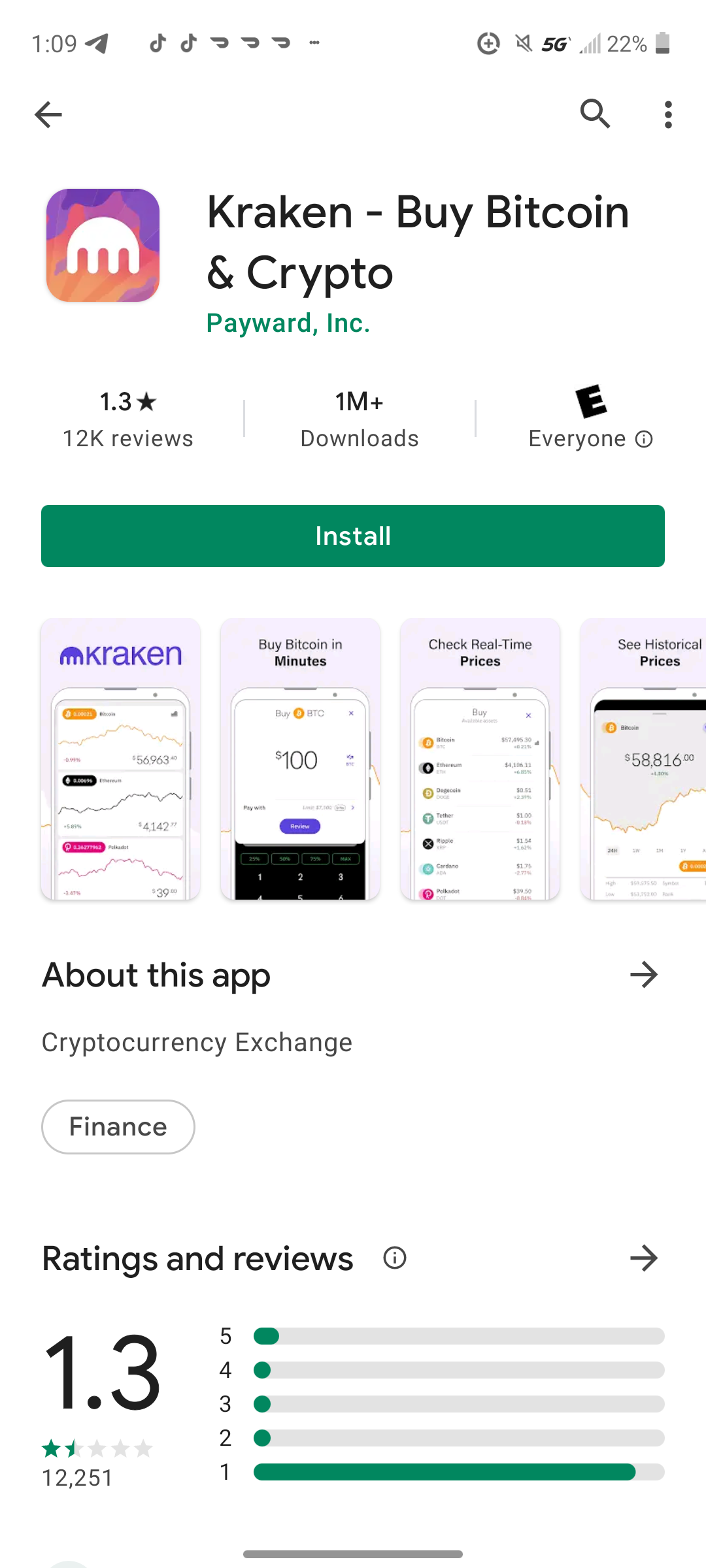 There are over 12 thousand ratings for the kraken app most of which are 1 stars. It would be in Kraken's best interest to stop dragging the listing along and either approve or deny it next week.
Shiba Inu Coinbase News
On a more positive note, Coinbase has recently added Shiba Inu for NY users. Go Coinbase!
We 💙 NY

It's official, SHIB is now available to trade, buy, sell and store on Coinbase for NY residents. pic.twitter.com/9yzjsBSMUf

— Coinbase (@coinbase) November 5, 2021
According to their tweet on November 5th, users in NY can now buy, sell, trade and store Shiba on the Coinbase platform.
Coinbase listed Shiba Inu back in September and saw a massive spike in users. So much so, that they started added Shiba to their marketing campaigns on Youtube and TikTok.
It's unclear what the issue is with Kraken and Robinhood, by the looks of it most likely the exchanges will deny the listing. The real problem is the communication from the two exchanges which is unclear, and is a big reason for the FUD surrounding Shiba Inu.
Follow us on twitter @thevrsoldier to stay up to date with the latest cryptocurrency news!