After trading sideways at the $6 level since June, Terra 2.0 (LUNA) price dropped significantly today by over 20%, to a current level of $4.86. The recent drop is likely due to Do Kwon closing his Twitter so that only approved followers can see his Tweets. It's unclear why LUNA's founder closed down his Twitter, but the market is clearly not happy with the recent developments.
Terra 2.0 (LUNA) Price Down 23%
While Bitcoin and Ethereum manage to hold support this Sunday, with BTC trading at the $29k level and ETH maintaining $1,790, Terra 2.0 (LUNA) is struggling to remain above the $1 billion market capitalization as the token is facing mounting bearish momentum.
Terra Classic (LUNC) is also continuing its downward spiral, declining by over 12% in the past 24 hours with a current market capitalization of $534 million.
Meanwhile, Terra 2.0's ecosystem continues to expand as more services are deployed on the chain. For example, last night, Astrochad deployed on Terra 2.0, the most potent DEX in cryptocurrency. Users can provide liquidity and start swapping on desktop or mobile.
Check out Astroport's Medium post for the full details regarding the launch and Astroport's features.
Do Kwon's Twitter Goes Private
The likely culprit behind the recent 20% drop for Terra 2.0 (LUNA) is the project's founder, Do Kwon, closing his Twitter last night, where only approved followers can see his Tweets.
While Do Kwon amassed over 1 million followers throughout the Terra Luna debacle, those that haven't followed him and want to keep up with his Tweets need to request a follow and wait for him to approve it.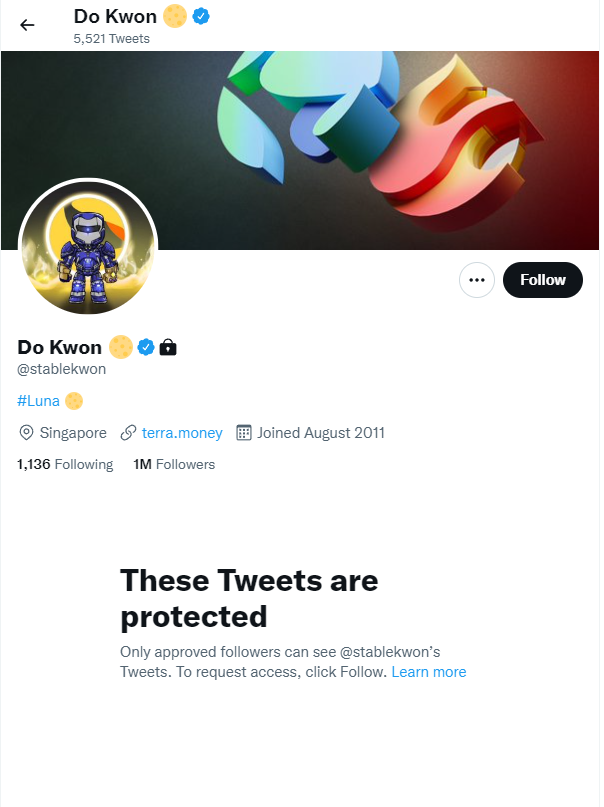 It's unclear why the founder closed down his Twitter to the public, but the likely reason is the large volume of harassment that the founder has been receiving over the past couple of weeks.
CNBC recently released an article titled "Do Kwon is unlikely to face prison time for $60 billion UST crypto wipeout – fines and lawsuits are more likely."
The pressure is mounting on Do Kwon as investors realize the chances that LUNA will recover to previous heights is slim. Civil lawsuits and fines are likely to follow in the US, South Korea, and Singapore.
Terra 2.0 (LUNA) price is likely to decline unless Do Kwon opens up his Twitter again. As investors and traders alike are not happy with the current situation.
LUNA's trading volume spiked by over 80% in the past 24 hours, currently at $380 million. However, most of the volume seems to be selling orders as investors are selling at a loss to get the remaining profit out while they still can.
Disclosure: This is not trading or investment advice. Always do your research before buying any cryptocurrency.
---
Also Read:
MiningNetwork Review – Most Popular Play-to-Earn NFT Game on WAX
Follow us on Twitter @thevrsoldier to stay updated with the latest Metaverse news!