A recently released game called MiningNetwork has been topping the charts, becoming one of the most popular Metaverse NFT games in cryptocurrency. According to data from DappRadar, MiningNetwork reached over 437k users in the past week, surpassing games like Alien Worlds and Farmers World. Let's look at MiningNetwork in more detail and see why so many users are deciding to play the game.
What Is MiningNetwork?
Launched in March 2022, MiningNetwork is an NFT-based mining game built on the WAX blockchain. MiningNetwork combines the free-to-play and play-to-earn models into its ecosystem, enabling users to earn rewards from the platform.
Each user receives a free NFT to start playing and earning rewards immediately after registration. Mining Network features a brand new economic model that hasn't been used on the blockchain.
The unique aspect of the game is that the number of extracted game resources doesn't equal the issued number of tokens. This means the number of game resources will increase as the number of players increases and each player's game assets improve. In addition, the number of game tokens that are issued will constantly decrease, contributing to bullish momentum for each token and saving the cryptocurrency from excessive inflation.
How to Start Playing MiningNetwork?
To begin participating in the MiningNetwork game, head over to the official website, click on the Start button on the bottom left, click "Login," and log in with your WAX Cloud Wallet.
Once logged in, click the Start button and select Create Account. Approve the transaction, and your account should be created.
You should receive a confirmation message saying, "Welcome to the MiningNetwork project."
To start mining, click the "My Asics" icon, and you should see a level 0 YOLASIC. Click the Stake button, approve the transaction, and your YOLASIC will be successfully staked.
You will notice several stats on the bottom right of your screen, including the Total Rate, My Rate, Balance, and Tokens (BTK).
You will start earning Shares right away, which you can use to upgrade your YOLASIC to increase its mining power.
To collect your reward select the YOLASIC and click GET REWARD. You collect shares relatively fast, and within a minute or so, you should have enough shares to upgrade your YOLASIC.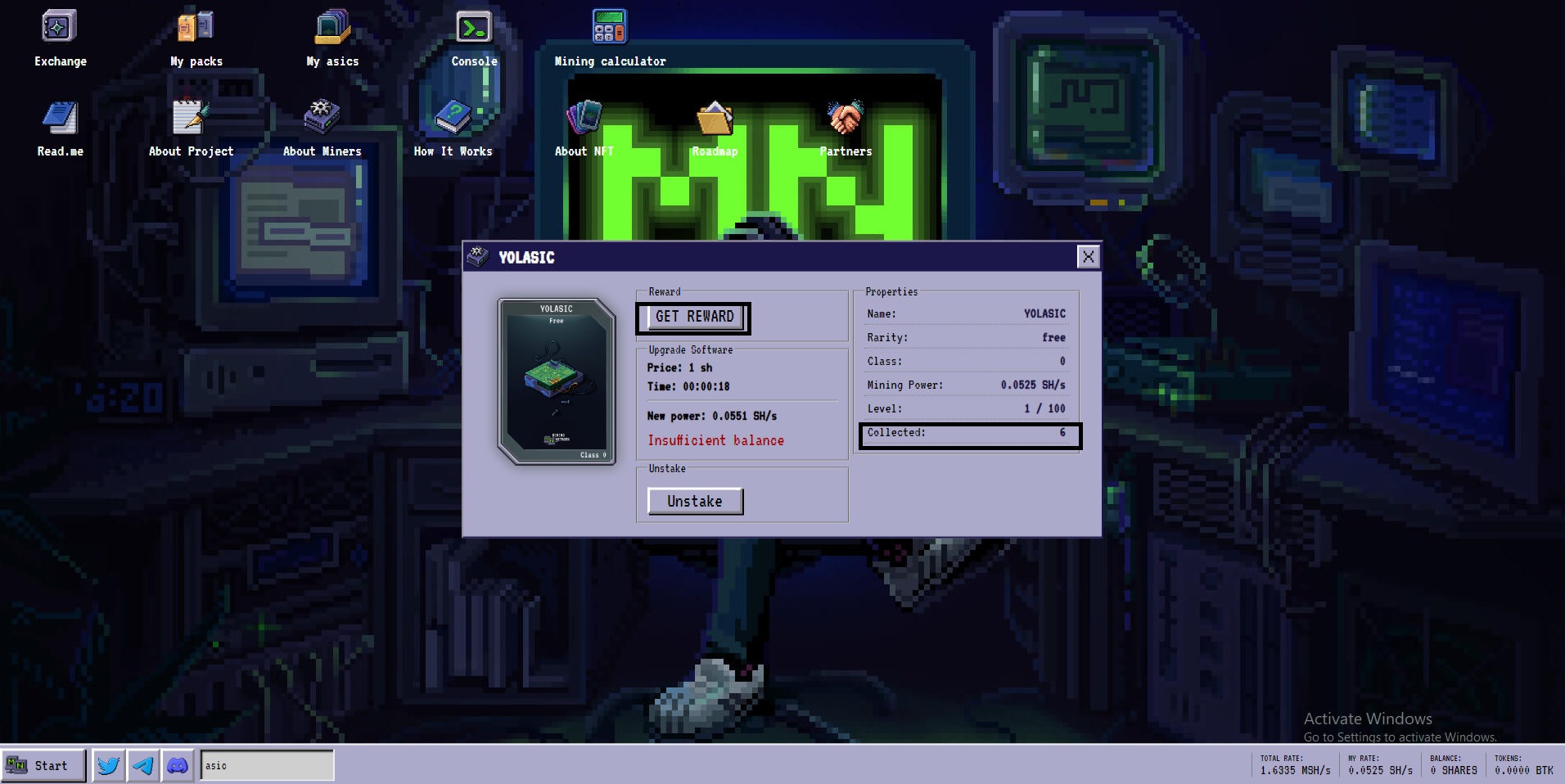 The idea behind the game is to earn shares and use them to upgrade your ASICs, which increases their level and Mining Power. The higher the level, the more shares it takes to upgrade your ASIC.
Once you gain a significant number of shares, you can head over to the Exchange icon and sell your shares for BTK tokens, which have real value that you can sell for other cryptocurrencies.
Since MiningNetwork was only recently released, the BTK token is yet to hit exchanges. The best option, for now, is to continue farming shares and upgrade your free ASIC.
Update (June 10th, 2022):
You can purchase the BTK token via WAX on the Alcor Exchange via the following link: https://alcor.exchange/trade/btk-miningntwrkt_wax-eosio.token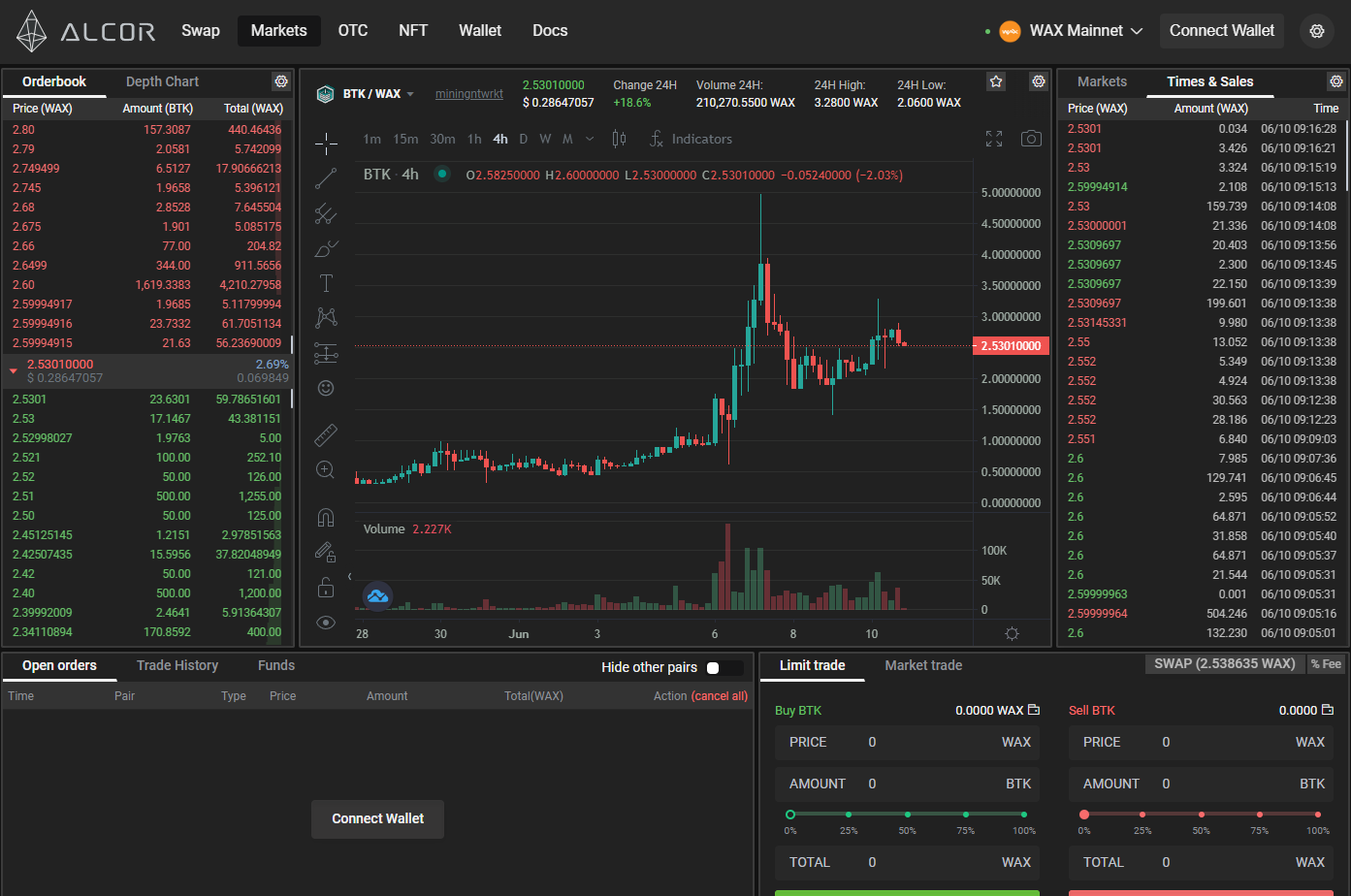 Those looking to increase the number of ASICs on their account can purchase YOLASICs on the official AtomicHub marketplace for a current price of 5.02 WAX ($0.65).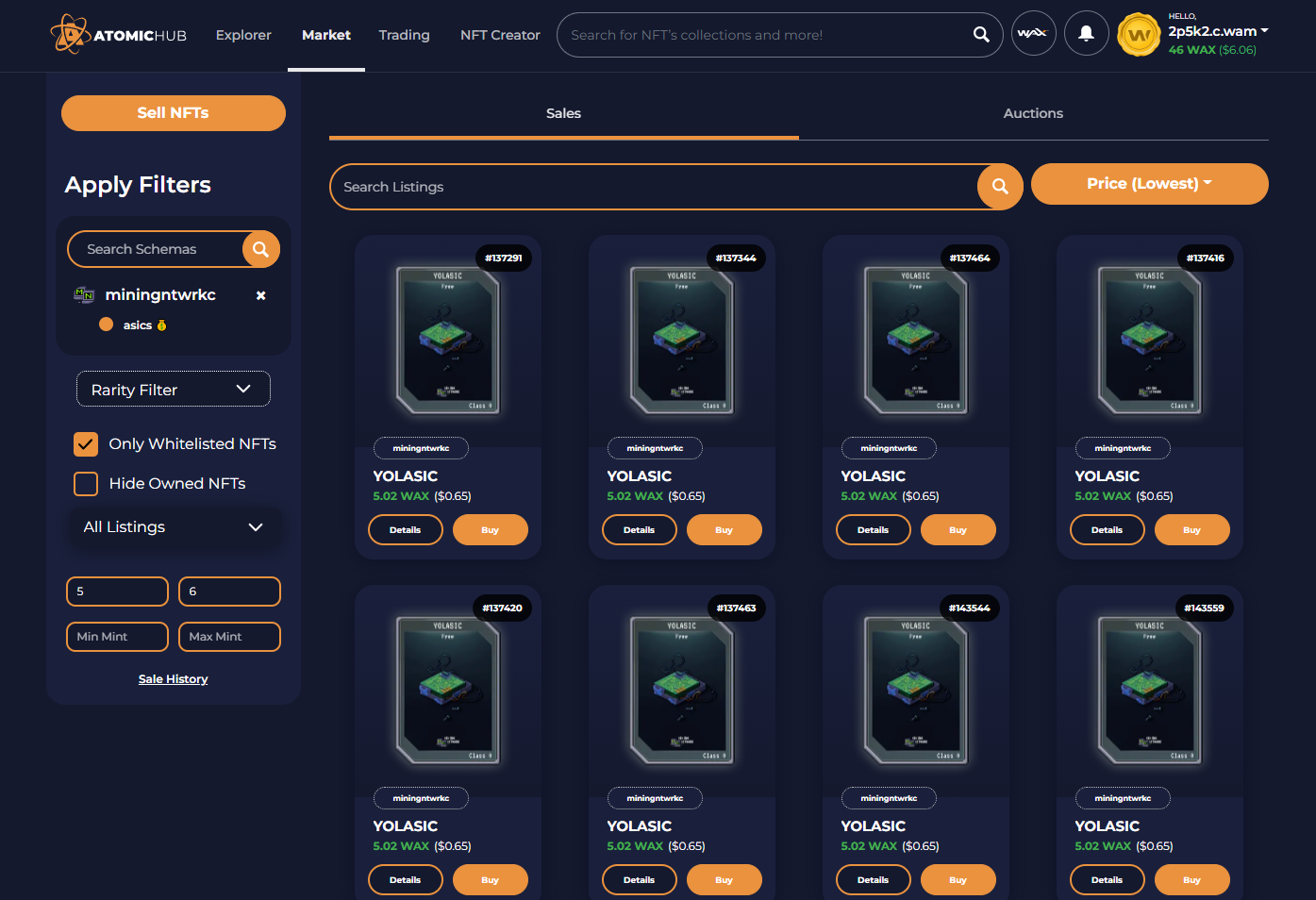 Additional Info
Keep in mind that if you attempt to game the system by creating multiple accounts against TOS, the team will disable your option of selling your mining SHARES for BTK tokens, which will render your account useless.
The villains have been Punished and their accounts/wallets has been banned from the game for 30 days. Also, they will not be able to exchange their shares for tokens (BTK).

— Mining Network (@MiningNetwork_1) June 3, 2022
The latest update for the game added on June 3rd introduced the MULTIGRADE function for your ASICs. This means users can upgrade their ASICs much faster with their shares, with a single button click.
The maximum level of each ASIC is 100, so once your common ASIC reaches the full level, you could purchase a new ASIC and upgrade that. Only Common ASICs are available on the WAX marketplace, but as the game was released recently, additional rare ASICs will come soon.
Final Thoughts
MiningNetwork is highly addicting as you earn SHARES extremely fast and can start upgrading your ASICs right away. Users can start generating a passive income via the game with a few clicks of a button, and it comes as no surprise that MiningNetwork is blowing up when it comes to the number of transactions and users it has received in the past seven days.
We recommend keeping a close eye on the game in June 2022 and, at the very least, creating a free account and testing the system out. The website and UI design are unique and nostalgic, bringing you back to the early 90s to the days of Windows 98.
As more ASICs release, there will be more opportunities to increase your hashrate significantly.
MiningNetwork Links
Website: https://miningnetwork.io/
Twitter: https://twitter.com/MiningNetwork_1
Discord: https://discord.com/invite/D6MD3nksgr
Telegram: https://t.me/miningnetwork_nft
Disclosure: This is not trading or investment advice. Always do your research before buying any cryptocurrency.
---
Also Read:
Top 3 Metaverse Crypto Coins Below $80 Million Market Cap (May 2022)
Follow us on Twitter @thevrsoldier to stay updated with the latest Metaverse news!