If you're a fan of Metaverse crypto coins and projects, chances are you've come across Yield Guild Games, a top-rated Metaverse gaming guild. To join the guild, users must mint a YGG badge, which luckily doesn't cost anything but users must pay the Ethereum gas fees to mint the badge.
During the Metaverse and crypto boom of 2021, Ethereum gas fees were incredibly high, meaning users had to pay upwards of $100 to mint the badge. Now with gas prices much more manageable, it costs roughly $5 to mint a YGG badge. This article will go over what you can expect after minting a YGG badge and review whether or not you should get one.
Minting the YGG Badge
There's no better way to stay up to date and get insider knowledge on the latest trends in the Metaverse and the latest tactics for play-to-earn games than by joining the largest community of players looking to earn via blockchain-based economies.
As mentioned at the beginning of the article, the YGG badge is free, but users must pay the gas fees associated with minting their badge. During the Metaverse hype in Q4 2021, the high Ethereum gas fees meant that a YGG badge cost upwards of $130. Now you can buy one for roughly $3!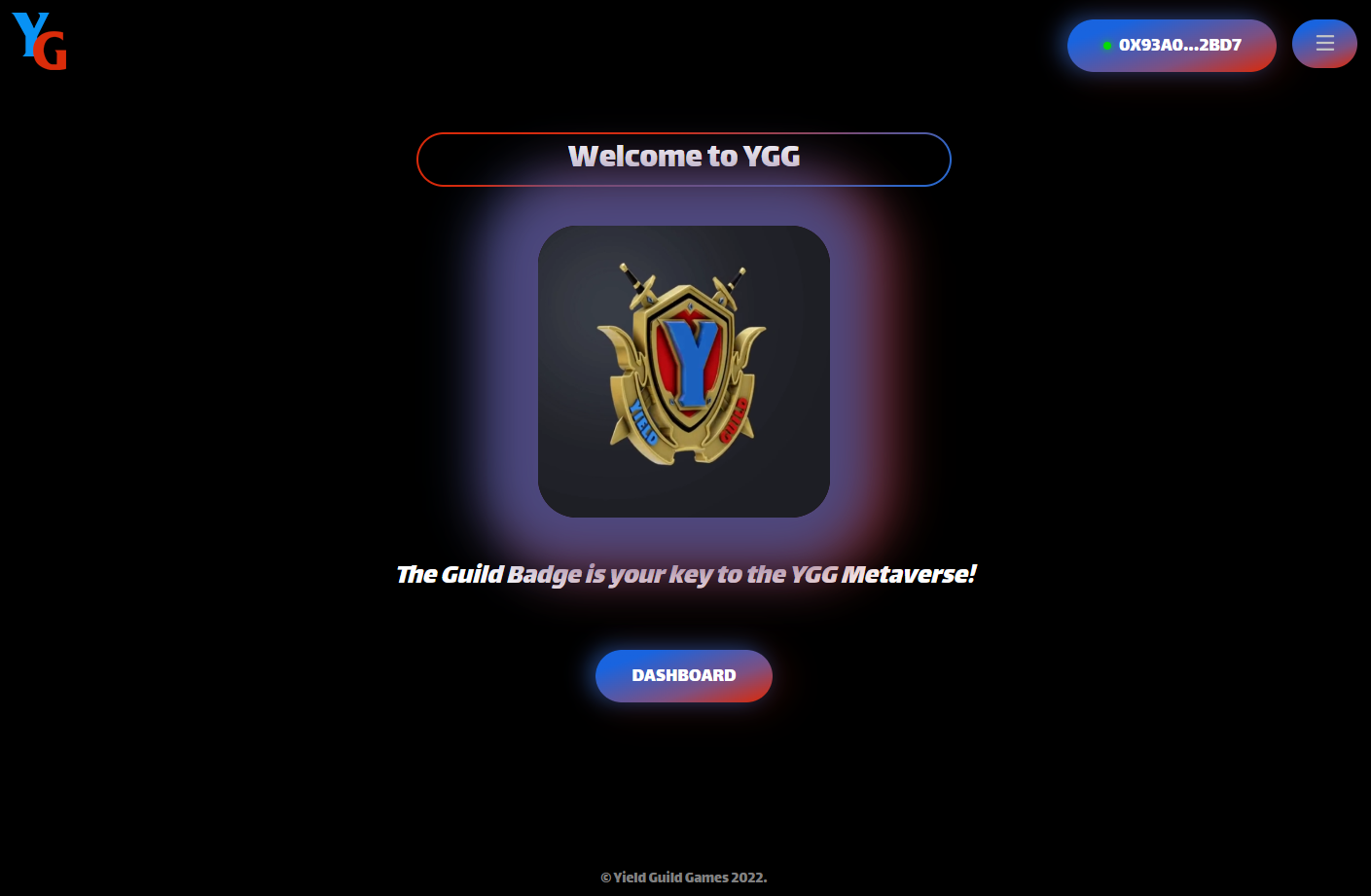 Using a wallet like MetaMask, connect to the YGG dApp and follow the steps to mint your badge. A transaction will appear in your MetaMask extension, which you must approve, showing the total amount required for the badge. Once the transaction goes through, you will see a welcome message with a picture of your badge.
The Guild Badge is your key to the YGG Metaverse, and after minting the badge, you will see a welcome message.
Minting the YGG badge will provide you access to the dashboard, enable you to complete various achievements, and acts primarily as a membership NFT and a key to exclusive guild features.
When first minted, the badge essentially provides access to the Yield Guild Games dApp, which is extremely basic. It offers several sections, including the primary Dashboard section, which includes the latest announcement from the guild, an Inventory section showing your badge, and a tokens section enabling users to trade tokens via SuhiSwap. In addition, the YGG dApp features a Token Sales section, which unfortunately is outdated, showing the YGG token sale which took place in March 2022. Lastly, there's an achievements section where users can earn YGG tokens by performing various tasks.
YGG Discord Channel
While it may seem that the badge doesn't offer much in terms of value, the real adventure begins on YGG's official Discord Channel.
Once you claim your badge, make sure to join YGG's Official Discord Channel and head over to the #claim-your-roles channel, where you can verify your assets and receive your role. Follow the instructions on verifying your assets, and once the verification is complete, you will receive the YGG Guild Badge holder role.
According to YGG's official FAQ page, the purpose of the YGG badge discord role is as follows:
"The YGG Guild Badge is a non-transferable membership NFT that gives you access to the YGG website and exclusive channels on YGG Discord. The Guild Badge symbolizes a sign of membership to the guild and is set to have a utility in the YGG ecosystem as YGG releases more features and support for other games in the future.

Currently, guild members can use the Guild Badge to sign up for esports content and events and exclusive guild events. Guild Badge holders gain access to an exclusive channel and other special perks."

After claiming their YGG Badge Holder role, users can access various private channels that provide detailed guides and tutorials for popular Metaverse crypto games like Axie Infinity, Aavegotchi, MObox, and Genopets, and much more. The list spans over 30 different play-to-earn games, speaking to the sheer scale of the YGG community.
According to one of the moderators from YGG, Vanguardian007#7140, some additional benefits of the YGG badge include access to raffles and additional exclusive features:
"The badge gives you access to raffles, exclusive access to certain things, you can check the pinned messages here to get a better idea, also the GAP program which is how the community allocated tokens are gonna be distributed. Besides all this, there will be more to come too, so I would keep tabs on 📢┃announcements"
The YGG discord channel also offers the Sword and Shield badges, which don't have much utility as of right now. The other badges were airdrops for early supporters, but more things are planned for the future.
Final Thoughts
If you're looking to stay up to date with the latest developments relating to Metaverse crypto projects and coins and stay in the know when it comes to the latest releases for Metaverse and NFT projects, then a $3-5 investment for a YGG badge is a no-brainer. The discord channel is highly active and provides an immense amount of valuable content in the form of tutorials, guides, and updates.
In addition, the Discord community for YGG is extremely friendly and helpful and provides a place for you to ask questions and get the opinion of others in regard to various Metaverse projects.
The final verdict on whether or not you should mint the YGG badge and join their community is a resounding Yes!
Disclosure: This is not trading or investment advice. Always do your research before buying any cryptocurrency or investing in any service.
Follow us on Twitter @thevrsoldier to stay updated with the latest Metaverse, NFT, A.I., Cybersecurity, Supercomputer, and Cryptocurrency news!
Image Source: photogonzo/123RF