Computer science's distributed computing field focuses on studying distributed systems. Notably, A distributed system's parts are spread over various computers linked together, communicating and coordinating its operations. This is done through messages from all the systems in sync.
The space has grown over time as data from CoinMarketCap shows that the total Distributed Computing Token's Market Capitalization is at $7,384,974,362 with a general trading volume of around $900,288,631. These tokens are our pick of the month. Due to their distinct features, you may want to consider adding them to your portfolio.
Note: This List is sorted by market capitalization from lowest to highest.
Siacoin (SC)
Market Cap: $218,636,961
Unit Price: $0.004224
Distinct Features: Due to its decentralized structure and affordable storage rates, Sia's long-term objective is to compete with current storage solutions like those from Amazon, Google, and Microsoft.
Launched in June 2015, Sia, a distributed, decentralized cloud storage platform built on blockchain, uses Siacoin (SC) as its native utility token. Users with extra storage space can rent out access to it using Sia, which serves as a safe and trustworthy marketplace for cloud storage.
Smart contracts are used to enforce contracts and transactions, and Siacoin is the primary form of payment for network storage. The website states that the project's primary objective is to become the "backbone storage layer of the internet."
Price Action – Siacoin's price today is currently at $0.004209 with a 24-hour trading volume of $7,512,297. The current CoinMarketCap ranking is #132, with a market cap of $217,825,066.
Top cryptocurrency exchanges for trading in Siacoin include Binance, OKX, Bybit, MEXC, and CoinW.
Flux (FLUX)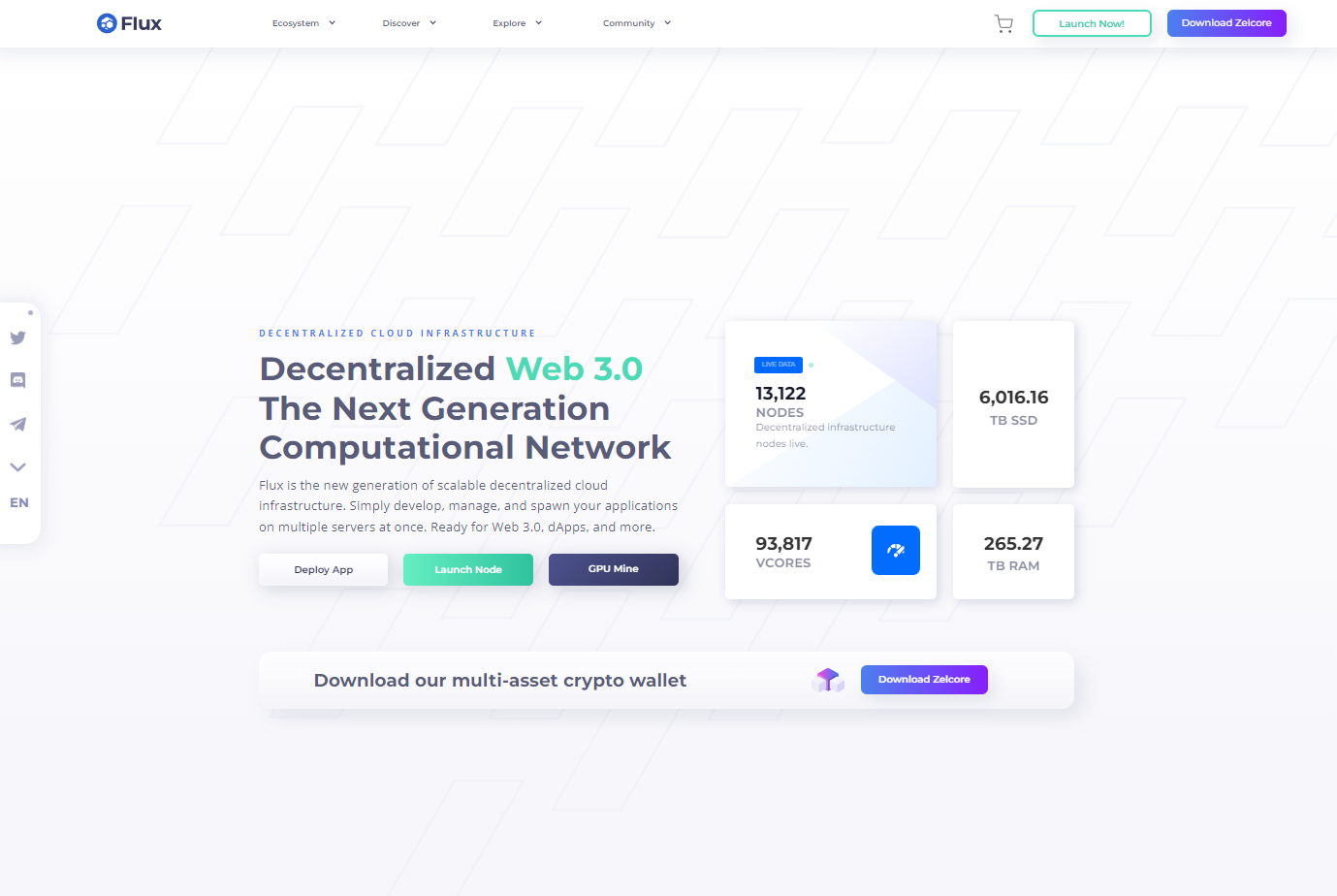 Market Cap:  $222,438,991
Unit Price: $0.8635
Distinct Features: By being independent and relentlessly promoting innovation and disruption in blockchain technology, the project is deeply committed to creating a truly decentralized future.
The Flux Ecosystem is defined further as the New Web3 for a Decentralized Internet. Users can easily create, manage, and spawn their apps across several servers on the platform. The project is prepared for Web 3.0, Dapps, and many more technologies.
Flux is an independent, community-driven, open-source project that receives no funding from outside sources.
According to the website, The Flux ecosystem consists of the following: 
Fluxnodes' decentralized infrastructure.

FluxOS cloud operating system.

Zelcore self-custody multi-asset wallet and blockchain app suite.

Flux blockchain for on-chain governance, economics, and parallel assets.

This is targeted at providing interoperability with other blockchains and DeFi access.
Price Action – Flux's price today is currently at $0.863748 with a 24-hour trading volume of $33,548,185. The current CoinMarketCap ranking is #130, with a market cap of $222,438,991.
Binance, BingX, MEXC, Bitget, and KuCoin are some top exchanges trading $FLUX.
Golem (GLM)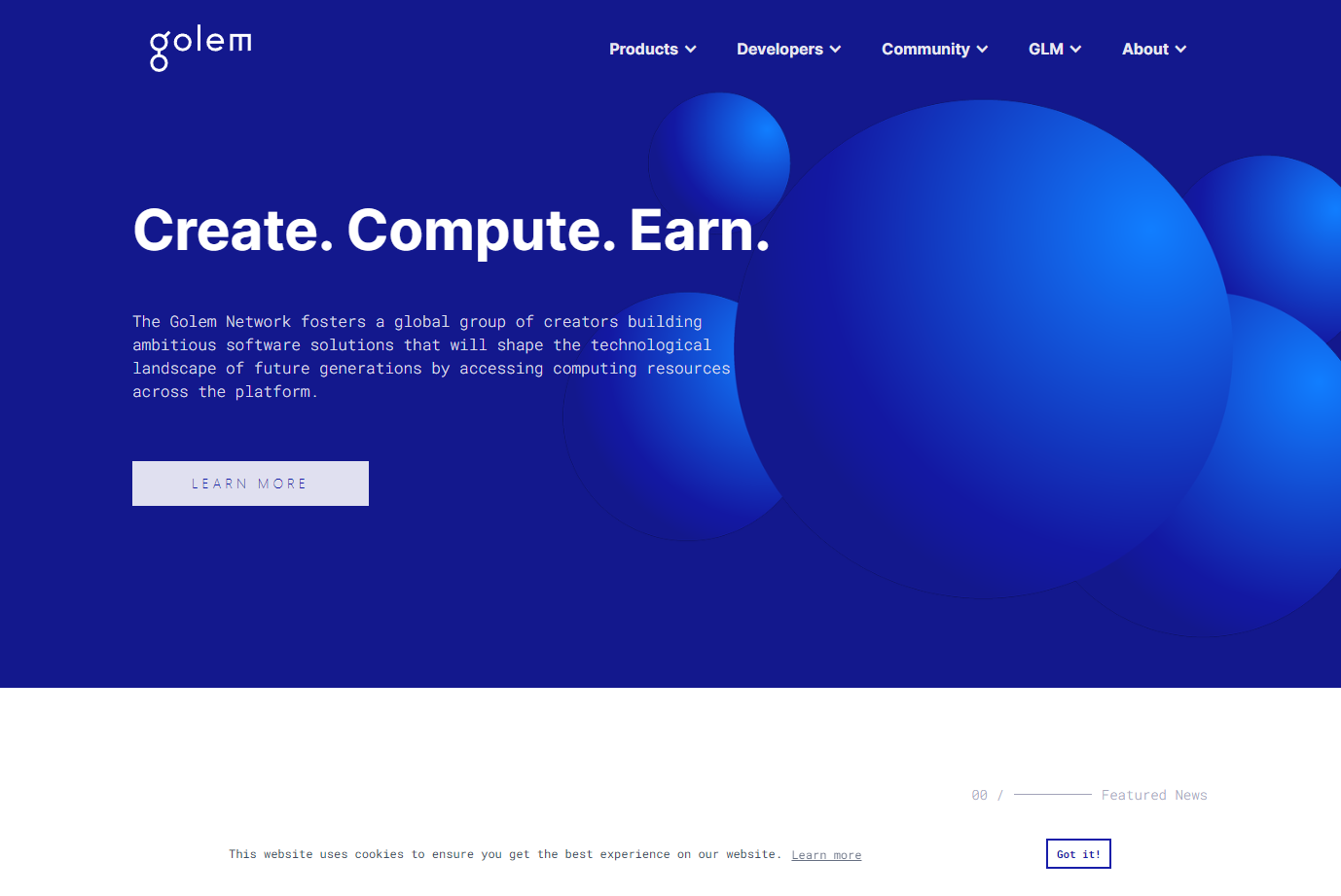 Market Cap: $254,934,506
Unit Price: $0.2549
Distinct Features: Golem Network is an open-source, flexible, trustworthy, open-access, and censorship-resistant protocol that connects people and democratizes access to online resources.
Golem Factory introduced the Golem Project on April 28th, 2016. On April 10th, 2018, the network went live on the mainnet. The Golem Network is a decentralized computer network that provides redundant processing capacity on demand to those who require it.
According to the website, Users can easily connect and exchange money for using each other's unused resources. Thanks to Golem's democratized access and distinctive peer-to-peer trade, software developers may now employ their creativity more than ever. Together, it forms an unstoppable ecosystem that allows for the emergence of a wide range of use cases.
Golem Network Token powers its marketplace, and it's required to pay for calculations on the network.
Price Action – Today's golem price sits at $0.254385 with a 24-hour trading volume of $17,358,582. The current CoinMarketCap ranking is #120, with a market cap of $254,384,789.
Some top cryptocurrency exchanges for trading Golem tokens include Binance, OKX, Bitget, KuCoin, and DigiFinex.
Holo (HOT)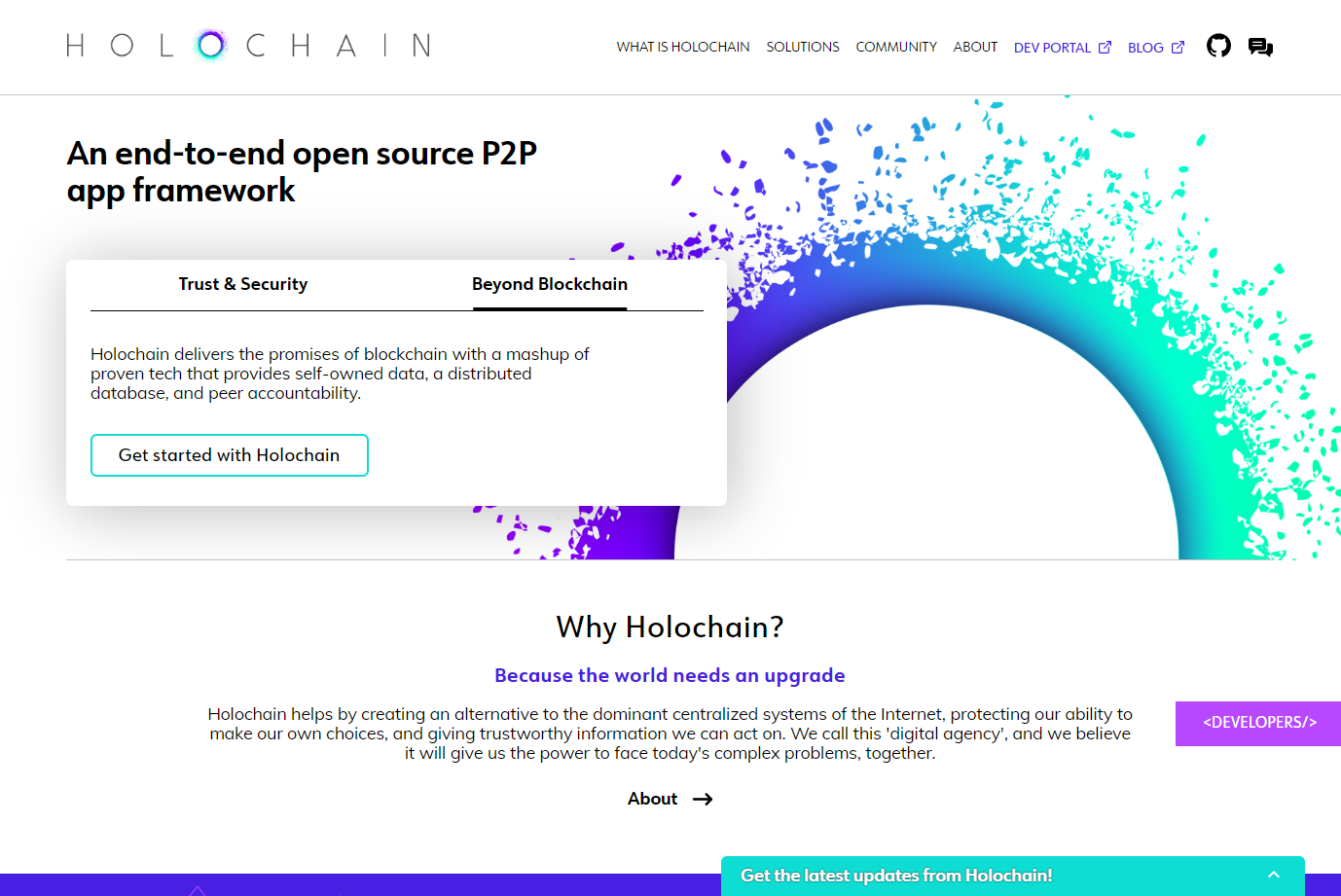 Market Cap: $382,972,468
Unit Price: $0.00222
Distinct Features: Holochain delivers the promises of blockchain and beyond through a mashup of proven tech that provides self-owned data, a distributed database, and peer accountability.
Holo is a peer-to-peer distributed network for hosting DApps that was created using the Holochain framework, which does not employ blockchain technology.
Holo network users are provided with an environment and marketplace where DApps are easily accessible, as they are hosted on the internet. Holo aims to act as a bridge between the general internet and apps developed utilizing the Holochain.
The project cites several technological advancements that will allow a dramatic shift in the landscape of crypto applications and currencies, including the capacity to host P2P programs online for general consumers.
Price Action – Holo price today is at $0.002213 with a 24-hour trading volume of $31,910,197. The current CoinMarketCap ranking is #93, with a market cap of $383,626,158.
Binance, BingX, Bybit, MEXC, and Bitget are some top exchanges trading Holo $HOT.
Arweave (AR.)
Market Cap: $398,760,202
Unit Price: $11.94
Distinct Features: According to its yellow paper, Arweave guarantees the collective capacity to store and share information between individuals and across time to new generations.
Officially launched in June 2018, Arweave is committed to creating a sustainable network ecology. In addition to hosting incubators to encourage the development of permaweb-based apps, it introduced "profit sharing tokens" in June 2020, enabling developers to collect dividends when network transaction fees are generated from their application.
Arweave is a decentralized storage network that aims to provide a platform for the long-term archival of data. The network, which describes itself as "a collectively owned hard drive that never forgets," principally hosts "the permaweb," a permanent, decentralized web featuring several community-driven services and platforms.
For the first time, users and developers may store data forever with Arweave due to its new kind of storage that backs data with sustainable and eternal endowments.
Price Action – Arweave price today is at $11.94 with a 24-hour trading volume of $28,974,302. The current CoinMarketCap ranking is #87, with a market cap of $398,760,202, according to data from CoinMarketCap.
Arweave ($ AR), is available for trading on Binance, OKX, BingX, Bybit, and MEXC exchanges.
Disclosure: This is not trading or investment advice. Always do your research before buying any cryptocurrency or investing in any service.
Follow us on Twitter @thevrsoldier to stay updated with the latest Metaverse, NFT, AI, Cybersecurity, Supercomputer, and Cryptocurrency news!
Image Source: grandeduc/123RF // Image Effects by Colorcinch