Meme coins, as their name suggests, are a type of cryptocurrency that draws inspiration from memes, intriguing, or humorous concepts recorded in an image, video, or other forms of media. Two of the most well-known and well-liked examples are Shiba Inu and Dogecoin.
With market valuations of $8 billion and $5 billion, respectively, Dogecoin and Shiba Inu are currently the top meme currencies. However, hundreds of others are available, and we will be discussing the Top 5 such meme cryptocurrencies below $200 Market Capitalization.
Meme coins themselves can become popular, creating a fandom once the user base expands enough, demand increases, and interest spikes. Then the currency becomes valuable enough to be purchased, sold, and exchanged on cryptocurrency exchanges.
#5 Samoyedcoin (SAMO)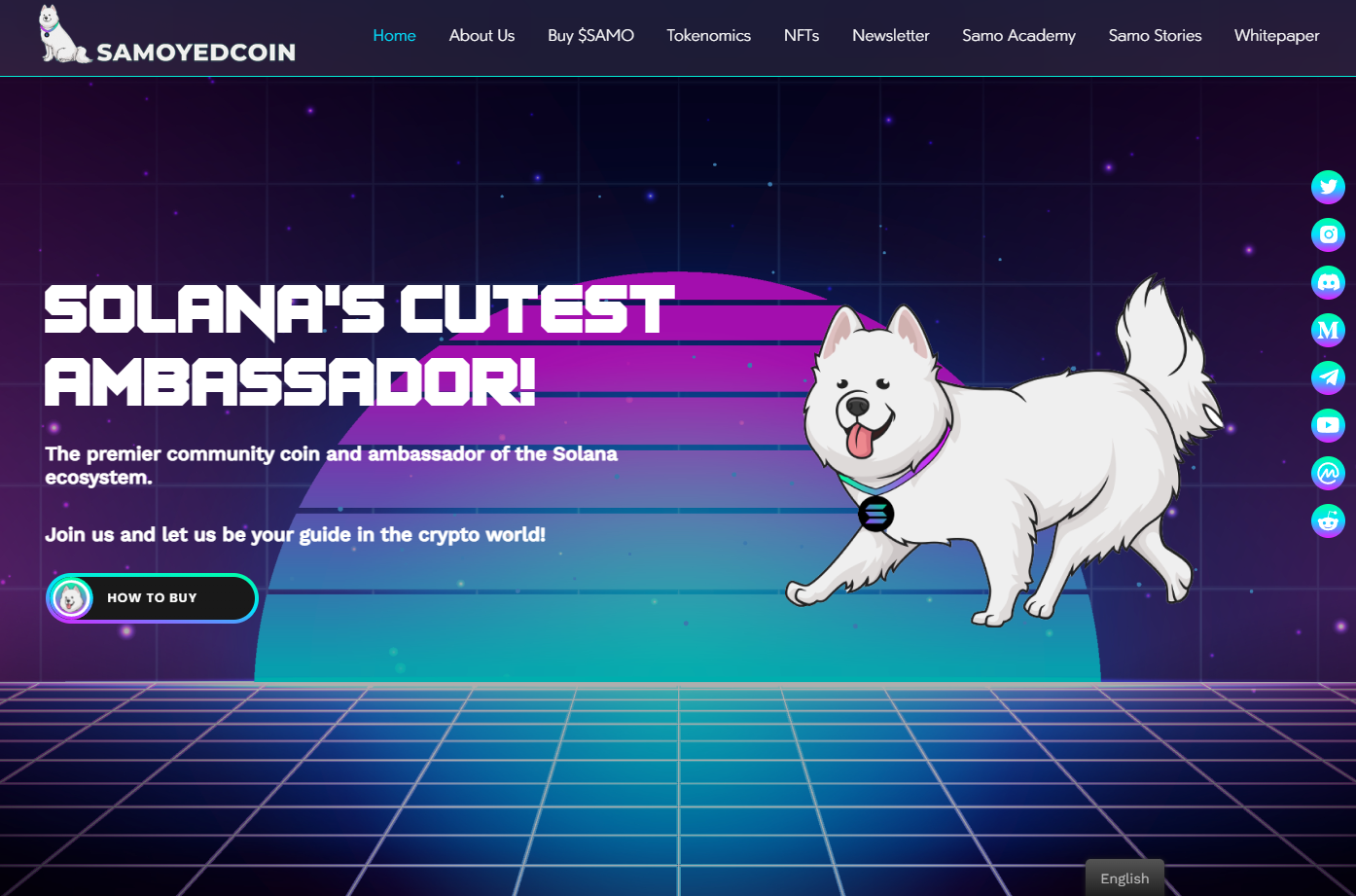 Market Cap – $29,590,909
Price – $0.008491
Launched on January 13, 2022, Samoyedcoin ($SAMO) was created in honor of cryptocurrency tycoon Sam Bankman-Fried and Solana co-founder Anatoly Yakovenko during the "meme coin" boom of 2021 and the quick uptake of the Solana blockchain. SAMO changed into an experimental Web 3.0 community coin focused on creating a community unlike any other after realizing the potential of online communities in a Web 3.0 world, the benefits of Solana, and the influence dog coins have in onboarding new market participants, marketing their underlying Layer-1 blockchain, and infiltrating contemporary culture.
At its foundation, SAMO is a new digital asset that supports a community focused on integrating Solana users, educating market participants, forming connections, and assisting with daily tasks. While they claim to be the game's fastest, most effective, and environmentally friendly dog coin, they want to be more than that; they want to be Solana's ambassador.
Anatoly and the Samoyed breed of dog are both descendants of Eastern Europe. According to the website, The core of the Samo Famo community lies in:
Mission:

Establish Samoyedcoin as Solana's ambassador by pushing the limits of what's possible for a Web 3.0 community. 
Strategy:

Provide market participants with the knowledge, resources, and community to better navigate Solana, crypto, and life. 
On January 31, 2022, Samo NFTs launched their collection of 5,525 randomly produced bespoke designs. At a mint price of 1 SOL apiece, the entire collection was sold out in 7 minutes.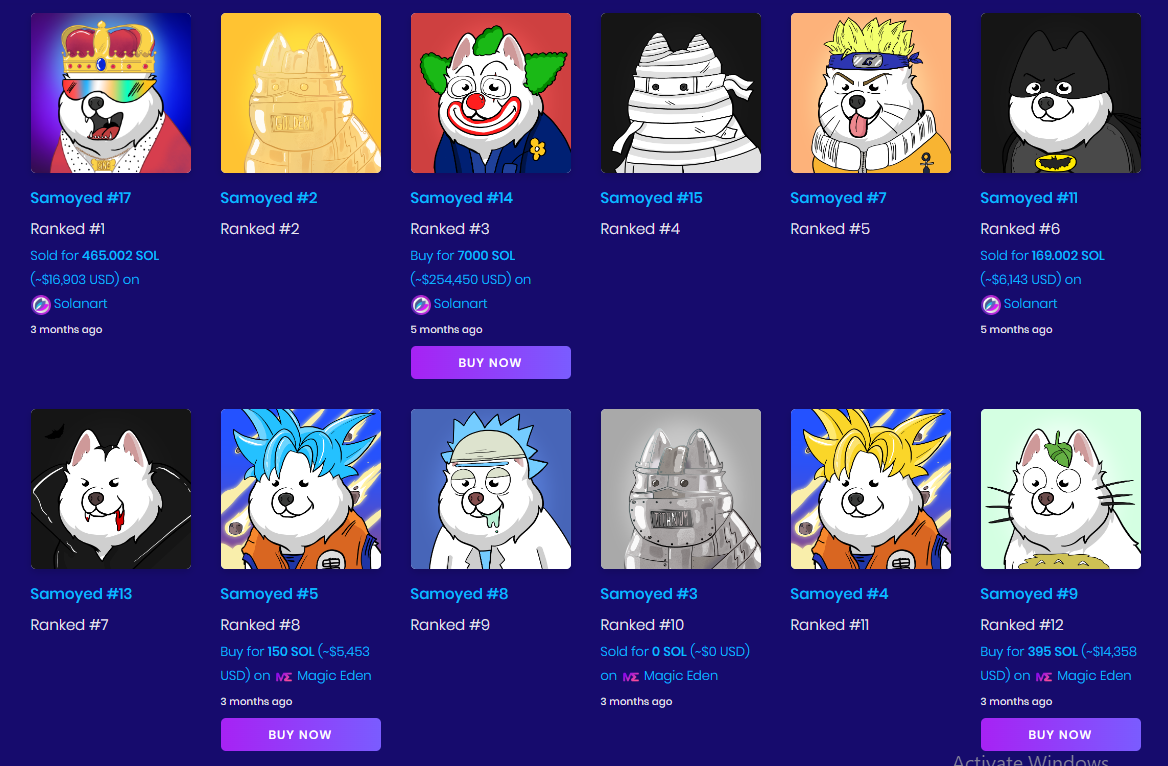 A lovely Samoyed dog with various distinctive qualities and as much personality as our fluffy white pals are featured in each NFT.
$SAMO is available on several centralized and decentralized exchanges, including OKX, Gate.io, Bitrue, LAToken, Orca, Raydium, Serum, and more.
#4 MonaCoin (MONA)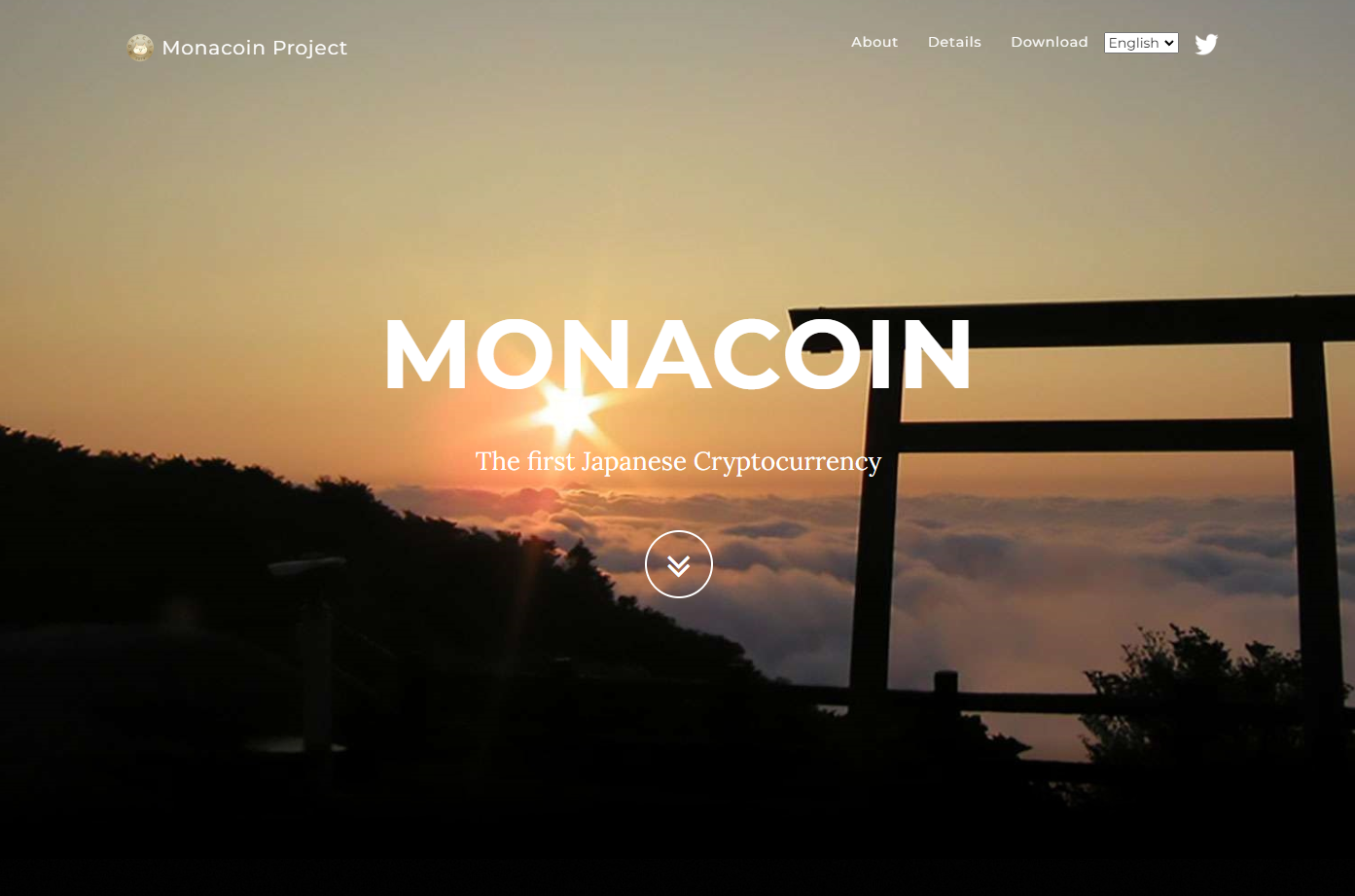 Market Cap – $33,307,877
Price – $0.5037
MonaCoin (MONA) is a peer-to-peer (p2p) payment network and open-source decentralized cryptocurrency. MonaCoin was launched in January 2014 and did not use a pre-mine procedure. It's based on a hard fork of Litecoin and is developed using the Lyra2RE (v2) algorithm.
The payment network for MonaCoin is decentralized. It doesn't belong to just one individual, like most decentralized projects; instead, it belongs to all users. The peer-to-peer technology that underpins MONA also makes the platform autonomous and self-governing. With the system's users, new currencies are created as remuneration for mining.
With tremendous backing from regional investors and cryptocurrency enthusiasts, the MonaCoin community is Japan's most active and involved cryptocurrency user organization.
The project attracted notice when it was highlighted on the WBS TV Network Tokyo, which told the tale of a guy who used MonaCoin to purchase a plot of property in Nagano.
Some notable features of MonaCoin include:
Fast transaction processing –

The blocking time for MONA is 1.5 minutes. 
Widespread deployment – Over

the years, MONA has pursued the goal of becoming a convenient and inexpensive cryptocurrency for the Japanese audience.
Dedicated community –

MonaCoin is supported by its community, relying primarily on its supportive and loyal users. 
MonaCoin, $MONA, can be purchased and traded on crypto exchange platforms in Japan and beyond: Zaif, bitFlyer, Bittrex, ProBit Global, Bitbank, CoinEx, Dove Wallet, CROSS exchange, Crex24, VALR, and Finexbox.
#3 Pitbull (PIT)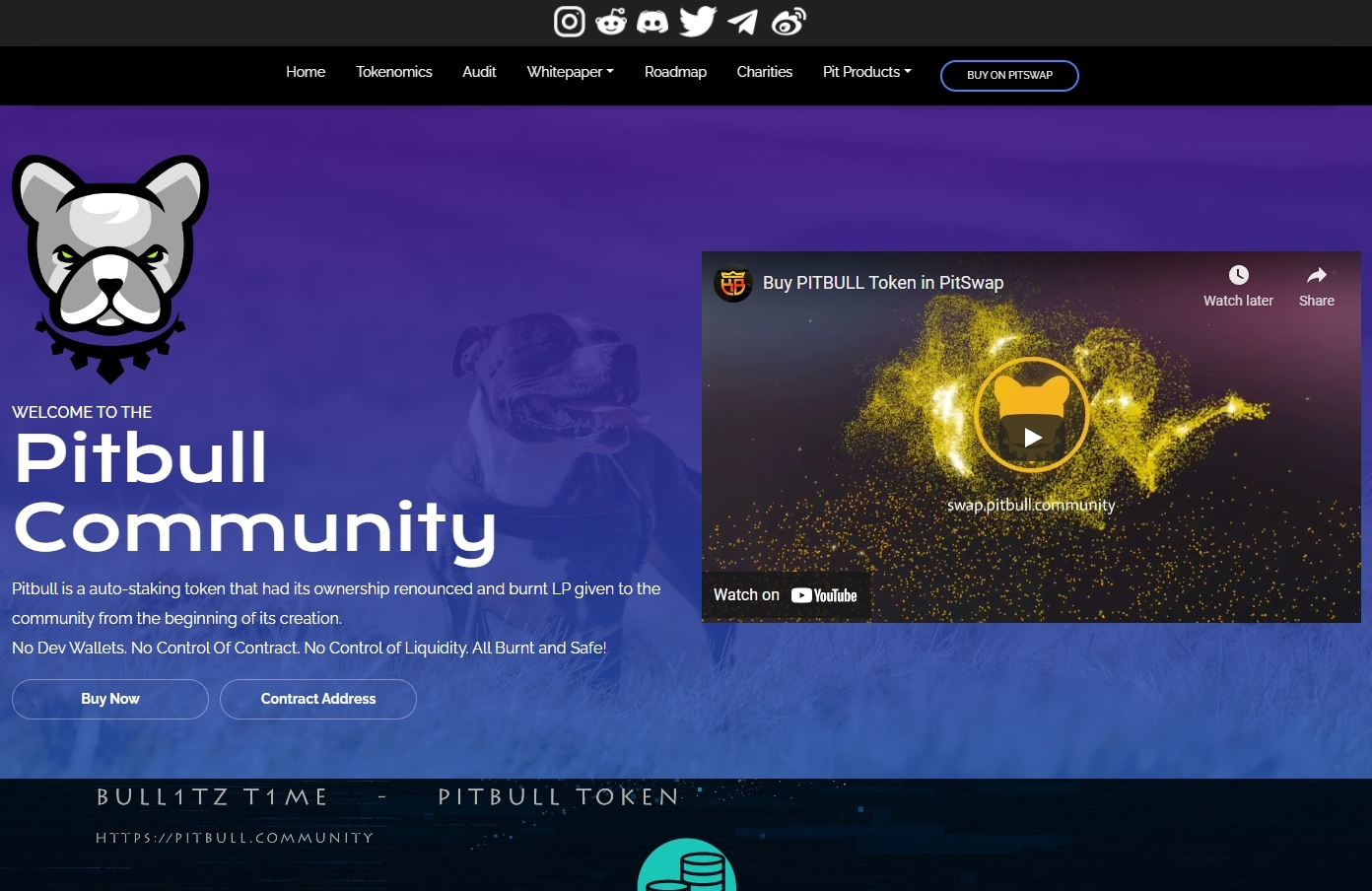 Market Cap – $36,801,577
Price – $0.000000000917
Launched in March 2021, Pitbull (PIT) is a community-driven, dog-themed meme coin on Binance Smart Chain (BSC). It takes pride in supporting local businesses and calls itself a "unique social experiment" by including investors in the project's development and that of the community.
Pitbull pays out returns to investors via an auto-staking system that ensures passive yield by paying out fees from PIT transaction fees to token holders.
Pitbull (PIT) has a robust community in addition to a relatively advanced ecosystem for a meme coin:
PitTracker tool

for investors to keep track of their PIT token holdings and profits from auto-staking rewards.
The PitCharts charting and analysis tool

for all tokens on the Binance Smart Chain. 
PitFarm

allows users to stake liquidity tokens for points, which can then be redeemed for Pitbull NFTs. 
PitSwap

is an automated market maker (AMM) that simplifies the trading experience for PIT investors.
The

PitStore

features official Pitbull merch and will be integrated with PIT in the future.
PitStop

will be a social network defined by a user's Pitbull wallet address, with all PIT tools easily available on one page.
PitFund

will be a fundraising platform based on PIT.
PitGames

will feature browser games, such as card trading or lottery games.
Some top cryptocurrency exchanges for trading Pitbull $PIT are currently OKX, MEXC, Bitget, CoinTiger, and DigiFinex.
#2 Dogelon Mars (ELON)
Market Cap – $171,672,618
Price – $0.0000003113
Launched on April 23, 2021, the Dog-themed humor coin Dogelon Mars is available on Ethereum and Polygon. It emulates the success of other canine-themed coins, such as Dogecoin, Shiba Inu, and Floki Inu.
Dogelon Mars makes use of several well-liked meme coin themes. Its name combines Dogecoin and Elon Musk, the well-known backer of Doge, a multibillionaire businessman.
It suggests that Dogelon will have a significant upward rise by referring to Mars, a twist on the well-known moon meme.
Beyond its ironic moniker, Dogelon Mars has succeeded in creating a sizable community, boasting more than 84,000 Telegram subscribers and 300,000 Twitter followers.
Dogelon Mars created a fictional roadmap through its comics. After Mars is recolonized in 2420, Dogelon will have to battle the annihilators for its life. According to this idealized version, after the coin is listed on all significant exchanges, its price will reach "Mars," or, in other words, it will trade for a significantly greater price.
$ELON is available on KuCoin, UniSwap (V2), OKEx, Poloniex, Gate.io, and Crypto.com Exchange.
#1 Baby Doge Coin (BabyDoge)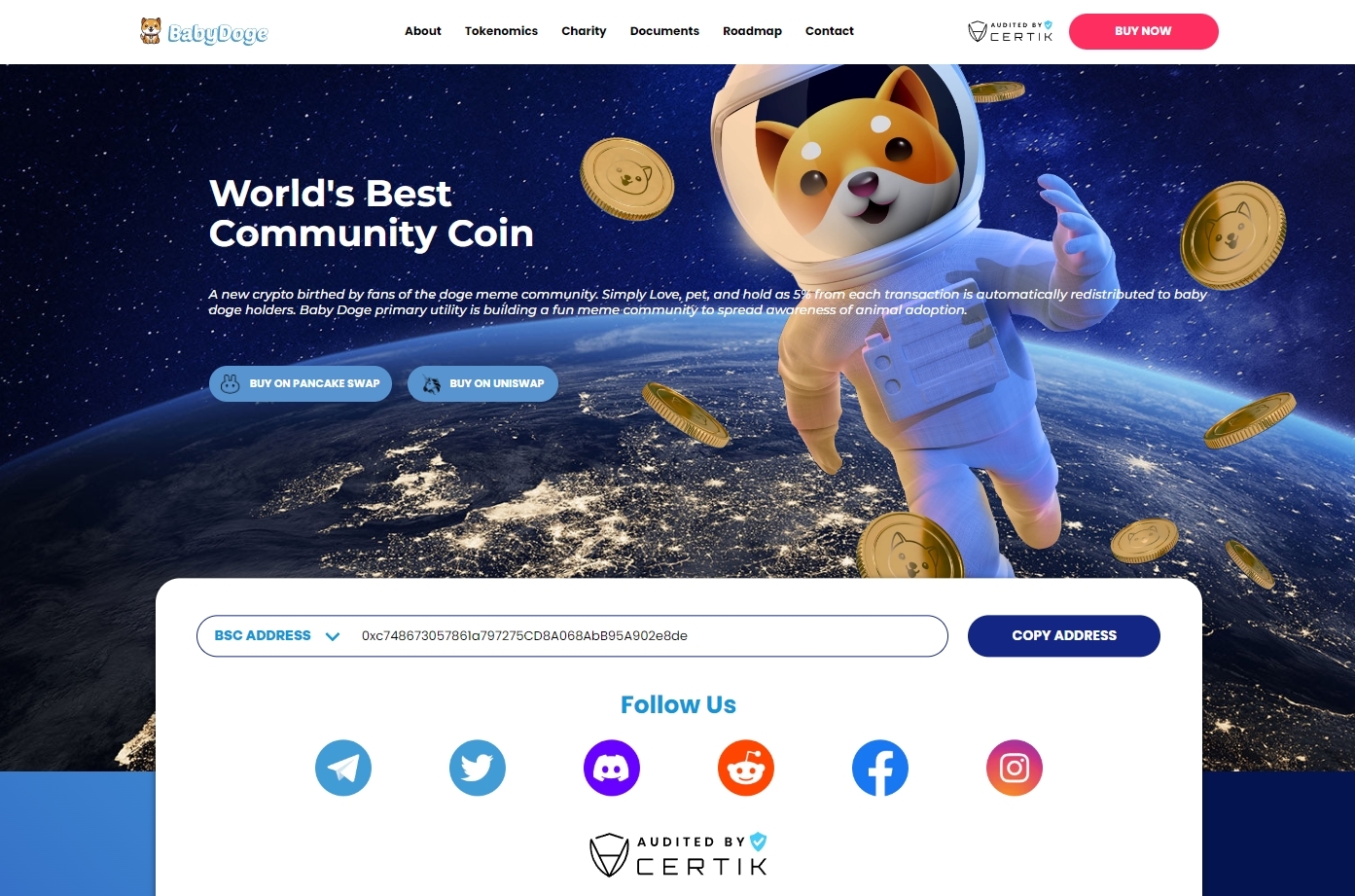 Market Cap – $173,651,632
Price – $0.000000001506
Launched in June 2021, Baby Doge has picked up some tips and advice from his meme-making father, Doge. The new cryptocurrency was created by the supporters of the online Dogecoin Meme community. By demonstrating his new, increased transaction speeds and cuteness, Baby Doge hopes to impress his father, Dogecoin.
As a joke, Baby Doge was made to raise awareness for animal adoption.
The ambitious strategy for BabyDoge includes additional initiatives for animal welfare, NFT development, GameFi, and more.
Baby Doge currency holders automatically earn a 5 percent fee from every transaction on the Baby Doge ecosystem. Therefore the amount of baby doge coins in your wallet grows with each transaction.
BabyDoge also has real-world applications, which is unusual among meme cryptocurrencies.
It offers a BabyDoge card and mobile app, collaborations with Coinpayments to integrate BabyDoge with leading e-commerce platforms like WooCommerce, Shopify, and Magento, and charitable contributions to animals shelters and rescue organizations like Paws with Cause.
If you want to buy $BabyDoge, the top exchanges for trading in BabyDoge are Gate.io, Poloniex, OKEx, BitForex, Bitrue, DigiFinex, BabySwap, XT.COM, LBank, PancakeSwap (V2), CoinW, and DODO BSC.
Final Thoughts
Meme currencies are frequently used to promote and make a specific blockchain or network well-known. They are employed to energize a group of token holders and developers within that group. Holding a solid meme coin is similar to supporting a strong team.
Meme coins are here to stay, just like many other emerging altcoins. However, any meme coin's future depends on its capacity to build a strong community, remain relevant, and provide some sort of value to its owners. From this, our picks for today are some top meme coins you may need to put on your radar for the remaining part of the year.
Disclosure: This is not trading or investment advice. Always do your research before buying any cryptocurrencies or investing in any meme coins.
Follow us on Twitter @thevrsoldier to stay updated with the latest Crypto, NFT, AI, Cybersecurity, Supercomputer, and Metaverse news!
Image Source: zephyr18/123RF