Rollups describe a burgeoning group of recently surfaced initiatives that orbit the primary Ethereum blockchain, notably DeversiFi.
These rollups are designed to address the primary Ethereum network's fundamental problem: a great deal of demand and constrained computing power. They significantly reduce congestion by isolating and handling transactions from layer one independently.
Rollups all aim to ease the burden on the primary L1 Ethereum blockchain by processing transactions more quickly.
Layer 2 Solutions are made to distribute part of this load. These initiatives take on many of the Ethereum blockchain's fundamental qualities, including its security aspects, but they also can carry out transactions independently.
The rollup can use a much faster verification method, including
Optimistic rollups

assume that every transaction is legitimate by default.

They merely submit the new state to the Ethereum mainnet, acting as a sort of registrar,

without computing each transaction to verify the workings are accurate.
The ZK-rollup smart contract maintains the state of all transfers on layer two,

and this state can only be altered with a validity proof. This indicates

that instead of requiring entire transaction data, ZK-rollups simply require the validity evidence.
NOTE: Top 5 Rollups Projects will be considered in today's article, sorting them according to their market capitalization from lowest to highest.
#5 MetisDAO (METIS)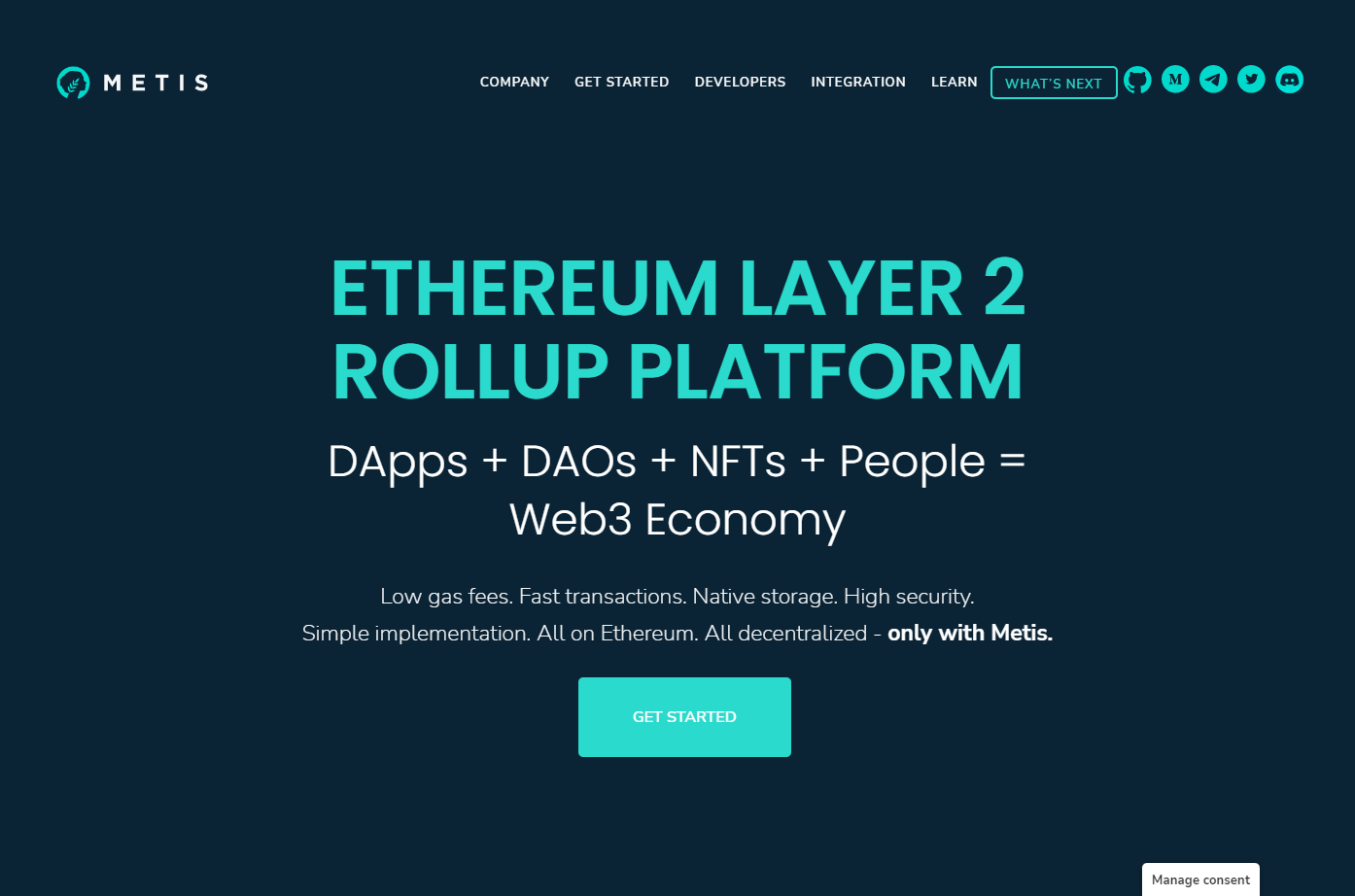 Market Cap – $84,813,683
Price – $19.52
Launched in May 2021 and based on Optimistic Rollup, Metis is developing the Metis Rollup Layer 2 framework, which is simple to use, highly scalable, affordable, and fully functional. This framework will fully support the migration of applications and businesses from Web 2.0 to Web 3.0.
Its scalable protocol can be used for various applications, such as NFTs, decentralized social networks akin to Reddit, open-source developer communities, influencer communities, gaming communities, freelancer communities, crowdfunding, yield farming, DEX trading, and many more.
A defining feature of Metis is integrating the Decentralized Autonomous Company (DAC) framework into its Layer 2 infrastructure, making it simple for developers, builders, or community leaders to create their apps and communities.
It also makes it simple to use pre-set tools to facilitate their development, coordinate collaboration, and take advantage of the network effects of the most prominent decentralized finance ecosystem without the expenses and bottlenecks typically connected with Ethereum.
Some top cryptocurrency exchanges for trading MetisDAO are OKX, MEXC, Bitget, BingX, and Phemex.
#4 Cartesi (CTSI)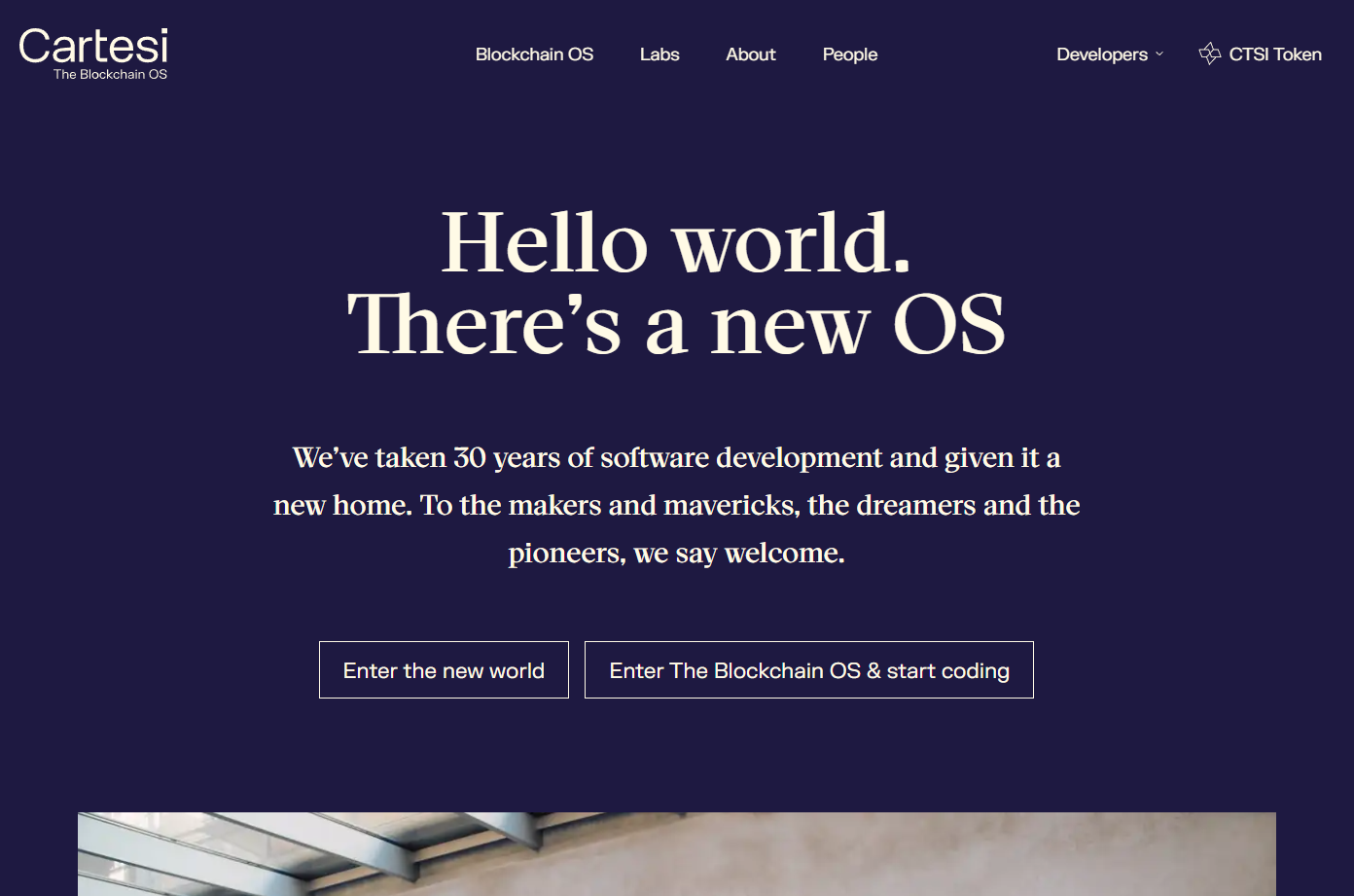 Market Cap – $85,139,803
Price – $0.149
Listed on CoinMarketCap in April 2020, Cartesi – The Blockchain OS is a decentralized Layer-2 infrastructure that supports Linux and mainstream software components. Developers can now create scalable smart contracts using their familiar software tools, libraries, and services for the first time, bridging the gap between traditional software and blockchain.
Millions of new firms and developers are using The Blockchain OS and bringing Linux applications on board, thanks to Cartesi. Cartesi paves the path for developers of all stripes to create the next wave of blockchain applications with ground-breaking virtual machines, upbeat rollups, and side-chains.
Cartesi provides an over 10,000x increase in computational scalability for blockchain.
Some top cryptocurrency exchanges for trading Cartesi $CTSI are Binance, Bybit, MEXC, BingX, and Phemex.
#3 Nervos Network (CKB)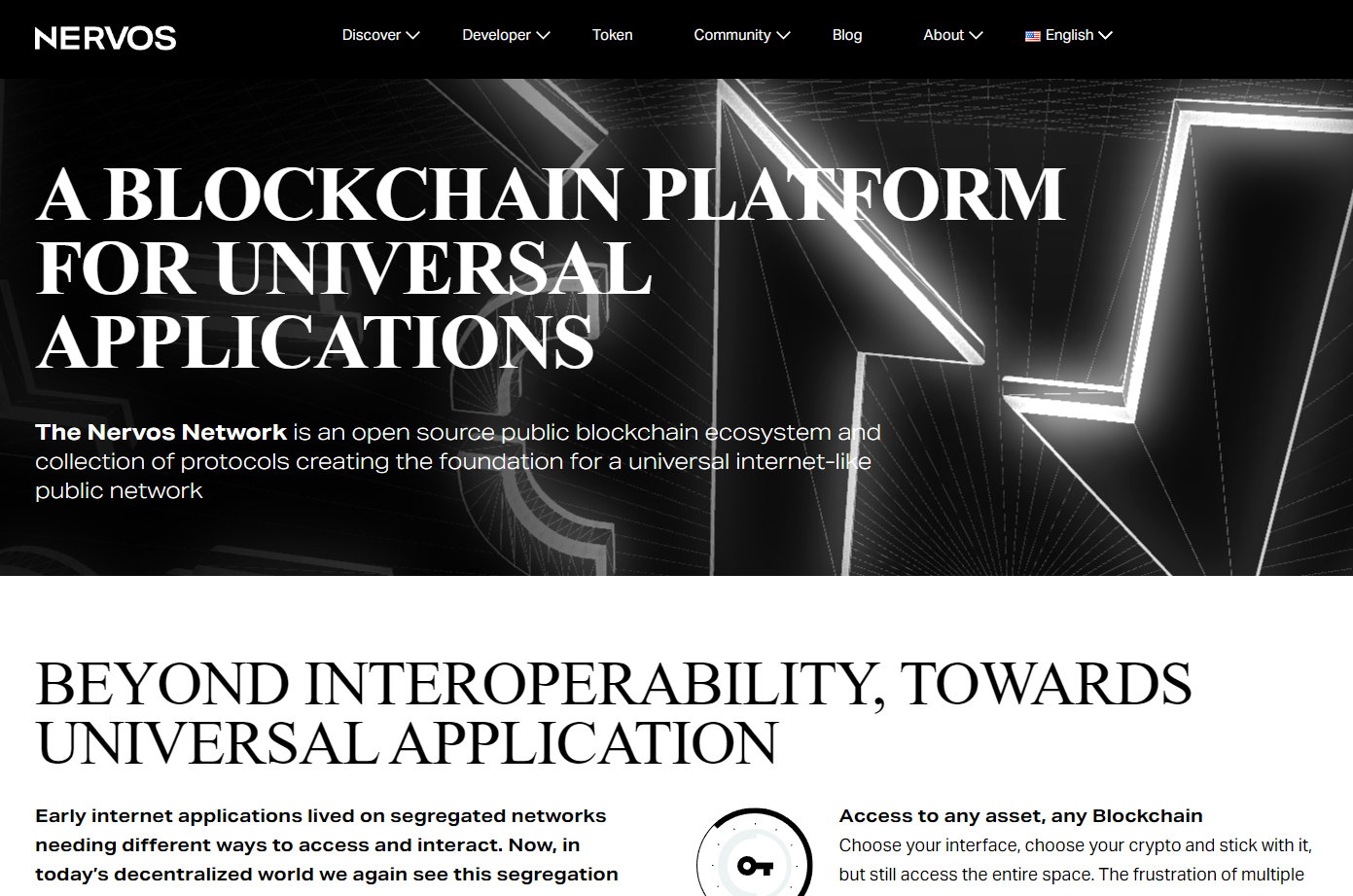 Market Cap – $118,936,376
Price – $0.003564
Launching its mainnet in November 2019, the Nervos Network advertises itself as an open-source, multi-protocol public blockchain environment, describing itself as a blockchain platform for universal applications. The tier 1 public blockchain protocol of the Nervos Network is called the Nervos CKB (Common Knowledge Base).
It supposedly enables smart contracts and layer two scaling while allowing any crypto-asset to be kept with Bitcoin's security, immutability, and permissionlessness. Through its "store of value" crypto-economic framework and native token, the CKByte seeks to capture the entire network value.
According to the website, The Nervos Network offers:
Access to any asset, any Blockchain
Operate dApps from any wallet or solution
Code with flexibility, bring dApps from anywhere
Layer 2 solutions for seamless scaling
Some top cryptocurrency exchanges for trading Nervos Network $CKB are Binance, Bybit, MEXC, CoinTiger, and KuCoin.
#2 Immutable X (IMX)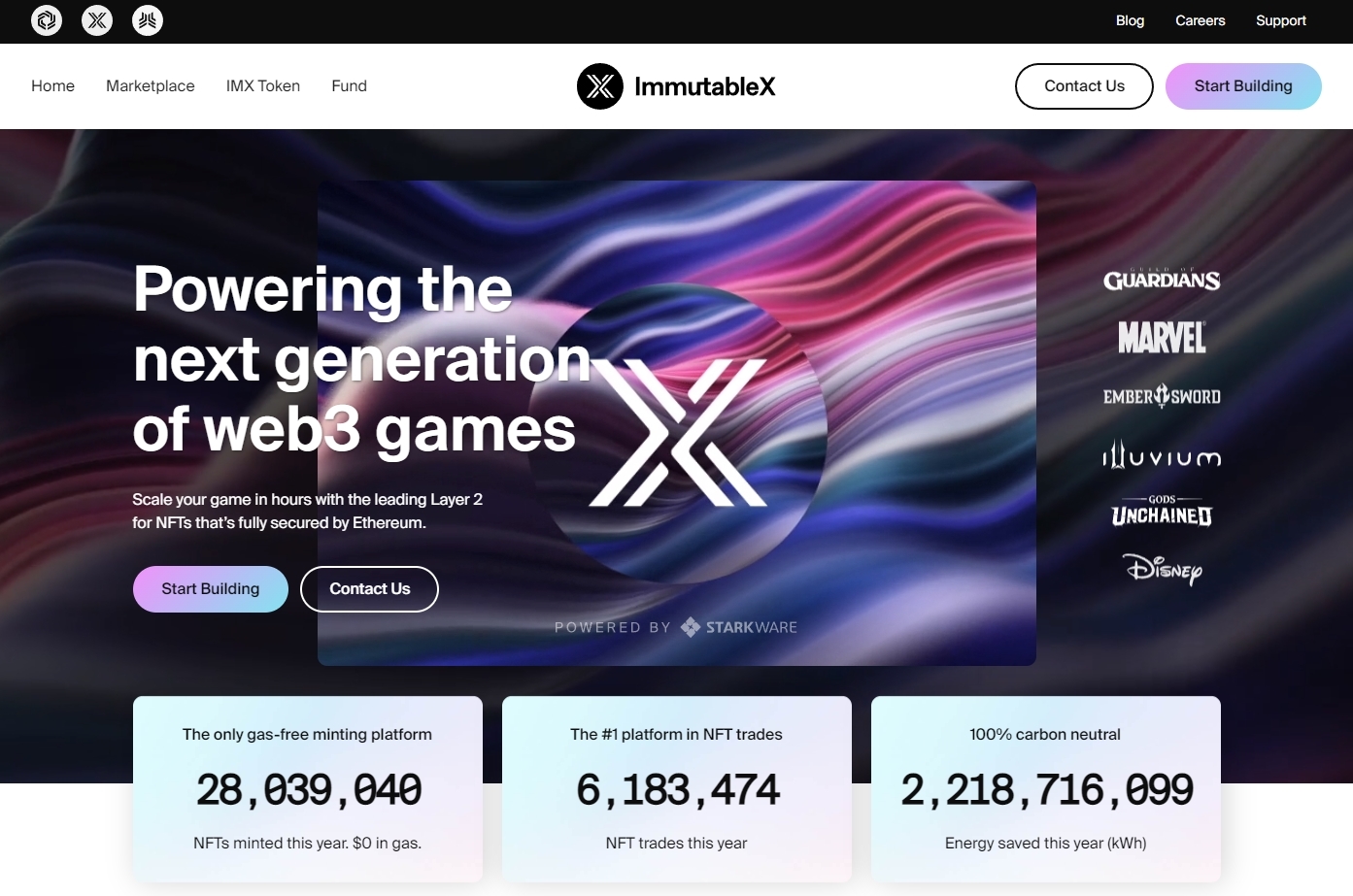 Market Cap – $235,840,305
Price – $1.00
Launching its token sale in September 2021, Immutable X boasts the first layer-two scaling option for NFTs on Ethereum and looking to power the next generation of Web3 projects. Immutable X claims that its blockchain overcomes Ethereum's drawbacks, including its low scalability, subpar user experience, lack of liquidity, and delayed development experience.
Users experience $0 gas costs for minting and trading NFTs, instant trading, and vast scalability without compromising asset or user security. Immutable X uses STARK zk-rollups, a technology Vitalik Buterin believes Ethereum is "all-in" on, to do that.
One advantage of Immutable X is that it is one of the first layer-two systems to use zk-rollups and concentrate just on NFTs. 
The project is at the forefront of advancement in the Ethereum ecosystem as zk-rollups gain popularity as a scaling option.
If Immutable X can accomplish its projected transaction speed of more than 9,000 tps (transactions per second), it is possible to become the standard "NFT blockchain" in the future.
Some top cryptocurrency exchanges for trading Immutable X $IMX are Binance, OKX, Bybit, MEXC, and Bitget.
#1 Loopring (LRC)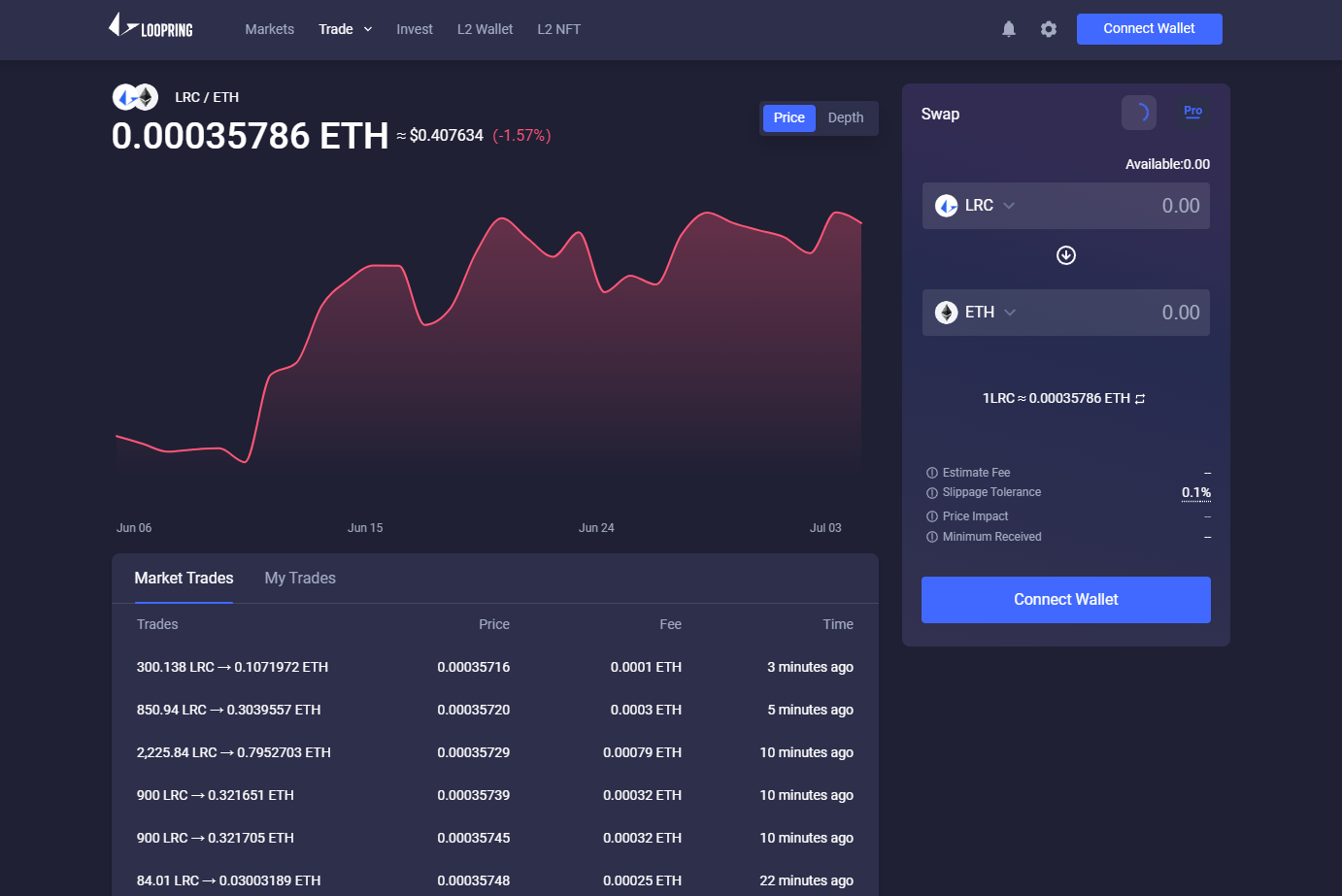 Market Cap – $545,270,098
Price – $0.4108
Launching its whitepaper in September 2018, The Loopring (LRC) cryptocurrency token is the king of all Rollups tokens, an Ethereum-based open protocol for creating decentralized cryptocurrency exchanges.
The alleged aim of Loopring is to create a hybrid product that combines the most significant features of centralized and decentralized exchanges by combining centralized order matching with decentralized on-blockchain order settlement.
Loopring's primary goal is to merge aspects of centralized and decentralized bitcoin exchanges to produce a protocol that will use their distinct benefits and do away with inefficiencies.
Through creative hybrid approaches, the Loopring protocol aims to preserve the benefits of decentralized exchanges while lowering or eliminating their inefficiencies. Loopring intends to improve the liquidity of DEXs and the efficiency of order execution by centralizing order management while settling trades on blockchain and merging up to 16 orders into circular transactions instead of only enabling one-to-one trading pairs.
It allows for high-throughput, low-cost trading and payment on Ethereum.
Most of Loopring's operations, such as trade and transfer settlement, are carried out outside the Ethereum blockchain. As a result, gas consumption and total transaction costs are drastically reduced to tiny fractions of equivalent on-chain costs.
Some of the top cryptocurrency exchanges for trading Loopring $LRC are currently Binance, OKX, Bybit, MEXC, and Bitget.
Final Thoughts
Optimistic and ZK-Rollups tokens utilize next-generation solutions to provide solutions for current problems plaguing layer one blockchains. While there are two distinct Rollups available, the ultimate goal of the projects listed above is to help scale the crypto ecosystem to reach the next order of magnitude regarding users, transactions, and speed.
Rollup tokens will provide the infrastructure and technology required to build the next generation of Web3, DeFi, and Metaverse projects requiring high scalability and transaction throughput.
The projects listed above have tremendous long-term potential and are must-watch in July 2022. Once the bear market ends and the bull market accelerates, chances are most of the projects in this article will show substantial price growth.
Disclosure: This is not trading or investment advice. Always do your research before buying any cryptocurrency or investing in any Rollups tokens.
Follow us on Twitter @thevrsoldier to stay updated with the latest Crypto, NFT, AI, Cybersecurity, and Metaverse news!
Image Source: monsitj/123RF