An Internet-connected kiosk called a bitcoin ATM lets users deposit cash and buy bitcoins and other cryptocurrencies. They are becoming increasingly popular despite the bearish cryptocurrency market, which seems to have slowed down recently and could be on the verge of a rebound.
An automated teller machine (ATM) that enables bank customers to physically withdraw, deposit, or transfer monies is not the same as a bitcoin ATM. Instead, bitcoin ATMs generate blockchain-based transactions that frequently transmit digital currency to the user's digital wallet via a QR code.
Customers can purchase bitcoin and other cryptocurrencies via a bitcoin ATM. The term "ATM" is incorrectly used. The devices don't function as ATMs and don't give out cash. Instead, these are kiosks linked to the bitcoin network and let users deposit cash and buy crypto tokens. Major financial institutions hardly ever run bitcoin ATMs, which do not connect users to bank accounts.
Adoption of Bitcoin ATMs
The installation of Bitcoin ATMs increased at the highest rate ever in 2021, with a peak net change of 2,037 ATMs in August. The total number of ATMs decreased from 1,969 in December 2021 to 1,687 in January 2022.
Since then, the net change in cryptocurrency ATMs has continued to fluctuate as stated: February (970), March (757), April (739), May (198), June (712), and July 10th (710).
Currently, there's a total number of 38,352 Bitcoin ATMs Installed Worldwide.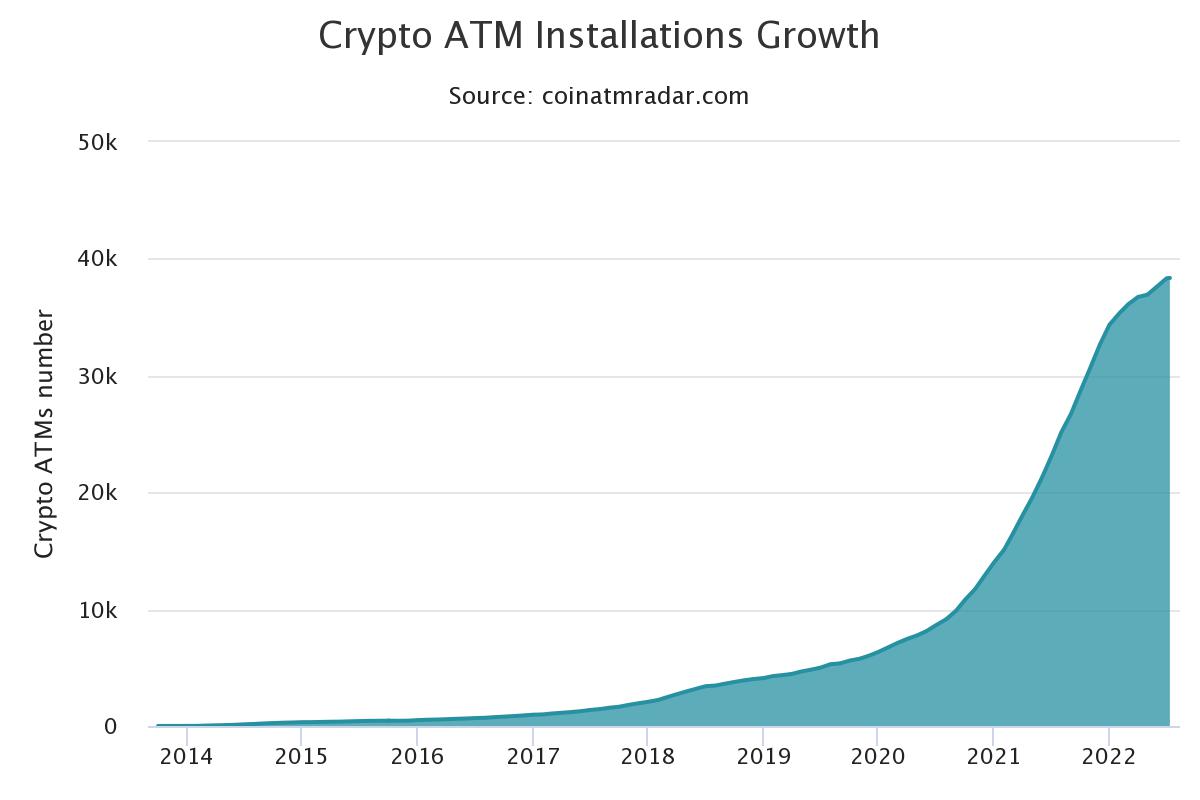 The adoption of Bitcoin as legal cash by countries like El Salvador, which presently has the third-largest network of Bitcoin ATMs behind the United States and Canada, was a significant factor in the meteoric growth of crypto ATMs last year.
El Salvador is home to over 212 machines with the Chivo brand, which accounts for almost 54% of all cryptocurrency ATMs in Latin America, demonstrating the market size for these devices, which is mostly unexplored.
How To Use Bitcoin ATMs
To transfer acquired coins to the buyer's bitcoin wallet address, buyers often scan a quick response (QR) code. The buyer can generate a new wallet if they don't already have one.
After the transaction, a record of the bitcoin will show up in the customer's wallet, albeit processing time may take a while.
The majority of bitcoin ATMs will impose a minimum and maximum deposit amount. The bitcoin ATM may require your mobile phone number to obtain a text verification code, depending on the quantity of the transaction.
 Otherwise, A driver's license or another form of official identity may need to be scanned before you can proceed with a transaction.
How To Know Bitcoin ATMs Location Around You – It's now more accessible for people to find where to buy or sell bitcoins and other cryptocurrencies for cash. This is done by simply putting in your address location and clicking the search icon on CoinATMradar. Bitcoin ATMs close to the area you choose will be displayed.
Final Thoughts
Overall, a bitcoin ATM could be a viable option if you're trying to buy a notable amount of bitcoin in a somewhat secret manner and you're not especially fussed about paying hefty fees.
Alternatives include using an exchange or buying bitcoin using the software you most likely already have on your smartphone. Additionally, users are cautioned to watch out for fraud involving Bitcoin ATMs.
Disclosure: This is not trading or investment advice. Always do your research before buying any cryptocurrency or using any ATM service.
Follow us on Twitter @thevrsoldier to stay updated with the latest Crypto, NFT, AI, Cybersecurity, Supercomputer, and Metaverse news!
Image Source: salarko/123RF