A top-rated Metaverse crypto project Highstreet, announced last week their partnership with BuerBear for their new "phygital" art toy, McBear. Sold as an NFT on the Highstreet marketplace, McBear will enable holders to stake it for rewards in the form of ERC-20 BEAR tokens. Users can collect McBears and add them to Highstreet's Solarium homes in the future to customize their spaces and show them off to friends.
Highstreet Launches New NFT Collection
McBear is the latest addition to Highstreet's limited NFT collections on their marketplace. Highstreet currently offers three NFT collections: Robot Cat Cafe, FOMO's Secret, and McBear. Each NFT is redeemable for a physical item, and users can purchase the NFTs either on Highstreet's official marketplace or on secondary markets like Binance NFT.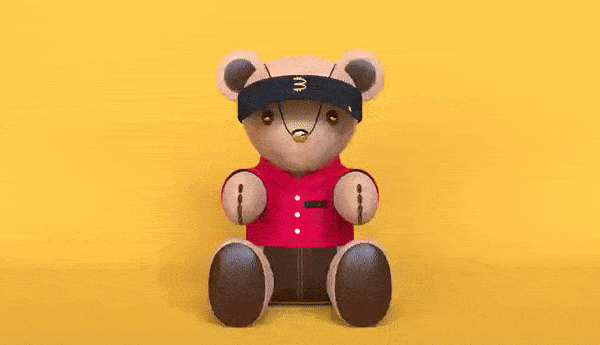 According to Highstreet's announcement on Medium regarding the McBear NFT addition:
"The Highstreet community and BuerBear fans will be able to purchase up to 200 $BEAR tokens on Highstreet's StreetSmart™ bonding curve market mechanism on July 11, 2022. Each token will guarantee ownership of a limited edition BuerBear art toy — in both digital and physical form."
McBear offers utility within the Highstreet Metaverse, providing holders with an option to redeem the NFT for a physical bear. In addition, owners can redeem BEAR tokens to receive their phygital drops and be eligible for yet another mystery airdrop that will take place when 100 total tokens have been redeemed for the digital NFTs and physical McBears.
The Highstreet team plans to continue adding additional utility to McBears as the community and the project evolves.
What Is Highstreet?
Launched in October 2021, Highstreet (HIGH) is a Metaverse and VR project integrated with the BNB chain, building an RPG-enabled experience where players can earn rewards, interact with others, and enjoy an immersive and engaging digital world.
Highstreet's Metaverse is built with the Unity game engine, and users can check out the virtual tour for Highstreet's world by connecting with a Web3 wallet like MetaMask. If you haven't yet, we recommend checking out the platform as it features several services worth exploring, including the NFT Marketplace, virtual real estate in Highstreet's Solarium, a staking dashboard, etc.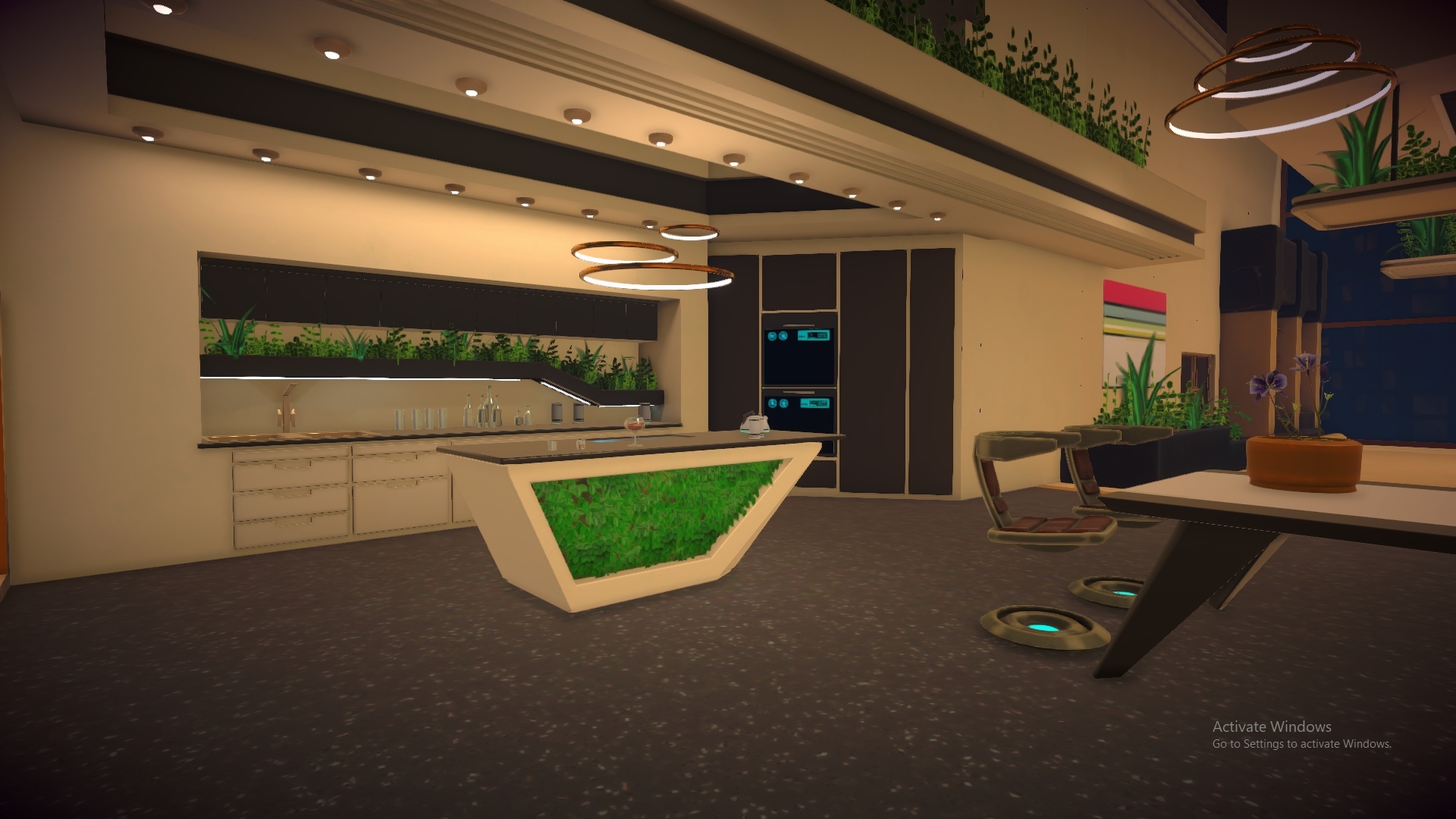 While the virtual real estate for Highstreet's Solarium apartments is sold out on the official marketplace, users can check out Highstreet's IHO on secondary markets like Binance NFT, which features over 2500 items and has managed to surpass a trading volume of over $10 million for the IHO collection thus far.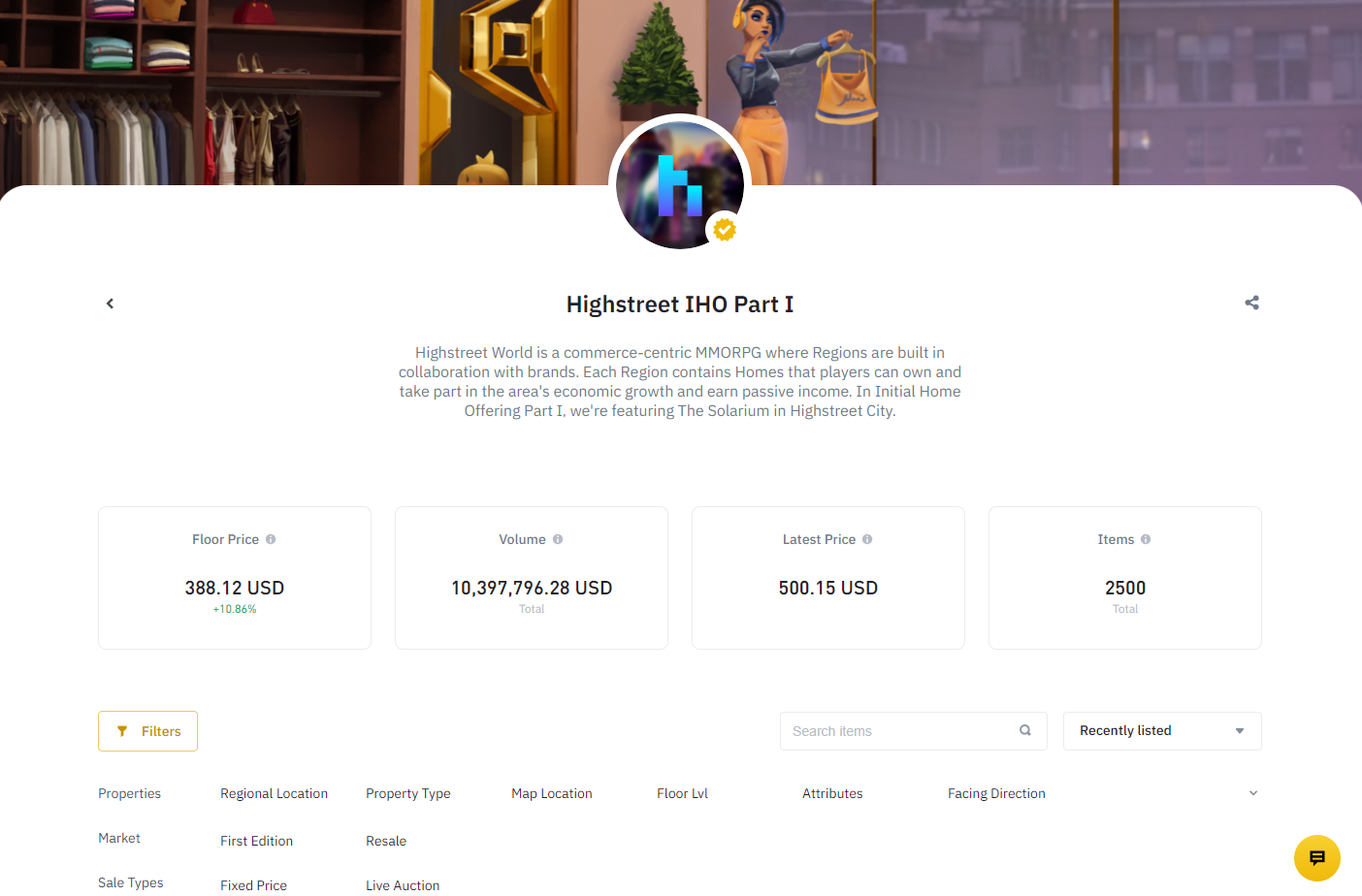 The latest price for a Highstreet plot of land is $500, rising from its previous price of $376 last week, signaling this project's tremendous long-term potential despite the market's current state. Moreover, the current price of $500 is still relatively low when it comes to virtual real estate prices for other popular Metaverse crypto projects.
Highstreet (HIGH) Price
Highstreet features a multi-token economy, with the primary asset an ERC-20 and BEP-20 HIGH token, enabling users to purchase NFTs and interact with the Metaverse. The platform also offers the STREET utility token and specific reward tokens for NFTs like the BEAR and DUCKS tokens.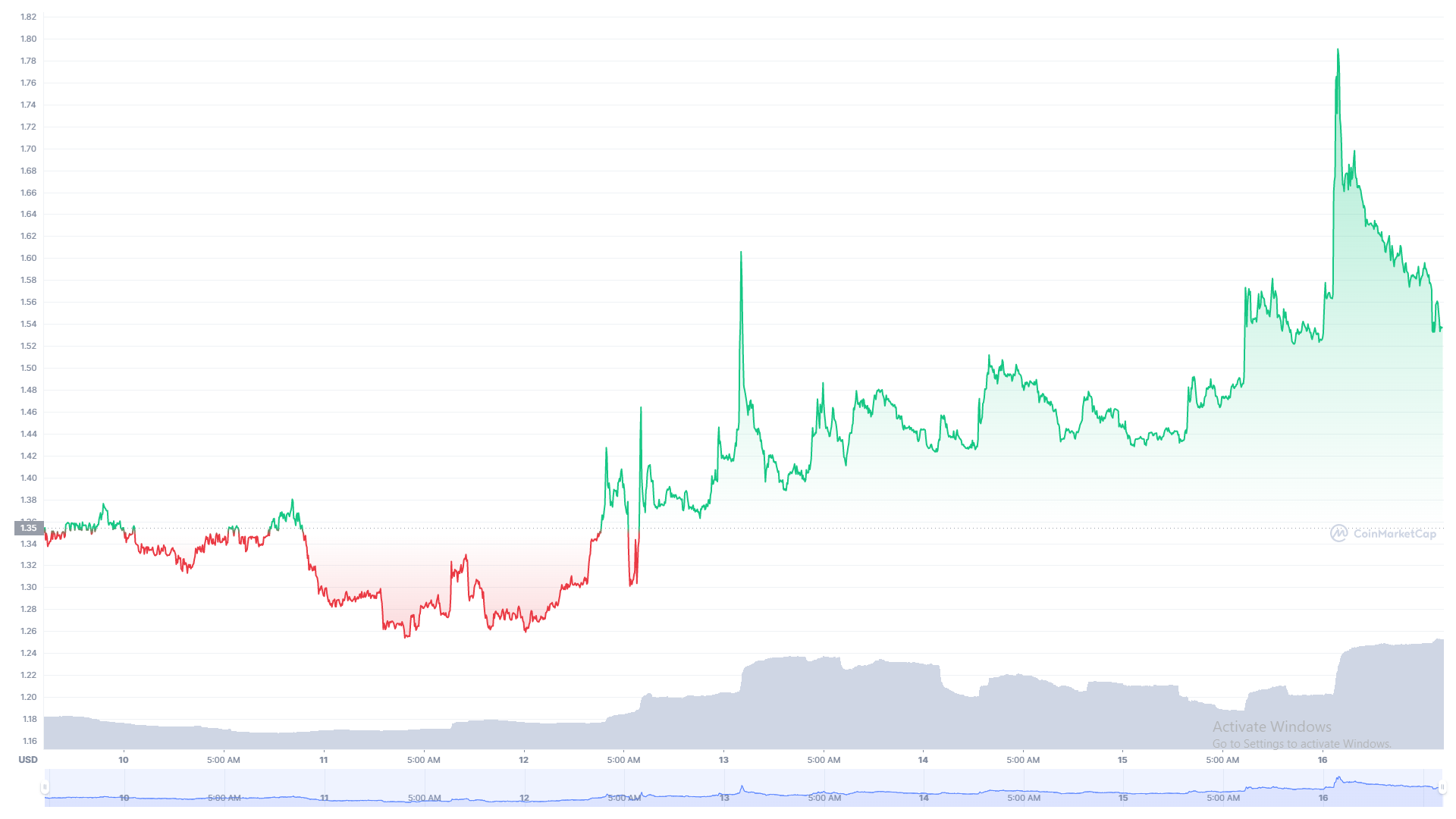 HIGH has been performing quite well the past week as cryptocurrency markets continued to trade sideways. The token gained 24% this week, from a low of $1.3 to a high of $1.7 on July 16th.
With a current market capitalization of $18 million, Highstreet is highly undervalued, and with a 24-hour trading volume of $24 million, it's clear the market is excited about the crypto asset.
We recommend keeping a close eye on HIGH in the next couple of weeks, and considering the fact that its IHO price almost doubled in the past week, the project is receiving significant hype.
You can buy HIGH on Uniswap, Phemex, Binance, BitMart, MEXC, Gate.io, Coinbase Exchange, Bitrue, etc.
Disclosure: This is not trading or investment advice. Always do your research before buying any cryptocurrency or investing in any Metaverse crypto projects.
Follow us on Twitter @thevrsoldier to stay updated with the latest Metaverse, NFT, A.I., Cybersecurity, Supercomputer, and Cryptocurrency news!