Despite the uncertain cryptocurrency market, Metaverse crypto coins remain a trending category for crypto tokens. There are dozens of projects building their ecosystems during this tough period, making it an excellent opportunity to Dollar-Cost Average your investments and keep a close eye on any emerging teams. Today we look at our pick of the top three Metaverse crypto coins with a unit price below $2 to watch in July 2022, ordered by the current unit price, lowest to highest.
Aavegotchi (GHST) – $1.32
Market Cap: $61.9 million
Initially launched in February 2021, Aavegotchi (GHST) is a unique Metaverse project featuring blockchain-based NFT pets. Based on the popular Tamagotchi toy in the early 2000s, Aavegotchi is a digital version of the viral pet toy of our childhood.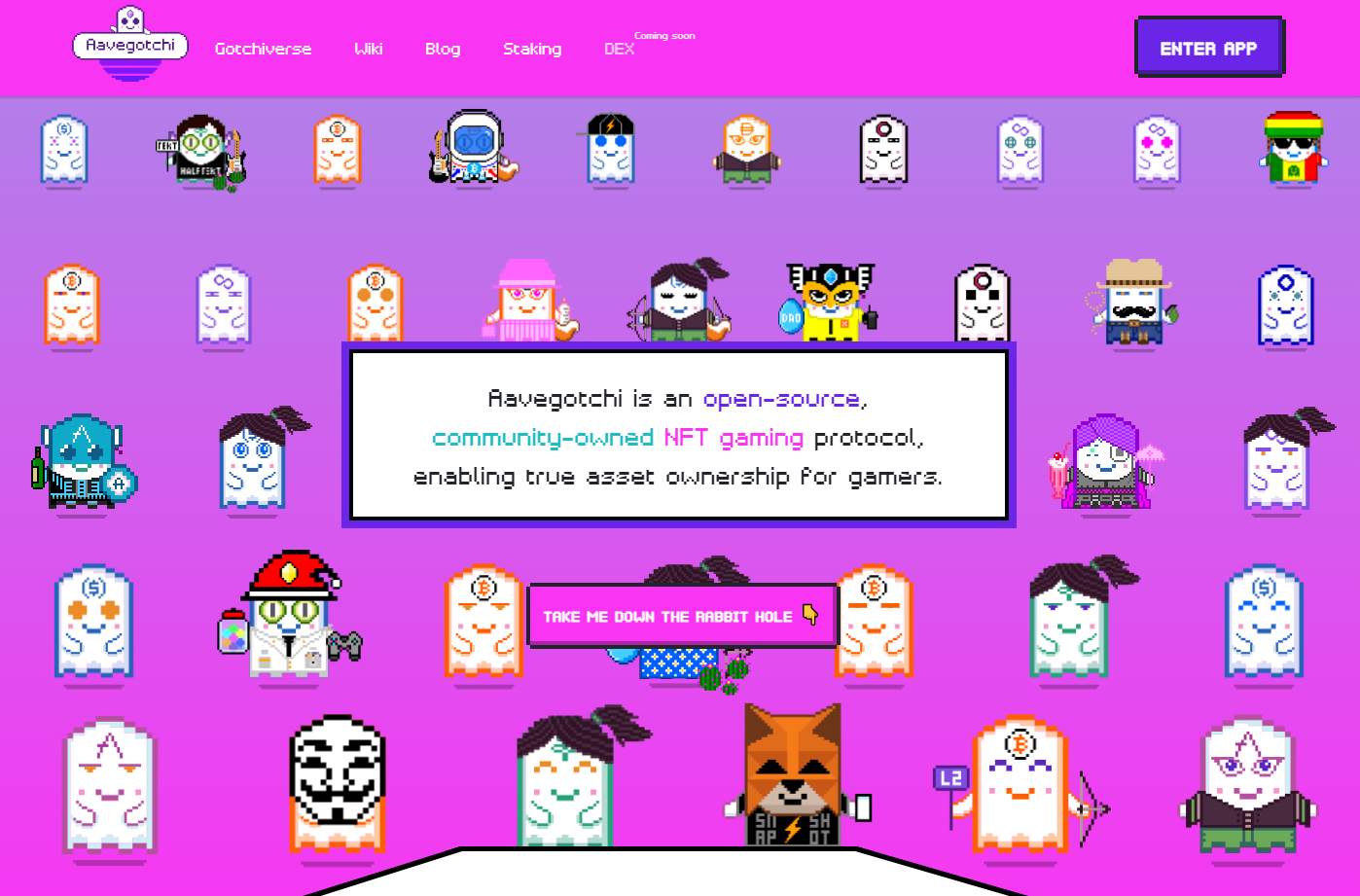 Users can interact with Aavegotchi NFTs and develop a kinship score, increasing their stats and value. The lowest price for an Aavegotchi NFT is currently 440 GHST (roughly $530 at writing).
Even with the cryptocurrency bear market, Aavegotchi NFTs managed to hold their value relatively well, speaking to the excellent long-term potential of the project.
The Aavegotchi project is much more than an NFT-based Tamagotchi-inspired pet, they feature a Metaverse called Gotchiverse Land, and provide an option for users to purchase virtual real estate on the platform.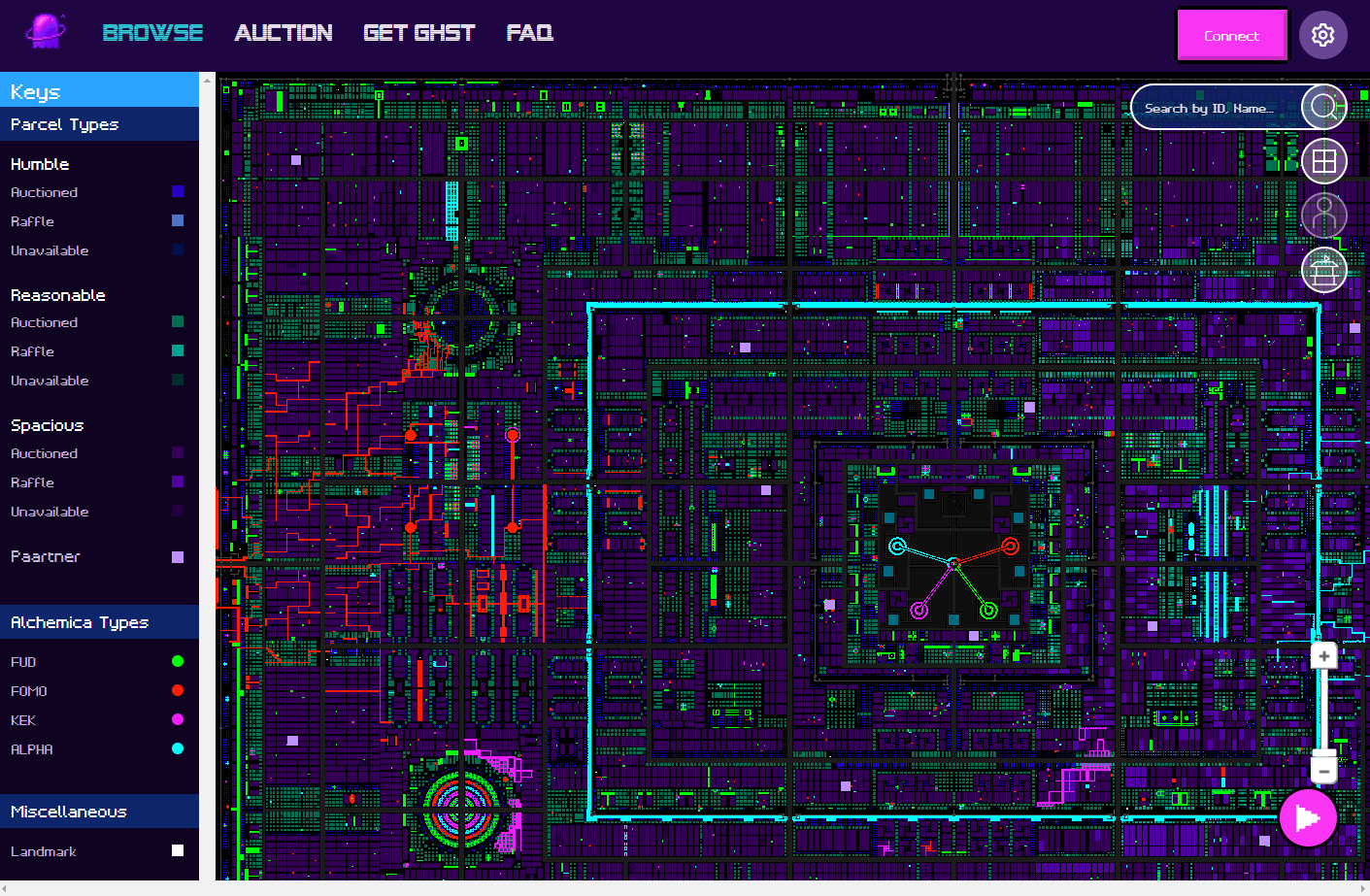 The project is highly undervalued with a current market capitalization of $61 million and we recommend keeping a close eye on Aavegotchi. The team behind the project continues to build and expand the Aavegotchi Metaverse and integrate the latest concepts in crypto into the project.
The native utility asset for Aavegotchi is the GHST ERC-20 token. GHST can be utilized to purchase Aavegotchis, land in the Metaverse, and interact with the various aspects of the project's economy.
You can buy GHST on Binance, KuCoin, Kraken, Gate.io, Poloniex, Huobi Global, QuickSwap, LBank, MEXC, OKX, IDEX, QuickSwap, Bitvavo, CoinEx, etc.
Highstreet (HIGH) – $1.37
Market Cap: $16.7 million
Launched in October 2021, Highstreet (HIGH) is a Metaverse crypto project looking to bridge the physical and digital worlds with its blockchain-based MMORPG experience. Highstreet wants to create an RPG-enabled Metaverse integrating NFTs and DeFi into its economy.
Highstreet's Metaverse is open for players to explore, as it's an in-browser experience that users can connect to via a Web3 wallet like MetaMask. In addition, Highstreet is cross-chain compatible supporting both the Ethereum and BNB chains.
The game is built with the Unity engine, incorporating similar infrastructure and architecture to crypto's most popular tokens like Decentraland. We recommend checking it out if you're looking for an undervalued, low-price project to hop on early.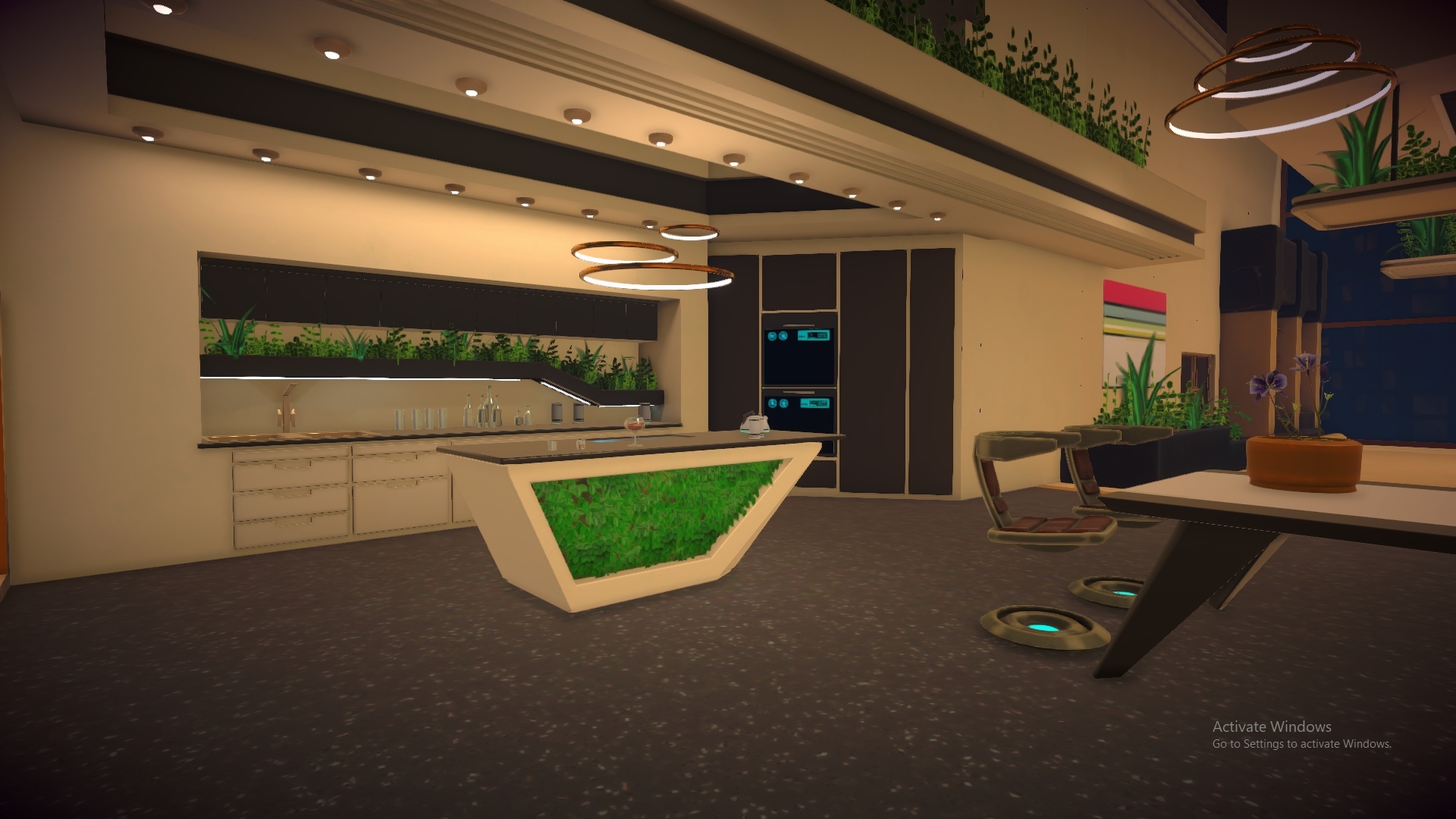 Highstreet also offers an NFT marketplace with limited edition collections. The NFTs can be redeemed for physical products and also enable users to stake them for rewards on Highstreet's staking dashboard.
The latest NFT for Highstreet is McBear $BEAR, a Limited Edition Toy Bear.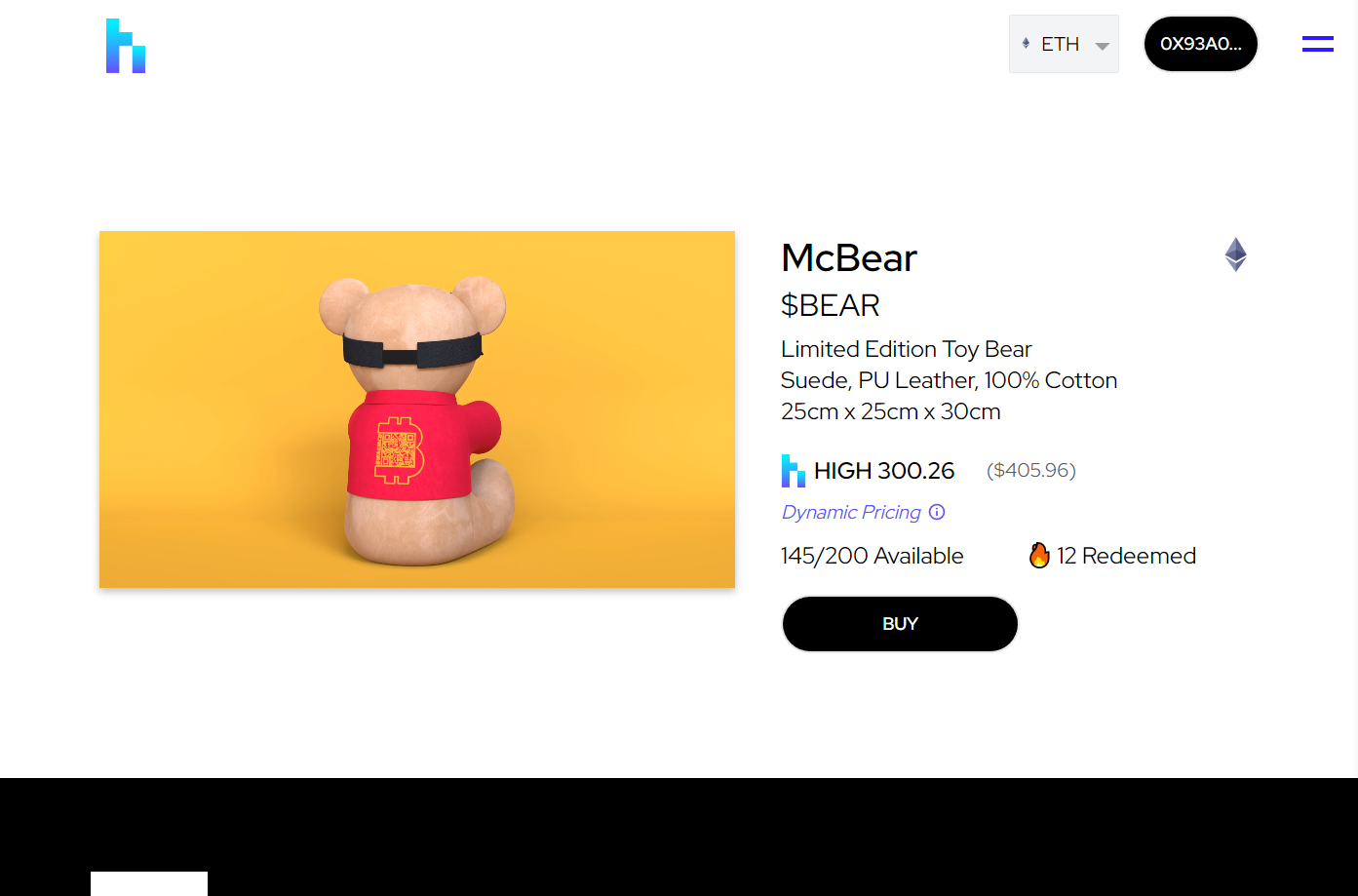 Last but not least, Highstreet also offers a realty service, selling virtual real estate in The Solarium Highstreet City. Users can purchase virtual real estate on Highstreet on the Binance NFT secondary marketplace.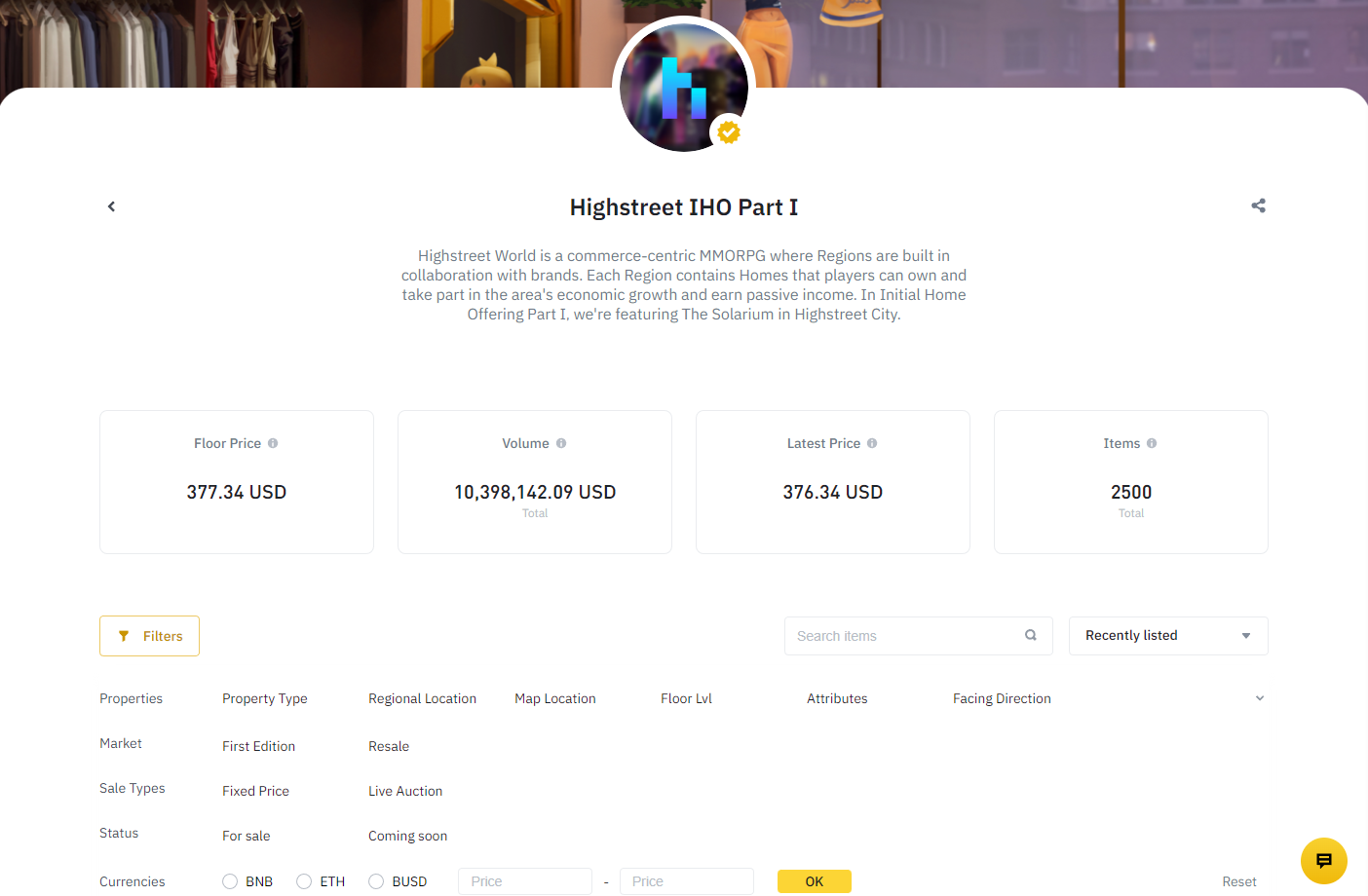 The price for a Highstreet plot of land is $376, a relatively affordable price tag compared to virtual real estate in other popular Metaverse crypto projects.
Highstreet's economy is based on the HIGH utility asset enabling users to purchase NFTs, and virtual real estate, and will provide an opportunity for governance.
You can purchase HIGH tokens on Binance, Uniswap, Phemex, MEXC, BitMart, Bitrue, Gate.io, Coinbase Exchange, etc.
Adshares (ADS) – $1.83
Market Cap: $52.2 million
Launched in August 2017, Adshares (ADS) is a unique Metaverse project focusing on providing an advertisement platform in the digital world. Adshares include an Adserver that allows users to rent spaces in supported blockchain games, NFT galleries, Metaverses, etc.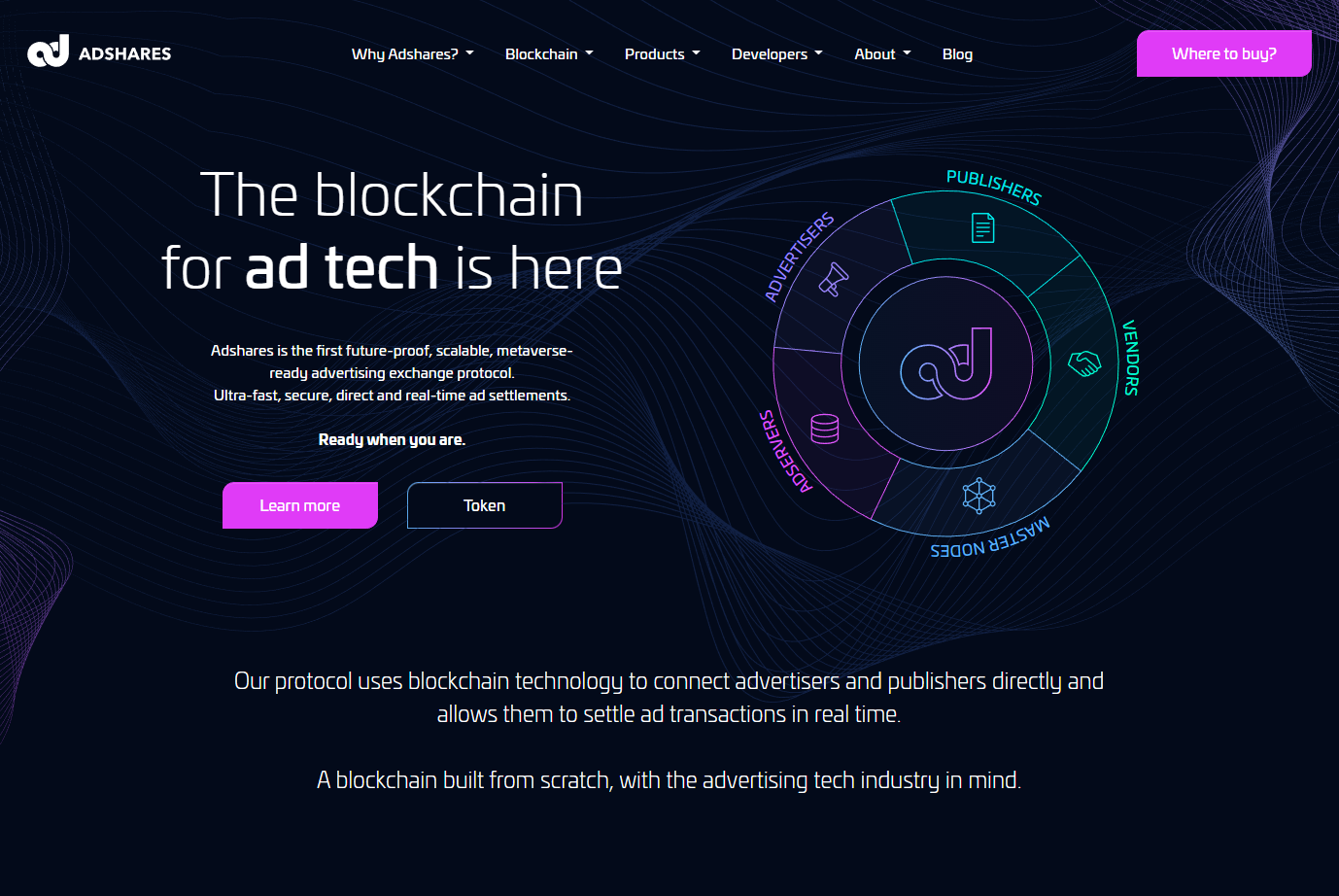 In addition, the Metaverse advertising platform also features a DAO (Decentralized Autonomous Organization), enabling ADS token holders to vote on proposals that will shape the future of the platform.
Web3 and Metaverse projects are trending right now, and Adshares is a must-watch in July 2022 as the current market capitalization of $52.2 million for ADS is highly undervalued.
The native utility asset for Adshares is ADS, an ERC-20 Ethereum-based token also featuring BNB Chain and Polygon versions. ADS will be utilized for processing payments, collecting fees, and distributing as rewards to holders and advertisers.
You can buy the ADS token on ApeSwap, PancakeSwap, Changelly PRO, BitMart, Graviex, QuickSwap, etc.
Disclosure: This is not trading or investment advice. Always do your research before buying any cryptocurrency or investing in any Metaverse tokens.
Follow us on Twitter @thevrsoldier to stay updated with the latest Crypto, NFT, A.I., Cybersecurity, Supercomputer, and Metaverse news!
Image Source: avebeatrix/123RF